CRAILL: ON FIGHTS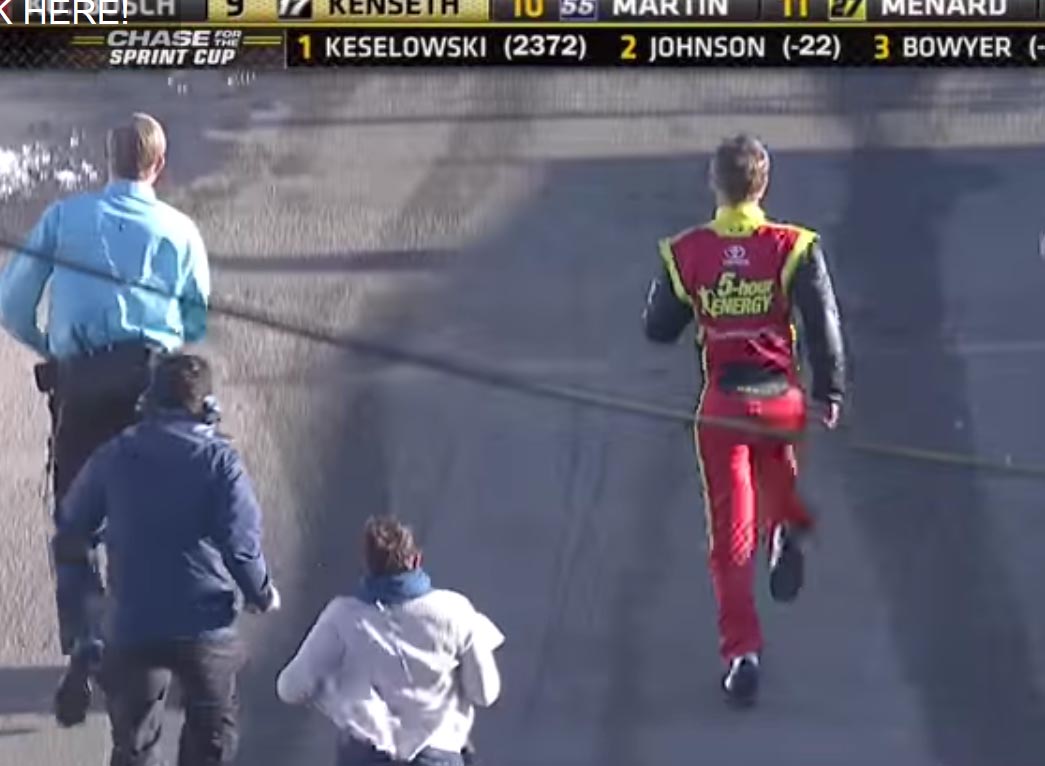 A FEW years ago now, in 2012, Jeff Gordon and Clint Bowyer had what some would define as 'An Argument' during the spring NASCAR race at Phoenix Speedway in Arizona.
Bowyer got into Gordon. Gordon replied by getting into Bowyer. Then, in the intervening red flag period, both got into each other. In the pits. With their crews. On Live TV.
It began with Bowyer's crew tackling Gordon as he climbed out of his car near his hauler. "Oh.. Conflict!" called ESPN's Allan Bestwick in an understated yet excellent piece of commentary. "The crews are in it!" he announced, as Bowyer's men dived into Gordon's team.
Moments later, the TV cuts to Bowyer jumping out of his wrecked car in the pit lane. Looking up at the Super Screen, you can almost hear him think 'Oh, I'm in this.'
What followed was one of the best bits of Live Motorsport I've ever seen, as Bowyer sprinted from the pit lane to the trucks and garages in the infield of the speedway.
Crowed roaring their delight in the background, a brave ESPN cameraman followed Bowyer for the entire duration, sprinting what must have been several hundred meters to where Gordon's No. 24 car was parked. Furious, the then rather irritated Bowyer charged into Gordon's truck, only to be restrained by several members of the 24 crew, several NASCAR officials and what seemed to be a few random passers by.
It was, if I'm totally honest, magic television.. utterly compelling and aided by the ESPN announcers not saying much at all. The roars of the crowd in the background really summed it up. People love it when there's a bit of emotion shown.
Of course, NASCAR hauled both drivers, crew chiefs and owners into their truck post-race for a discussion and people were suitably penalised afterwards. But I bet as they walked out, there might have been a quiet, off-the-record coy acknowledgement from the Powers That Be that what just happened was excellent television and good for ratings.
It was certainly good for You Tube hits.
Post-race, Kevin Harvick sat in the media centre and was asked about the incident.
"Fights?" he questioned the journalist, with a wry smile and eyebrows raised.
"I like Fights… This sport was built on fights," he said before pausing, thinking..
"There should be more fights."
Be careful what you wish for, Kevin, because today's NASCAR race in Las Vegas certainly delivered that.
While I don't want to see people get hurt, and I agree there has to be a line drawn between what is acceptable between venting some anger or king-hitting someone, there's no doubt that a bit of angst is good for business.
As Harvick said, NASCAR burst into the national spotlight as a snowed-in East Coast watched the 1979 Daytona 500 end with Cale Yarborough and Donnie Alison punching each other up at the bottom of the banking. It was the making of the sport as a TV product.
Today's incident, that saw Kyle Busch walk up to Joey Logano and try to punch him in the face, might have taken things a too far – but it's already creating storylines that will resonate for the remainder of the year.
You can watch the video here, thanks to www.jeffgluck.com:
There are differences between the two incidents. Firstly, where the Gordon-Bowyer battle was a melee of crews venting pent-up anger, the two drivers never actually took a shot at each other. Here, Bush wanders down to Logano's pit and tries to sock him in the jaw. No discussion, no chat – just whack!
The context is also different: Gordon and Bowyer were in the heat of a championship battle as NASCAR entered the final stages of its playoffs, the Chase. The Busch hit came in the third race of the year as he and Logano battled over a top five finish, though undoubtedly Busch was peeved at missing out on a strong finish infront of his home-town fans.
I'm not sure it's the kind of fight that Kevin Harvick had in mind at that press conference a few years ago but there's also no doubt it's going to sell tickets.
Obviously both drivers will get in trouble for today's events in Las Vegas, and I have no doubt that Kyle Bush wandering up to another driver and trying to punch him in the face is going to be looked at with anything other than a frown and nor should it: In Australia that kind of thing would probably get you an assault charge..
He needs to be whacked pretty severely for that, regardless of whether he thought Logano turned him around or not. It was a stupid thing to do.
And yet, there is a very good chance that this will be one of the biggest story lines of the whole season.. and there's a very good chance the series and the TV networks will use it to sell tickets and bump ratings for the next few races.
In fact as we type, Texas Motor Speedway has just instagrammd a clip of the melee afterwards with the caption 'DING DING DING! We can't wait 'till this tussle heads to Texas!'. Enough said, really: it sets up a storyline for the next time the two are within 10 cars of each other on the track.
And six hours after the race finishing it's still the lead on NASCAR.com, with all the appropriate reaction, commentary and images – complete with a video of a bloodied Busch post-incident.
Busch was, in my opinion, unquestionably an idiot here – and at no point am I going to justify his actions. NASCAR isn't the UFC (though some would disagree) and we don't want people blatantly punching each other in the face..
But in a sport where the star players are cocooned away from their audience, and where they are often criticised for not being outspoken enough, this was an example of the human side of the game breaking through, even if it's execution was seriously flawed.
And I'd rather see someone take a swing at a rival out of the car rather than deliberately take them out of a race whilst on track, where the consequences could be much more severe. Just don't swing at their face..
Like Harvick, I agree there needs to be more emotion and human nature shown in the sport – it's what saved last years Formula 1 championship from being underwhelming, and energised the last hour of the Bathurst 12 Hour to no end. It's Skaife versus Ingall.
So to summarise: NASCAR will sell a heap of tickets to their next few races and boost their TV ratings and there's a new rivalry on the scene.
And, when they work out what penalty they plan to dish out to Busch, they've even got an excuse to start a new anti-violence campaign with the ideal footage if they feel the need for some PR spin down the road.
'The Sport was built on fights" never seemed a more apt saying.