THE F1 CAR IN A KITCHEN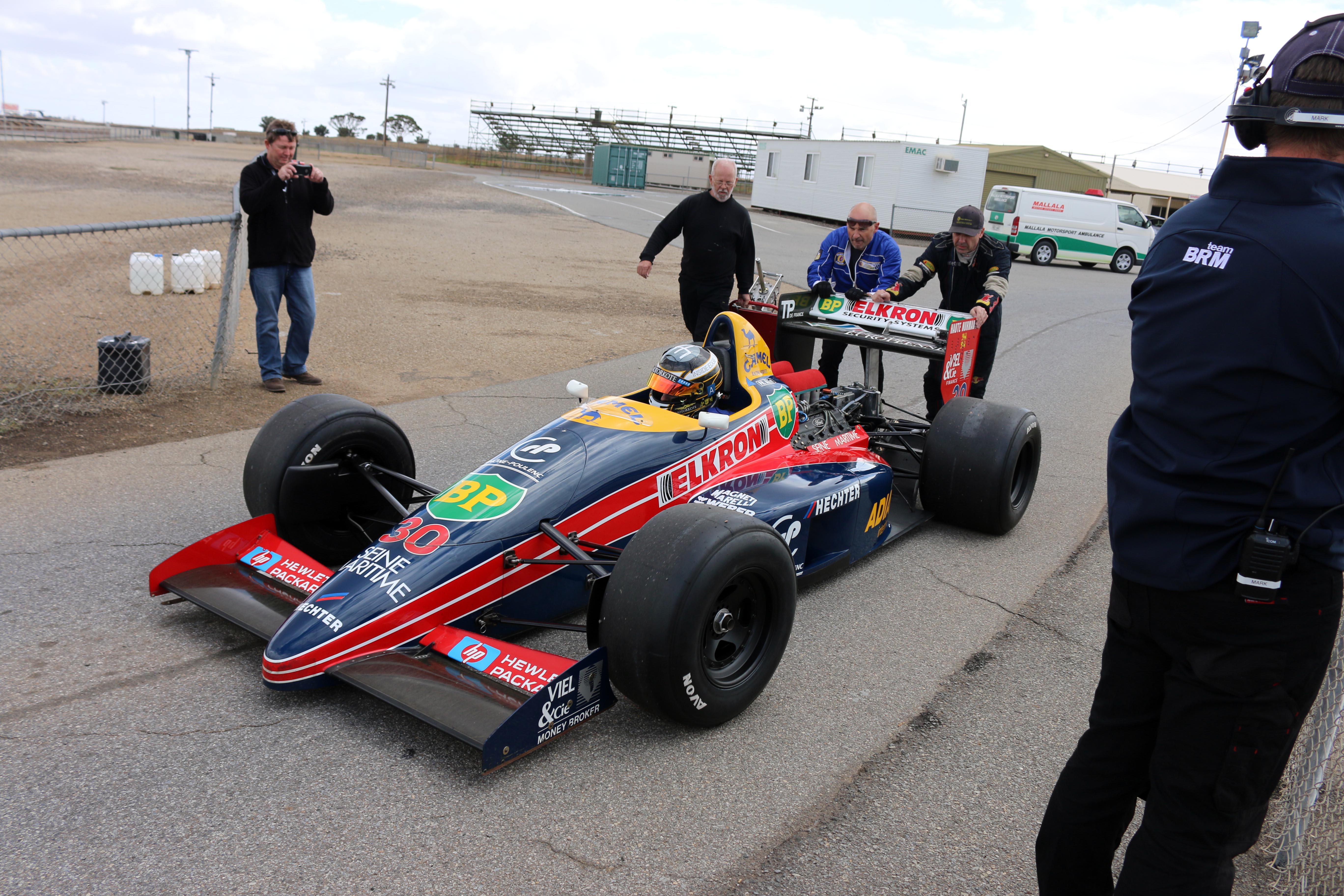 BRENTON GRIGUOL has a Formula 1 car in his kitchen.
Not a model, nor a replica. A fully-blown, Cosworth powered, twelve-thousand RPM screaming, Lola carbon fibre-chassis Formula 1 car.
As you do.
We're standing at a windswept, chilly Mallala Raceway an hour North of Adelaide, looking at the red, blue and yellow bodywork of a 1980s' Formula One car. And it's Brenton's Formula 1 car – a chance to quite literally live the dream having lived through eleven superb years of Grand Prix racing in the parklands.
"It's a bucket list thing. Its madness, as it seems," Griguol muses.
"To say you've got one – and that it sits in the kitchen at home – is amazing."
And while today's shakedown at Mallala will be the first time this particular car has turned laps on South Australian soil since 1988, its permanent home will quite literally be in the kitchen of Griguol's North Adelaide home.
As we said, living the dream.
The car itself is a stunner. Built by Lola for the then Larrousse-Calmels team in 1988, chassis LC88-02 is a pristine example of late '80's Formula 1 engineering. Compared to current 'wings and slicks' cars it's positively dainty – in fact, it shares a wheelbase and most of the overall dimensions with the petite Mygale Formula 4 car parked next to it in the Mallala garage.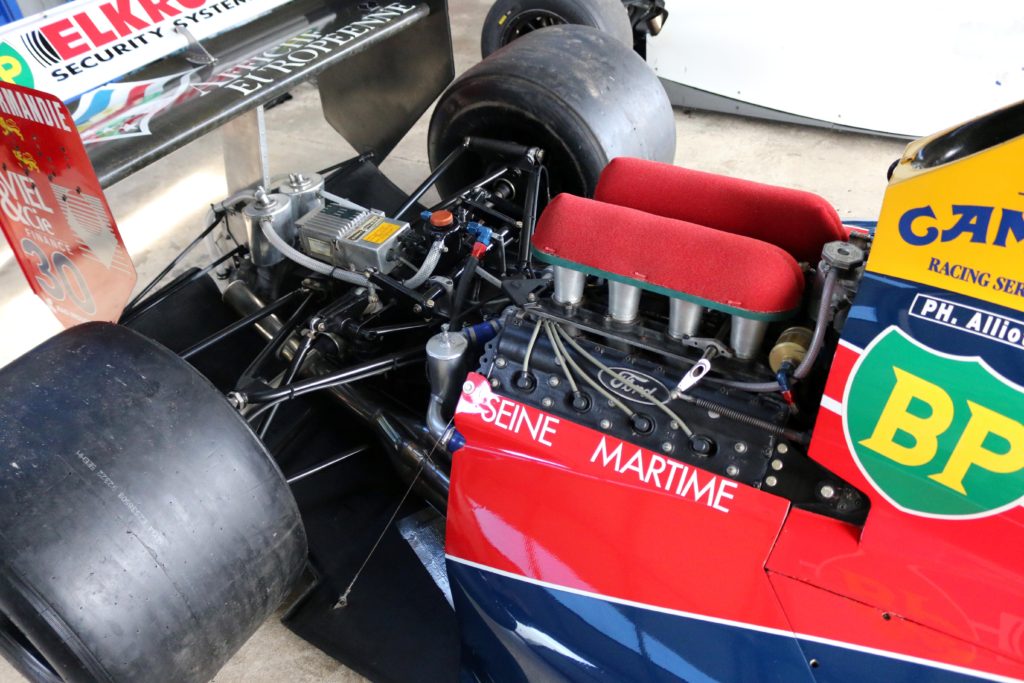 The venerable Cosworth DFZ V8 sits exposed behind the tub. Inside the cockpit, there's wheel, gear leaver, fuel mixture knob and the STACK dash with bold, central tachometer. The first 6,000 revolutions make up only an eighth of the total dial, the spacing larger between intervals from seven thousand through to its 15,000 RPM peak.
In the day the engine would do 12,000 easily. Today will be limited to 10,000 for the sake of the engine's longevity, Still, even at a few grand short of the peak it sounds nuts.
The rev limit is sensible: even though this engine still has 25 hours of running left on it, Adelaide is, after all, a long way from Cosworth's base and rebuilds aren't cheap.
But how do you end up with an Adelaide-era Formula 1 car?
"I've been looking for about six months for an F1 car, of the 80s ilk, with a Ford Cosworth motor, and found this one out of San Francisco by fluke on an obscure website, and the guy was very helpful," Griguol explains.
"I did some homework and after some recommendations from John Bowe, who said 'yep, he's the real deal, whatever he's going to sell you is going to be the real thing' I bought it."
Before landing the Larrousse, Griguol shopped around for cars and for a time was talking to Williams Grand Prix about obtaining one of their heritage fleet. But in the end the local ties – and the odd dollar or two – were what drove the sale towards the pretty, little Lola.
"Yes, more than anything else it was about the Adelaide ties.
"The Williams cars I looked at were test cars. The proper (i.e. raced) F1 cars I looked at they wanted a fortune for, and by that stage the ones they were selling were middle '90s and Adelaide had lost the Grand Prix.
"I wanted something from the 80s, but it had to be a V8 and not a turbo car."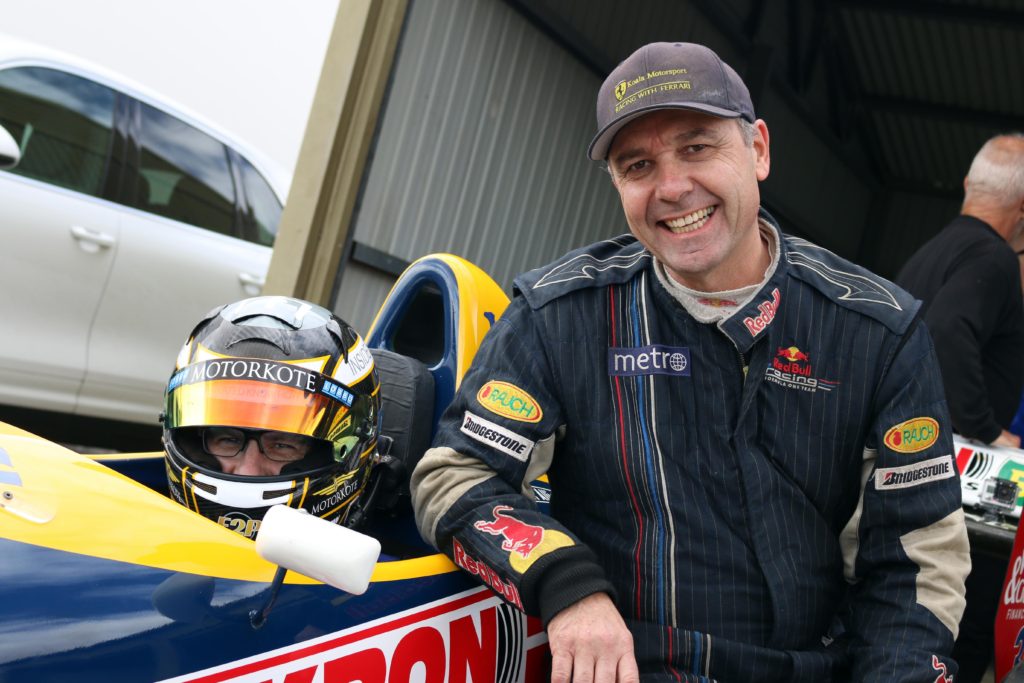 What he got is a peach of a thing. In as-raced condition, though nicely, subtly restored by its previous owner, LC88-02 is a stunner. The paint is original: the BP logo on the nose is painted on, then covered in clear, making it indistinguishable from the bodywork itself.
Some of the stickers are slightly tatty – but nearly 30 years of life will do that and it adds patina.
The mechanicals are perfect and the new Avon's are as soft as butter left out of the refrigerator, but the originality of the car is absolutely part of it's charm. Call it patina, or heritage – either way, it just looks real.
Originality is the story of the day with this car.
"It's Chassis number 02," Brenton explains. "It's never been crashed and was driven by Yannick Dalmas and Phillippe Alliot. It did five races, that particular chassis, in '88 and its last race was in Adelaide, where Alliot ran out of petrol five laps from the end."
Despite running out of fuel, Alliot was classified 10th that year, a challenging season where the team failed to live up to their impressive debut the season prior.
In 1987 Larrousse's LC87 was in the points on three occasions, the talented Frenchman – a former podium finisher in European Formula 3 – finishing sixth in Germany, Spain and Mexico to give the team three points and ninth in the world constructors championship.
1988 netted zero points and only a pair of seventh's for Dalmas – one in Monaco and the other in Detroit – as the highlights of an otherwise challenging year.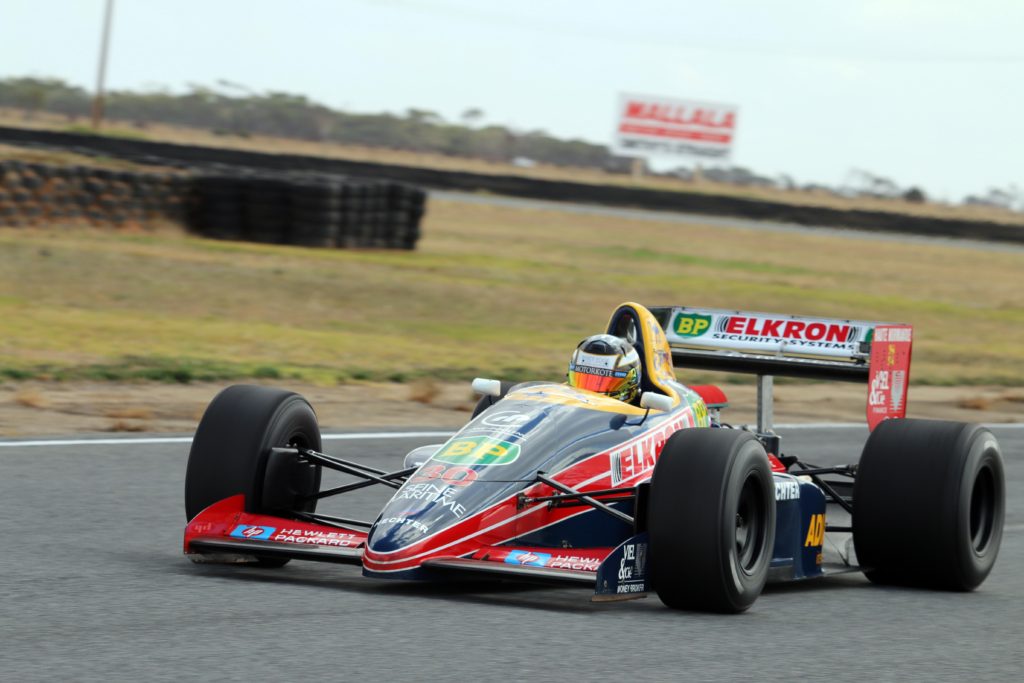 The 1988 Australian Grand Prix saw an ill Dalmas replaced by fellow Frenchman Pierre-Henri Raphanel, though he would ultimately fail to qualify.
Alliot qualified 24th alongside French legend Rene' Arnoux in his Ligier-Judd and ultimately ended up classified in 10th position, seven laps down on the winner and out of fuel with five to go.
Alain Prost won the race, ending a year of domination by McLaren that saw them sweep 15 of the available 16 Grands Prix that year.
It would be the cars last race: political upheaval in Larrousse's ownership ironically meaning the car was given away at the end of the year.
"That was its last race. The team was in such disarray Larrousse was hoping for more money. Mr Calmels was on murder charges because he apparently murdered his wife, and – it gets better – they couldn't pay their team manager so they decided to give him the car!
With Calmels quitting the team to deal with his legal issues, the team was quickly rebranded Larrousse and the team hired noted designer Gerard Ducarouge to design the 1989 car.
But the story for LC88-02, now owned by an underpaid employee who inherited a Formula 1 car for his troubles, didn't stop there as Griguol explains.
"So he kept it for a short period of time and then sold it to Scott Drenke in San Fransisco. He's had it ever since and basically restored it and taken it back to what it was – and only done a few track days, if that. It's never seen a race track in anger, so to speak.
"Everything's original. They haven't touched the bodywork since it last raced in Adelaide."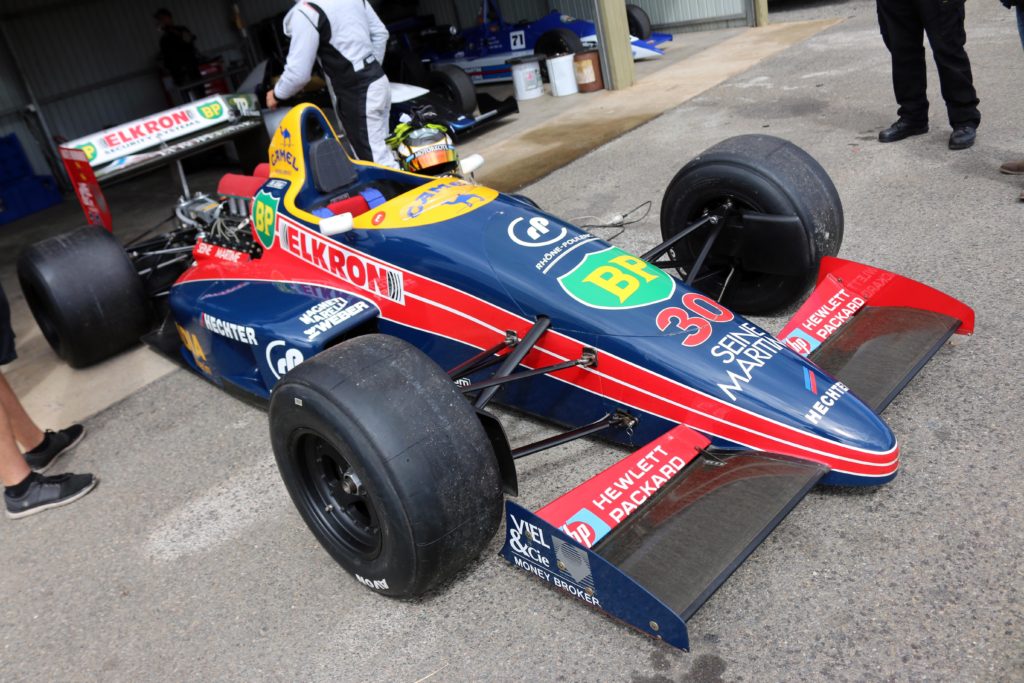 And so to Mallala, where crack open-wheel team BRM (no relation) prepares the car for its first run on local soil since late November 1988.
The engine catches almost immediately. Though it's grumpy below 6,000 and basically refuses to idle, above that it's sweet and sonorous.
Three-time Aussie F3 champion Tim Macrow gets the pleasure of the first laps in the car, testing the throttle at pit exit and finding that even the softest of Avon tyres won't stop a Cossie V8 powered Formula 1 car from snapping into wheel spin.
The sound is pure 1980s Formula 1. Close by, in the pits, it's loud but on track it's a sweet, musical noise. Not overly high pitched nor ear-bustlingly loud: it sounds like a Cosworth V8 should: Sweet. Quick, too.
"It feels miles quicker than the '5000," Macrow muses after eight or nine brief laps in the car, comparing the experience to the Aussie-built Formula Thunder 5000 he has been testing recently. It's a logical benchmark.
"It's quick. The engine is awesome and the gearing is short so with the rev limit we're running its busy but man does it go. It's fast but not hard to drive. The gearbox is great. You need to work the Carbon brakes though."
Between Macrow's first drive and Brenton's initial taste of his six-month odyssey to secure his own piece of Grand Prix history there are concerns: the master warning light – a huge bank of bright red globes next to the tacho – is set to come on should oil pressure drop to unsafe levels and at the end of Macrow's run, come on it did.
"The pressure itself is fine but we think the light is just set very conservatively, but you can't be too careful," he explains.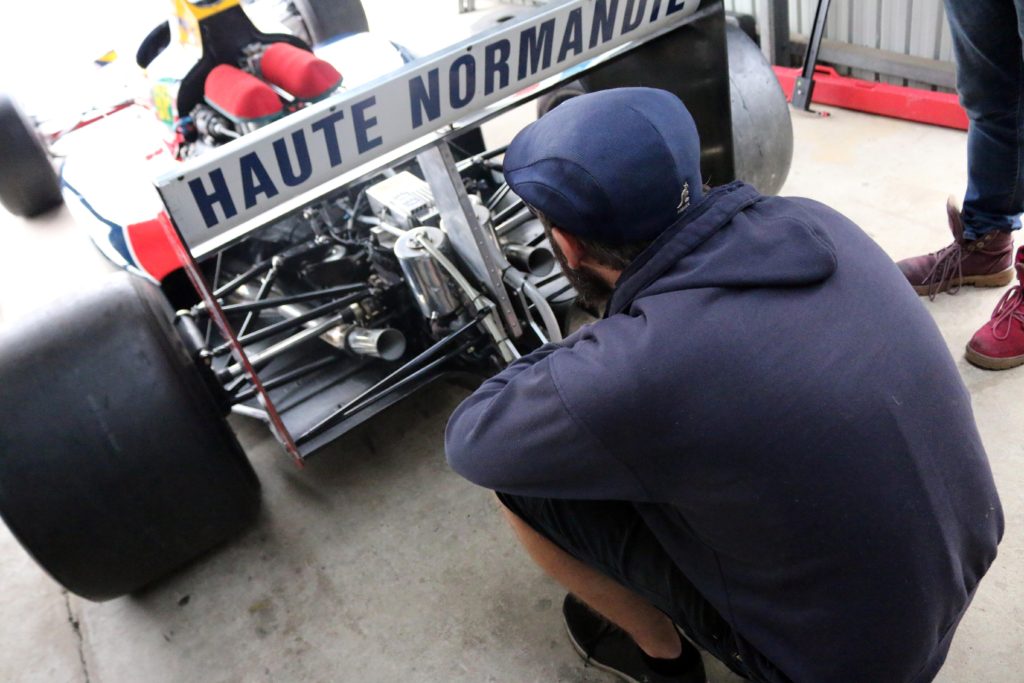 Griguol is next out and though his run is brief – that light again – he has experienced enough to take in the sensations of his first laps driving his own Formula 1 car.
"It's the wildest thing I've ever driven," he grins.
"I've got a (Lola) Formula 5000 that I thought was pretty good, and driven GT3 cars and including my current Lambo REX, this thing is just another kettle of fish above that. I just found it really comfortable. The gearbox is so smooth and just the power transition – it's not like the Turbo car where you get the 'whoosh!', it just come on really quickly.
"You don't even have to apply the brakes heavily, because they're all carbon it stops! And you think Wow, these guys new how to drive these things.. they were really good. Initial thoughts? Fantastic.
"Mallala probably doesn't suit this car, but then the gearing in it – as Tim Macrow found out when he drove it – is Adelaide spec, so it's designed for the 'staircase' going up through East Terrace in second gear. It's just brilliant in that second or third gear range."
So what's next? Fortunately for Adelaide fans, their chance to see the car in public will come later this year – when it returns to its spiritual home nearly 29 years to the weekend after it last raced on the famous Adelaide circuit.
"From here it'll go back to BRM to get the oil pressure issue rectified, and then be put back in the kitchen!
"It'll do the Adelaide Motorsport Festival, and that's what I want to do with it.
"I do historic events, but with CAMS and their archaic age cut-off it can't be classified as a historic, so therefore I just keep it for mainly a couple of events in Adelaide.
"It's a bucket-list thing to have."
It's also great news for fans of classic Formula 1 machinery, with a growing fleet of 1980s and early 1990s-era Formula 1 cars now in Australia – and a surprising number of them in Adelaide. It will be incredible to see it back on track at the Adelaide Motorsport Festival this December.
In the meantime, it's back to the kitchen for this stunning Lola.
Literally.
WORDS & IMAGES: Richard Craill