CRAILL: GO NIGHT RACING.. WITHOUT THE LIGHTS
ONE OF the stories that seems to make an annual appearance on the Supercars news cycle is the topic of racing under lights. 
So it should, too – it remains relatively uncharted territory for the sport as it looks to find new ways to attract fans and families out to the racing to fill the grandstands and spectator mounds.
Our sport is even better under lights than it is in the daylight, with the flames and glowing brake discs offering a spectacular show. The sensation of speed is enhanced too, as local fans of speedway and anyone who's seen IndyCar or NASCAR at night will attest.
Last week, The Race Torque's David Segal tabled his plans for a 'Big Bash' style Supercars event and adding night racing to that equation would only enhance it's appeal.
Last year it seemed like we were on for racing under lights in Darwin, with then-Chief Minister Adam Giles tabling it as a key part of a long-term extension to the Northern Territory's extension of their Supercars deal for their annual event each June.
However while the deal to retain Supercars was bipartisan, the agreement to fund the required lighting was only tabled by Giles' party – a party that was ultimately turfed out of government in the latest election in August last year.
And while there is no doubt that racing under lights in the Territory would have been sensational – the weather conditions would have made it especially tantalising a prospect – the Darwin event probably doesn't need a gimmick like that to enhance it: It's already a sensational show on it's own.
It's events like Sydney Motorsport Park's Super Sprint round or the Ipswich event each July that need a point of difference.
It's the events without major government backing or a unique selling point that need something to enhance their value to spectators, sponsors and perhaps most importantly, a prime-time TV audience.
So it is back to the drawing board for the premier category in it's quest to do it in the dark.
Perhaps, though, we're trying too hard.
Every discussion about Supercars going night racing has been centred around circuits installing permanent lighting structures to allow for an Abu Dhabi-style Formula 1 affair, with the track and surrounds brightly lit.
And as spectacular as that is, without access to a few billion barrels of oil to sell or a Singapore-sized tourism budget, it's an expensive exercise.
The big question is, do we need to go to that extreme to go night racing in Australia?
I'm not so certain that the entire track needs to be as brightly illuminated as the Las Vegas strip to make it a success.
A flick through the You Tube archive brings up the Peter Brock Classic from late 1995, the end-of-year affair at Calder Park that was run under lights at the suburban Melbourne venue.
Though Calder did have an array of permanent lighting, large swathes of the circuit were definitely not bathed in light and the result was a spectacular show as the cars flashed in and out of the bright spots around the circuit.
The brakes and flames were emphasised and in-car shots were especially spectacular. The 1997 Supercars opener at the same venue was much the same story.
And if the TV technology of the time – remember, this was a long time before the incredible high definition pictures we are blessed with today – was good enough to make a show of it then surely today's technology would make it even better. After all, how many times do you hear commentators saying 'Remember, folks, it's much darker here than the TV pictures make it look.'
Surely the increased viewership of prime-time Supercars racing would make up for a sponsors brand not being shown for a few seconds as their car passed through a slightly dark part of the circuit.
Adding to the argument is the annual 'fight in the night' Production Car race held at Queensland Raceway's Shannons Nationals event.
There, organisers hire lighting towers from a local hire company (Supercars having Coates Hire as a major sponsor would make this process easy and affordable), with those positioned strategically around the circuit.
Every flag post, braking zone and corner apex are illuminated and key trouble spots highlighted – but outside of that it's quite dark.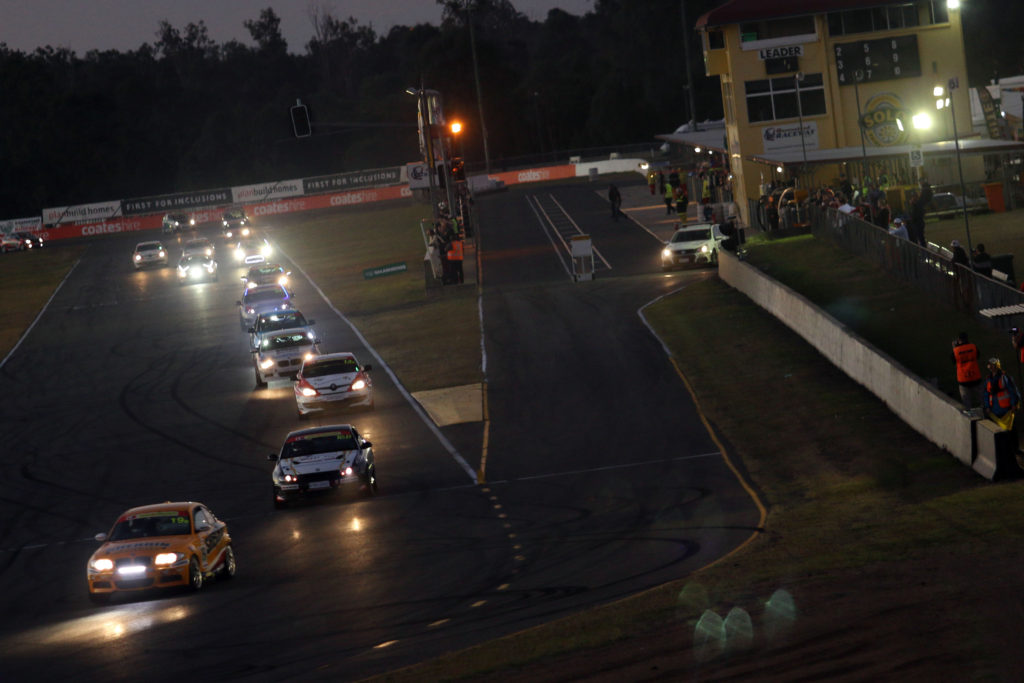 But then again, so is the Mulsanne Straight in the middle of the night at the LeMans 24 Hour and that's brilliant.
What results is a patchwork quilt of lighting around the circuit and the visage of cars going from light to dark quicker than the main protagonist in a Star Wars film.
There's enough lighting to make it safe for competitors and officials but enough darkness to enhance the challenge of racing without sunlight.
Another unique side-effect of the Production Car night race is teams enjoying the challenge of lighting up their own car to make sure it stands out from the pack.
Some put strings of LED lights over the roof, some have blue lights underneath and some put reflective stickers on, which makes the car pop every time it finds some light. It's truly spectacular and makes for incredible photos vision – not to mention brilliant spectating trackside.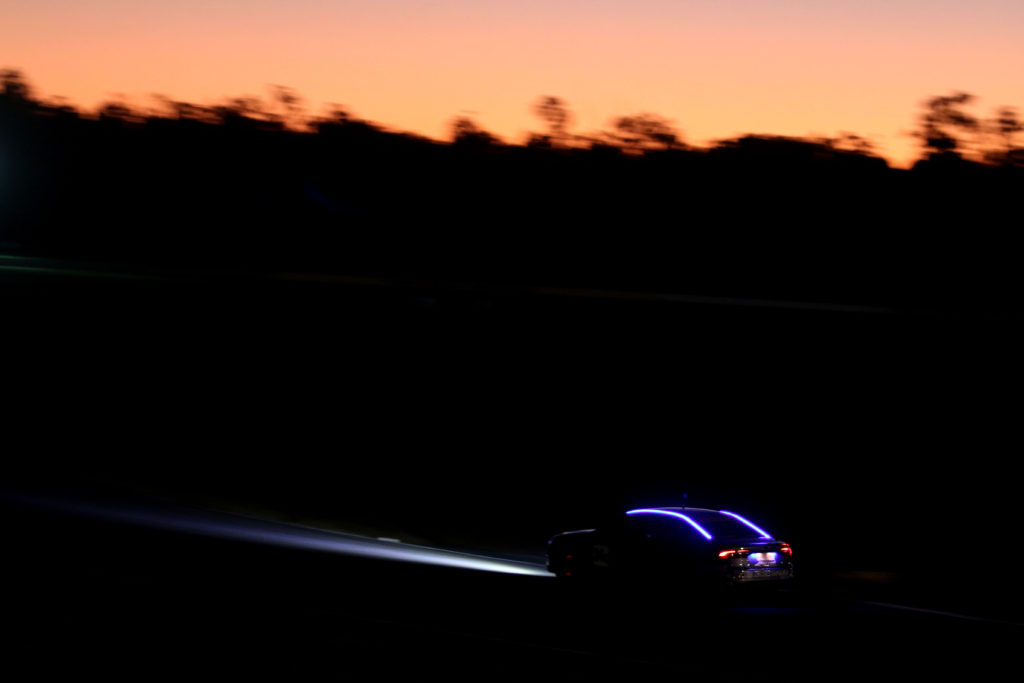 Queensland Raceway is the perfect place to do it, too. There's only six turns to light, saving costs, and punters on the hill get an outstanding view of the entire circuit. All of a sudden a relatively straightforward six-turn circuit becomes a stunning light display that makes even the best Christmas light shows look positively non-festive.
The examples don't stop there: Daytona's annual Rolex 24 Hour race each January has lighting aplenty on the banking, but the infield road-course section does not. The result is truly spectacular as the cars blast past the neon-light covered Ferris wheel and the various infield campgrounds and displays.
On our own shores, the Bathurst 12 Hour starts in the dark and races into the sunrise. Few who have witnessed it live would disagree that it's not one of the most spectacular hours of motor racing on the Australian Motorsport calendar, completely justifying the 3:30am wake-up time..
It also makes for spectacular TV and, speaking from experience, it's not impossible to pick one car from another on TV or trackside despite the darkness around a majority of the 6,213 meters at that time of the day.
So perhaps that's the answer: Don't aim for Abu Dhabi Gran Prix and perhaps instead look for a mixture of temporary lighting and some old-fashioned innovation to make night racing work in our main game.
The results could and would be truly spectacular.
WORDS & IMAGES: Richard Craill