Following Matt Campbell's victory in the Porsche Mobil 1 Super Cup at the Red Bull Ring on the weekend, we thought it would be the opportune time to jot down some personal memories of Matt's journey so far – which is just what The Race Torque's Mark Walker and Richard Craill have done below. 
We'd love to hear from you guys – drop The Race Torque's social channels a line with your recollections!
WALKER: 
My first memory of Matt was when he was really very small, charging around Morgan Park Raceway in his go kart after a weekend of state championship racing.
The Campbell family were intrinsically linked to the development of the rural Queensland venue, from a dusty country short track to a national level facility.
A lot has been written about Matt's grandfather Bill, and there are some cracking yarns that are deserving of their own space here one day…
Fast forward to 2012, Campbell had made a name for himself in local Queensland circles, at first in his Datsun 1200, but then in Formula Ford.
That year I was looking after the PR and commentary for the Australian Formula Ford Championship, when the softly spoken rookie made his debut on the unforgiving streets of Townsville.
On a weekend punctuated with brutal carnage (yet again, another story to be told…), Campbell sealed results of sixth, seventh and sixth, while many of the seasoned veterans were getting corners reattached to their canoes.
Later in the season, an expanded field hit Mount Panorama in support of the 50th Bathurst 1000, with Campbell claiming a sixth-place finish on debut.
CRAILL:
I met Matt when he was racing in the Australian Formula Ford Championship the following year, in 2013.
I was the series commentator and, as you do, wandered around the paddock chatting to teams and drivers to 'get the goss' about what was going on.
These chats always inform the commentary and I find them hugely valuable to add another level to the job where possible – a chat about tyre pressures here or a bit of random background there. It all helps.
When it came to Matt there only so much that could be learned: he was so quietly spoken he didn't say much. But inherent in the brief conversation was the wry grin and underlying confidence that would flourish once he had a roof over his head a year later.
I never got the impression that Matt was ever that interested in open wheel racing. Was he good enough? Sure he was. But his background of pounding around Warwick, granddad Bill in tow, indicated the F1 dream might not have been this young guy's future.
Interestingly, I seem to remember it was my colleague Mark – a parochial Queenslander if there ever was one – who told me to keep an eye on Matt. Glad I did!
It has been well documented since, but it was his season in the Porsche GT3 Cup Challenge the following year that put him firmly in the spotlight.
We'll come to his thrashing of the field later – but it was his performances in the first few rounds that were properly eye-opening. Racing the older model 997 Porsche, which gave away about 40BHP and perhaps more significantly quite a bit of aero to the later cars, he was embarrassingly quick: especially if you were in one of the same cars.
There's always something about a driver making a car do things it shouldn't be able to do; and Matt racing that old car at that level was a perfect example.
Of course, when he jumped in the current car at the final round at Phillip Island he commenced a smackdown of epic proportions: Pole by 1.53 seconds. Fastest lap and a lap record in race one. Fastest lap and a lap record in race two. Fastest lap in race three. Victories in each race by the margins of 13, 16 and 8 seconds, respectively. The third one was shortened by a lap..
WALKER: 
The 2016 Liqui Moly Bathurst 12 Hour, practice 5, the final outing before qualifying, with the session kicking off Saturday festivities on The Mountain.
Campbell was teamed with car owner Tony Walls, as well as Supercars aces Tim Slade and Warren Luff aboard the Objective Racing McLaren 650S.
The car topped the time sheets ahead of an all-star field of drivers assembled from all over the world.
The lap time was staggering, a 2:02.2870sec, the fastest ever tin-top lap of Bathurst, period.
It wasn't Slade or Luff setting the time, it was Campbell.
The other drivers to also dip into the two second bracket were Maro Engel, Rene Rast, Garth Tander and Shane Van Gisbergen.
While the times would tumble later in qualifying, it was a sign that Campbell wasn't intimidated by Mount Panorama, or the competition.
CRAILL:
Roland Dane has since come out and said that it was this lap that brought Matt to his attention; and why wouldn't it. It was spectacular in many ways, the best of which was that it didn't look particularly spectacular from the outside. There was no over driving and no theatrics; just contained speed.
I wandered to the Objective McLaren garage after the session and saw team owner, Andy McElrea.
"Reckon that might open some eyes Craillsy?" he said. He was grinning like a lunatic.
"Who is this kid?" I remember co-commentator John Hindhaugh exclaiming after the session. "I know it's only practice.. but that was brilliant!"
WALKER: 
Campbell made his Supercars debut at the 2016 Sandown 500, teamed with Todd Kelly in the works Nissan Altima for the Pirtek Enduro Cup.
A seventh place for his first outing was followed by a DNF at the Bathurst 1000, when Kelly was unceremoniously dumped into the gravel at the Chase late in the event.
The opening race on the streets of Surfers Paradise netted an eighth-place result, but elsewhere that weekend, he was busy wrapping up the Porsche Carrera Cup Australia title.
In his rookie season of 2015 in the one-make category, Campbell finished third outright with six race wins and four second place results.
The 2016 running proved to be all Campbell.
A total of 13 race wins from 23 races contested was backed up with another four podium places.
The word from inside the Nissan Motorsport camp was that they really liked Matt, his performance, and how easy he was to get along with.
You often take things said in the pit lane at face value, but what I witnessed between the final Porsche race of the year and final Supercar race of the weekend, was pretty special.
As Campbell walked back through from the podium through the Nissan pits, the entire 50 plus staff in the garage dropped tools, and stood to attention with a genuine, hearty round of applause.
It was a sign of respect not often seen at the top end of town in motorsport.
That respect had to be earned, and it was achieved in the space of three short race weekends.
CRAILL: 
Patience was a virtue for Matt in the first half of the 2015 Carrera Cup Season and it might have been a rough eight-race stretch at the top end of the season that would ultimately be key in him achieving so much.
Though those around him were careful to limit the pressure on Matt that year, there was no doubt that he was the most highly rated rookie to enter the category in years, especially based on what he did in a similar car at Phillip Island the previous September.
It would have been easy for those rough opening rounds – two DNFs at Adelaide, pole but no podiums in Melbourne and another DNF in the Pro/Am event at Phillip Island – to dent the confidence of any driver, yet alone one who had to endure the passing of his main mentor, sponsor, confidant and Grandfather, Bill.
But sustain he did and when he went fourth-sixth-fifth in the three Townsville races mid season the consistency began to flow.
There were eleven races across the next four rounds: Matt won six and was second in four more.
But it was the opening race at Sandown that I think was the making of Matt Campbell: for the first time he was in all-out combat for the lead of a race, with would-be champion Nick Foster. The pair staged a stunning duel, swapping the lead twice including an exchange at Dandenong road that saw the pair bang wheels on the last lap.
Foster brilliantly won that race: but the fight proved there was more than just raw speed available in Matt Campbell: There was proper racecraft – hardness – in him too.
Tick.
WALKER: 
Roll on 2017, and Campbell has secured his drive in the Porsche Mobil 1 Super Cup, in itself a massive feat.
For the season starting Bathurst 12 Hour, Campbell teamed with David Calvert-Jones, Patrick Long and Marc Lieb aboard a Porsche 991 GT3R.
Even with two proven Porsche factory aces in the team, Campbell qualified the car, started the car with a double stint, and brought the car home in the final stanza.
The result – second outright, and first in the Pro-Am category to the Craig Lowndes/Jamie Whincup/Toni Vilander Ferrari 488 GT3.
CRAILL: 
At a function the Saturday evening before the 12 Hour this year, Matt joked to a group of Porsche enthusiasts camped on the outside of turn one about the 'benefits' of being the youngest in the team.
"They pulled rank and stuck the new guy in for the Shootout.." he smiled to the crowd. "And then after that they told me that because I hadn't crashed, I could start the race too!
"You'd think the LeMans winner would do that but I suppose it's all up to me!"
Not a bad vote of confidence when your teammates include the current LeMans champion (Lieb) and one of Porsche's highest rated factory experts (Long).. not to mention the guy paying the bills, in Calvert-Jones.
WALKER: 
It's not very often that talent can overcome the odds, but it is possible.
Another shining example, who also learned his craft on the junior short circuit at Morgan Park, Will Power, has gone on to be top-ten all-time on the Indycar race winner's list.
The future is bright within the Porsche family for Campbell, but also elsewhere in the motorsport paddock.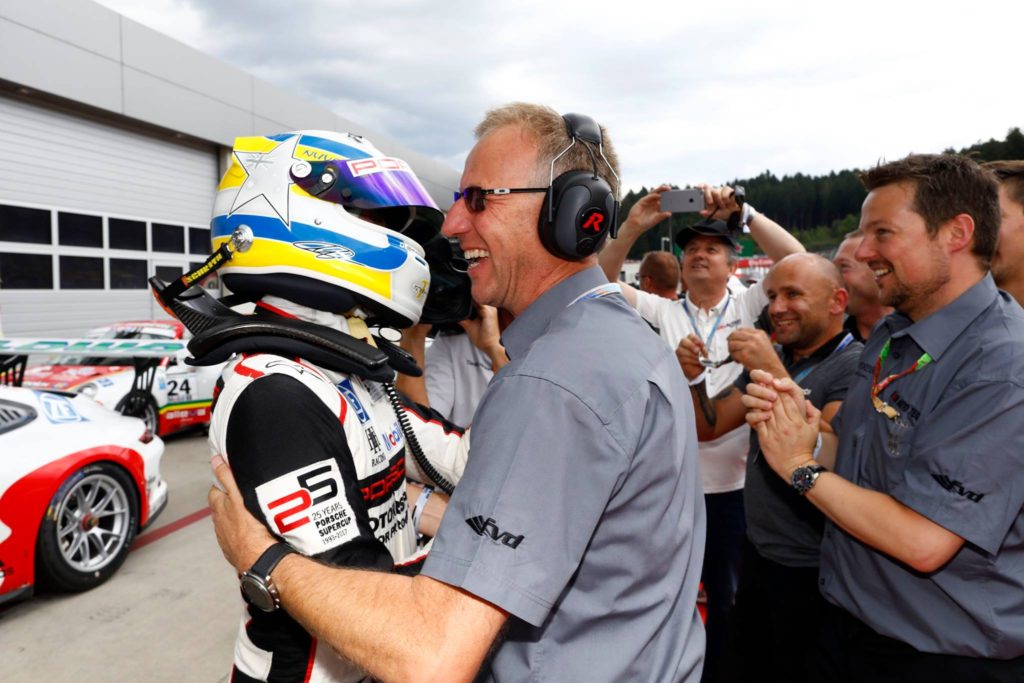 Pairing with Shane Van Gisbergen for this year's Suprercars Enduros is a massive opportunity with the defending series champion, in one of the best-four seats in Australian motorsport.
Outside of the race car, he is now much more polished with the media and on TV, which is sometimes a deal breaker in the commercial world we now live.
While nothing is guaranteed in motorsport, here's hoping that Matty can kick on and realise his potential on the world stage where he belongs.
CRAILL: 
The Matt that won at Austria last week is a different human being compared to the one that we first met in Formula Ford back in the day. He's also different to the one who burst onto the scene in that Porsche season a year later. He's four years older, a lot more experienced and a lot more worldly than he once was.
He's also harder. More confident. More assured. But deep down it's easy to spot that he's still the grounded kid from Warwick who perhaps can't quite believe that he's doing what he's doing.
In fact, it's written all over the back of his helmet.
I think that's the ticket, too. Unlike some of Australia's sporting exports of late, Matt retains the hunger and desire to achieve all he can – be it in Sports Cars with Porsche, Supercars with RedBull or something else.
It Matt Campbell's journey is a plane ride, Formula Ford was taxing to the runway. GT3 Cup and year one of Carrera Cup was clearance for Take Off and his Porsche championship was the point of rotation into the air.
Winning that first Supercup race was wheels up and destination locked.
We don't know where that is yet – but he's on the way. And it'll be fun finding out where it goes.
WORDS: Mark Walker & Richard Craill
IMAGES: Porsche Motorsport, McElrea Racing, Porsche Carrera Cup