THE DOUBLE LIFE lived by a Supercars endurance season co-driver is no more apparent than in the instant aftermath of the annual Supercheap Auto Bathurst 1000 classic.
For someone like a 39-year-old Luke Youlden, who finally won the race in his 18th attempt, It's a strange existence where in one moment you are a hero and the next you are almost completely anonymous.
So crucially vital in delivering David Reynolds and Erebus Motorsport their stunning victory at 6:15pm on Sunday evening, by the 12pm Triple M Sydney radio news today he didn't even rate a mention – the bigger name of David Reynolds taking over as the dominant story in the more mainstream of media coverage.
Dave's car, Dave's story.
Luke won't mind, I'm sure, given he will forever be remembered as a Bathurst winner. Yet it's a sign that compared to something like LeMans or GT3 racing, the Supercars enduro world is unique in that the balance of attention remains with the regular, full season driver.
That's not to take anything away from Luke nor any of his compatriots, because for the most part they were all mighty during whatever it was that happened yesterday just after 11am (and felt like it went longer than the 12-hour).
There were so many examples of mighty performances by co-drivers that it would take many more words to cover than I can invest here. But what stories they are.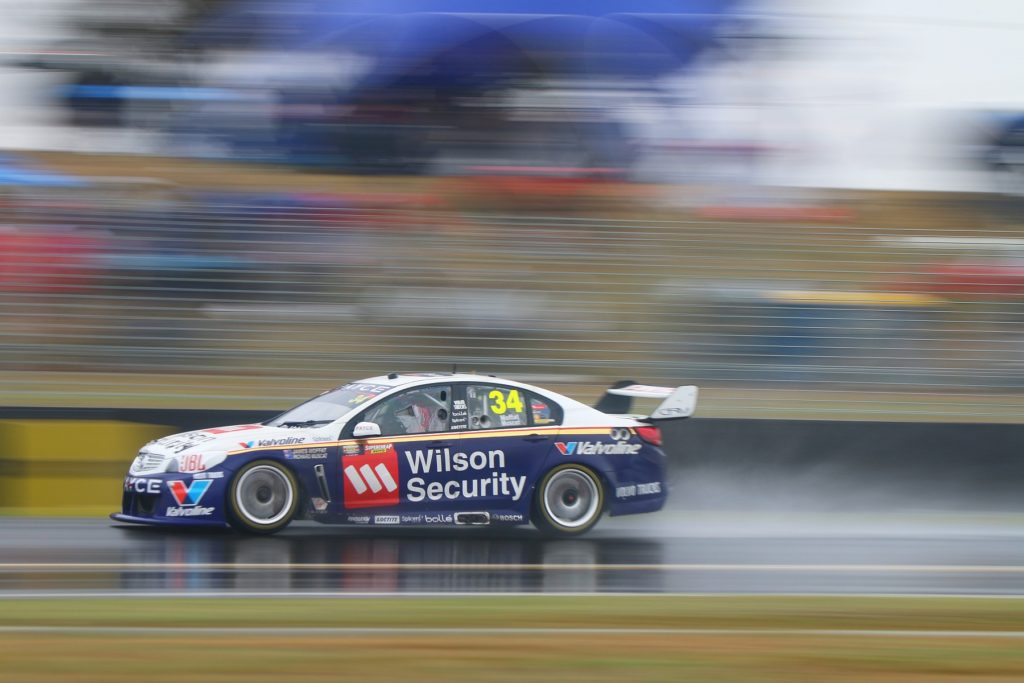 Looking past Youlden and beyond the nearly heroic performance in the wet delivered by Richie Stanaway, there are remarkable stories aplenty.
Warren Luff's efforts to anchor the performance of the 02 HSV Racing Team Commodore delivered him – and here's a stat I bet you didn't realise – his fourth Bathurst podium in six years. It may have been more had the Commodore he shared with Garth Tander in 2014 not been badly damaged in practice and withdrawn before the race start.
Luff has become one of the safest pair of co-driver hands on the Mountain and his acumen in setup and sheer consistency continues to have him held in high regard.
And what about Super2 Series Champion Garry Jacobson, who could have been the star of the show had it not been for his Prodrive teammate Stanaway. The MEGA Fuels Falcon charged up the order during his stints and was consistently matching and besting the experienced hands around him.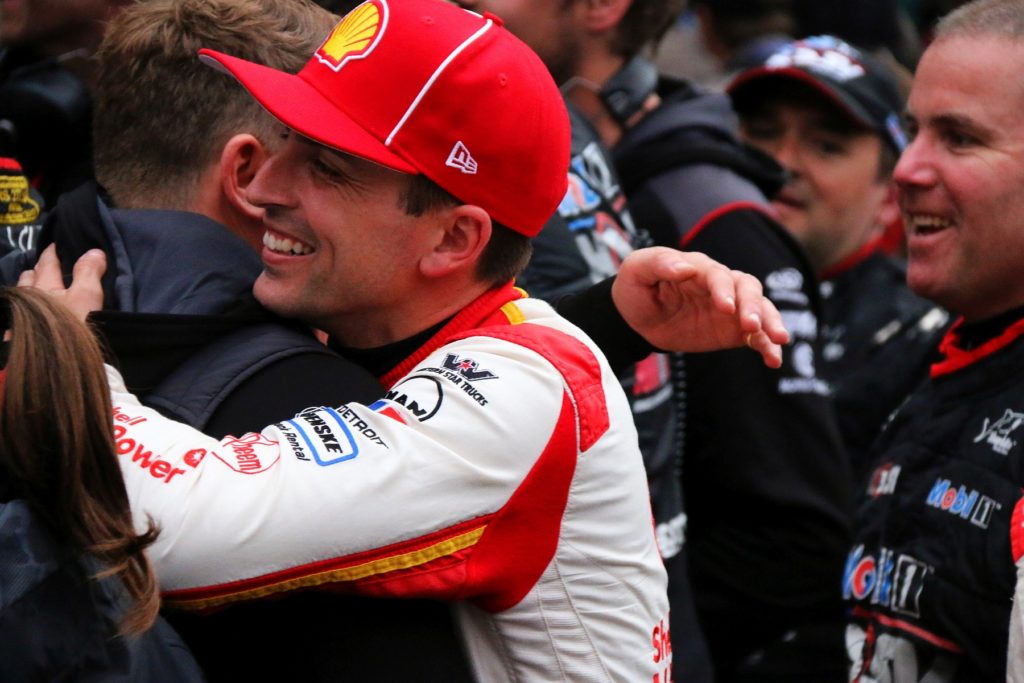 As good as Super2 is for developing young Supercar talent, there's nothing like being proven in the furnace of real competition and in this case, Garry stood up to the heat with ease.
The same could be said for Richard Muscat, who went about his work largely unnoticed in the No. 34 Commodore he shared with James Moffat.
And yet the young Victorian – who hasn't quite elevated himself to the top tier of runners in Super2 and probably lacks the hype his teammate James Golding has attracted – was brilliant during his early stints in the wet conditions.
Moffat was running second when he pitted on the 24th lap to hand over to Muscat, who resumed in fourth place. Against vastly experienced guys like Paul Dumbrell, Alex Premat, Stanaway and Luff he remained in the top six until lap 42 in what was a vastly underrated drive – yet in the context of the race kept the car well up the order and allowed it to remain in contention until it was crashed late in the day.
Buoyed by his maiden Super2 win in the Bathurst 25o in Saturday, Macauley Jones delivered a stout performance alongside Nick Percat for BJR and, like Moffat and Muscat, was another 'could have been' story from the race.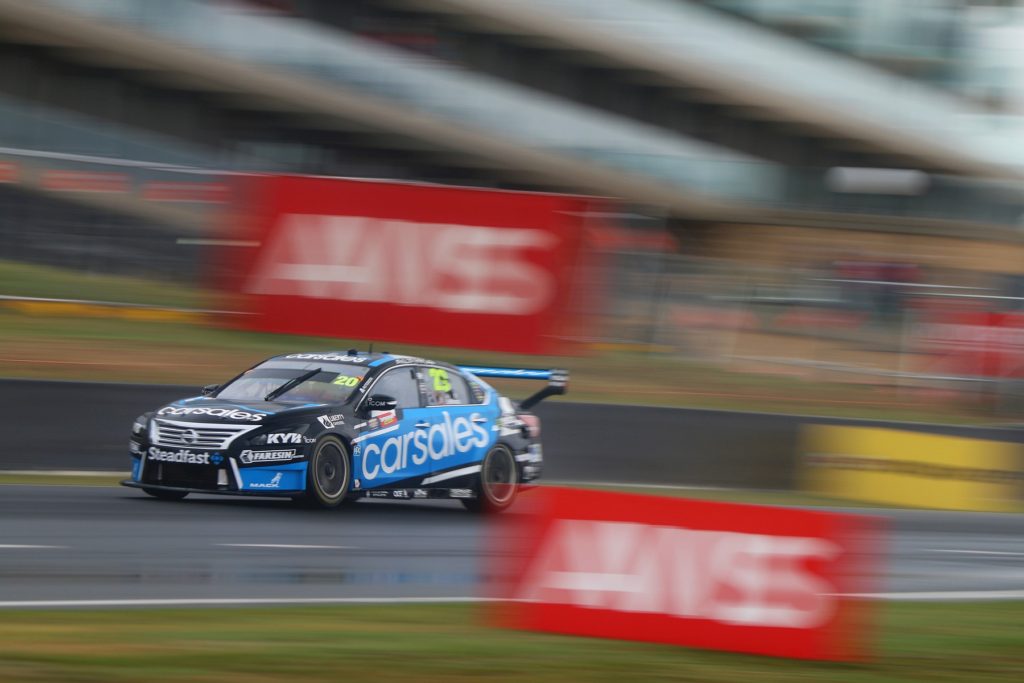 And then there's Andre Heimgartner, who didn't even have a drive when the first practice session commenced on Thursday. Yet, when he got the call-up from Brad Jones Racing he jumped into Tim Slade's Commodore and drove his first session without any feeling in his legs thanks to a driving position that certainly wasn't tailored to him.
He survived the dramas of the race in good shape and was then was in place to jump in for Slade in the closing stages when the Freightliner Racing regular was pulled from the car, sick and dehydrated. With all the drama unfolding in front, Heimgartner maintained his composure and actually improved the 14 car's position to finish the day ninth.
Earlier he'd emphatically won the Carrera Cup round, which kind of emphasised how in gear his brain really was yesterday, too.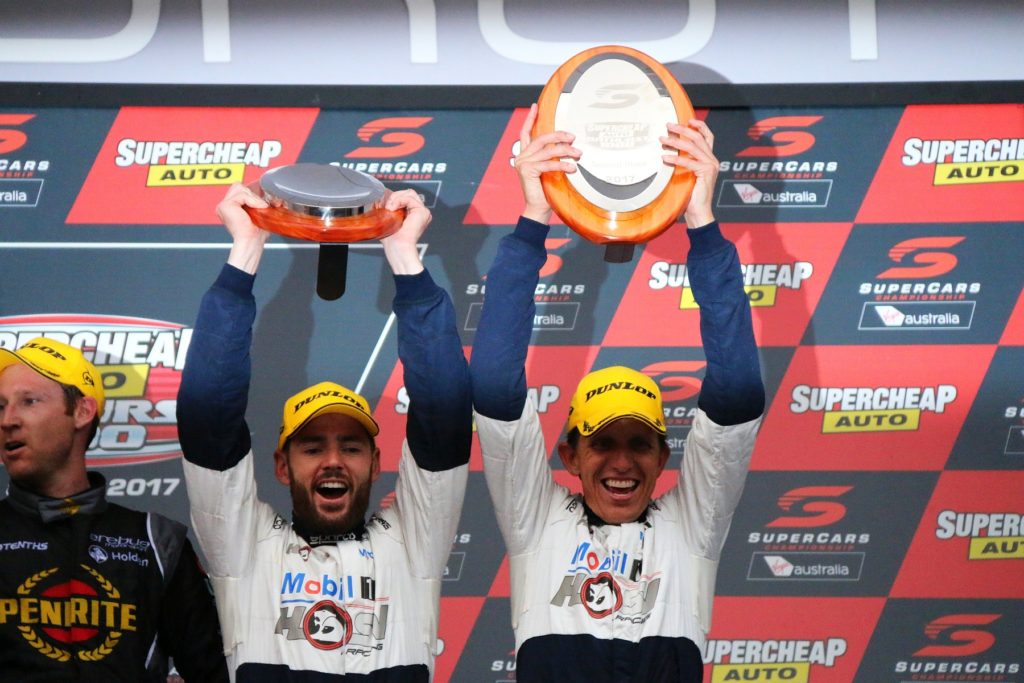 And what of David Russell, who at one point had Simona's entry as the leading Nissan? Or Tony D'Alberto finally cracking it for a Bathurst podium?
Or Jack Perkins, who 20 years after his Dad last won was at one point leading the Great Race. He'll remember that for a while, I bet.
There are stories like that throughout the field and while a majority of them won't be told, yesterday's Great Race was proof that the role of the Enduro co-driver remains a vital cog in delivering such a remarkable show that we all saw.
THE RATINGS are in and once again Bathurst has delivered a big audience on domestic TV. 
In the five capital cities – the standard ratings measure – More than 1.2 million watched the wrap-up on Network 10, with the race pulling over 900,000 for the bulk of the day.
Combining the free-to-air city and regional and Pay TV numbers more than 1.8 million watched the seven hour long race.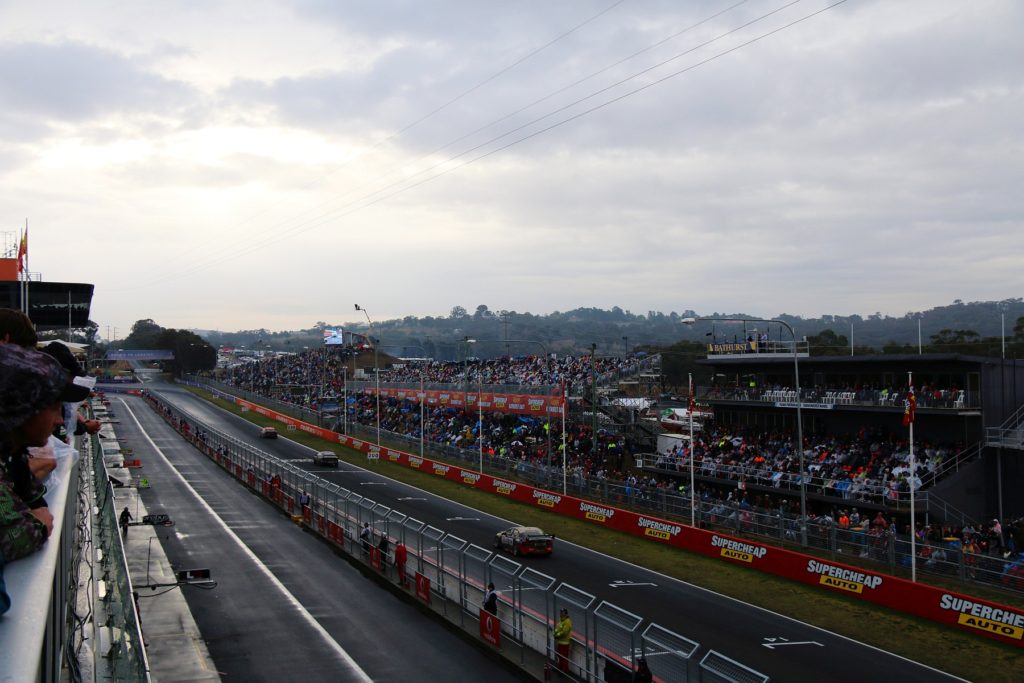 The second figure is the most vital given how much Networks crave programming that can bring a large and consistent audience across as long a broadcast window as possible.
Impressively, more than 460,000 were watching on FOX Sports which is an enormous number by Pay TV standards.
For comparison, 560,000 watched the GWS v Richmond AFL Preliminary Final two weeks ago – and any time you get within that kind of percentage of the Footy it's A Good Thing.
Interestingly, Bathurst's audience was bigger than either of the NRL Prelims shown on FOX's dedicated League channel, too.
FOX can't simulcast either of the footy codes' respective Grand Finals due to their rights restrictions, but it's a worthy comparison given the dominance of the football codes in the local TV industry.
Surely, if FOX were looking for validation in their investment in the Supercars TV rights, then this is it and, given next year they are removed from their restriction to show all of Channel 10's adverts, it's likely that audience has potential to grow.
On track, the more than 56,000 people there on Sunday helped add to the atmosphere, despite the weather.
Many people noted the size and breadth of the campgrounds, especially the new area adjacent to the Chase and alongside Conrod straight – and I was told that there was more than 30,000 camping across the weekend which is an enormous number when you consider Bathurst's population is just over 40,000.
The haters will hate and find reason to cast stones in their glass houses, but it's all just further reinforcement to the fact most of us all know;
That the Great Race remains just that.
INCREDIBLE IMAGES: Mark Walker
MEDIOCRE WORDS: Richard Craill
#MondayArvo is a weekly column by The Race Torque editor Richard Craill, who absolutely can't answer the question many in Motorsport are asking right now: Who tipped Dale Wood and Chris Pither to finish fourth in the 1000 yesterday? Anyone? No? If you're saying yes you are a liar.. Truly, a drive more under the radar than a Stealth Bomber on a night raid.