I HAVE just walked the Newcastle Street circuit to be used for this weekend's Coates Hire Newcastle 500. 
My first thought was 'there's a lot going on here..'
My second was 'Where has Newcastle been all this time?'.
I've never been to Newcastle and at no point had I ever sat down and gone 'let's go there on a holiday', or for any other reason.
But with the sun shining today, temperatures are in the high 20s and the beaches are spotted with people surfing and sunbathing.
There are nice cafe's with good Coffee – an important recce' item for any race meeting – and many historical, impressive buildings in and around the precinct that give the place a somewhat Euro vibe.
I like impressive, historical buildings so for me, that ticks a box.
I've only been here six or seven hours but Newcastle has gone from a place that I'd never visit to one that, should I be driving down the M1 Motorway at some point in the future, I may now consider popping in for a mosey around.
Who knows what it will be like at the end of the weekend?
We don't yet know how this track will perform as an actual racing circuit, but under these deep blue skies and alongside the deep blue sea, this will be a circuit hard to match in terms of visual spectacle.
The run down the hill from turn two, through three, four and five will unquestionably become an iconic bit of Australian Motor Racing, in the same way that the Senna Chicane is to Adelaide and the Beach Chicane is to the Gold Coast.
As a visual selling point for Newcastle is it almost unparalleled: high-rise living on the left, sweeping road plunging down a hill in the middle and bright sandy beaches buffering an ocean on the right.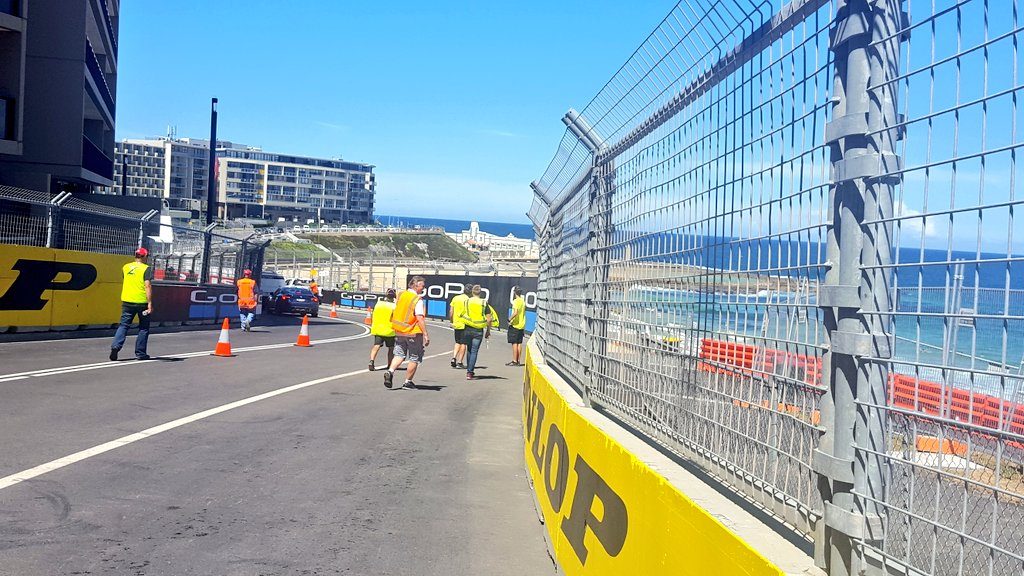 It's stunning. Monaco-esq, even. The camber, elevation change and flow are impressive.
The run down towards the hairpin at the back of the circuit, past Fort Scratchley, is similarly impressive.
The front straight and pit lane borders the harbour and already there's large boats parked up on the run in to turn one, ready to capture an impressive view of a tricky left hander before the climb up Watt street.
Behind the paddock it's cool, shaded and grassy. The concert area is massive. The grandstands all seem to be in positions where good stuff will happen.
Good viewing will not be a drama at this place.
As I said, we don't know if this place will actually produce great motor racing, but it will almost certainly produce great drama one way or another.
It's the perfect place for a championship decider.
I respect that some people don't want their life to be disrupted by a motor race, though I can't abide by those who take to vandalism to get their point across; surely their are other ways.
But perhaps the best outcome from this weekend is that irrespective of this circuit being a success or not, hopefully the sport can convince these people that, even if they still don't like it, its a worthwhile addition to the city's event schedule.
It's already put Newcastle on the radar for me and I'd barely thought of the place before this weekend.
I'll finish with a story: two years ago, colleagues of mine based in the UK were sitting, probably shivering in a typically cold, dark and horrible English autumn, watching the Gold Coast 600 on their TV.
What they saw was sweeping beaches, an impressive skyline, blue skies and visuals that captivated them.
They subsequently booked a holiday there for a week after the Bathurst 12 Hour a year later, spending cash on flights, hotels, food and more.
If there's doubt that events like this don't have a positive influence on tourism, there's proof of one such instance: and I'm sure there's more.
Based on a positive first impression today, I'd suggest people watching this weekend, once they get a load of the scenery this circuit has to offer, may well do the same.
POSCRIPT:  
I'd like to point out now that the organisers have placed the media centre in a function room, just exiting turn one.
And while that may sound fine, I'll add that it's above the Customs House Hotel, which is a fully functioning pub and restaurant.
This could be the most genius idea ever because the one thing the media like more than having an opinion, is having a drink.
And while I would never cast my colleagues in the media in an unfavourable light by suggesting that they may enjoy a beverage at some point across the weekend, perhaps consider this if a spelling or grammatical error or two works into circulation..
WORDS & PHOTOS: Richard Craill