The 'Other' championship showdown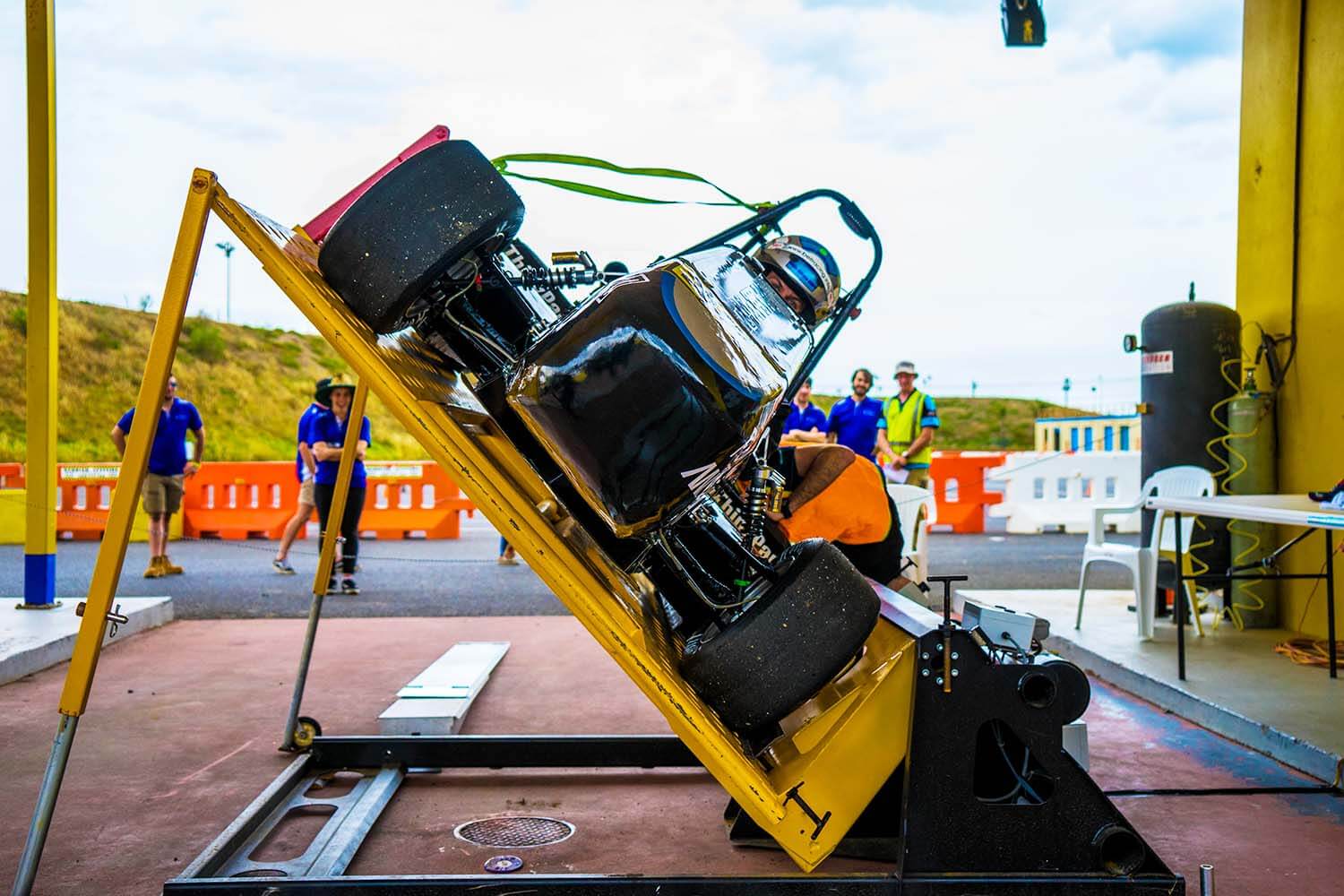 WORDS: Rhiannon Veness
IT IS the other motorsport competition we should be talking more about
With the Supercars Championship wrapped up for another year, it's time to turn our attention to another 'championship' that has recently played out.
Perhaps unbeknownst to some, 25 teams of university students descended upon Calder Park from 7 to 10 December for the annual Formula SAE Australasia (FSAE-A) competition.
Perhaps also unbeknownst is the impact that this weekend in December has on not only the lives of the students taking part, but on the future of Australian engineering and motorsport.
Here, aspiring engineers and students from various backgrounds, degrees and career goals unite in a common goal. It is the culmination of 12 months of preparation, sleepless nights and the delicate art of balancing academic, team and work commitments.
For the students on the teams, this is much more than just a university project. Formula SAE enables students to design and manufacture an open-wheeled formula style car and compete in timed-trials and static events against other students from across the globe.
The first Formula SAE event was held at the University of Texas (Austin) in 1981 off the back of the 1980 Mini Indy competition. Four teams attended and could run any four-stroke engine in an open-wheeled race car. Since then, the event has developed into a world-wide pursuit, with offshoots in Europe, the UK, South America, Asia and here in Australia since 2000.
The event in its current format, Formula SAE-A is a juxtaposition of the future of Australian ingenuity and innovation against the backdrop of a bygone era and the slowly crumbling remnants of the Thunderdome and its promises of American-style stock car racing. Even while operating within the competition regulations, teams manage to produce their own unique takes on the design challenges, delivering a field of cars full of personality.
Not every student who participates in Formula SAE has dreams of making it in motorsport but those who do have a serious leg up on the competition.
FSAE-A alum have found homes across the Supercars paddock, with one of the most notable being Jamie Whincup's engineer, David Cauchi.
Cauchi is a graduate of UTS Motorsports and the team has come a long way since forming in 1999 and first competing in 2001.
The competition
Since transitioning from the traditional four-stroke off the shelf motorcycle engine to a fully electric vehicle in 2014 and rebranding as UTS: Motorsports Electric, the team has gone from strength to strength. In 2016, the team's second year competing with an electric vehicle, they placed first in the Efficiency dynamic event and 11th overall in a field of 32 international and local internal combustion engine and electric teams.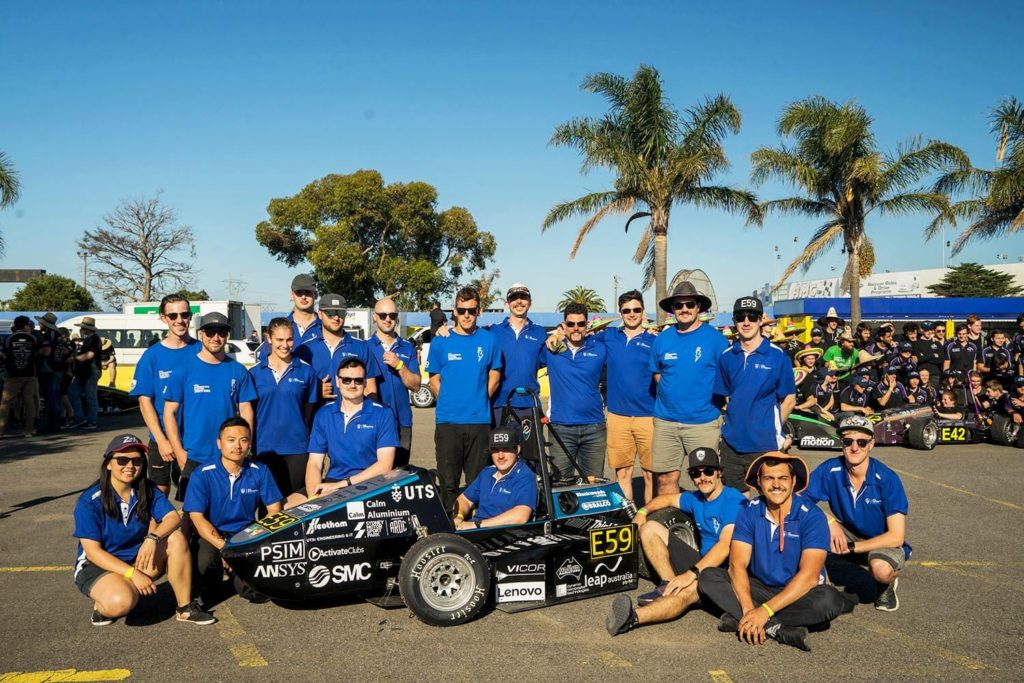 The competition comprises seven events, four dynamic and three static. The dynamic events – Skid Pan, Autocross and Endurance – are designed to test the car's performance, reliability and efficiency. The static events – Cost, Design and Business Presentation – test the theories and real-world application of the cars as a marketable product. There are a total of 1000 points up for grabs and the team with the most points at the end of the weekend wins, as well as honours for individual events.
Recent memory will tell you that Monash Motorsport is the Formula SAE-A equivalent to Supercars' Jamie Whincup / Red Bull Racing juggernaut, placing first overall more times than most other teams would like to remember winning eight of the last nine Australian events.
In what could be considered an upset in the 2016 event, the University of Wollongong placed first overall breaking the long-running winning streak.
Since EVs first debuted in the Australian competition around a decade ago, a number of universities have taken up the electric challenge including RMIT, Swinburne University, The University of Queensland, Monash University and the University of Wollongong.
As the SAE-A continues to keep the focus on design and innovation, a growing number of teams are electing to push the envelope and run two cars, one ICE and one EV.
As the number of EVs continue to grow, this was the first year that the Australian competition will have separate scoring to better distinguish between the internal combustion engine (ICE) entries and the EVs. The overall format of this year's competition has been redesigned to better align with the international running's of the event to reduce complexities around scoring and reward teams that prioritise reliability over outright speed.
2017 turned out to be a breakthrough year for UTS Motorsports Electric, delivering arguably their best result in the team's 16-year history. The car, UTSME:17 Amber, held her own against a competitive field, coming home second in overall EV standings and delivering 1st place in Efficiency for the second year in a row and 2nd place in Endurance, Autocross and Design against nine other teams in the EV class.
The logistics
The student teams face many of the same challenges as professional racing teams, developing their cars to be as competitive as possible, getting in enough track time to test and make adjustments and actively seeking sponsorships. This year, the UTS guys and girls took these challenges head on and have made huge strides in their car's performance, getting in plenty of track time and bolstering their sponsorship arrangements to fund the program.
Most universities provide some funding for their teams as the work they do actively supports research projects or other academic initiatives, but motorsport at any level is an expensive endeavour and the more in-kind and cash sponsorship the teams can procure, the better. Just the batteries and motor for UTSME:17 run around $35,000.
Teams are always on the hunt for sponsorship of any kind. For UTS it has come in the form of computers from Lenovo, aerodynamic modelling software and training for ANSYS simulation software from Leap Australia, aluminium for the full monocoque from Calm Aluminium, laser cutting from SMC and heaps of cash sponsorships – among many more.
Full-time course loads and part-time jobs or internships add a layer of complexity to designing, manufacturing and testing a car in 12 months. Fitting everything in is arguably the most difficult part, with some teams only starting test runs a few weeks before the competition gets going.
Testing was a focus for UTS this year, and in October the team took part in a challenge event at Sydney Motorsport Park organised by the University of Wollongong FSAE team and the ARDC. This was a chance for the six Sydney area teams to come together and test under similar conditions as the end-of-year competition. Ultimately, only UOW, UNSW and UTS were able to attend and UTS took out top honours in every dynamic event.
Another unique aspect of Formula SAE team life is that students are only able to be a part of the team while they are studying, meaning that the life span of a team member averages only a few years. All teams go through cycles of being almost completely new which can play havoc on gains made by senior members as they graduate.
For the majority of UTS team this is their final year of uni, making recruitment a priority for next year.
While a few teams choose to run in both ICE and EV classes, in 2014 UTS Motorsports made the decision to concentrate their efforts solely on an EV project. With a focus on track time, this year's car is quite similar to last year's, bar a few noticeable changes. Moving away from a hybrid chassis to full aluminium honeycomb monocoque is the most noticeable change, and UTSME:17 is 30 per cent lighter than its predecessor. It's reinforced with Kevlar for added strength and was manufactured entirely in-house in the university's machine shop.
This year's car also has double the power, which was achieved by increasing the capacity of the battery powering the high-voltage motor from 400V to 600V. These changes meant that they will be able to sit in the efficient range of the motor for longer, theoretically giving them the edge they needed to improve on last year's result.
The future of Formula SAE in Australia
A cloud of uncertainty hung over this year's competition with news of SAE Australasia going into voluntary administration earlier in the year. These issues caused a ripple effect, with a number of international teams choosing to pull out the competition. Hopefully, this isn't a foreshadowing of bigger things to come.
Billed first and foremost as a student led design competition, without Formula SAE in Australia it's relatively safe to say that the future of Australian motorsport – and mechanical and electrical engineering in general – could look very different.
The practical elements the program provides is second to none, so much so that companies like Tesla specifically look for FSAE experience. Students walk away with the foundations they need to do things like win Supercars championships – multiple times.
RESULTS: FSAE-A Competition 2017 results:
Electric Vehicle (EV) Class
| | | | |
| --- | --- | --- | --- |
| Place | Number | Team | Total score |
| 1 | E65 | Monash University | 919.3 |
| 2 | E59 | The University of Technology, Sydney | 853.7 |
| 3 | E42 | The University of Queensland | 750.4 |
| 4 | E88 | RMIT University | 743.4 |
| 5 | E47 | The University of Auckland | 336.0 |
| 6 | E43 | The University of Tasmania | 219.6 |
| 7 | E17 | Swinburne University of Technology | 198.0 |
| 8 | E85 | University of Wollongong | 180.3 |
| 9 | E99 | Vellore Institute of Technology | 178.3 |
Internal Combustion (IC) Class
| | | | |
| --- | --- | --- | --- |
| Place | Number | Team | Total score |
| 1 | 66 | Monash University | 959.3 |
| 2 | 10 | University of Wollongong | 734.8 |
| 3 | 14 | Curtin University | 729.6 |
| 4 | 63 | University of New South Wales, Sydney | 729.2 |
| 5 | 101 | The University of Melbourne | 713.1 |
| 6 | 15 | University of New South Wales, Canberra | 545.5 |
| 7 | 25 | University of Waikato | 482.5 |
| 8 | 111 | Griffith University | 401.9 |
| 9 | 8 | University of Adelaide | 270.5 |
| 10 | 21 | Tokyo Denki University | 255.1 |
| 11 | 33 | Flinders University | 228.1 |
| 12 | 12 | RMIT University | 197.6 |
| 13 | 77 | Vellore Institute of Technology, Chennai Campus | 189.5 |
| 14 | 16 | University of South Australia | 176.4 |
| 15 | 29 | Western Sydney University | 164.7 |
| 16 | 57 | NED University of Engineering and Technology | 80.7 |