THERE'S no race track in Australia where the term 'lap record' means more than Mount Panorama, Bathurst.
WORDS: Richard Craill IMAGES: Bathurst 12 Hour
The ever-evolving quest to be the fastest ever on Australia's most hallowed bitumen is reaching Nürburgring-style proportions and it seems like the lure of a sexy Mountain lap time struck again across the Liqui-Moly Bathurst 12 Hour weekend.
And no, we're not talking about the Brabham BT62 – though this story does involve another car with strong Aussie roots.
Instead, the MARC Cars Australia Generation II racer may be the latest car to enjoy some time in the limelight thanks to a lap-time push during qualifying for Australia's International Enduro.
Designed and built purely for long-distance racing and not for raw, unbridled lap time, the second-generation of the All-Aussie designed and built racer was never supposed to be about smashing records.
Yet it seems that when proper racers like project originator Ryan McLeod and Paul Morris are involved and you have the capabilities of one of the nations' best young talents plugged in to the driver's seat, sometimes it's impossible to reject Mount Panorama's advances.
Which is exactly what happened in qualifying for the 12-Hour, as Anton De Pasquale ignored the rule book and went faster than any MARC – it stands for McLeod Auto Racing Cars – entry has gone before at Mount Panorama.
Event sporting regulations detailed the requirement for the MARC II cars to race to a benchmark lap time of 2 minutes, 5 seconds. Go quicker in the race and you'd be penalised however go quicker in qualifying and your lap time would be removed.. Which isn't really a problem at all as long as you had something in the 2m05s in the bank already..
Thus, when 2m04.7910s was quickly followed by a 2m04.2585s effort much of Mount Panorama sat up and took notice.
In the all-in session, that time – at least before it was deleted – placed the young Erebus Motorsport driver eleventh outright of 38 cars and in front of at least one GT3 variant from each major manufacturer.
"Lap time shows the capacity of the car, especially at a place like Bathurst," team boss Ryan McLeod said.
"I've got this idea in my mind that lap time always matters and I think that's true. We've never gone out and out for raw speed in these cars and only just scratched the surface of what they can do.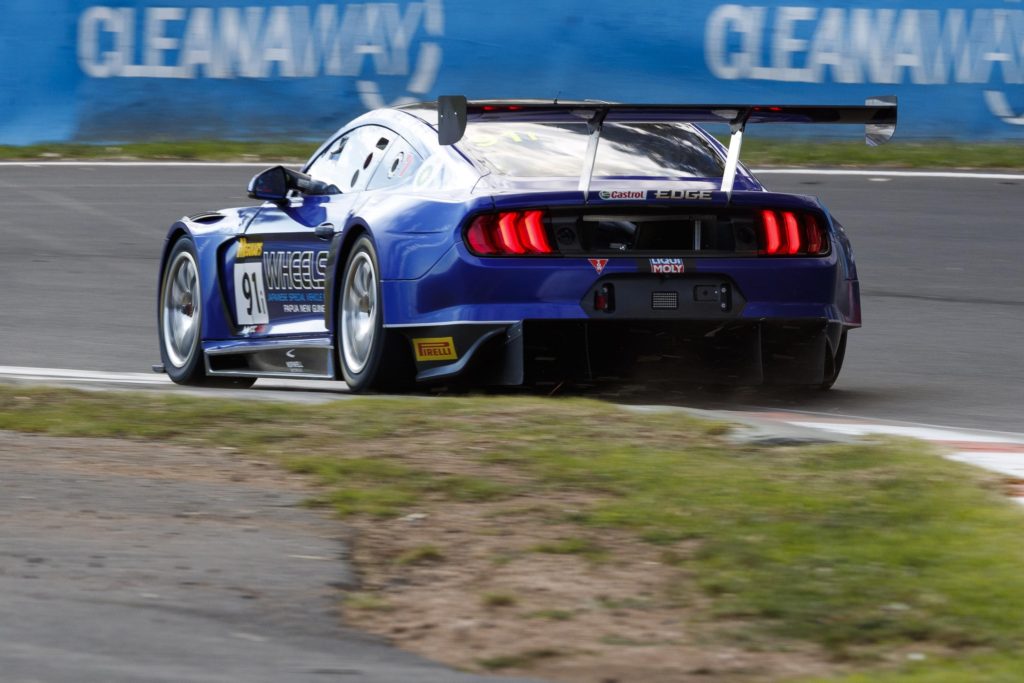 "We had the Brabham sitting next to us and they were there to go as fast as possible to promote their car.
"We had Anton there and regulations said that there would be no penalty for going quicker than the benchmark time aside from losing those laps if we did.
"It was pre-planned. We said 'lets go out and see what it can do'. When you have opportunities like that with a great driver and the same tyre, track conditions and variables as everyone else you have to take them."
The results were spectacular and have since drawn more international interest in the program in a week since, just perhaps, the program was launched at Mount Panorama way back in 2013.
While it is true that sex sells, so to do sexy lap times at Bathurst as well.
"I've had inquiries in the last days since the race from Australia, Europe and the USA. Paul (Tracy) has helped because he has a great profile in the 'States, but the reception the car has got is fantastic."
You can hear the enjoyment in McLeod's voice when he talks about the way the car performed during de Pasquale's qualy sojourn.
"It wasn't like we went out and optimised the car for one-lap speed with the setup," He explained.
"Everything we do is endurance oriented. It's not as though there is a massive engineering resource sitting around trying to engineer every last tenth out of it. But it was quick. He did the two laps in the 4's and the next was going to be a high three. I called it off.. there was some traffic on Conrod so we called it off.
"But the speed of the car in the hands of a Pro driver like Anton is good."
The Generation II MARC Racer was an evolution of the original concept, trading the more mid-range bodies of a Ford Focus or Mazda 3 for something sexier. Something that screams 'GT'.
So too the performance: While the Gen II car may shout 'Supercar', in reality its performance – or at least the way it makes it – is much closer to that of a fully-fledged GT3 car.
"The car maxed out at 282km/hr down the straight which is not ridiculous. It's genuinely comparable in its speed and where it makes it to a GT3 car. It's not as fast as them, but it's quicker than some."
It begs the question – How fast can it go?
"If we had put an engineering group dedicated to finding lap time around it, sure there would be more in it," McLeod explained.
"That car ran with the air restrictor mandated by the regulations, so that 75.2mm restrictor can come out. We also were running the car at 1200kg. We can run it at 1150kg if we need. Then there'd be a medium or soft tyre. It could go quicker.
"If I was inclined I would go back to Challenge Bathurst in November in those conditions and see what it can do.."
Trust a project created and executed by racers trying to go quicker – though it's unlikely the chase for raw lap time will move the core focus of the MARC project; one that has been admirably focussed since the car was introduced in early 2013.
MARC Cars are about distance racing, something they have proved time and time again they are incredibly adept at doing.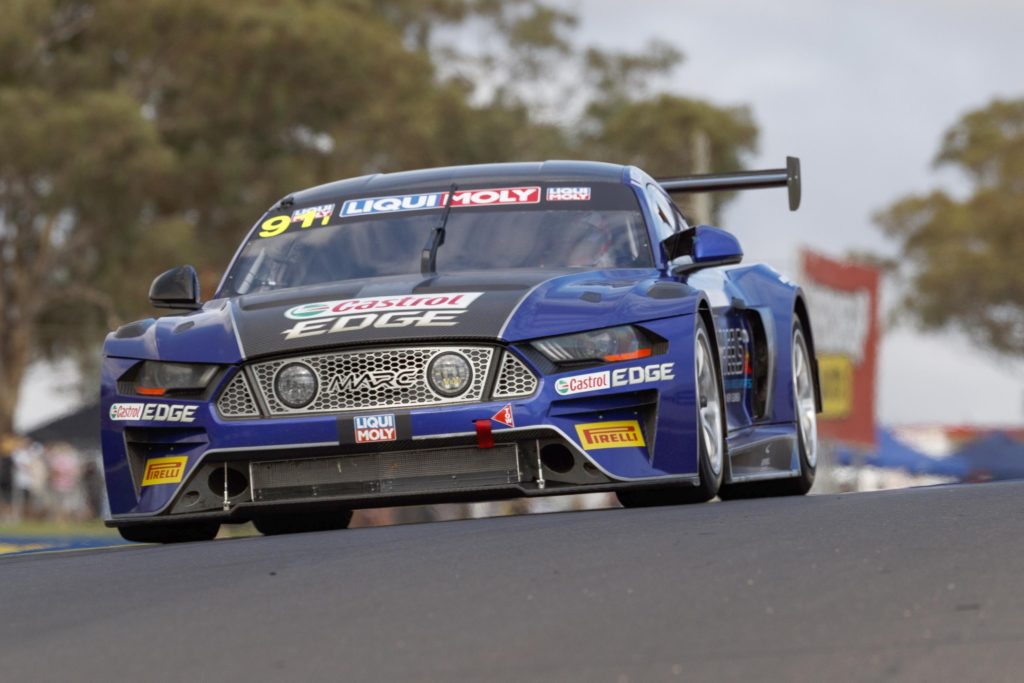 "It's been a massive project, a huge project," McLeod exclaimed of MARC II.
The second-generation car was built to put in place everything they had learned from the successful run of first-gen cars.
Without wanting to have nearly 20 cars in different states of evolution, all of the design ideas and improvements were instead rolled into one giant leap in specification that emerged in the MARC II shape, one with a Mustang-likeness.
"Couple it with MARC 1, which we started racing in 2013, and it's been massive. The evolution of it all has been massive, but this doesn't replace the first car. It's definitely evolution.
"We're going to keep refining the process. The car looks good, it performs well and it's got a good reputation. We want to keep building that."
And the next step is more of Mount Panorama.
The MARC team has their genesis at the Mountain, and for all of the international racing and success the brand has had since, it remains in the core of their existence.
Put shortly, McLeod wants more MARC at the Mountain.
"The first thing we want to do is embrace the immediate surroundings, i.e. the people racing here, and get more cars to the 12-Hour next year. That's where MARC Cars started and if it wasn't for our original acceptance, by (then-promoter) James (O'Brien) in 2013 we wouldn't be having this conversation.
"Customers ordering and running cars at international events are great, absolutely. But domestically our focus is that we'd love to have four or six cars run by different outfits at the 12-Hour next year.
"It's a good fit for the event. It's a bit of a crowd favourite. It's the only Aussie-made car on the grid. We've got the potential to do it and we think it works for all parties."
Of course, while a Generation II MARC Car won their class at the weekend, it wasn't the factory car.
A rare failure in the gear selector ensured the Keith Kassulke, Paul Morris, Anton De Pasquale and Paul Tracy entry was sidelined after 189 laps and just before the 10-hour point of the fastest 12-Hour in history.
The winning car, steered admirably by privateer Adam Hargraves, Steve Owen and Daniel Jileson, completed 282 laps to win their class, finishing 17th outright. It was the furthest any MARC-built car had gone in the history of the 12-Hour.
"We were pushing hard," McLeod explained, "But we've never failed the gearbox before."
"Something in there was not in alignment and it broke but that's the race sometimes. It's still hard to swallow though."
The winning car, however was something of a proof of concept for the McLeod team.
Buy an already well-sorted and reliable car, run it affordably and end up standing on the Bathurst podium.
"The other car had one of our diving instructors, Dan and Steve Owen driving with the owner who bought it. They ran the car themselves and finished the race and we didn't. They weren't slow and didn't crash. It's proof of the program – you can buy a car and get a result at the biggest race in the country.
"They were a privateer team and did a great job. I'd also love to see more professional teams running cars too. I think there can be a genuine, gloves-off fight for the class and for a better outright position if we have six or eight in there running.
"The cars aren't expensive. For $320 grand you get a lot of car for the money and you can win Bathurst."
Currently, McLeod has four new MARC II racers under construction and interest from all corners of the world for more after that.
Could it be that seven years after the original MARC I concept took Bathurst by storm, that the 2019 12-Hour could be the genesis of a new era of growth for the Queensland-car that could?
"I think it's good," McLeod said, firmly. "Where it fits remains to be seen but we hope and we are working towards increasing level of acceptance in event and promoting the number of cars we have in it.
"It's our belief that everyone wins If that happens and I think others agree too."
BIG TICK FOR TRACY
GIVEN HE hadn't raced for about eight years, had never seen Bathurst in the flesh and was unfamiliar with the MARC Cars, Champ Car champion Paul Tracy received a big tick in the positive box following his debut in the Bathurst 12 Hour.
A late addition to the squad, Tracy was added after original co-driver Boris Said was injured on his trail bike pre-event.
With the Aussie connections operating around the world, it was former Channel 10-turned NBC voice Leigh Diffey who suggested Tracy to Morris and, ultimately, McLeod.
"The guy is a pro," McLeod confirmed.
"I didn't really know what we'd get, to be honest. Of course he was a top level driver in his day but he hadn't raced in years. He didn't even have a license! He had never driven at Bathurst and hadn't done a heap of GT-style racing.
"But within two laps any concerns he had or anyone had were gone. He prepped like a pro. His first lap out was a (2 Minute) 12.5 and his next was a 9.5. He had genuine feedback on the car and what it was doing."

Apparently, the 2003 Champ Car champion also had positive things to say about his first MARC Cars experience.
"He's no mans fool and has been around a while and driven lots of cars and he has glowing things to say. The car is functional, easy to operate and doesn't use tyres. It's got no grimaces so it's good to jump into and drive quickly straight away.
"He did a fantastic job. So did Paul. Keith was brilliant. Everyone did a great job – it's just a shame that we had a technical problem.
"But the speed of the car was gratifying."