DOES THE MUSTANG really have an advantage? Or are the Holden teams just way behind the eight ball this year? Where does the Nissan sit? Here's some numbers that may (or may not) help illuminate the great parity debate of 2019.
WORDS: TheRaceTorque.com crew IMAGES: Supercars, Red Bull HRT.
Much has been played out in the parity debate in recent times, so here at The Race Torque, we've broken down some tidbits from Phillip Island, while we also look at the upcoming rounds.
Qualifying Times – Phillip Island
Highlighted values are the best qualifying time for DJRTP, T8, Non-T8 Holden, Nissan and Tickford for each year.
2018 Race 9

1. Scott McLaughlin, DJRTP – 1:29.5057
2. Jamie Whincup, T8 – 1:30.0523
3. Shane Van Gisbergen, T8 – 1:30.1799
4. Craig Lowndes, T8 – 1:30.2002
5. Rick Kelly, Nissan – 1:30.2635
6. David Reynolds, Non-T8 – 1:30.2979
7. Chaz Mostert, Tickford – 1:30.3156
2018 Race 10
1. Scott McLaughlin, DJRTP – 1:29.8526
2. David Reynolds, Non-T8 – 1:30.2540
3. Fabian Coulthard, DJRTP – 1:30.3903
4. Rick Kelly, Nissan – 1:30.3988
5. Jamie Whincup, T8 – 1:30.4956
9. Shane Van Gisbergen, T8 – 1:30.6055
10. Mark Winterbottom, Tickford – 1:30.6669
2019 Race 9
1. Scott McLaughlin, DJRTP – 1:29.2292
2. Fabian Coulthard, DJRTP – 1:29.8114
3. Chaz Mostert, Tickford – 1:30.1031
4. Andre Heimgartner, Nissan – 1:30.1429
8. Scott Pye, Non-T8 – 1:30.4899
9. Shane Van Gisbergen, T8 – 1:30.6060
17. Jamie Whincup, T8 – 1:31.2503
2019 Race 10
1. Scott McLauglin, DJRTP – 1:29.5422
2. Fabian Coulthard, DJRTP – 1:30.1787
3. Chaz Mostert, Tickford – 1:30.2772
4. Anton de Pasquale, Non-T8 – 1:30.2774
7. Shane Van Gisbergen, T8 – 1:30.5526
10. Jamie Whincup, T8 – 1:30.8483
11. Rick Kelly, Nissan – 1:30.9520
Year on Year Change
Scott McLaughlin – 0.2765 faster
Tickford – 0.2125 faster
Nissan – 0.1206 faster
Non-T8 Holden – 0.0234 slower
T8 – 0.5003 slower
Whincup – 0.7960 slower
McLaughlin's Pole Margins
Race 9 2018 – 0.5466
Race 10 2018 – 0.4014

Race 9 2019 – 0.5822
Race 10 2019 – 0.6365
To break that down, McLaughlin's pole margins as a whole are staggering, but Sunday on Sunday year on year, he gapped the field by an additional 0.2351sec.
While conditions may have played a role and keeping in mind that he lowered his best time year on year by 0.2765, how much of that is down to the car changes, and how much is down to the driver being peerless at Phillip Island?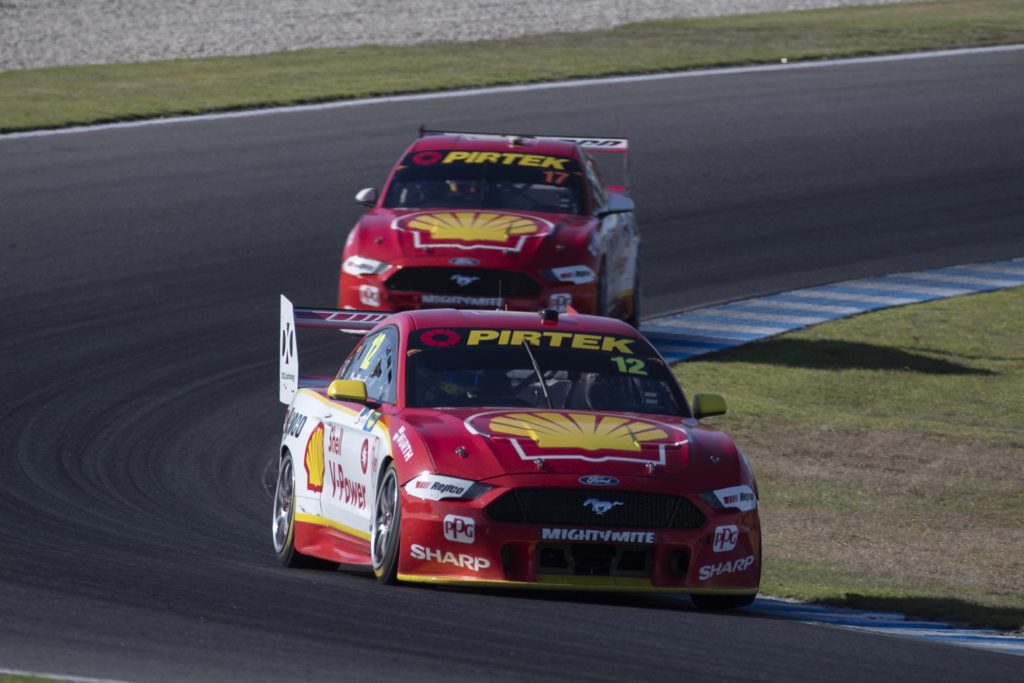 It's worth recounting the many off-Season Changes in place for this year.
All cars – Single spring arrangements across the board following a ban on twin/triple/quad spring set ups
Ford – New Mustang body replacing the FG-X, which had roots back to the Ludo Lacroix designed FG, which debuted in 2009 and subsequently received a facelift in 2015
Nissan – Altered gurney flap on rear wing, with the package largely the same as the 2014 iteration of the Altima
Holden – ZB Commodore as designed by Triple 8 for the start of the 2018 season
From the T8 Camp
VIDEO: Roland Dane on T8 Form, Errors..
"Here we're trying to walk a tightrope in the performance window, as it were," said Roland Dane on Sunday morning to Neil Crompton.
"We're trying to find something, that to be honest fundamentally isn't there, and all of the Holden teams are.
"We're trying to find front end performance of the car, that actually isn't there, so we're doing all sorts of things trying to find it, and I think you see it with the other Holden teams with Erebus, with Walkinshaw's as well, slipping in and out of that window.
"Jamie (Whincup) and (David) Cauchi tried too hard yesterday, and the other car was actually pretty good from a race point of view, we weren't unhappy with that, but we are at a performance disadvantage, we have to accept that here."
The weekend for Triple 8 came off the back of a tough season opening test day at the venue.
"Our set-ups, in the rear in particular, were very, very non-linear in the past, so we're making a big change," Mark Dutton told Motorsport.com at the time.
"The thing is, you then have your dampening and geometry and bars and everything set-up for the way you work.
"Even though a linear is a more simple thing, when the rest of your car is tuned for a very non-linear set-up, there's a lot of differences you need to get on top of.
"We definitely got through some good learning today, some good testing, but you see on the timesheets – that's not because we didn't have enough tyres.
"There's no excuses; we just need to analyse exactly what we did."
Comparison time.
This comparison between McLaughlin and Whincup's best laps from Friday painted a fairly graphic picture.
While we're not sure where Supercars Charts scrape this data from, if it is on the money, it also tells an interesting story of the strong and weak points of the different cars for the above laps.
Updated chart with data cleaned up and laptime delta included. pic.twitter.com/aSfxJxo0vL

— Supercars Charts (@supercarscharts) April 13, 2019
What's Next?
The thing with Australian motorsport is that we lack big, bad high-speed tracks, where pace is dependant on the aerodynamic performance of the cars, like Phillip Island and Bathurst.
While it's nice to have a slick car, there is much emphasis at upcoming tracks on straight line handling, power down and bump / ride control.
Barbagallo Raceway – All about keeping tyres under the car, with the added curve ball of the new track surface.
Winton – Slowest track in country, aero negligible.
Darwin – Compromise between drag strip and slow to medium speed corners on the backside of the track.
Townsville – Street circuit, hardest track on suspension in the country.
Qld Raceway – Compromise between fast, slow and really slow corners, plus massive bumps.
The Bend – Compromise between drag strip and everything else in between.
Final Thoughts
Jamie Whincup hasn't forgotten how to drive.
With seven titles under his belt, overnight he hasn't dropped from being an A+ driver.
That said, Triple 8 clearly have much work to do to maximise their package.
Recent strong performances from satellite squads Irwin Racing and Matt Stone Racing are proof that their technology can stick it to anyone in the field, and Anton De Pasquale's podium on Sunday shows that the Holden package was capable at the Island.
In 2017, Craig Lowndes had an off year in T8 prepared machinery, with much of the issue coming down to a change in tyre compound for that season.
Small changes, tight tolerances, and a resulting lack of confidence in the package are hard to overcome in such close competition.
Barbagallo Raceway has been one of the happiest hunting grounds for T8 over the years – for the sake of the sport and the competition at the pointy end of the field, here's hoping they are back at the front sooner rather than later.
It's also worth noting that while Tickford clearly had a year-on-year gain at Phillip Island, they were still some margin behind, at least relative to the Shell Mustangs, at the weekend.
The remainder of the Commodore pack seem fairly standard from last year, while the Nissan – at least at Phillip Island, always a happy hunting ground – may have found some improvement.
Though given they barely cracked the top 15 a week ago, even that's a hard one to read.
The parity debate is unlikely to die down and there may well be changes to come. And Phillip Island is a unique circuit as we've outlined above so take the numbers with a pinch of salt.
It'll probably be very different in the wild West next fortnight.
But at the moment the Shell Mustangs are much better than everyone, and the Red Bull Holdens are much worse than their GM-driving rivals and, as such, most of the regular front runners too.
It's hard to get a read on real parity when the best Holden team of a generation are behind the eight ball, and few others of any brand are stepping up to fill the void.