PART TWO of our look back at the 2002 Adelaide 500 takes us to the main game – the Supercars races. We've found handful of cool images, yet to be published, in our archives that we thought would be worth getting out and about.
WORDS & IMAGES: Richard Craill
This story and gallery follows our first earlier this week, covering off some of the support categories with a feature on the very cool GT Nations Cup.
Today it's all about the Supercars, at a point where the championship was gradually morphing from a field split with professional teams and privateers to what we know now as a fully pro category.
Though to some 2002 won't seem like that long ago, it's actually more than 6,200 days – over 17 years – since these photos were taken!
There are drivers actually racing Supercars now that weren't born when this particular bit of film was exposed to the light.
So while we go and wallow in feeling old and tired, here's a quick look back at the 2002 Adelaide 500 from the lens of a very young and not overly competent would-be The Race Torque Editor / amateur Photographer.
Editors Note: You will note a theme in these photos so it's worth pointing out that in 2002, yours truly was a) A Holden fan b) A Brock fan c) A Larry Perkins fan and d) not as impartial as I am today. That is why a majority of the images are skewed in that direction. Basically, film was expensive and I was a poor unemployed kid trying to have a crack so with the fullest of honesty – I didn't want to waste it on photos of Fords!
LEAD IMAGE (ABOVE): Steven Richards leads Craig Lowndes and Marcos Ambrose into the Senna Chicane early in the Saturday race.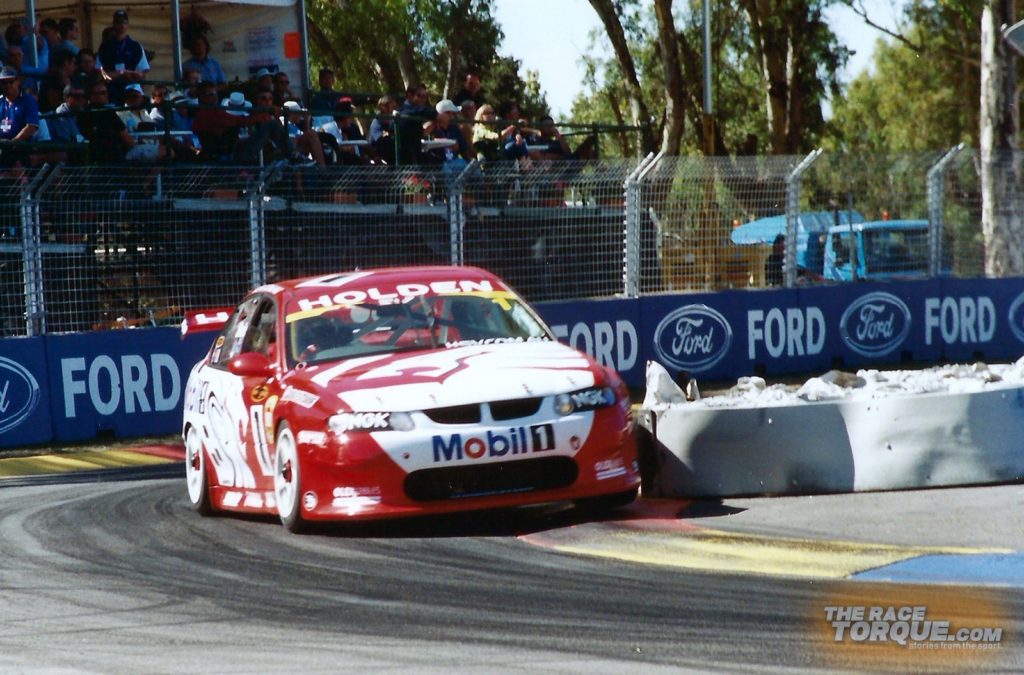 Mark Skaife attacks the kerb at Turn Eleven as he hammers the HRT Commodore hard during qualifying. This car, of course, is the famous 'Golden Child' – HRT 045. As well as dominating the Adelaide 500 that year, Skaife would also use the car to win the championship. The chassis also became just the second car in history to win two Bathurst 1000s. – Key info thanks to the V8 Sleuth.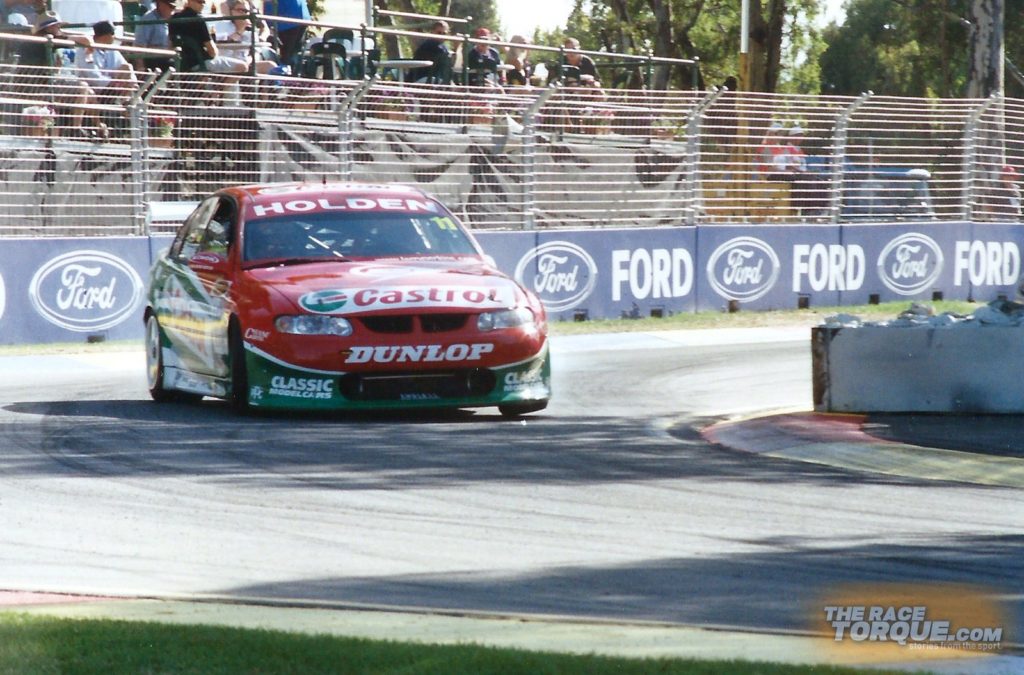 LARRY PERKINS finished 11th and 14th in the two races in 2002, respectively, but that didn't mean he wasn't having his usual red hot go!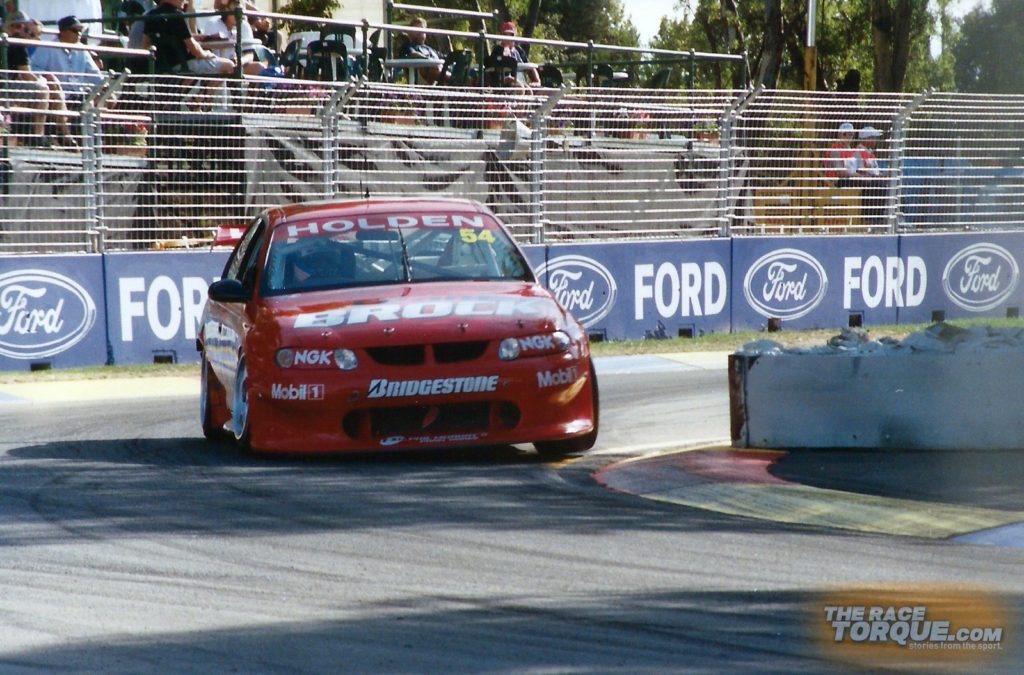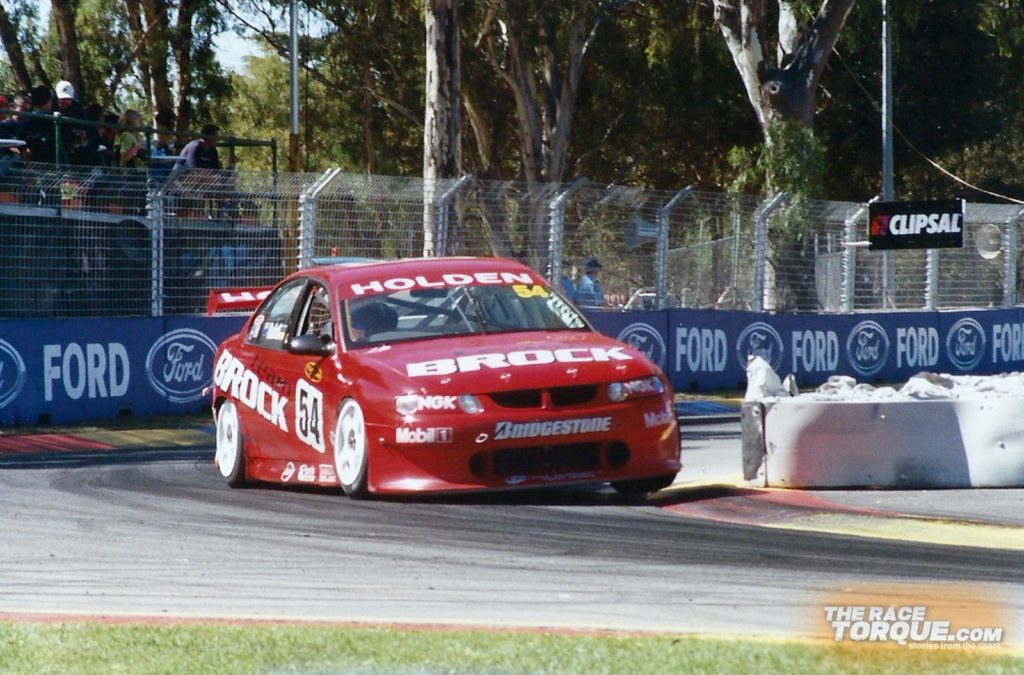 SAME CORNER, different sessions – two shots of the 'Team Brock' Commodore driven in 2002 by Kiwi, Craig Baird.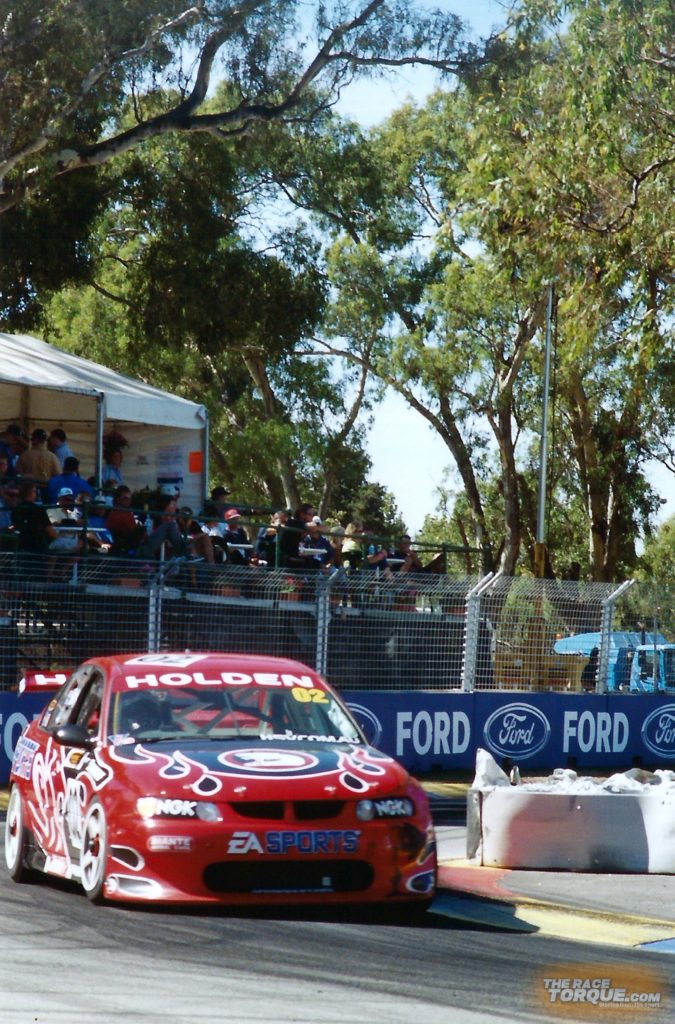 YOUNG LIONS: Remember the Holden Young Lions program? Quite a few talented drivers got their start there. Here's Rick Kelly making his full-time debut in the class and starting a campaign that would see him crowned Rookie of the Year.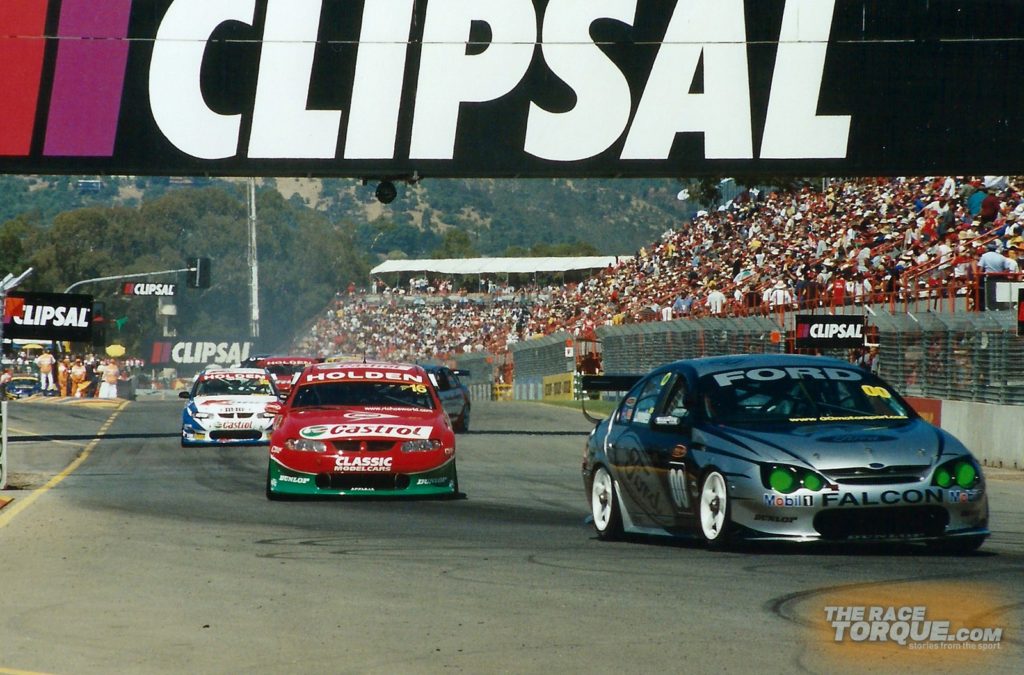 A FORD in front! Even the most die-hard of Holden fans couldn't help but be impressed with the cracking 'Green-eyed Monster' livery Craig Lowndes used in the day. Given the random directions of some of the cars behind, we suggest this was taken under Safety Car. Hence the fact it's actually a sharp (-ish) photo.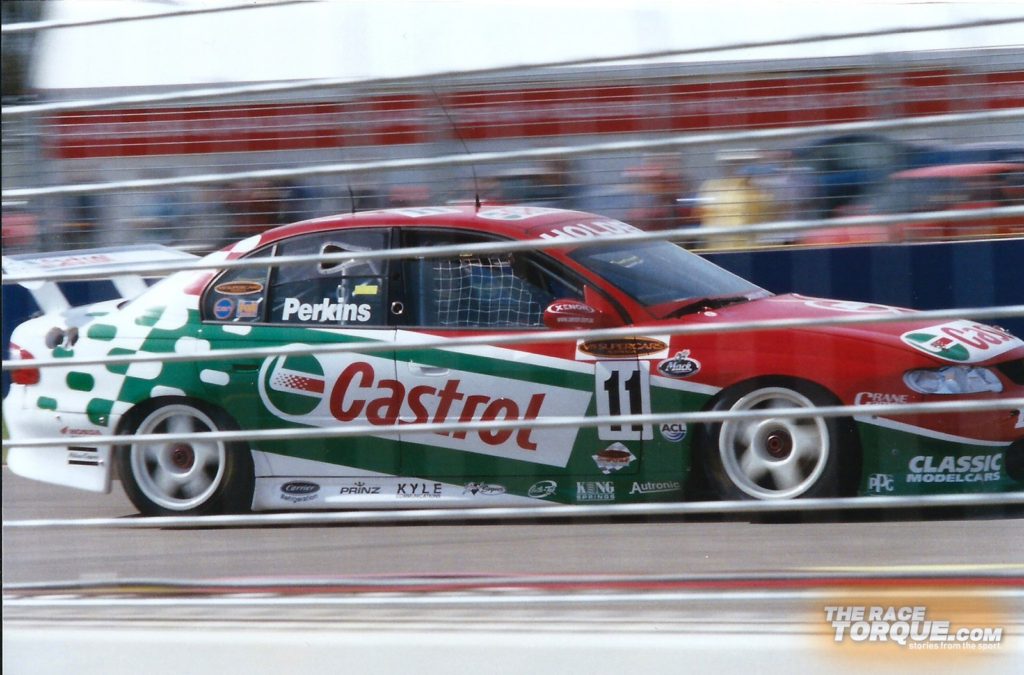 SHOT THROUGH THE FENCE. Here's LP at speed in #11. After the 1993-'97 paint, surely the 2002 cars rank as the best Castrol colours yet seen on a race car?