IN PART ONE of our special feature with seven-time Supercars champion Jamie Whincup, he discussed his pathway through the junior categories to end up at Triple Eight. Now he talks about the 'huge push' towards an era of unprecedented Supercars dominance.
WORDS: Dale Rodgers
IMAGES: Supplied, Mark Horsburgh / Bathurst 12 Hour
HAVING just helped Craig Lowndes to the most emotional and important win of his career in the 2006 Bathurst 1000, Whincup, as always, was working on what came next.
CLICK HERE TO READ PART 1.
In his own mind, Whincup was not going to settle for a bit part or second string driver as Triple Eight emerged as the powerhouse team of the Supercars Championship. He was plotting his own course and only two seasons later took out his first Championship crown in 2008.
"In 2008 it was a huge push. We had all the eggs in one basket. Forget about your social life, it was all about the racing and trying to win a Championship. To bin it, to stick in the wall after a clip with Todd Kelly in New Zealand (Hamilton Round 3) in qualifying and sitting out the whole weekend; coming away a couple of hundred points down after that was heartbreaking. But if anything it only made us stronger and we went on a big charge from then on and won our first Championship," Whincup recalls.
An undoubted strength of the Triple Eight Racing organization is its ability to bounce back from adversity or defeat. Statistically since Whincup's first Supercars Championship in 2008, Ford Performance Racing and subsequently DJR Team Penske have been the biggest adversaries.
Many times the two Ford squads and, from time to time, Walkinshaw (now WAU), GRM in the Volvo era and Erebus have tasted success. However Whicnup, Lowndes and more recently Van Gisbergen have never wallowed for too many rounds out of a race winning position.
"This sport does not owe me anything but I owe it everything. I live a great life because of what this sport has done for me and I massively respect that.

Jamie Whincup

Whincup puts it down to the incredible passion and culture that has been built within the team.
"We do have an ability to dig deep. That is the work ethic. It is a family atmosphere. You can have a group of people who just work together or you can have an atmosphere where people will shed blood for each other and take the bullet. We have that strength at Triple Eight, so when times are tough and we have to dig deep, we do it. That comes from years and years of working together and involves friendship and trust," Whincup outlined.
So what makes Jamie Whincup tick?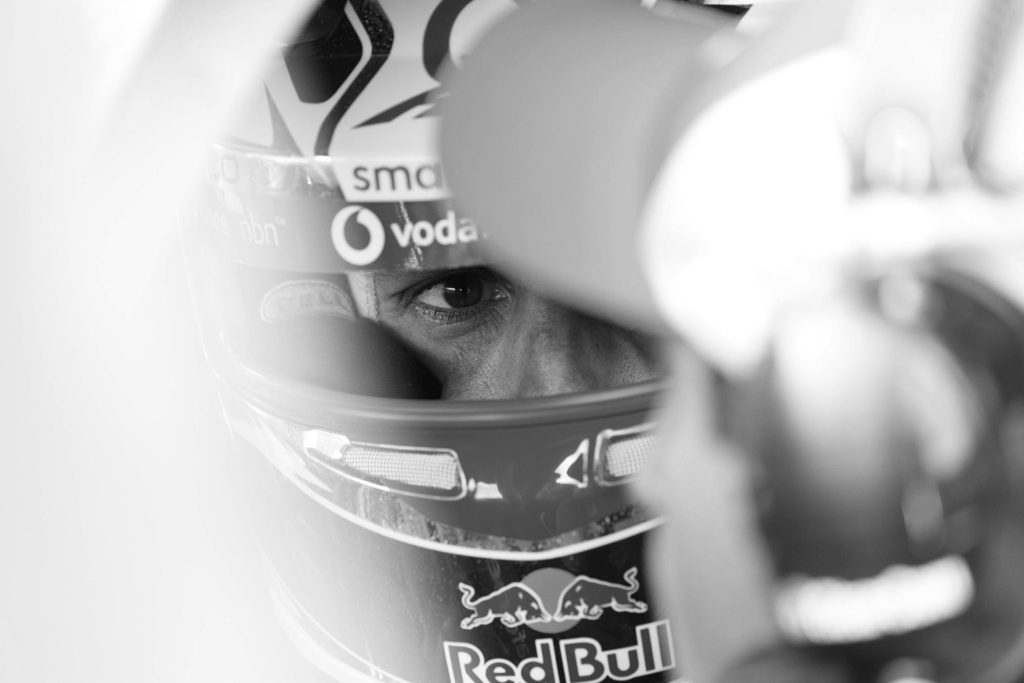 He does not seek the public profile of many of his peers and is a very private person. This is not by chance. He has carefully engineered his imagery to remain focused on the driving and the racing. He understands implicitly the responsibility that comes with success but is very careful to keep the separation in his life.
"This sport does not owe me anything but I owe it everything. I live a great life because of what this sport has done for me and I massively respect that. Do I want to be famous and be in the headlines? No I don't. I am not seeking fame or fortune, I just love racing," he said.
"I want to get a group of people together, which we do at Triple Eight, build a car, we go to the track and we race it and try to beat everyone else. It is that simple and pure concept that I have loved from day one and it is still as fiery today as it was then. The media, the publicity side of things, and the fan involvement are all critical and a huge part of what we do, but I feel the best way I can repay the supporters who come and pay and stand on the hill is to offer some of the best racing around. I think we should keep it real. It is about the racing. It is not about the 'wah wah' and everything else."
There is not a hint of arrogance in this summary of his own position in the sport: He is genuine and truly believes that it his performance on track that is the most important thing.
I feel the best way I can repay the supporters who come and pay and stand on the hill is to offer some of the best racing around.

Jamie Whincup

So what are the races that have struck a chord with the seven times Champion? The ones that he and the team had to dig deep or the ones that hold a special place in his career. He immediately cites the Adelaide 500 event in 2012 – not only because he won, but the circumstances that had occurred leading up to that race.
"The one that comes to mind is Adelaide Race 1, 2012. That's still the greatest race I've been involved in. My father was at my first Go Kart race when I was seven years old and he was pretty much at every race up until Race 1, Clipsal 500, 2012. He passed away the week before. The team did an unbelievable job. In the race, we stopped a third time for tyres and fuel and we were doing qualifying lap after qualifying lap. I came back through the field, and passed my good mate Will Davo on the last lap to win the race. That is fairy tale stuff," Whincup recalls with pride.
We spoke about the records but as most racers do say, they are just numbers and really don't mean anything until a driver hangs up the helmet. So, what does the future hold for Whincup?
"The investment and becoming a shareholder in Triple 888, is to give me an opportunity to keep racing for a long time to come. I am not going to roll in, collect some money, win some races then disappear. I want to be here for this sport until I'm at least 60 years old," he explains.
"The other element is that it gives me great pride to be able to invest back in the category. So to be able to put some earnings that I have generated over the years back into the sport makes me feel good. I want to be part of the sport and help to make it grow. When you look at everyone running the sport at the moment there's no young people involved and any business needs some young brains to help it grow. I feel like I can offer a lot to the sport. I'm slowly getting their (T8 Management) respect to be listened to, but once I hang the helmet up, and I'm not sure when, I'll be flat out into the Triple Eight business, but more importantly making the sport better," Whincup concluded.
For now Whincup is chasing another title. After a tough start in 2019, he and his #88 crew will once again have to dig deep to achieve that and with Craig Lowndes back as his co-driver, no stone will be left unturned to get back on top.
With all of that being said, discounting the chances of Whincup adding to his own staggering record book is a high risk strategy, indeed.  
I want to be here for this sport until I'm at least 60 years old

Jamie Whincup