LOTS AND LOTS to come out of the first crack of night racing in the West. On the whole it was a great weekend, but as always some things have come under the TRT microscope and deserve a comment or three. Here's what the team thought.
WORDS: TheRaceTorque.com editorial team & social media channels.
IMAGES: Sueprcars, Holden Motorsport, Red Bull Racing, Kelly Racing.
There's lots to digest in this. If you agree or disagree (respectfully), jump on our socials @theracetorque and do let us know. You'll note we've actually ranked them this time, too. The last lot were more like 'Power Thoughts' rather than actual rankings.
To read our verdict on previous Supercars rounds this year, click the 'Power Rankings' menu item, or just click here.
HOT
1. SCOTT McLAUGHLIN
PRETTY obvious, isn't it? Starts aside (we'll forgive him those), while Shell V-Power Racing may indeed have the best car, McLaughlin remains the absolute benchmark driving it. His qualifying lap for Race 12 was extraordinary. He's been on pole by half-a-second before this year, but not on a circuit where they lap in 53-seconds. The best thing is, Scotty continues to do it with the same 'I can't believe this is happening' look in his eyes that he had back in the GRM days.
2. NIGHT RACING IN PERTH
THE night formula kicked a big goal at SMSP last year, so few doubted it would not be a great spectacle. Barbagallo Raceway, however, delivered in spades. The cars looked spectacular, the TV coverage was excellent and it looked like a major event – Something that has been missing from recent trips to the West. If this doesn't get locked down there in the long-term, we'll be stunned. More please.
3. JAMIE WHINCUP & RED BULL 'LET 'EM RACE' CALL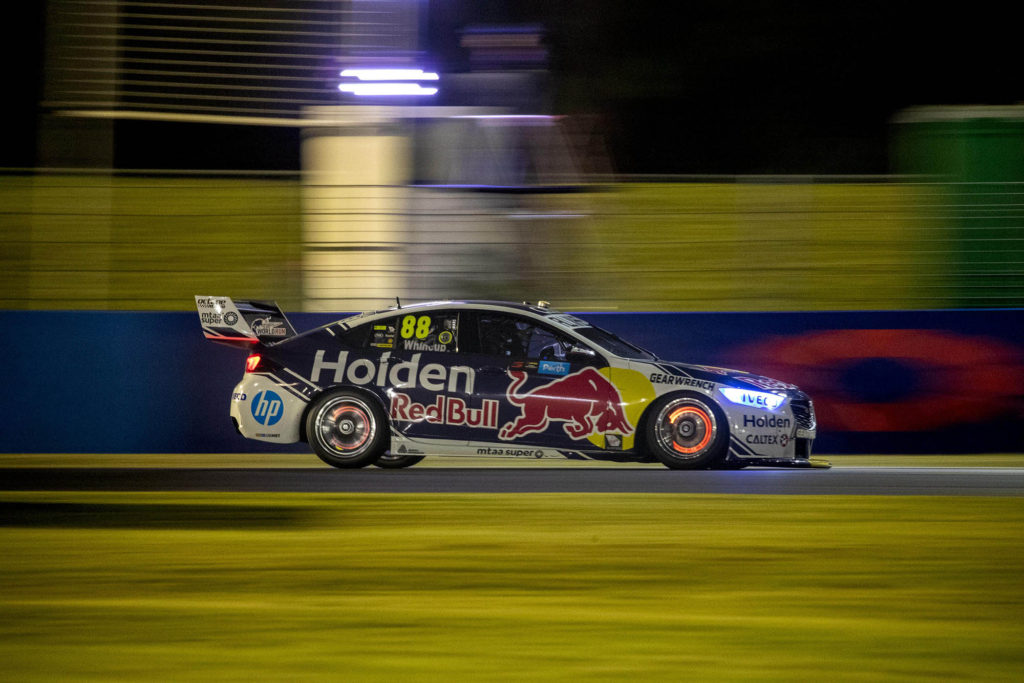 IT IS always awesome watching great drivers with their backs against the wall, using (slightly) inferior machinery and against better opposition. This is exactly what we're getting from Jamie Whincup at the moment and whether you love or hate 'ol seven-time, it's awesome to watch. His questioning of team orders asking him to let van Gisbergen through on Friday night was great and then his drive to second on Saturday clearly extracted the very most from his Red Bull Holden. Cudos also to Triple Eight for letting their boys go at it on Friday night: It was very entertaining and helped the race to no end.
4. TV COVERAGE
CHANNEL 10 picked a good weekend to add to their slate of races this year. Not only did it rate well for them, but it looked bloody spectacular as well. The entire presentation was outstanding, from the excellent use of the Drone Cam to the fireworks, flames and smoke – on TV it looked and felt big in the same way that a Friday or Saturday night Footy game at the MCG does. The racing was decent – neither was a thriller – but the TV added to the product with flames, sparks, brake rotors and more. Spectacular show and enormous kudos deserved to the Supercars Media crew for their output.
5. BLANCHARD LIVERY
RIGHT INTO the rankings with a bullet – Tim Blanchard's Mercedes Formula 1-inspired Petronas livery looked brilliant during the day. It looked even better under lights. Has to be livery of the year, if not more..
6. LARKO
THE GUY is a national treasure and no one in pit lane can explain something overly complicated (like most of the sport) in a simple and amusing way by use of his digital 'whiteboard' touchscreen, props and – in the case of last weekend's demonstration of brake pressure requirements – the backside of Supercars media audio guru, Gov. Quality.
7. BRAD JONES RACING / EREBUS FIGHTBACK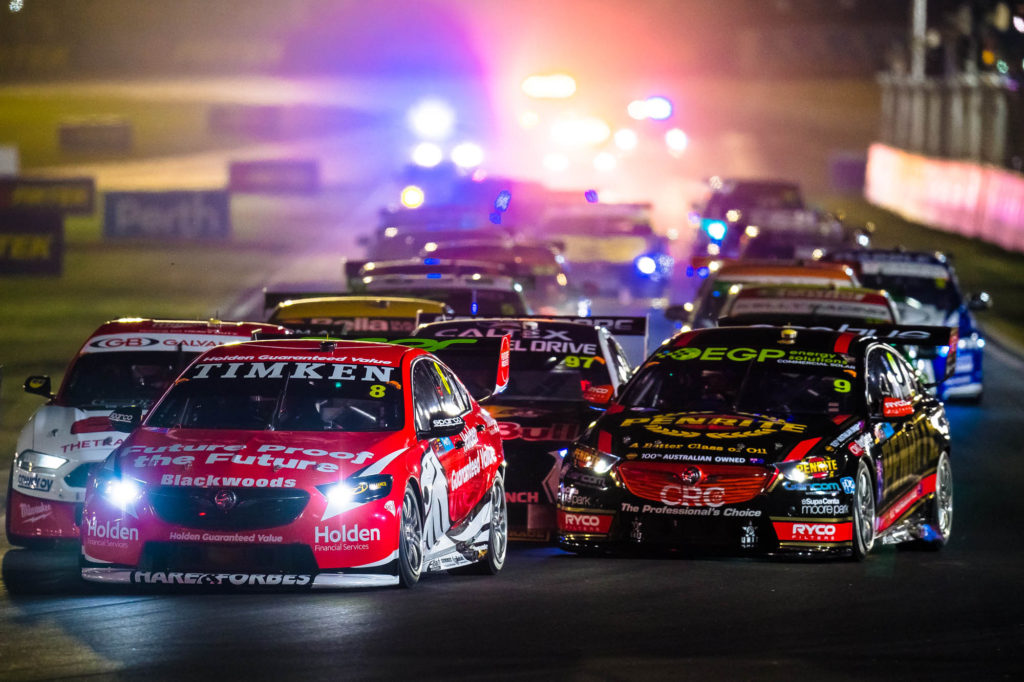 A TIE. BJR continue to impress and the fact they've settled into third place in the Team's Championship is impressive. After all four cars were 19th or lower in practice one, they threw the kitchen sink at Nick Percat's car on Saturday and it worked, leaping he and Slade back into the 10. Percat now has 8 top 10 finishes in a row and 10 from 12 this year.
Penrite Racing, meanwhile, salvaged poor qualifying efforts on both days to get their drivers further forward; keeping Reynolds fourth in the championship. They're not yet back to the Erebus of 2018; but they're close.
8. WILL DAVISON
A REAL resurgence. No doubt about his ability but the team atmosphere (and of course a Mustang) are really putting Will back into the main group of contenders. Seeds were sown in 2018, so not a flash in the pan
9. SUPER 2 SERIES
Gee, there's a lot going on here! From Zane Goddard getting his first pole to Ash Walsh's superb drive on Saturday and Will Brown's (finally) maiden win earlier in the weekend, this was a cracker. The racing is brutal mid-pack and those at the front are having a very big dig. Lots to like in both of Supercars official feeder categories this year, following on from the impressive Super3 debut at Phillip Island last time out.
10. RYAN HOW
RYAN WHO? The 17-year-old kid bounced on to the GT scene at the Grand Prix driving a seven-year old Audi and starred, but at a track where the aero gains of the later model cars aren't so apparent, he was even more impressive at Barbagallo. Yes he was helped by a better pit stop time (see NOT for more on that) but the kid is mature, fast and a star to watch. Unfortunately, he's also got no cash – so hopefully he can bounce back from the dramas at the end of his weekend.
The scenes at the end of the Saturday night race, after crashing out, were some of the most raw and emotional of the racing year so far.
WARM
SIMONA
A PAIR of 12ths generally aren't much to write home about, but in the context of Simona's season and also that of Kelly Racing these were promising results from the Swiss driver. Narrowly missing out on progressing directly to Q2 on both days, Simona ended up as best Nissan in both races which is something, and proved that when conditions are equal for everyone – Newcastle, new Perth track surface are key examples – she is as fast as pretty much anyone as well. Would've been in the hot list if one of those 12th's was a top-10.
NOT
1. TEKNO
THE QUEENSLAND team may have finally confirmed Jack Le Brocq for the remainder of the year, but they couldn't confirm a shred of pace at the weekend. JLB qualified 10th in Perth last year – yes, 10th – yet this year barely made it to last which only adds to the confusion over Tekno's messaging over the last few months; they're blaming the driver's inexperience, yet the driver has already shown what he can do when the machinery is up to the task.
Ron Howard: The machinery was not up to the task.
2. WALKINSHAW ANDRETTI UNITED
OH DEAR. Another dismal performance. When a team of this stature thinks qualifying in the Top 10 is an achievement then they are in trouble. Scott Pye looks committed and at least is having a crack but James Courtney seems missing in action.
And then for the team to send out a 'we are trying harder and will succeed' note to fans and partners shows signs of desperation. These guys took a big step forward last year but appear, at least at this point, to have regressed back to their 2017-spec form and are regularly well beaten by BJR and Erebus.
3. JAMES COURTNEY
OUT of contract at the end of the season, with a horror start to the season, he now has ten events to sort a new contract at his current home, or a better seat elsewhere as a full timer or enduro pilot for next year. It will be fascinating what happens next for the former champ, who unfortunately seems a shadow of his former self. It's all a bit sad really.
4. BOOST MOBILE RACING
CHALLENGING start to their year had a full stop put on it when the teammates took each other out at the weekend which was quite amusing for us, but probably not for them. Wonder if they've still got Garth Tander's number, somewhere?
5. AUSTRALIAN GT CHAMPIONSHIP
IN OUR AGP Power Rankings we offered concern that Australian GT would struggle come Perth, and we weren't wrong.
Aside from the remarkable Ryan How story, the series continues to offer confusing racing and the Perth field was neither huge nor deep. And without taking anything away from young Ryan, even his performance was aided by spending much less time in pit lane than key rivals, thanks to the series' terrible pit stop time performance penalties – which also had the effect of completely neutering the AMGs of Max Twigg and Peter Hackett, too.
We know its competitor driven – and not geared towards TV or fans trackside – but if they want to play at those kind of events then the ultra-confusing format has to go. They've banned Pro drivers from the sprint races anyway: so why not just adopt the full set of SRO regulations regarding seeding and BoP and go from there?
6. SUPERUTES
IT SEEMS like a cop-out to put them here because everyone is having a crack at the ECB SuperUtes.
We also need to give them massive credit for Race two at the weekend: the 20-lap reverse grid affair which was absolutely, truthfully, one of the better displays of motor racing this year that included a five car battle for the lead with several positional changes each lap.
But jeez, outside of that they aren't covering themselves in glory. 10 cars and reliability issues don't make for great TV. If every race was like Race 2 on the weekend then more people would be interested in watching.
Unfortunately, at this point, they are not.
7. FRIDAY CROWD
ON TV and at the track, Friday's trackside attendance looked disappointing.
While Supercars announced that the three-day crowd was up by 23% on last year to just over 31,000 people, which is great for a key event / market in the championship, most of those were on Saturday night, clearly.
Friday looked thin on TV and perhaps the 6:45pm start time on a workday (for a 45/50-minute race) didn't quite work for those in the West as well as it did for those on TV.
What's more, Saturday night's race unfortunately clashed with a West Coast Eagles home game which drew more than 47,000 people.
There's building evidence, based on Sydney last year and the Saturday crowd last weekend, that perhaps there is an argument for these night-time shows to be two-day or even single day / Saturday night events.
As an aside, one of our crew works in footy and offered up this useful tidbit:
IT is very hard to avoid clashing with every game of footy, but Friday night footy is sacred and the Eagles were playing in Perth on Saturday night.
Next year the week after Round 23 of the AFL season in the bye round BEFORE the finals. Friday night free, Saturday night free. Perth or otherwise, it's a perfect time for so many more eyeballs on the sport.
Who knows – with the calendar changes in the works, this could work?
8. TRACK RESURFACE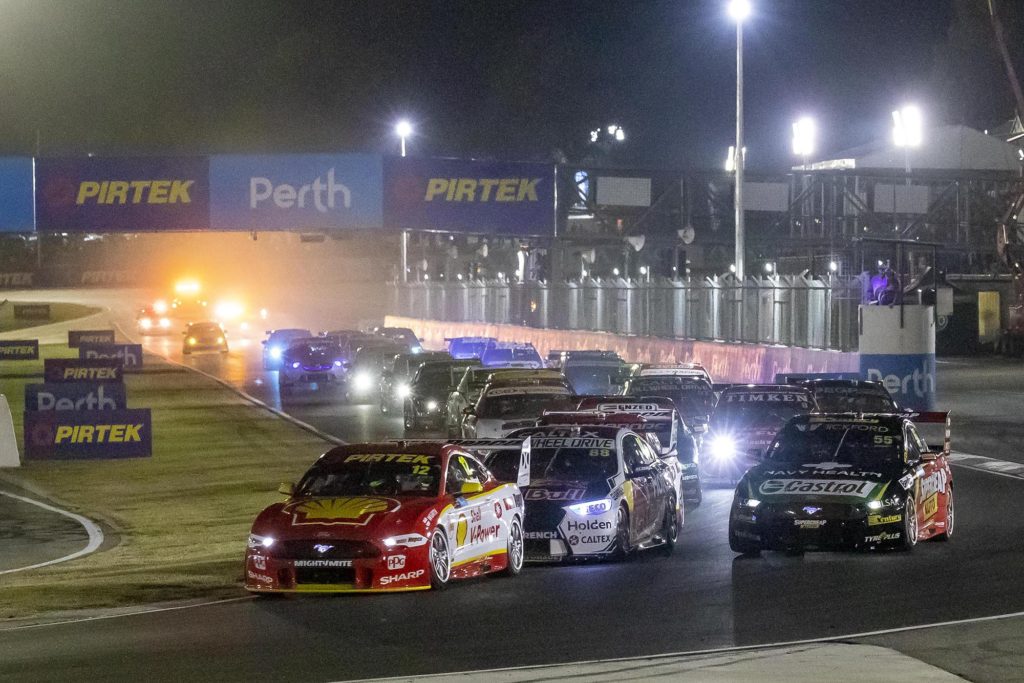 THIS MAY be controversial..
While the drivers raved about it time and time again, we're not convinced that the new Wanneroo surface actually added to the show. The old, low grip surface offered something completely different to any other track, and opened the racing up to crazy strategies like those employed by Craig Lowndes in 2017 and Scott McLaughlin last year to blaze through the pack to win.
This year was spectacular because it was under lights.. but the racing was much more follow-the-leader.
It's also changed the character of the place by removing a significant part of the 'leap' over the turn four kerb. They still get air, but not anywhere near as much as they once did in what was a real USP for the place.
Great that the circuit is progressing and was able to fund up the critical resurface for their own future – so this is hard to criticise because we get it's important – but unfortunately the product probably suffered because of it.
Here's hoping as it mellows in intervening years, we get a happy medium between traction and action.
SPECIAL MENTION
It pays to be a local.. well done to the Barbagallo canteen lady!
Went to buy a toastie for lunch from the track canteen. They don't do toasties but the nice lady there offered to make me one. I love Perth #VASC

— Chad Neylon (@chadneylon) May 4, 2019