QUALIFYING: It's an intense-flat out chess game of strategy mixed with raw performance that delivers plenty in a short space of time.. and even more so when you add changeable conditions. We were a fly on the wall of the Wall Racing Honda garage as they set out to qualify for TCR Australia's third round at The Bend Motorsport Park.
WORDS & IMAGES: Richard Craill
BEHIND the garages at The Bend it is cold. Really cold. The kind of cold you usually get in the wind tunnel that is the Phillip Island pit lane on a really frigid day on Bass Straight. The kind of cold that goes straight through the four layers you're wearing making you wish you had four more.
As is often the case with motor racing, the schedule ensured that a weather event superbly named a 'Polar Pulse' is blowing a fierce southerly off the ocean and directly, it feels, into the cavernous surrounds of the garages that line The Bend's front straight.
The weather app says it's 10.3 degrees C. That's bullshit. The 'Feels like' says 6.1C and that's more like it – though subtract a few more degrees for wind chill and you'd be closer to the mark.
As necks shrink down into collars and beanies are ever lowered over vulnerable ears, in front of the garage the scene is decidedly warmer – if not for a chance of weather but in actions aplenty.
Pit lane is busy and qualifying for TCR Australia's third round of an impressive debut season is but five minutes away.
Nestled into the garages, about half way along the 19-strong row of TCR cars assembled this weekend, sits the Wall Racing trio of Honda Civic Type-Rs that have been so impressive so far this season.
In front of his expanded fleet of three, for this weekend at least, stands David Wall. The team owner of the factory-supported Honda squad has his neck craned skywards because as well as running the team this weekend, he's also on the radio to their latest addition – internet sensation Jordan Cox, who has jumped aboard their third Civic for the first time.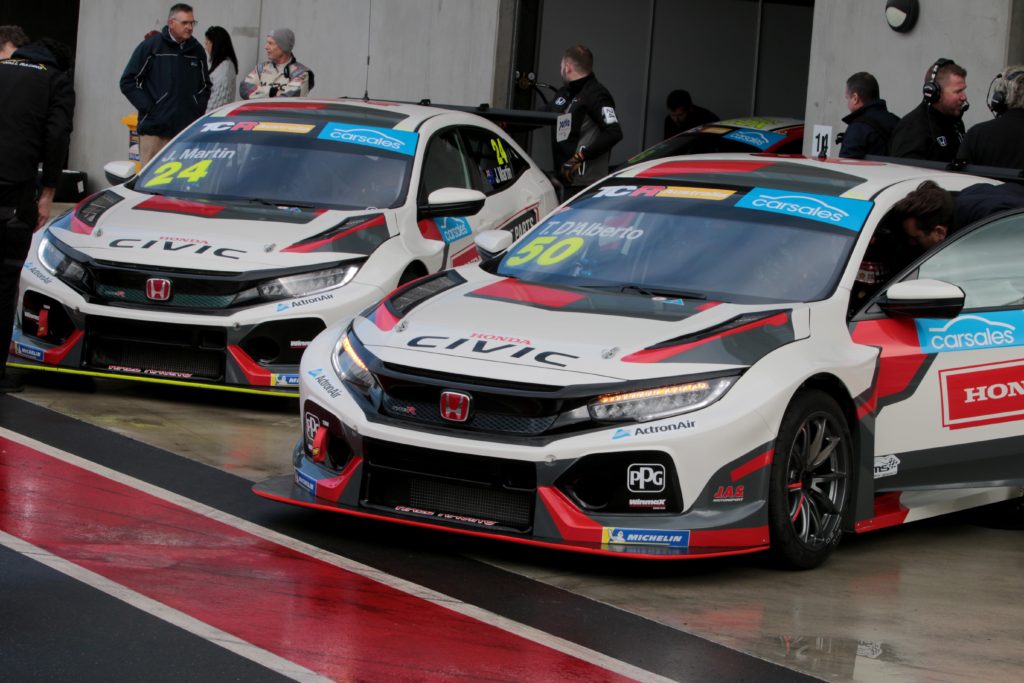 He's looking skywards for the sole reason that the weather has been less than predictable this morning, as the current surface of the thousand metre long straight that sits just over the protective barriers indicates.
That straight glistens with the moisture of several morning showers and, as is also often the case when people try to go racing, on several occasions it has threatened to become dry this morning.
Of course as soon as it looked like other classes would produce a one-car width wide line for TCR's fleet to negotiate, another shower would sweep across the plains from the South West, adding just enough water to make it wet… but not enough to make it wet.
All three of the red, black and white Civics are adorned with wet weather Michelin rubber for the start of this session at least, and as title contender Tony D'Alberto bolts himself into his car, the Honda garages are almost full of tyres. There's a second set of wets for each car being pressured and then, just in case, three sets of Michelin slicks ready and waiting in case things improve over the next half-hour or so.
With a minute to go the sun breaks through the clouds, adding further hope that things will improve rapidly and adding further variables to an already unpredictable situation. It's got the feeling that while the clock says 30:00, the chances of pole position being set after that has completed its count to zero are high. This is anyone's game.
At 10:36am, six minutes late, the light at the end of pit lane goes green and the field departs in garage order. The three Hondas – D'Alberto first, John Martin next and Cox last – are exactly mid-pack but content in the knowledge that with a 4.9-kilometre circuit and 19 cars finding clear race track should be overly difficult.
The out laps are an exercise in finding traction and grip and it's not until almost five minutes into the session that the first lap times appear.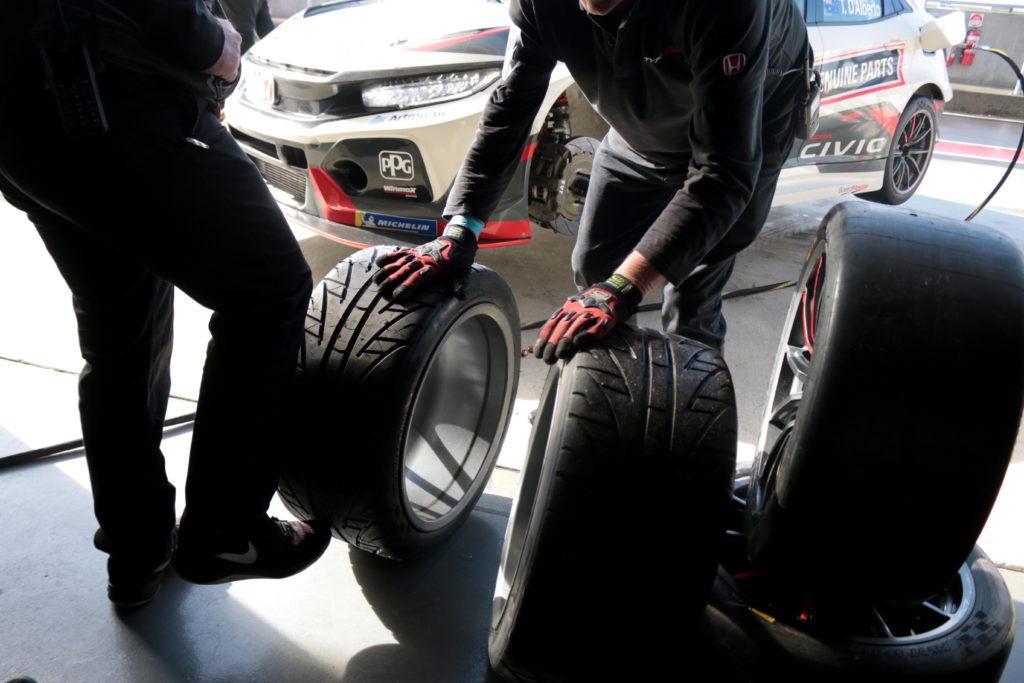 Will Brown is the first to set a benchmark in his Hyundai, on account of being the first out of pit lane.
His 2m09.8 is quickly trumped to the tune of five-tenths by fellow title contender Dylan O'Keeffe's Alfa Romeo before D'Alberto's first flyer beats them all; his 2m07.2499s an impressive first-up flyer and some 2.6 seconds better than the rest of the field.
Only later would we know just how impressive, and indeed important, that lap would be.
D'Alberto fails to improve on his second flyer, his 2m10.6 a result of dropping several seconds due to traffic – so much for clear track – in the middle sector that includes a majority of The Bend's 18-corners.
It's also becoming clear that, at least on wets, an early lap is going to be important; the long, loaded corners of Tailem Bend are hurting the fronts as the circuit gradually dries.
One-third of the way through the session, the order reads: D'Alberto ahead of O'Keeffe, Tander (Garth) in third ahead of Audi teammate Aaron Cameron with Jordan Cox a suitably impressive fifth on debut. Martin is ninth.
D'Alberto is in the lane at that point; having run roaded wets on his first run, he takes two brand-new front wet weather Michelins and a re-pressure of the rear tyres ahead of a second run.
It's a decent one, too; his fifth lap of the session nets a 2m07.3s best – just 0.1s slower than his previous best set earlier in the session.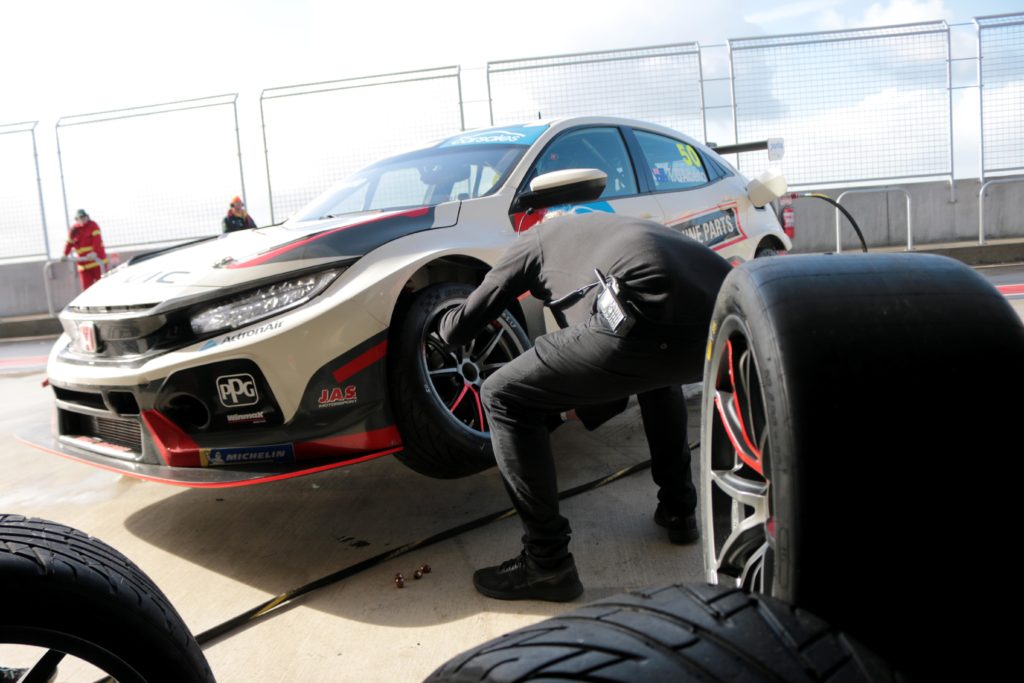 So while the track looks better, it's not much quicker and the line between remaining on the wet tyre and going to slicks is becoming ever more blurry.
At the 19-minute mark, Cox is the first Honda back in the lane following a call made to go to slick tyres. He's seventh at this point, a decent effort given his lack of miles in the car, so while it's a gamble its one most of the field is taking. If everyone goes to slicks and improves, it's all good. If they go to slicks and no one does, he stays in the top-10 and gets a decent starting position for his first race.
D'Alberto is in one minute later and, in two minutes and 57 seconds, the team puts four new Michelins on his Honda and sends him on his way.
Meanwhile, little has been happening on the timing monitor, now being watched closely by most in the garage. Where at this point in qualifying the screen would usually be a sea of green and purple – indicating either personal best or session best times – it's decidedly white at the moment. No one is going quicker, irrespective of tyres.
D'Alberto is still fastest.
It's also immediately clear that while there's no gain to be had on wets, there's little to be had on slicks either. On his first flyer of his final run, Tony's first sector is six seconds slower than his own session best. His middle sector, where all the confidence-inspiring, belt-tightening bits are, is ten seconds slower. This is not going to be faster.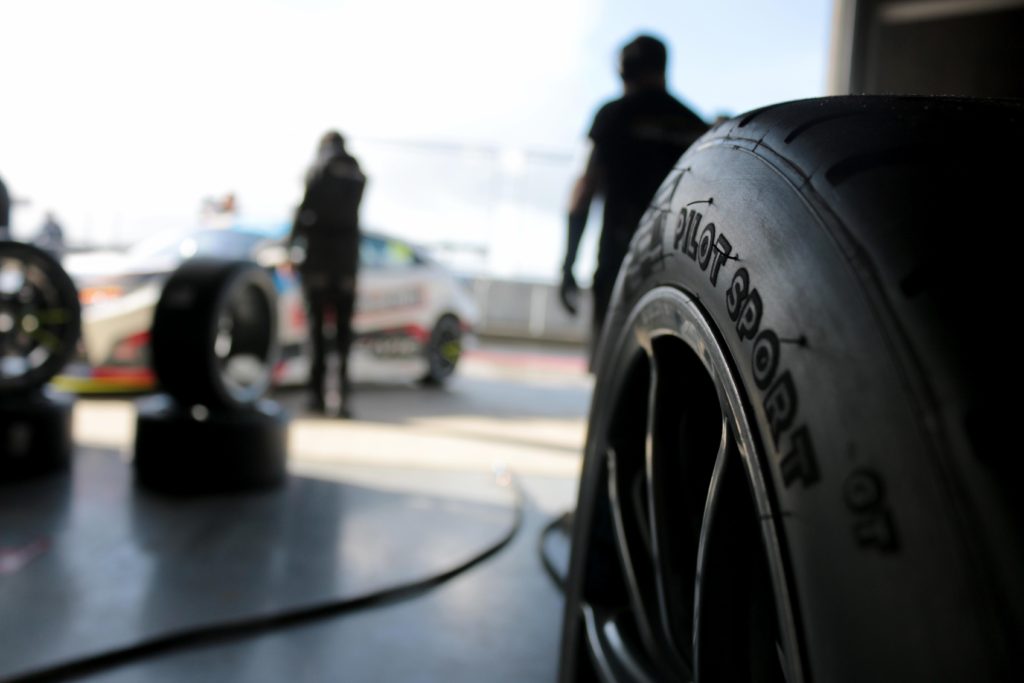 With two minutes and fifty seconds left, D'Alberto is still on top, 0.7 seconds to the better of O'Keeffe and basically a full second faster than Tander, in third. Barring a hail-mary, Banzai-style lap, it looks like pole for Honda.
With four extra minutes of green-tyre temperature building, Cox is starting to see some improvement and on his second-last lap goes green in the final sector. Personal best. Yet the first and second parts of the lap are not impressive.
And then, with a minute to go, James Moffat appears on the scene in his patched up, battered Renault after being drilled from behind by Will Brown in practice yesterday. His first sector goes green. His second, purple. He is on here.. his final is also the best of the session and as a result the Yellow and Black Renault Megane comes seemingly from the clouds that still hover over South Australia's South East and moves from somewhere outside of the top-10 to first with a 2m06.0847s.
It's four point one seconds quicker than his previous best.
D'Alberto has nothing left; no time to warm his slicks further to get more grip and speed. His last flyer is in the twelve's and having topped qualifying for 29 of the thirty minutes, he's second.
Two or three minutes later, as he shakes the hand of engineer David Fife after clambering from the car, there's a muted profanity from underneath his visor.
Questions then instantly turn to 'How?', and it doesn't take long to find out: Moffat's Garry Rogers team are one of a handful to exploit a grey area in the TCR rule book.
They ran slicks on the front and wets on the back, generating drive traction from the front and rear grip through the quick stuff. Though not technically legal, the rules also don't say you cant do it, either. It's a canny play used by just two in the field; Russell Ingall the only other driver to improve on his final lap of the session. Of the remainder of the field; 13 set their best time on either their first, second or third flying laps of the session.
D'Alberto has been around this game long enough to know how things work, so he's philosophical post-session.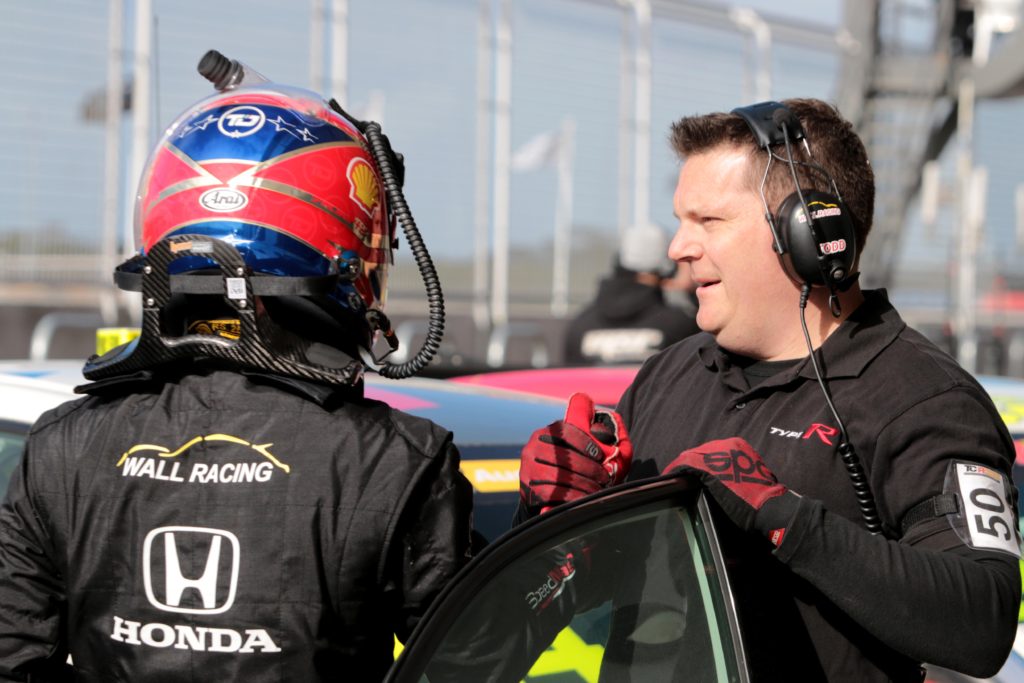 "I got a good lap early in the session and we were a few tenths clear of the field," he says, hands on hips.
"In the middle part as the track was drying, there was a little bit of rain falling and we weren't really sure what to do. We went out on slicks and I couldn't get any rear tyre temperatures. We just learned that Moff had wets on the rears.. so.."
Did you think of going that way, the wet / slicks option? "We asked the question if we were allowed to do it by the category and they said it was a grey area so.. we made the call. It's what we wanted to do.
"(On Slicks) I couldn't get within four seconds of what I've done with the wet tyre, but at that time the wet tyre was really struggling and getting to hot. You've got that switch. I couldn't understand how Moff could go quicker than what we did earlier, but it makes sense now."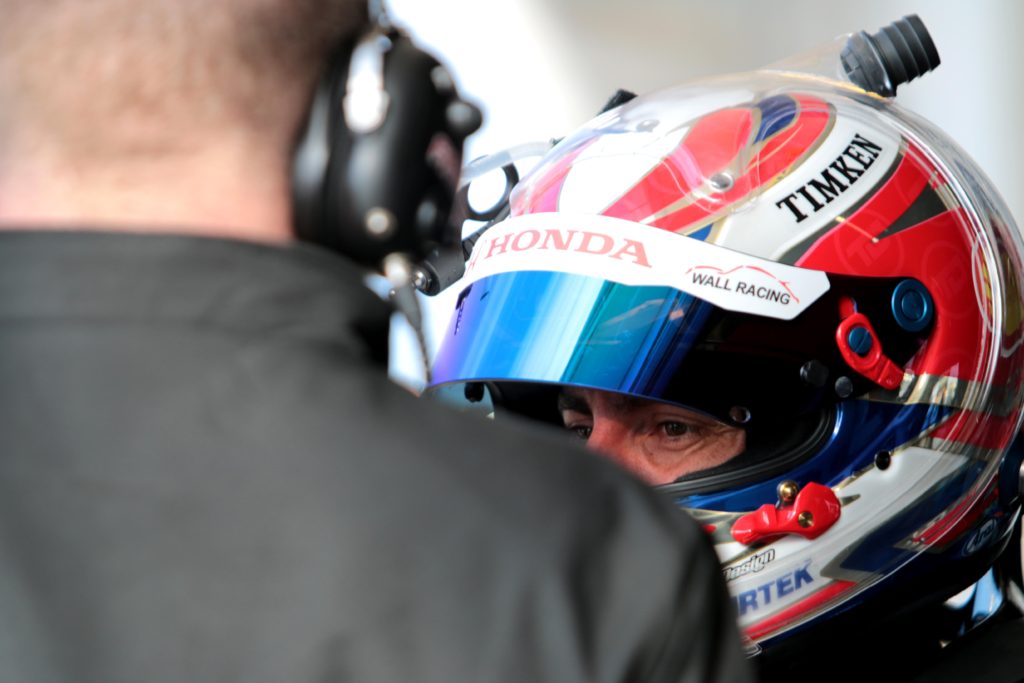 With that, D'Alberto wanders off to the truck, pausing to sign an autograph for a young fan waiting patiently at the back of the garage.
While for most of the session he was first, today it's second. His teammates are seventh and eighth – Martin in front of Cox – with neither able to improve late in the session.
It's a funny game, qualifying, unpredictable to the last second. As the cars are cleared from Parc Ferme', the Honda team pushes their trio back into the garages in bright sunlight.
Across to the South West, black clouds loom menacingly with the prevailing winds clearly sending them our way.
On the wall of the garage, a countdown clock indicates that there's less than two hours until race one.. and no one knows how that is going to play out, either.
Just the way we like it.