SHELL V-POWER RACING boss Ryan Story has explained the process as to how his team turned their controversial fines at Queensland Raceway into a cause that's raised nearly $30,000 for charity.
WORDS: Richard Craill IMAGES: Shell V-Power Racing
Story's team was fined $10,000 for taking unauthorised material onto the podium following Race 20 of the championship last weekend, plus an additional $3,000 for Scott McLaughlin's burnout continuing past the prescribed point.
The fines, in particular for the podium celebrations that saw the team produce posters significant Ford's victory in the Manufacturers Championship, were broadly roasted on social media – with that reaction urging Story to turn the negative into a positive.
Talking to the On the Grid podcast, powered by The Race Torque, Story said the initial call to break the rules was based on several factors.
"The rules are quite clear, you can't take promotional material up on the podium," he explained.
"But last time around when Ford won the manufacturers championship was in 2017 and when we had just started, and it was Tickford who was able to clock up the win that got the result and it took a little bit of wind out of our sails.
"Don't forget, in 2017, Ford were not as engaged in the sport as they are today. So we had the posters on standby. I made the executive call that we would take them up to the podium knowing that we were going to get a hit.
"The hit ended up being quite a bit bigger than I thought it would be! I was hoping that some of it would be suspended or we would get some sort of compassionate, I suppose, lenience, but that wasn't the case."
Story explained that the enormous reaction on digital media in particular drove the team to find ways to create a positive reaction from the penalty.
As a result, the team quickly offered the championship-winning posters for sale; making more than $10,000 for charity Camp Quality in only a few days. That number continues to grow.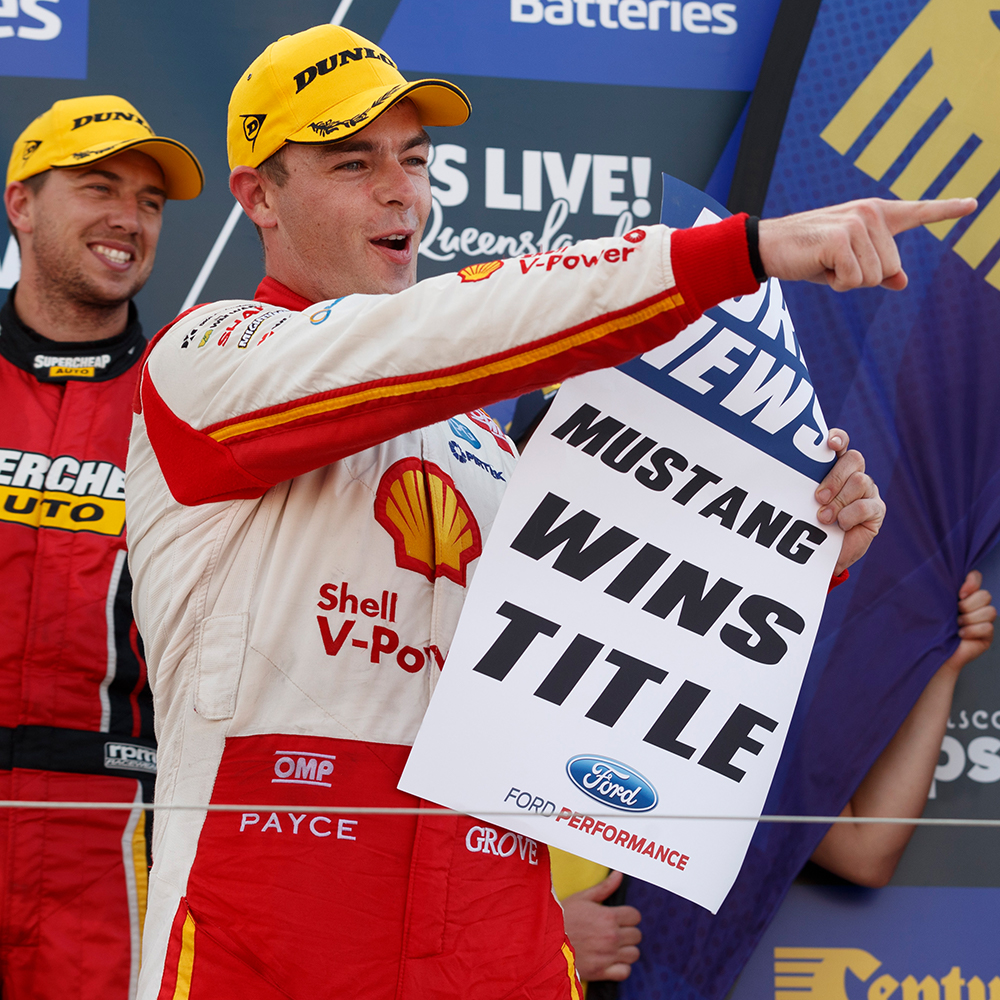 "It's one of those things that social media and our sport it really does engender fervent, verdant activity and interaction," he said.
"Basically anything that happens in real time you see that snapshot and that interactivity from all of our supporters and certainly there were plenty who wanted to get their hands on one of our posters, and certainly plenty of others who were pretty outraged in the way the fines played out.
"It served as a great opportunity to raise some money for charity and Camp Quality is a charity that is very dear to me. Sick kids, and the work they (Camp Quality) do in the community is quite extraordinary.
"We're neatly at 30 grand with that program, so a lot of people are going to have posters.
"We announced an initiative today (Tuesday), there are three drivers who have won races in Mustangs: Scott McLaughlin, Fabs of course and Chaz Mostert. All three have graciously agreed to sign the posters and we're covering the cost of postage and framing and we sold them for a grand each, and they've all gone, and that's got us to the 30 grand mark.
"A great opportunity to raise funds for a worthy cause and what it also goes to show is that motorsport fans are also probably some of the most generous fans of any sport out there.
"They get behind causes and they're really the secret to this whole program."
In a wide-ranging chat, Story also detailed the experience of working with motorsport heroes Dick Johnson and Roger Penske, the team's preparation for the enduros and the challenges faced by a pre-Bathurst warm-up, plus his thoughts about the process to settle on the Generation III rules package, due at the end of the 2021 season.
Listen to the full podcast via the Podcast page on TheRaceTorque.com