TWO EXAMPES of young drivers falling short of championship glory enforce the fact that the future of motorsport in this part of the world is in bright hands – not because of the way they won, but because of the way they lost. RICHARD CRAILL explains.
WORDS: Richard Craill IMAGES: Super3 / Hunter McElrea / Pabst Racing
SOMETIMES the character of an individual is defined not by how you win but by how you don't.
Success of failure in the world of elite sport, especially when young athletes are involved, can often be the best way to truly know the character of the personalities involved.
When all is said and done, it's hard enough competing with a raft of other similarly-talented and motivated youngsters in the junior categories – let alone having to deal with finding the finance to race in the first place and pressure from supporters, sponsors, family or other external forces.
Which is why the potential long-term success of these young rising stars is perhaps just as apparent, if not more so, when they lose as it is should they seal a championship.
Last weekend indicated that to very much be the truth.
**
AT SANDOWN RACEWAY, the Kumho Super3 Series and Porsche Michelin GT3 Cup Challenge fielded between them 10 or so of the most talented young-guns currently operating in the sport.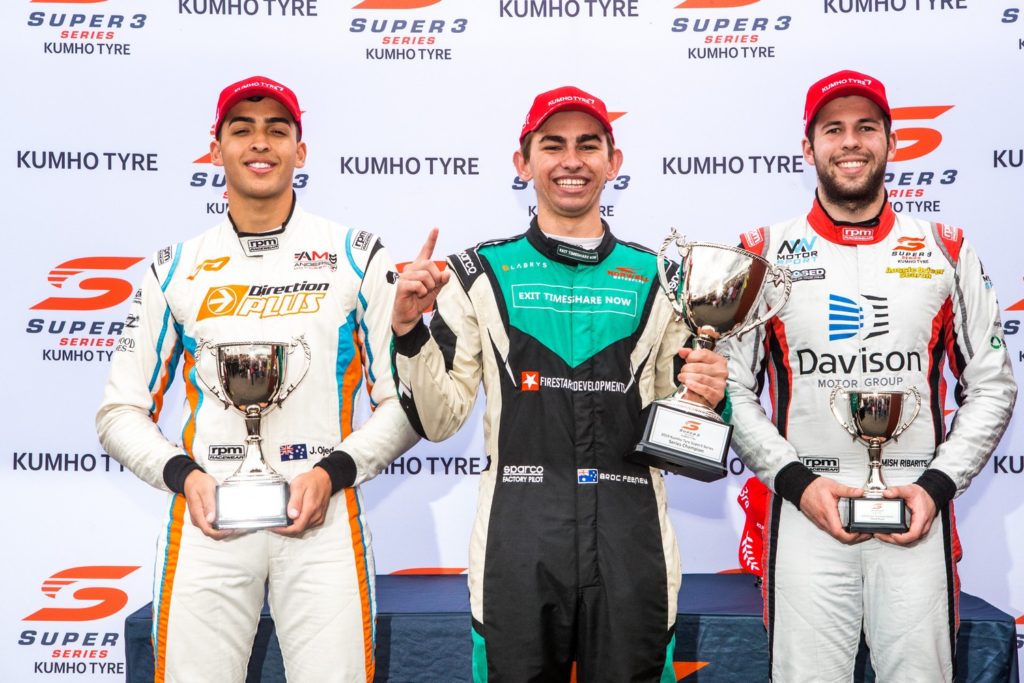 And while the Porsche's have a round to go, the third-tier of Supercars came down to the wire with a championship battle between a pair of teenagers; 16-year-old Gold Coaster Broc Feeney and 18-year-old Jayden Ojeda, from Sydney's West.
The pair enjoyed contrasting seasons: Feeney ruthlessly consistent with just one race win but podium finishes in every round. Ojeda, by comparison, won three on-the-trot across the balance of the season thanks to a combination of good management and good fortune. Both deserved to win the title but in the end, after a climactic finale' that defined the entire remarkable season, it was Feeney who won.
Which was a great result – because he's a terrific young star. Personable, friendly, modest yet confident and given he's only been racing for two seasons a remarkable story to tell. At 16, this Paul Morris disciple has many bright years ahead of him.
However in defeat, Ojeda was Valliant. He and his small privateer Anderson Motorsport team started the year without even having an engineer, but built a cohesive little squad that evolved into being genuine title contenders rapidly.
"If you told me at the start of the year we'd be second in the Super3 series, I would have taken it!" Ojdea said after Sunday's decider.
"I am proud of what we accomplished this year, thank you to everyone who's supported me in every possible way!
As is the case over a championship season, the open-wheel graduate had every right to feel aggrieved by calls that didn't go their way or moments that could have been different.
Instead, his comments post-race on Sunday at Sandown were nothing but complimentary to both the champion, his team and even his own performance.
Surely there was angst at having lost a chance to win a Supercars title at such a young age, but at least outwardly it didn't show; his measured and thankful attitude for even finishing second a testament to both his own maturity and the support offered by his family, friends and team around him this year.
There were no teddies out of the proverbial pram at Sandown, just the recognition of a job well done. And that, for an 18-year-old kid trying as desperately as anyone else to forge his place in the sport against such a competitive bunch, was impressive.
**
TWELVE THOUSAND kilometres away in California, the IndyCars were back at Laugna Seca, the undulating roller-coaster in the Monterrey hills famous for being in Grand Turismo and for one of the best overtakes in the history of the sport.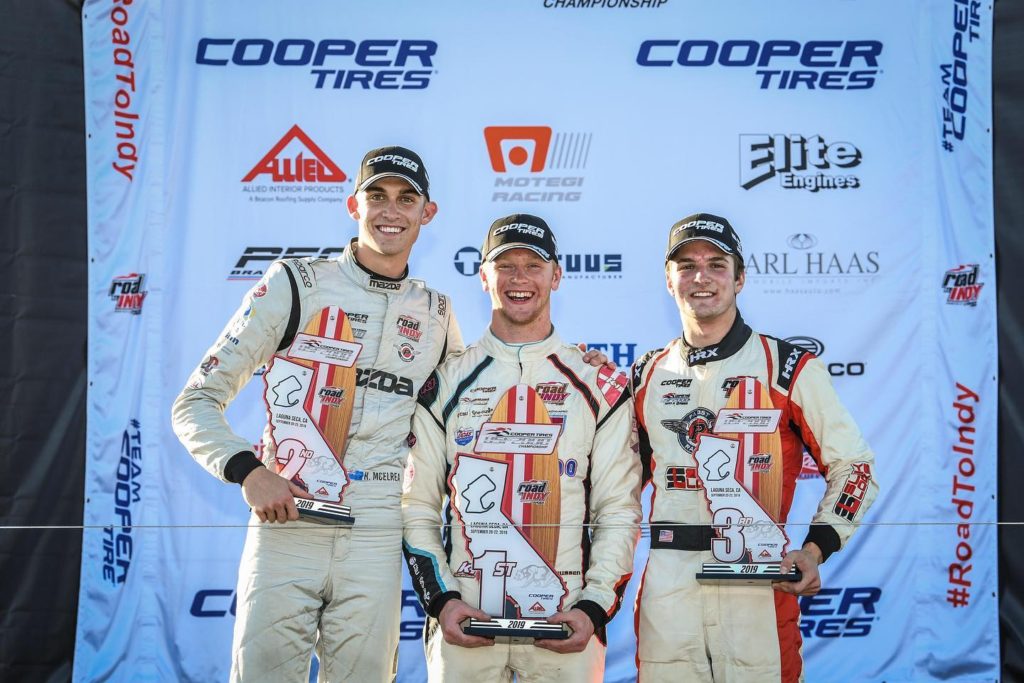 And while the established open-wheel stars in the 'States battled for their own title, the bottom rung on the Road to Indy ladder system was also engaged in their own intense title battle; The USF2000 series coming down to the wire between 20-year-old Ohioan Braden Eves and the series leader; Hunter McElrea.
Hunter, the son of Carrera Cup team owner Andy and the reigning Australian Formula Ford champion, won his way to the states via the Road to Indy Shootout last year and was a star performer across the balance of the USF 2000 season; stating the year with four podiums before claiming the title lead late in the season after punching home three straight victories in Mid Ohio and Portland.
That set up a winner-take-all finale at the famous Californian venue which started well; McElrea qualifying second for the first race of the weekend.
However things turned quickly when cars rolled to qualify for race two; a throttle issue ensuring he wouldn't set a lap – relegating the title leader to 18th and last for the final race of the year.
Hunter raced to second in race one, finishing in front of Eves to extend his lead. But starting last for the finale' was too tall an order.
Despite storming through the field to seventh, Eves' win ensured the American would win the title.
McElrea drove his heart out in California – all season, really – only for an issue out of his control to cost him the championship and the free-kick of funding into the second tier IndyPro series next year.
"Being completely honest, I have never been so disappointed in my life, but in saying that I have so many things to be thankful and positive about," he wrote on his Facebook page soon afterwards.
"It has been an honour to have had the opportunity to race in this amazing country, and at this level due to Mazda Motorsports, Pabst Racing, and all my supporters and backers at home."
At least in public, Hunter was gracious in defeat. His media comments centered on being thankful for the year and the opportunity rather than downcast about how luck, rather than his own effort, had cost him a title.
1/2

It's hard to put into words what I am feeling right now, but all I can say is that I am so proud of the efforts from my team, and the debut year that I had in America.

Unfortunately, I was unable to clinch the championship, I drove my heart out from 18th to 7th pic.twitter.com/RDwiWMmTw5

— Hunter McElrea (@HunterMcElrea) September 22, 2019
It's another example of a fine young driver showing characteristics in defeat that will only serve him well in victory when that inevitably comes again in the future.
I know his folks and supporters will be proud of how he handled it – and hopefully he is as well.
**
OJEDA and McElrea are not, of course, the only young drivers in the heat of championship battles this year – that's happening all across Australia and around the world each and every year.
But on these two instances alone, let alone the countless other highly impressive young men and women coming through the ranks, are enough to give at least a tiny indication that our sport – for all the doom and gloom – is in good hands indeed.
Accepting defeat is hard. Hard in life in general and especially so when so much is on the line – careers, futures and millions of dollars.
But if these two examples are an indication of the way that our current young crop of talent are going to cope with defeat, then it can only mean good things.
Because if kids like these two manage the joy and elation of winning even half as they well as they do the despair of defeat, very fine ambassadors for our game will they be indeed.