NEW ZEALAND is one of the best places on Earth and a staple on the Supercars calendar – and this year a monster crowd turned up to support their local heroes, who turned it on once again.
WORDS: The Race Torque.com editorial team, social media contributors
IMAGES: Supercars, Red Bull HRT, Shell V-Power Racing
OF COURSE, the weekend was dominated by the dramatic turn of events on Sunday, most of which have already been covered and, naturally, make up a good chunk of the 'not' list this week.
Fortunately, there was a lot of 'Hot' from the weekend – so our Pukekohe Power Rankings start from there..
HOT
1. PUKEKOHE
WHAT A RACE TRACK. 'Pukkie' has character in spades and as well as consistently producing fantastic racing, produces a far percentage of the entire season's 'did you see that?' moments. From the wild turn one that exposes the damping strengths / weaknesses of the entire field in one slow-motion replay, to the equally wild final sequence of corners that – unless you're Scott McLaughlin – will feed you into the fence if you're half a car-width off line, it's got the lot. Stadium-style atmosphere with all the crowd condensed on the front straight and overtaking opportunities make us wonder why Supercars ever left there for Hamilton in the first place. Certainly, we're thankful they came back.
2. KIWI FANS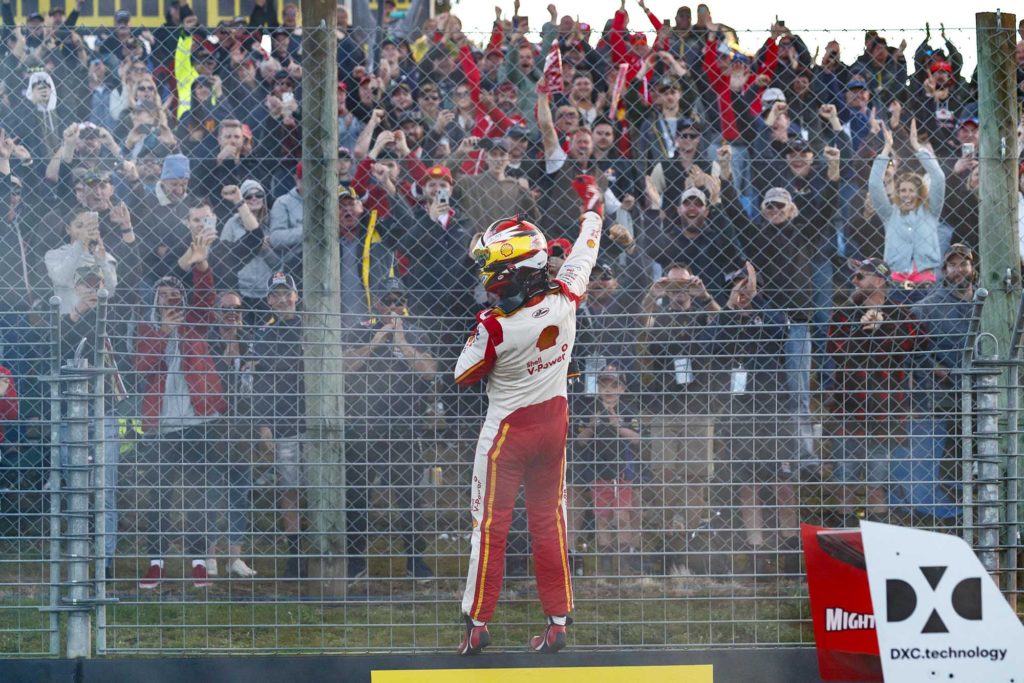 HOW GOOD are Kiwi fans? According to NZ News website Stuff.co.nz, 42,000 rammed Pukekohe full on Sunday and boy, couldn't you see and feel it. From the footy-style reaction to McLaughlin's spin to the applause of his fence-climb after Sunday's win and the reaction to SVG getting the JR Trophy it was all good. Kiwi's love their racing, perhaps per capita more than anyone else. Give them a second round in the South Island watch that go bonkers, too.
3. SHANE VAN GISBERGEN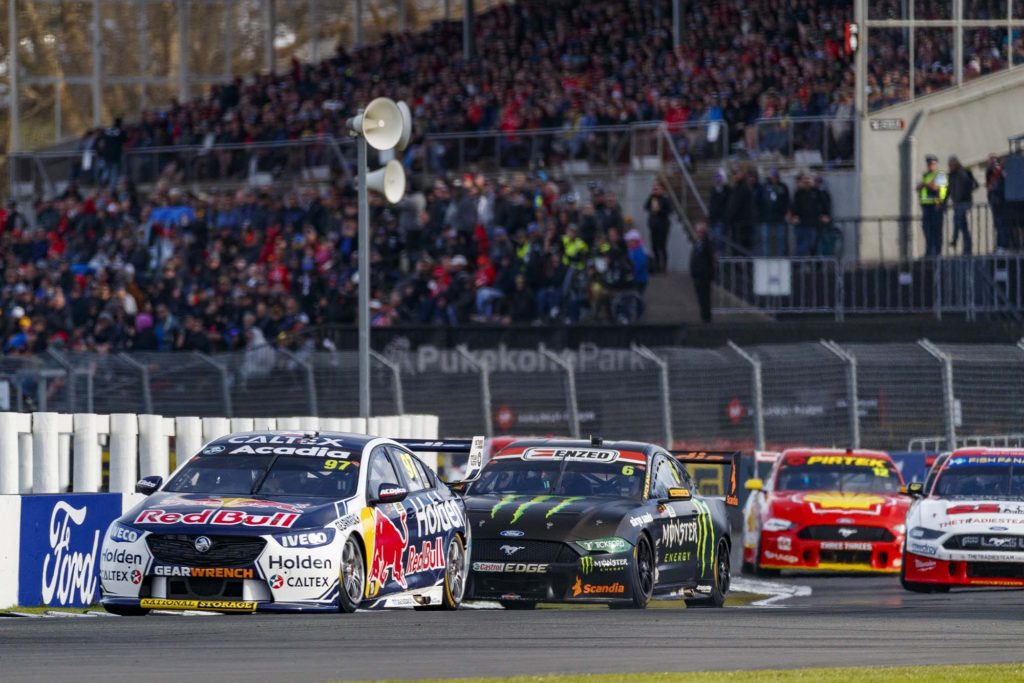 SVG continues to be an enigma wrapped in a mystery in the shell of a bloody good racing car driver. He was awesome on the weekend, maximising the pace the Red Bull HRT cars had to win on Saturday and then chase McLaughlin all the way to the line on Sunday. But perhaps the most outstanding thing was his reaction to winning the JR Trophy – was that genuine emotion we saw from Shane? It was.. another side exposed of one of the sport's fastest ever.
What's more, he elevated himself to second in the standings and while he's not going to win the title, P2 this year is everyone else's ambition and right now, going into an enduro campaign with Garth-freaking-Tander as his co-driver, Mostert, Coulthard and Whincup will have a hard time prizing it out of his Kiwi hands.
4. THIS
5. NICK PERCAT (AGAIN)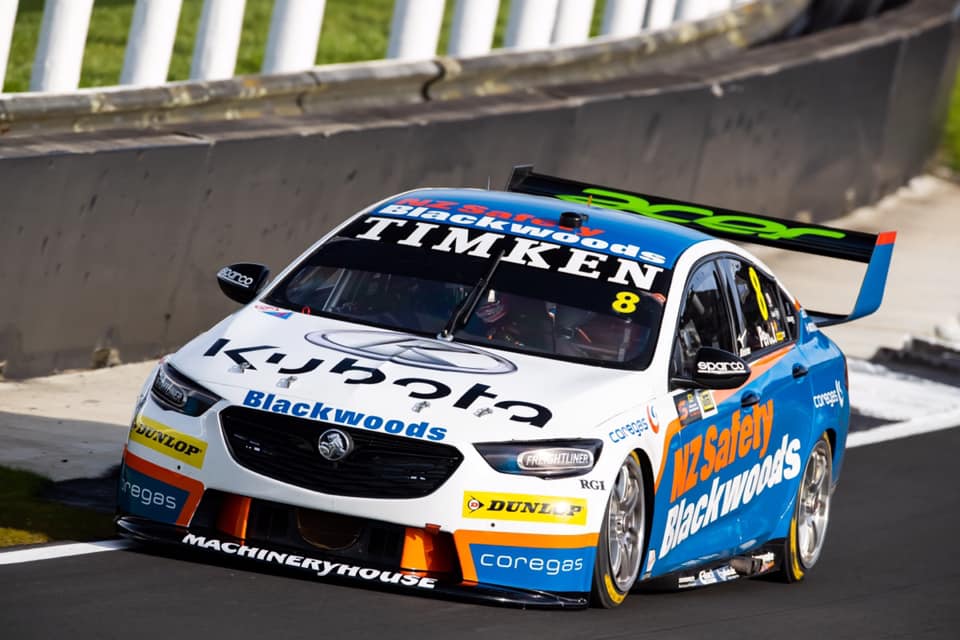 ANOTHER Power Rankings Hot Spot for Nick Percat who continues to punch well above the relative weight of his team. Had he not been turned by Jamie Whincup on the first lap of Race 23 would surely have been in and amongst the top-10 then, and even if he was one advantaged by the dramas on Sunday – he still executed with great race pace to equal his best result of the year. It's a battle between Nick and Erebus for second fastest Holden at the moment: Erebus may have it in qualifying but Percat's race pace is super, indeed.
6. SUNDAY SHOOTOUT
TOP-10 SHOOTOUTs at ballsy venues are terrific and Sunday's was no exception. Terrific lap from Lee Holdsworth early in the piece had everyone diving for the 'when was his last pole..' stat, only to be gazumped by a screamer from Jamie before his day unravelled. Great theatre.
7. TODD HAZELWOOD & SIMONA
'SOMETIMES it's better to be lucky than good', goes the old adage, and these two were proof positive of that. Even though they got an assist with the Safety Car dramas on Sunday, the fact is they each had pace to be on the top-10 in merit. Though qualifying continues to be Simona's (and by extension, the entire Nissan team) issue, Hazelwood missed the shootout by half-a-tenth and was legitimately quick regardless of the free-kick. Deserved results for both after promising seasons not quite showcased by the standings.
8. KIWI FORMULA FORD
FORMULA FORD remains great, regardless, but it was nice to see the Kiwi series showcase what they've got. All the attention was, naturally, on Ronan Murphy but there were plenty of other talented youngsters there proving that the Kiwi talent pool is deeper than the Tasman sea. Cracking racing. Honourable mention to the TransAm cars, too, which were fantastic.
9. GARRY ROGERS MOTORSPORT
THE RACE TORQUE editorial staff often throw 'what if' scenarios around on our group chat, but not one of us predicted that GRM would end up with three top-10 finishes in New Zealand; Stanaway in both races and James Golding on Sunday as well. While Sunday was, like many others, assisted by the Safety Car, Richie's 10th on Saturday was legitimately a very good performance from both driver and team. Golding's performance on Sunday was very impressive, even if the pair battling surely left the team with some heart-in-mouth moments, underwriting what we think has been a very solid season in not a good car.
Lots of people have a soft spot for GRM so it was nice to see them back up into the top-10.
10. SSANGYONG UTES
IT'S WHAT SuperUtes should have been all along.
NOT
1. WHINCUP PASSING THE SAFETY CAR
THIS MADE Number 1 on the 'Not' list not because we wanted to diminish the effect of the Safety Car dramas in Sunday's race, but because for the second time in his career Jamie ignored the lights on the Safety Car and arguably cost himself a race.
Should the SC have let him go? Almost definitely. But if the light is yellow, it means do not pass. Would he have been disadvantaged had he remained behind the Safety Car? Almost certainly. But not as much as a drive-through penalty at a circuit with one of the shortest laps but with just about the longest pit lane transit time of them all.
There was a cluster of errors in Race 24 that will long be analysed, but Roland Dane summed it up succinctly in his interview in the coverage when he was pretty clear that while there was a Race Control blunder, Jamie should've stayed put as well. And while we love his honesty – truly, we do – CAMS are generally not amenable to drivers throwing their officials under the bus. We expect a fine of Ingall-sized proportions heading the way of HQ at some point soon.
2. RACE 24
REGARDLESS of who was at fault, who got screwed over and who benefited, the events early in Sunday's race were a bad look for 'fans' who need little excuse to further pillory Supercars on social media more than they already do. There was redemption in the result in that it delighted the massive crowd at the venue, ensuring they went home happy. But for those watching at home and for those inside the sport it just looked amateur hour.
I agree with race directors initial plan to stop all cars and reset. Rules are rules – don't pass safety car. JW made it a mess then race directors put it in the too hard basket.

— Andrew Kerridge (@AndrewKerridge) September 15, 2019
Read our recap and analysis of what exactly went down here.
3. RACE 23 WHINCUP PENALTY POST-RACE
THE Penalty was fine – absolutely warranted and there's no argument there. But why was it judged post-race? While it's good that race control want to get all the information before penalising the drivers – which means the in-car / driving standards camera vision and telemetry – it was pretty clear to everyone that Jamie was in the wrong and there are numerous examples of people getting pinged for similar incidents right away.
If it were a bigger, more controversial drama we could understand the time taken and the fact the podium on Saturday night wasn't the same as it was Sunday morning – And while we're more than happy to admit that it's easy to umpire from the couch, this had every appearance of a black or white kind of incident and one in our opinion, and many others, that should have seen Jamie penalised on the spot.
4. TICKFORD DRAMAS
FRIENDLY FIRE between Waters and Mostert in Race 23 was nonsense, just shouldn't happen and they know it even if the parallels to their Queenstown carve-up were pretty funny. Screwed over by the Safety Car – there's no other way to call it, is there? – on Sunday but another example of Tickford being.. Tickford. Fast, capable, yet ultimately frustrating for everyone involved.
Fortunately, they head to the Mountain with a very strong driving squad and clearly fast cars; As the team knows only too well, a Bathurst win can often cure all ills.
5. FABIAN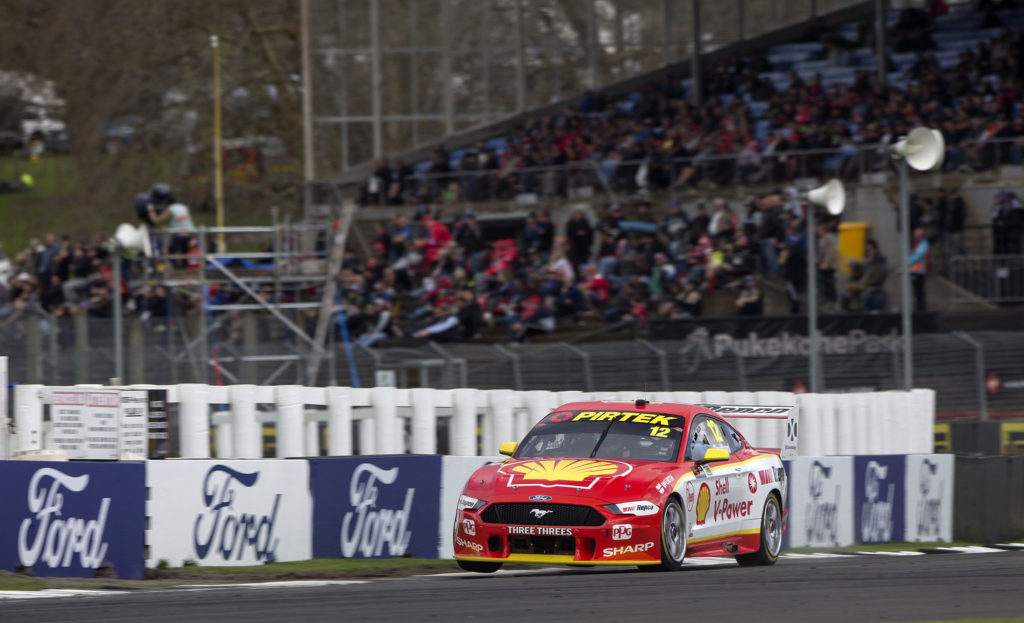 FINISHED second in the rain in Townsville in late July and since then has banked finishes of 10th-18th-12th-10th-7th and 12th. Screwed by the Sunday debacle, of course, and was on for at least a top five there, if not a podium: but surely he must be wondering when things are going to turn for the better in the 12 Camp. Sunday was kind of Fabian's year in 70 laps, really – all the luck went to his teammate when really, it needed to go the other way. A strong endurance campaign is a must if he hopes to go to Newcastle within a shout of giving DJRTP the 1-2 finish they deserve this year, for they have been the best team with the best car. On the upside, twice out-qualified McLaughlin which indicates one-lap speed is back.
6. FUEL DROP
THERE ARE Pro's and Con's to the fuel drop but at Pukekohe especially, it just seemed overly complicated. We're not saying we have all the answers, but when the commentary team have to tell the audience 'It's all a bit complicated, stick with it folks because it will sort itself out', then it's too complicated. Perhaps the best hope is that the Nissan's disappear next year, removing the whole reason a fuel drop was implemented in the first place.
7. AERO
IN making the Commodore faster to match the Mustang, the category continues to add downforce to the cars – making them quicker and making it harder to follow the car in front. It's the number one topic Formula 1 is hoping to address in their 2021 regulations and something Supercars need to address. The Gen III car needs to take 50% of the downforce out of the current package to return the cars to the kind of aero grip levels they had in the late 1990s and early 2000s. The show demands it.
8. NZ V8's
SAD TO see New Zealand's premier Touring Car class reduced to a mix-mash of souped-up Super Tourers, an old BMW and everything else. And Paul Radisich in a Sports Sedan. We know it was a non-points round so some of the more 'interesting' cars got a go – and in many instances the racing was quite good. But as good as Kiwi motorsport is the fact their top Touring Car class is struggling so hard is sad. Does anyone think their new Camaro / Mustang-based Supercar lookalikes will fire? Or will TCR rise to become the dominant power in the country?
9. NEWS UPDATES?
WE APPRECIATE that officials have to get their news from somewhere.. but after the most controversial race control drama of the recent past, it wasn't a great look for Tim to be browsing the Speedcafe.com news section as he chattered to Neil Crompton post-race on Sunday..
While we love our mates at @speedcafe, we'd rather Tim was reading TRT following today's dramas! #VASC pic.twitter.com/uylpFhY3bW

— The Race Torque (@theracetorque) September 15, 2019
BONUS:
IF you don't watch Supercars Trackside and don't see the 'Off Camber' segment, it's worth watching. Here's the NZ edition.
EXTRA BONUS
Happy Birthday (on the weekend) to our Very Senior Contributor, Dale Rodgers.
Dale is on the far left of this photo, from the collection of the similarly great, Ian Smith. It seemed appropriate that as a birthday gift to us all, it be shared here. (via Facebook)