FINALLY. After years in the wilderness and four years of questions that all basically centered on 'Will it actually happen?', S5000 is here.
WORDS: Richard Craill IMAGES: S5000 Australia
IT'S an exciting time for fans open-wheel racing in this part of the world, who have gone two decades without a 'premier' category of wings-and-slicks vehicles capable of demolishing lap records and drawing people to the fence.
Formula Holden / 4000 petered out in its later years and while at its peak Formula 3 produced some truly outstanding racing and were in some places outrageously fast, four-cylinder cars never tugged at punters heartstrings.
S5000 could, possibly, change all that.
The car is loud, modern, safe and fast and should tick all the boxes.
If the racing is good from the outset it will make an immediate impact and set itself up for a successful and sustainable future. But even if it isn't – it's still very early in the process and the cars are still very new – then it at the very least will be a spectacle of sight and sound.
The field assembled for Round 1 is diverse and capable. Getting Rubens Barrichello gives it instant credibility, even if he's not felt the wind on his, err, helmet for six or seven years. Established open-wheel aces like Tim Macrow, Matt Brabham and John Martin offer serious capabilities while young-guns like Tom Alexander, Taylor Cockerton and Will Brown show that the series can also be positioned as a development class.
Drawing teams like BRM, AGI, Eggleston, MTEC adds further credibility as they're all proven to be highly competent. That privateer runners are also drawn to the class, and new teams have been established for the sake of entering a car, is a massive positive as it is actually growing the sport.
Through all this, no one really knows what we're going to get at Sandown this weekend: at least with TCR there was an international template on which we could get some form guide.
With S5000 we're truly sailing into the unknown which, in an era of modern, regulated and play-it-safe motor racing, could just be the most exciting thing of all.

– Richard Craill, Editor.
THE CARS
THE S5000 chassis is a variant of the regional Formula 3 tub produced by Onroak-Ligier in France and then pieced together by Crawford in the USA, who produced a lot of the adaptations for Australian use – including the beautifully produced bits of CNC'd metal that mount the engine to the chassis itself.
The tub has the latest Safety standards, including the Halo, side-intrusion protection and the frontal crash protection structure (that amounts to an inch-thick piece of solid Carbon Fibre plate) implemented after Billy Monger's crash at Donington two years ago.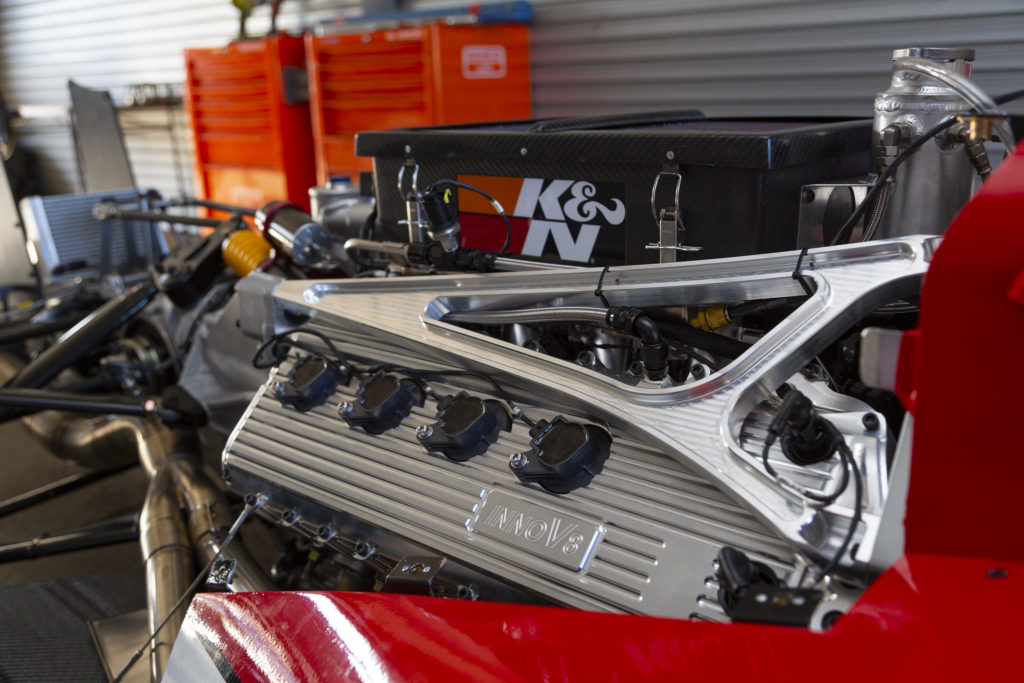 While the chassis and aero components come from overseas, the remainder of the car has a significantly Aussie touch.
The five-litre 'Alumina' Ford Coyote V8 engine reliably produces 560bhp with an 8,000 RPM limit and is built by InnoV8 in Queensland. The gearbox is six-speeds and made by Hollinger while most of the bolt on components – wishbones, uprights and the like – were initially designed by Borland Racing in Melbourne, before Garry Rogers Motorsport took control of the production process and development more recently.
The car is notably big. It's nearly five meters long and with driver is over 900kg.
Tyres are by Hoosier (The rears are 17″ wide!) while the wheels are produced here by Max Dumesny Motorsport.
There's a lot of Australia in the car – more than any in an open-wheeler at this level since the locally designed and built Shrike Formula Holden, at the very end of the Aluminium tub era of the class.
THE FORMAT
A unique format for this weekend will see a series of qualifying heats before a Sunday feature race. Here's how it will work.
A 20-minute Qualifying Session determines the initial running order.
2x Qualifying Heats. After qualifying, the pole position winner will be the first to select the grid place that they would like to take for the first race. If that driver selects to start from pole, they will be sent towards the back of the grid for the second Qualifying Heat.
Once qualifying's pole sitter has nominated their desired starting position, the driver who qualifies second will then get to select their starting position for the first heat, and so on until the grid is determined.
Top 75% only in reversals. Bottom 25% start in qualifying positions (heat 1) and then from the back of the field in the order in which they finished heat 1.
Main race (Sunday) grid then determined based on results of qualifying races.
It's not simple, but should produce some variety at the pointy-end.
HOW FAST WILL THEY GO?
THIS is the million dollar question. Reports from testing at Phillip Island are that the cars were 'easily' in the 1m24s at the high-speed Victorian venue, bang-on outright lap record territory. Perhaps more impressively, reports have them close to 290km/hr before a big lift for turn one..
The Sandown lap record is actually held by a classic F5000 – Tom Tweedie somewhat frighteningly dipping into the 1m05s when they supported the Supercars back in 2013.
Truth be told, the cars aren't designed for ultimate lap time. They don't have the aero and the Hoosier tyre is designed for longevity and durability rather than outright grip. But they will be plenty, plenty fast.
THE TEAMS & DRIVERS
13 CARS will front at Sandown this weekend. It's one short of the total number produced after Barton Mawer jumped into the spare chassis following a testing crash at Phillip Island. Regardless, it's a very stout number for a first-up effort and given the timeframes involved in piecing it all together.
It should be quite a sight as they storm down Sandown's long, wide front stretch.. and quite a sound, too, even muffled thanks to the circuit's noise restrictions.
Here's some background on those operating the cars from the garages, and those taking the brave-pills and jumping behind the steering wheels to launch 560hp towards Sandown's famous first turn.
AGI SPORT
HEADED by former Williams engineer and A1 Team Australia boss Adam Gotch, AGI Sport enter S5000 as the reigning Formula 4 champions, having won the title for the past three straight years. Their entry into S5000 alongside F4 rivals Team BRM will continue their team-v-team rivalry, too. With a long open-wheel engineering history and success in both F4 and Formula 3 at a state and national level, AGI are expected to hit the ground running in S5000.
JOHN MARTIN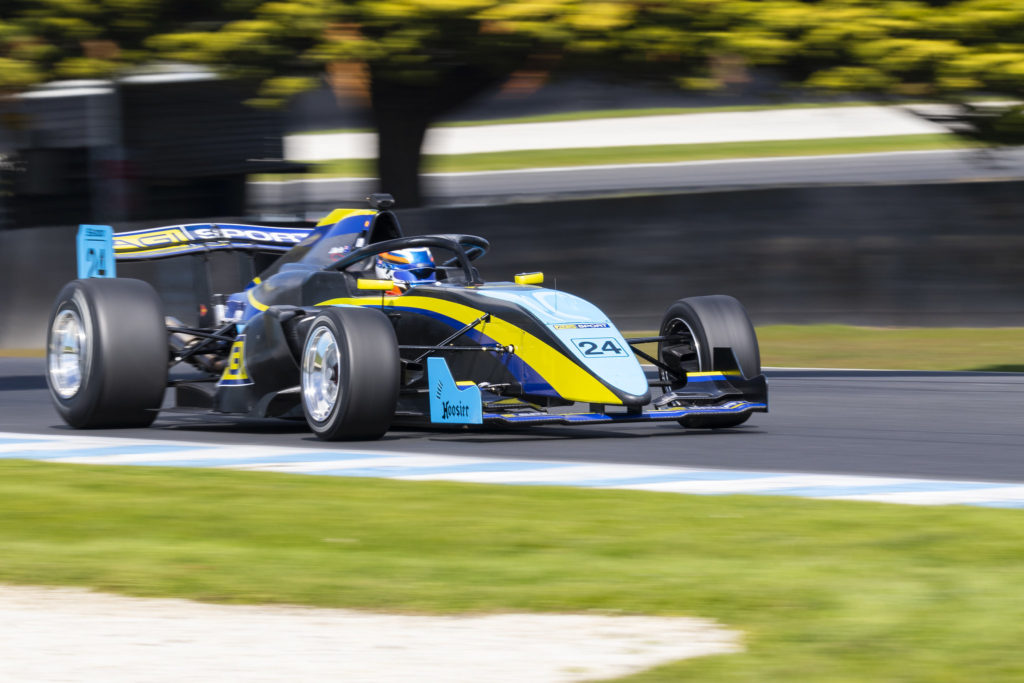 JOHN Martin is exactly the kind of driver S5000 is seemingly targeted at: Battle hardened, fast drivers in open-wheel competition around the globe. The 2006 Formula Ford champion paved his way overseas and was a race winner in British F3 and started 36 A1GP Races for Team Australia, working with AGI Team Owner Gotch. Won 8 times in the Superleague Formula including the 2011 Championship before moving to Sportscars, finishing 3rd in the 2013 World Endurance Championship LMP2 drivers standings. Raced Porsche Carrera Cup and TCR Australia for Honda more recently.
TOM ALEXANDER
A PROTÉGÉ of Kiwi hero Kenny Smith, 25-year-old Alexander is one of the many young Kiwi drivers forging their path on the world stage. Perhaps best-known for his current stint in the SuperUtes series, Alexander carved his path through the junior formula as many young Kiwis have done. His background is primarily in Touring Cars, winning the NZ Toyota 86 series and finishing runner-up in NZ V8's – but at the same time also racing Formula Ford and driving Formula 5000 racers to build some big-banger experience, too.
TEAM BRM
STATISTICALLY Australia's best wings-and-slicks team of the last two decades, Adelaide-based Team BRM eclipsed fellow South Aussie powerhouse Birrana Racing on the Gold Star rankings a long time ago. Won the Australian F3 title on eight occasions, notching up five Gold Star titles in the process, and transitioned that success into Formula 4 by winning the first two titles in the category history. Had success in Formula Ford with Richie Stanaway and Andre Heimgartner and in Porsche Carrera Cup with Ben Barker.
RUBENS BARRICHELLO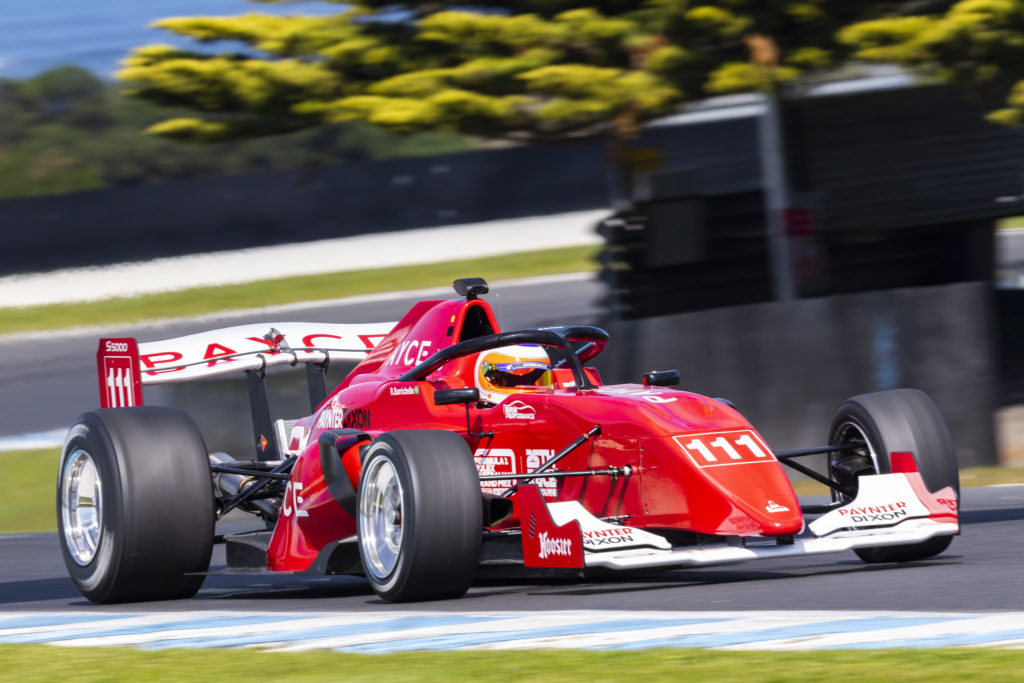 NOW 47, RUBENS shows no sign of slowing down his remarkable career, that includes 11 Grand Prix victories and 68 podium finishes from a remarkable 326-race career in the top tier of the sport that lasted nearly 20 years. Twice runner-up in the World Championship for Ferrari, he rounded out a career that began in 1993 for Jordan in 2011 for Williams. A brief stint in IndyCar racing in 2012 gave way to racing in the competitive Brazilian Stock Car series, which he won in 2014 and where he still competes full-time – and has won three times this year. Was on the podium on five occasions at Albert Park, making him highly familiar with success in Melbourne.
ALEX DAVISON
IT WOULDN'T be a Formula 5000-style category without a Davison behind the wheel, right? Remarkably, Sandown will mark 39-year-old Alex Davison's first serious open-wheel start since he finished 3rd in the 1999 Australian Formula Ford Championship and then tackled the Formula Ford Festival at Brands Hatch the same year! Grandson of Gold Star champion Lex, Davison is no stranger to fast machinery, however, with a lengthy tin-top career both here and abroad in the intervening two decades. Still racing, with little brother Will in the 23Red Mustang in Supercars' enduros, Davison is also the current DSA for TCR Australia.
TIM BERRYMAN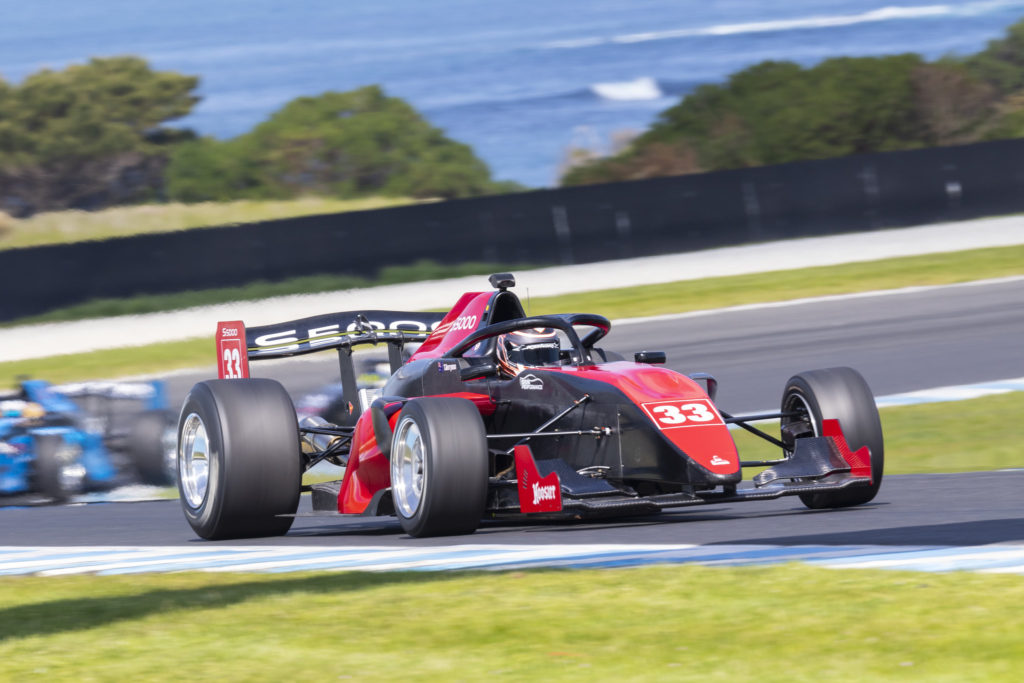 Berryman, 42, has spent the majority of his racing in open wheelers or prototype sports cars, including stints in Formula Ford, Formula 3 and Radicals. He won the 2014 Radical Australia Cup and competed at the world-famous Spa Francorchamps in the Radical Masters Euro Series. In recent times, Berryman has been racing his old Formula 5000-spec Lola in Historic race meeting across Australia which you'd think will give him adequate preparation for some more modern-spec machinery.
MILLDUN MOTORSPORT
ONE OF TWO new teams entered this weekend, which is exactly what Australian Open Wheel racing needs. Formed by owner, Liam Dunn, the new outfit was forged out of an existing relationship with driver Bart Mawer, who coached drivers associated with the new team owner. Will be fascinating to see how the new squad comes to grips with S5000.
BARTON MAWER
SYDNEYSIDER Barton has a long association with Australian open wheel racing and was highly successful in Australian F3 – finishing runner-up to Michael Caruso in the 2003 Australian F3 title running a privateer entry that season. His dad, Dave Mawer, is a veteran of the sport and prepared not only Barton's cars, but those of other Formula Holden drivers like Mark Larkham and more. With an extensive background in GT and open-wheel racing here and overseas, Mawer has focussed more on driver coaching in recent years however still jumps behind the wheel; he won the World Time Attack event at Sydney Motorsport Park in 2018 and is the fastest ever tin-top driver around that venue.
EGGLESTON MOTORSPORT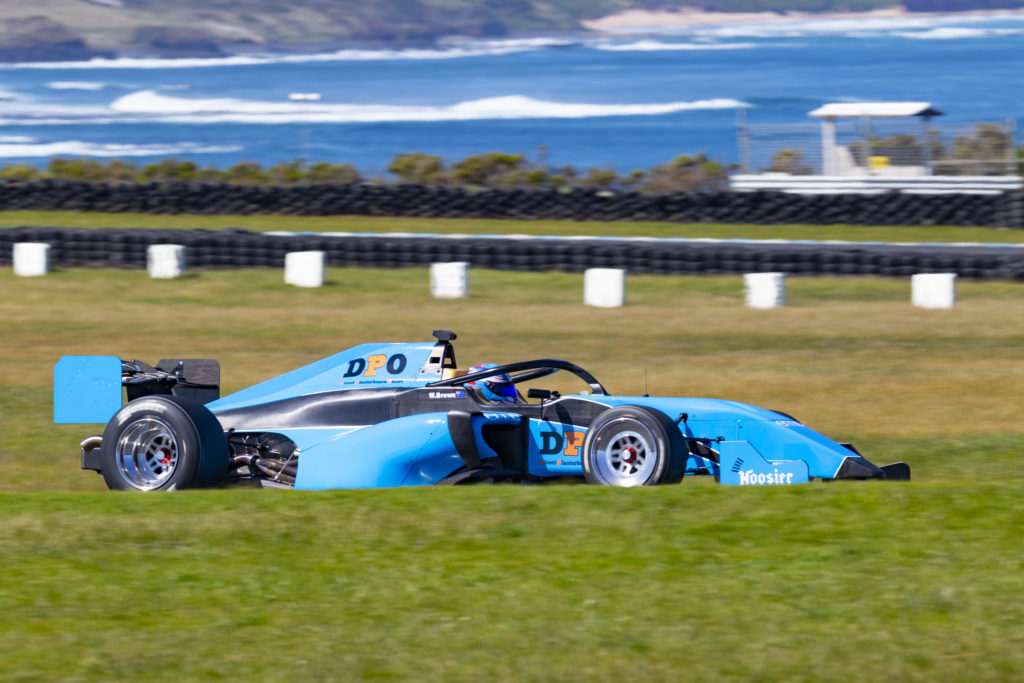 EMS make their first foray into open-wheel racing in S5000, but their strike rate in key national categories is impressive enough to ensure that they'll be in the mix. Headed by Ben and Rachael Eggleston, the team are former champions in both Super2 and Super3 Supercars competition and regular winners in Australian GT the team has experience and runs on the board. Brown races for the team in Super2 competition.
WILL BROWN
THE 21-year-old young-gun from Toowoomba is one of the hottest properties in the sport at the moment and seemingly will race everything and anything with four wheels. A podium finisher in Super2 and a Penrite Racing endurance racer in Supercars, Brown has this year impressed with his crushing form in the first season of TCR Australia driving one of the HMO Customer Racing Hyundai's. From an open-wheel perspective, won the 2016 Australian Formula 4 Championship and was runner-up in the Formula Ford title the same year. Won the Toyota 86 title a year later.
MTEC MOTORSPORT
Owned by Bruin Beasley, MTEC motorsport races in Toyota Racing Series and was founded via the merger of Trevor Schumack's ETEC Motorsport and Beasley's Minda Motorsport outfits. As Minda, the team were regulars in Australian Formula Ford and won 2012 championship with Jack LeBrocq. Bruin is team chief for GRM's TCR Australia program, but has plenty of experience within the team to cover his double duties with S5000. With Macrow and Brabham, MTEC have firepower behind the wheel to match their capabilities in the garage to be considered key contenders.
TIM MACROW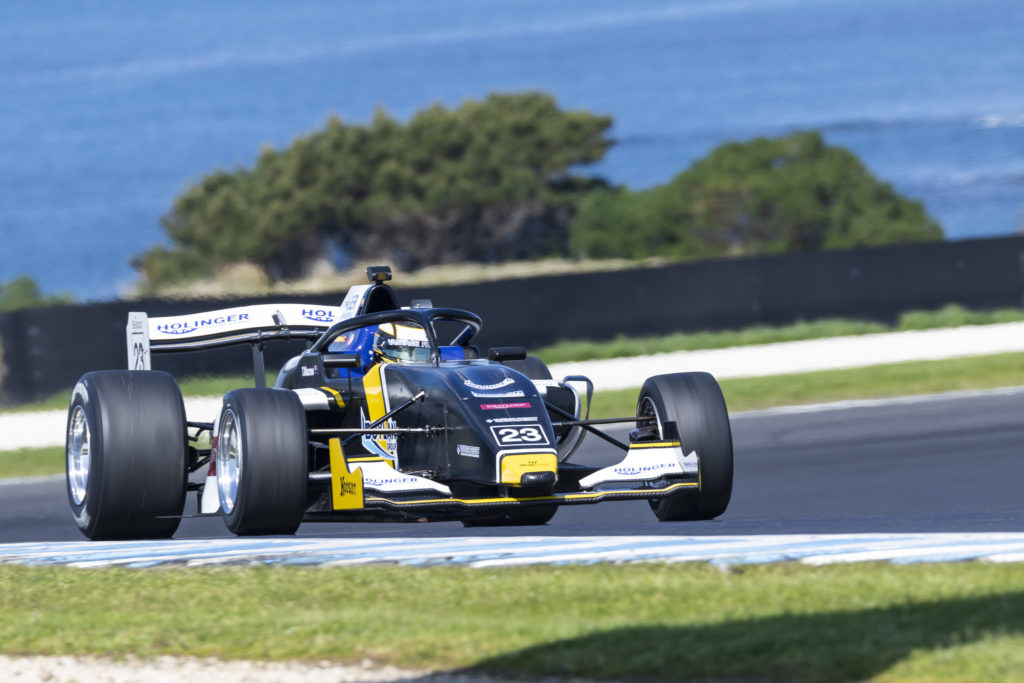 ONE of Australia's best wings and slicks racers of the last 15 years, Tim is a three time Australian Formula 3 champion, two of them also bringing CAMS Australian Drivers Championship / Gold Star titles as well. He's the most winning driver in Australian F3 history and won nearly a third of all F3 races he started. As well as that, he was runner-up in the 2004 Australian Formula Ford title to David Reynolds and his versatility has been shown with success in GT, LMP3 and Touring Car racing. Has led the development of the S5000 project since day one and is easily the most experienced driver in the car, so has to enter round one as an early favourite.
MATT BRABHAM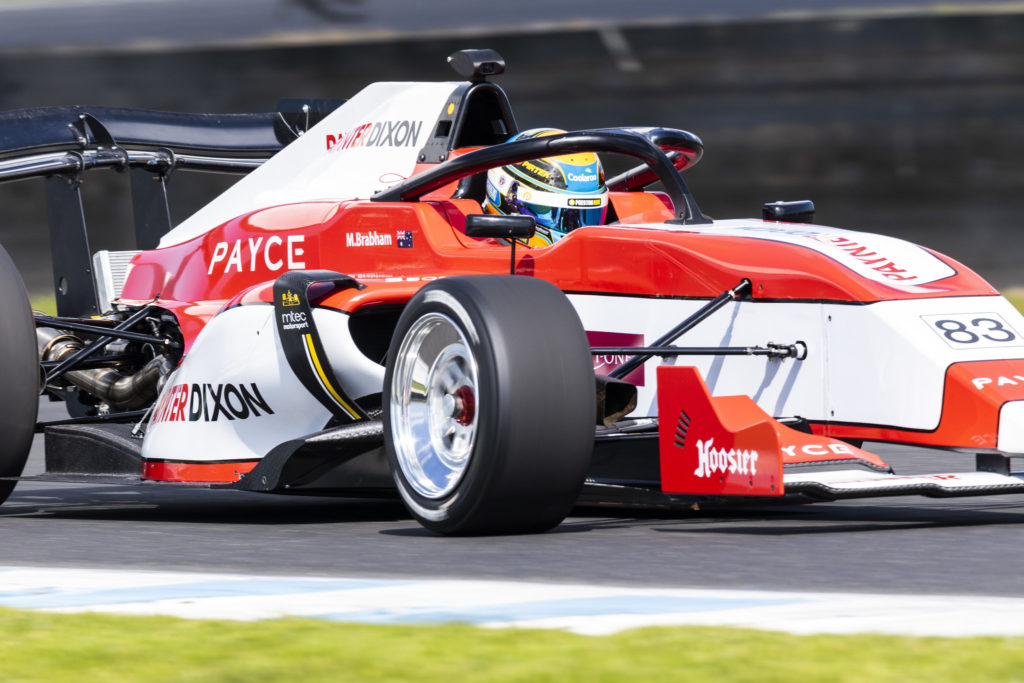 Son of Geoff and Grandson of Sir Jack, Matt Brabham is the third-generation of Brabham drivers to succeed. After racing in Victorian and Australian Formula Ford, followed his dad's pathway to the 'states and won the USF2000 and ProMazda titles before finishing 4th in IndyLights. Current Stadium SuperTrucks champion, won his class in the Bathurst 12 Hour last year and perhaps most famously finished 22nd in the 100th running of the Indianapolis 500, driving for Pirtek Team Murray.
TAYLOR COCKERTON
THIS 21-year-old Kiwi is another of the bright young stars making waves across the Tasman and joins the three-car MTEC Motorsport attack this weekend. Taylor comes from Pukekohe – so naturally has racing blood in his veins – and is a former NZ Formula Ford champion in 2014/15 as well has having since spent three years in the Toyota Racing Series. Last raced (with MTEC) in the F4 support races at the Grand Prix in March – but will likely quickly adapt to the big bangers this weekend.
APEX RACING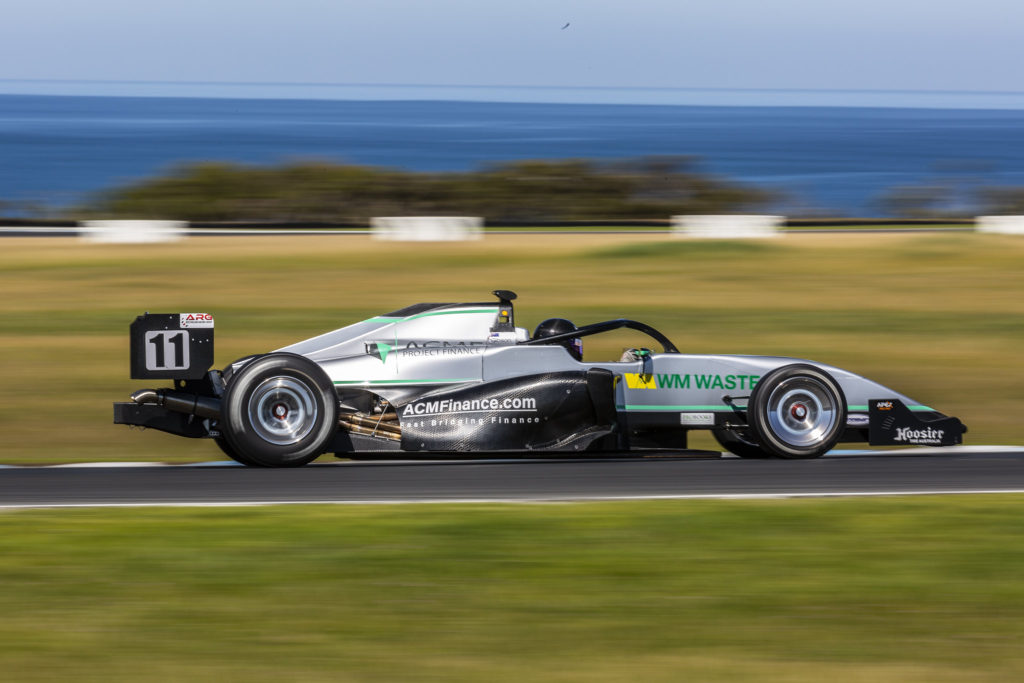 THE SECOND new team confirmed for S5000's inaugural event, Apex Racing is forged out of several people with key experience in the sport, including former Formula Holden racer Albert Callegher – who heads up business ACM Finance. Sponsors WM Waste and Apex Steel are well known supporters of racers like John Bowe, Steven Johnson and others in recent years. Apex is headed by racer Joe Calleja, with the team's S5000 to be based out of their Melbourne shop.
MICHAEL GIBSON
MELBOURNE driver Michael Gibson comes from a well-known racing family and has a background in Sports 2000 and Touring Car competition. He's also a motorsport engineer, preparing the cars owned and driven by Apex Steel's Joe Calleja (and sometimes, John Bowe). Gibson comes from a broad motorsport family background. His father was a well-known sports car racer. Bevan Gibson, an uncle, was tragically killed at Bathurst back in 1969, age 23, while driving an Elfin 400, which flipped on the main straight, while two other uncles raced sports cars and F2, and spent time in F1 as race mechanics.
MODENA ENGINEERING
FRANK CAPO'S Modena Engineering business are renowned in the motorsport world with a particular focus on gearboxes. There's more than enough experience and nous within the family to successfully run a car themselves, with a key storyline of the inaugural S5000 weekend to be the David-versus-goliath battle between some of the smaller teams against heavier-hitters. But the category is geared towards the cars being relatively affordable and easy to run for 'dad and lad' operations. Will operate with support from Garry Rogers Motorsport this weekend.
RICKY CAPO
THE 23-YEAR OLD has built a solid CV over the years following a successful karting career. His biggest moment came in the 2015 Formula 3 Championship, where he and Jon Collins fought an often contentious battle for the title; Capo had won it initially before the result was overturned some time afterwards after several hearings. Regardless, Capo is a feisty driver and in recent years has expanded his career with stints in GT and LMP3 racing giving him a broad base on which to build in S5000.
GARRY ROGERS MOTORSPORT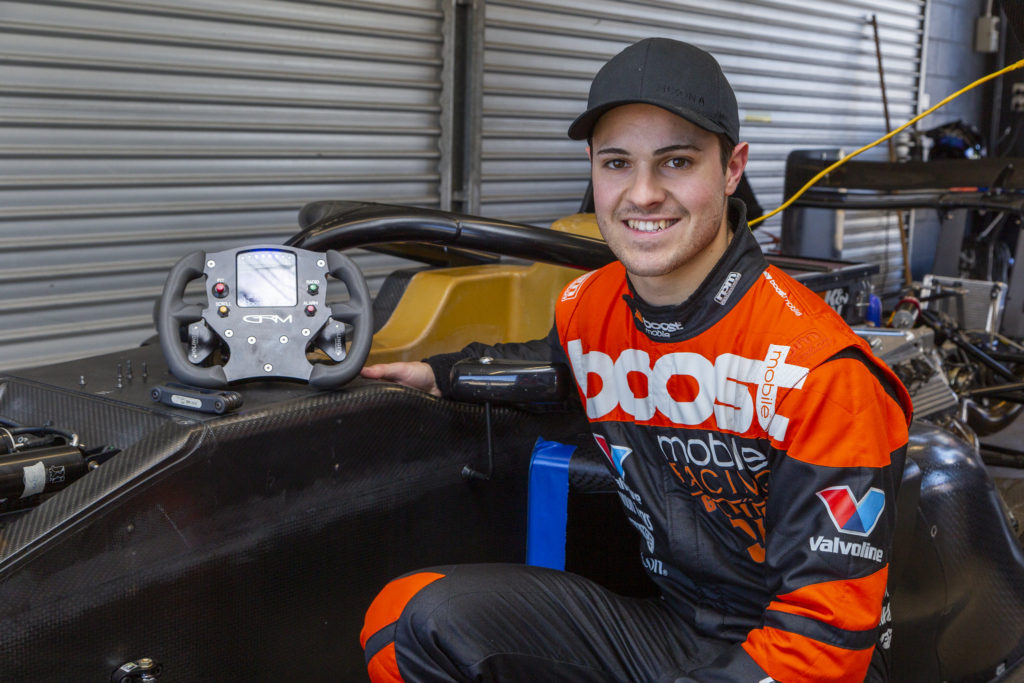 QUICKLY becoming the most diverse team in the sport, GRM will field James Golding this weekend, having just completed the herculean task of piecing together the 14 S5000 chassis ahead of the category debut this weekend. Know a thing or two about extracting speed from heavy, V8-powered race cars – even if they aren't usually open-wheelers – so will be interesting to see how they put their in-depth knowledge of a platform they've largely developed into practice.
JAMES GOLDING
'BIEBER' has been a quiet achiever in the Supercars this year and though GRM has struggled, we think he's done a solid job as proved by a top-10 finish in New Zealand last weekend. A champion karter and podium finisher in the Formula Ford championship, he's not unfamiliar with open wheel cars either. Should be fun to watch.
WATCH IT
Saturday's first qualifying race and Sunday's feature will be shown live and free on SBS TV, on both their main and HD Channels.
The remainder of the program on Saturday and Sunday will be streamed via the Shannons Nationals stream, available via their website, social media channels or the S5000 site and socials.
Otherwise, tickets are cheap and Sandown's grandstand well sheltered from the inevitable Melbourne weather. Be part of history and check it out live!