NO MATTER what happens between now and the end of the year, the 2019 Kumho Tyre Super3 series will go down as one of the most competitive title battles seen in Australian Motorsport this year. Here's how it played out over five compelling rounds.
WORDS: Richard Craill IMAGES: Dirk Klynsmith / Kumho Super3 Series
FRESH WITH a new brand and an official place on the Supercars ladder system, Super3 put on a show this year. If for some time the championship had been evolving as a proven young-driver proving ground for the main game and Super2, 2019 showed that the evolution was complete.
A pulsating fight saw five drivers battle for the title right through to the final round, with 16-year-old Broc Feeney ultimately holding out open-wheel graduate Jayden Ojeda for the title.
It was pulsating from the word go. Here's how the five rounds played out.
ROUND 1: PHILLIP ISLAND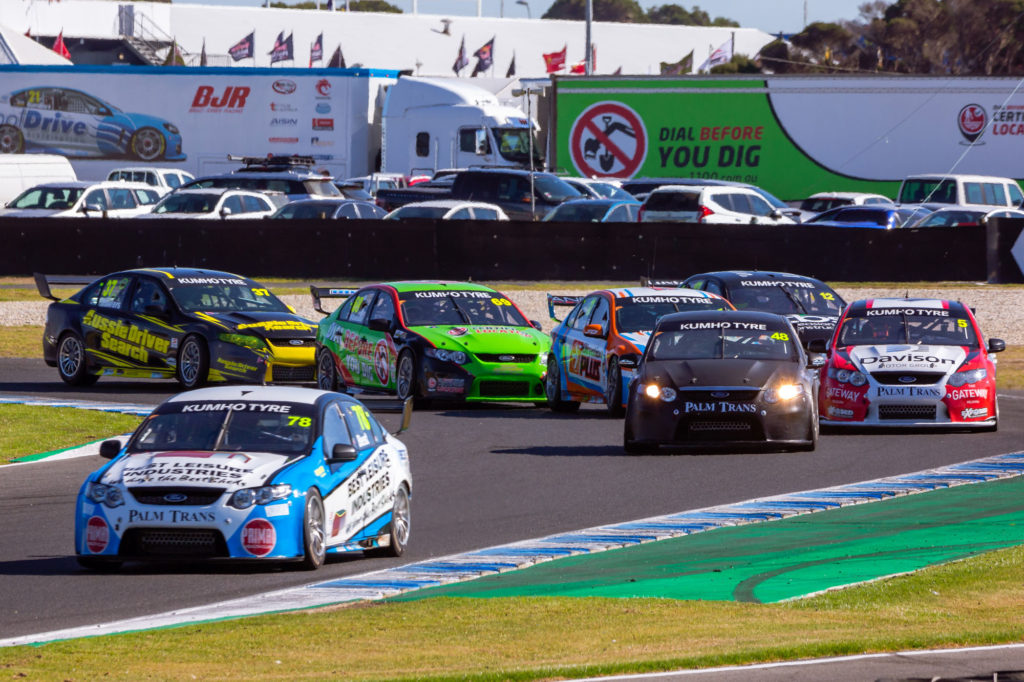 THE SEASON started at Phillip Island and it was Broc Feeney who put his mark on 2019 straight away, qualifying on pole and taking the first race of the season despite a slow start.
That gave him the honour of becoming the first championship leader of the season, heading runner-up Hamish Ribartis by 8 points, Zak Best third a further four back.
AFTER RACE 1: Feeney 43, Ribarits 35, Best 31, Ojeda 27, Carroll 23, Powers 20.
Best wouldn't stay there for long, however, slamming home his first win of the season in Race 2 to take the championship lead by 11 points over Feeney. Ribarits remains third in the standings while Matt Powers would move to fourth in an impressive Supercars debut.
AFTER RACE 2: Best 71, Feeney 60, Ribarits 55, Powers 51, Ojeda 50, Carroll 48
HAMISH RIBARITS then won the third race, the third different from three races, to buy himself into the title battle nice and early. That win ensured he would finish second overall for the round, while Best won overall and continued to hold the championship lead. Feeney went from leading, to second and then to third, but was only five points behind the series leader as the championship departed Phillip Island. Matt Powers was an impressive fourth overall, though not long for the championship, while Jayden Ojeda was only fifth and some 33 points behind leader Best.
AFTER RACE 3 / ROUND 1: Best 118, Ribarits 115, Feeney 113, Powers 92, Ojeda 85
ROUND 2: WINTON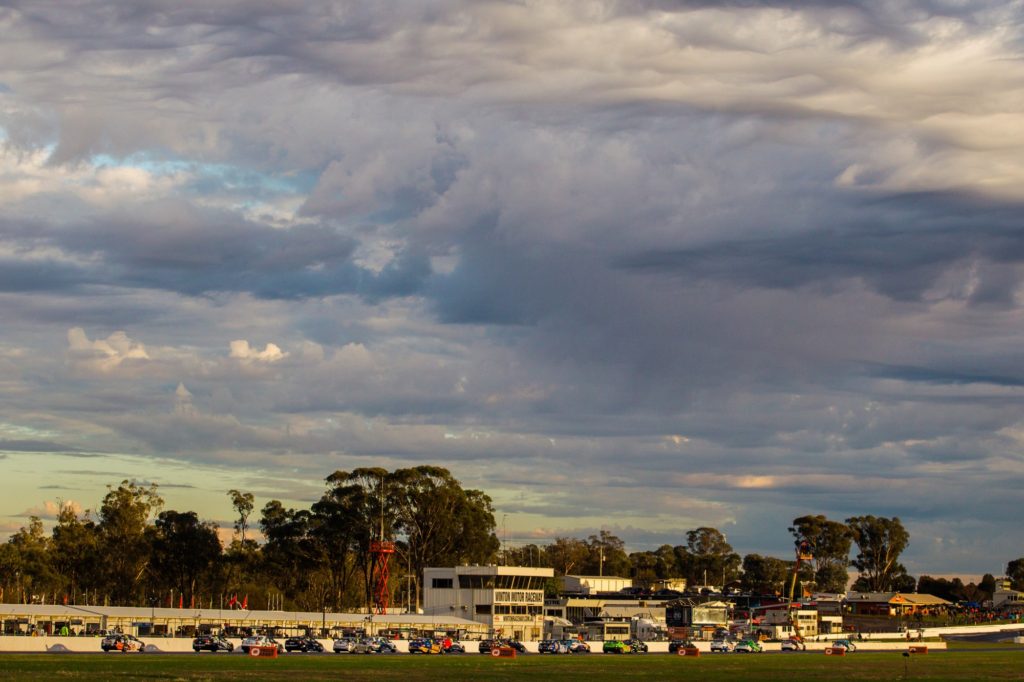 THE IN-FORM Ribarits qualified on pole at Winton, locking him into a share of the title lead with teammate Best as the field headed to Race 1.
AFTER QUALIFYING: Best 118, Ribarits 118, Feeney 113, Powers 92, Ojeda 85
RACE 1 was all about Zak Best, however, who became the first repeat winner of the year. Ribarits struck issues and scored only 15 points, while Feeney climbed back to second thanks to P2 in the race. Similarly, Ojeda just missed the podium but moved to fourth, while Nic Carroll scored his first top three, though remained 7th in the standings – behind Fife and the absent Powers.
AFTER RACE 1: Best 158, Feeney 148, Ribarits 133, Ojeda 112, Powers 92, Fife 85, Carroll 81.
BEST SLAMMED home his second straight win in Race 2 at Winton, leading home the first ever 1-2-3 for MW Motorsport in the process. That result lifted Ribarits back to second in the championship while Carroll moved to fifth for the first time. Feeney continued his strike rate of changing his title position every race, dropping to third, while Ojeda banked solid points and remained fourth – however dropped 66 points (a full Race 3 win and an extra six points) behind the leader.
AFTER RACE 2: Best 198, Ribarits 168, Feeney 165, Ojeda 132, Carroll 112, Fife 108
RACE 3 proved the power of saving your best to last. Calamity for Zak Best saw him parked with engine failure, while Ojeda powered to a remarkable first-up race win for Anderson Motorsport. Hamish Ribarits, however, was a bigger winner – assuming the championship lead, clearly this time, thanks to a strong second. Feeney climbed back to second place with his title position having changed six times in six races. The zero-score dropped Best to third.
The result was critical for winner Ojeda, however: scything 37 points out of the series lead to remain fourth: but only 29 off the top spot. Nic Carroll climbed to fifth place, bumping Fife back to sixth.
AFTER RACE 3 / ROUND 2: Ribarits 221, Feeney 212, Best 198, Ojeda 192, Carroll 123, Fife 108
ROUND 3: QUEENSLAND RACEWAY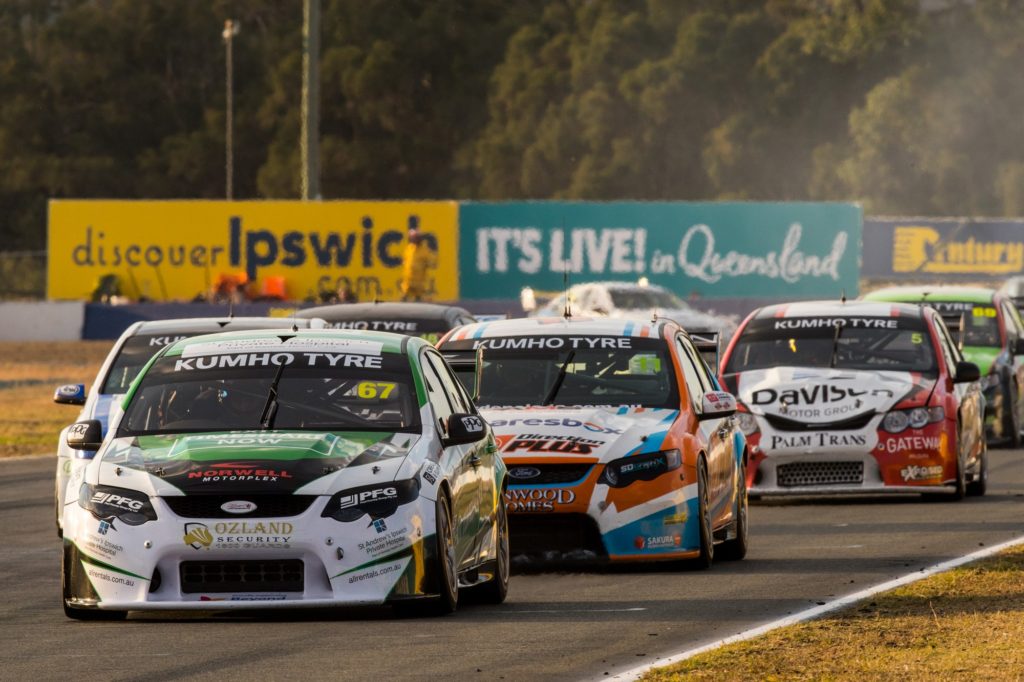 HOME TURF for Broc Feeney would ultimately prove beneficial for the young Gold Coaster, but it would take some time to pay off.
Angry after his non-finish at Winton, Zak Best became the third polesitter from three rounds to take the top spot in qualifying.
BEST CARRIED on from there, winning his fourth race of six this year and moving into equal second in the championship with Ribarits, who struggled. Feeney, however, returned to the lead of the championship by virtue of finishing second in a critical drive. It was the seventh change of championship position for the young Queenslander in seven races..
Ojeda remained fourth, but moved to just 28 points behind the series lead. The top 3 split by just 6 points.
AFTER RACE 1: Feeney 247, Best 241, Ribarits 241, Ojeda 219, Carroll 154, Fife 131
HAVING LOST the series lead he held after Round 1, Zak Best's Race 2 win at QR returned him to the top of the standings thanks to his fifth win of the year. He led Feeney by 6 points. A brilliant second from Ojeda saw him tie Hamish Ribarits – having a shocker -for third in the standings with the pair 27 behind Best.
AFTER RACE 2: Best 281, Feeney 274, Ribarits 254, Best 254, Carroll 175, Fife 162
LUCK plays a big role in racing and Zak Best had zero of it in Race 3. For the second round in a row, he started the feature from pole but ultimately failed to finish after early race contact controversially saw him out. In the right place at the right time – again – was Jayden Ojeda who won for the second time.
Feeney finished second and returned to the series lead; after 9 races yet to have held the same title position for more than one race in a row.
Ojeda's win in the finale' saw him leap to second overall, just 13 points behind. Remember, he was 66 back after Race 2 at Winton. Ribarits retained third while Best's non-finish dropped him from the lead to Fourth. Fife closed in on Nic Carroll in their private battle for fifth and sixth.
With two rounds to go, three drivers had traded the championship lead six times in nine races. There was more yet to unfold when the circus arrived in Adelaide..
AFTER RACE 3 / ROUND 3: Feeney 327, Ojeda 314, Ribarits 289, Best 281, Carroll 216, Fife 209.
ROUND 4: THE BEND MOTORSPORT PARK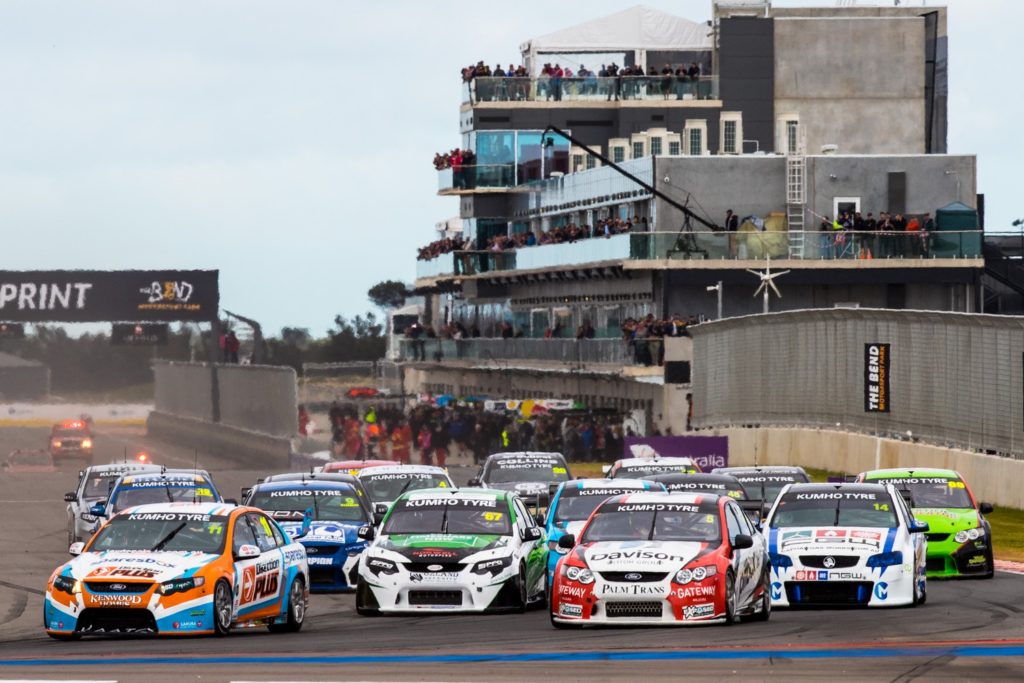 RIBARITS continued to show he was a factor by becoming the first repeat pole sitter of the year at The Bend, retaining third in the championship.
He couldn't convert that to a Race 1 win, however, a thriller going the way of Jayden Ojeda: his third of the year.
That pulled further margin out of Feeney, who was third, and ensured the pair would be split by just 4 points going into Race 2, though it was the first time all season that Feeney had retained the same championship position for more than one race! Best had another shocker and fell some 72 points behind the leader, while Fife overhauled Carroll for fifth place in the championship, five points between the pair.
AFTER RACE 1: Feeney 358, Ojeda 354, Ribarits 327, Best 286, Fife 229, Carroll 224
A CRITICAL win for Jayden Ojeda in Race 2 saw him become the fourth different championship leader of the season in Race 2 at The Bend. Chased hard to the line by Feeney in another cracker, he assumed the title lead by one solitary point heading into the critical feature race on Sunday morning. After 11 races, it was the seventh title lead change of the season with the margin of one point the smallest of the year.
AFTER RACE 2: Ojeda 394, Feeney 393, Ribarits 358, Best 313, Fife 252, Carroll 244.
ZAK BEST had to win the final race at The Bend to remain in title contention: And win he did – his sixth of the year absolutely critical in keeping his title hopes alive. Feeney's second ensured he jumped back to the top of the standings; having still changed his title position in every race to this point. Critically, Carroll beat Ojeda to third which not only saw Ojeda fall 11 behind Feeney, but saw Carroll move back to fifth in the standings too.
With eight changes of the championship lead, the situation was set for the finale: Feeney and Ojeda the favourites, though Ribarits and Best were still in definite competition. Carroll was 143 points behind: Mathematically in touch given there were exactly that many points up for grabs at the final round – though it looked like a battle for the minors with his MW teammates and BJR's Fife was more likely.
AFTER RACE 3 / ROUND 4: Feeney 446, Ojeda 435, Ribarits 388, Best 373, Carroll 291, Fife 278
ROUND 5: SANDOWN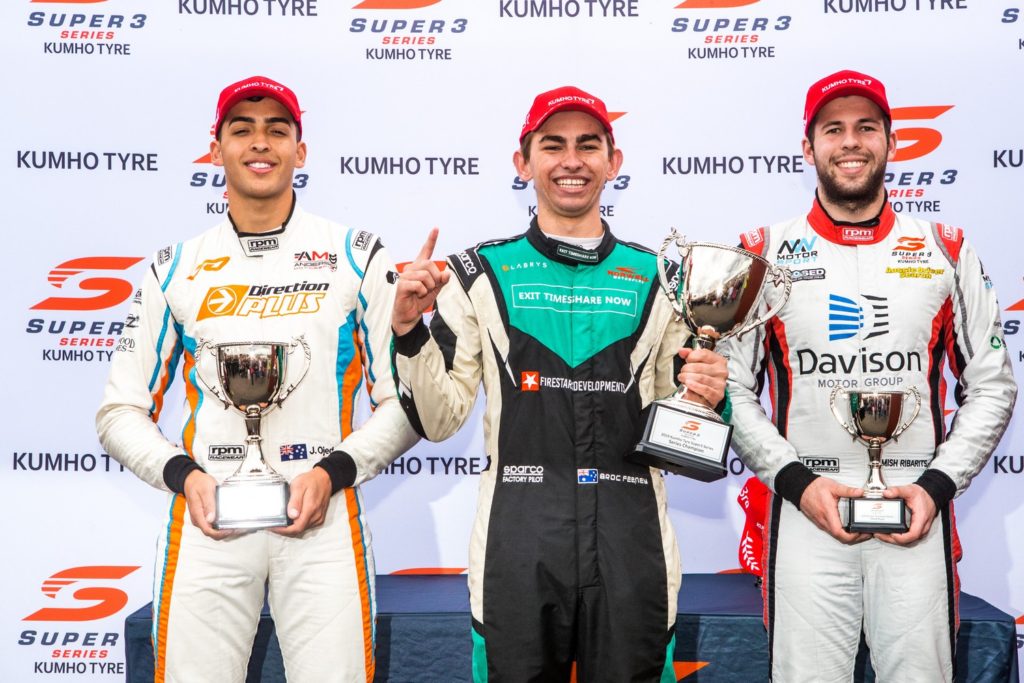 BIG BAD Sandown promised plenty and delivered for the most part a compelling title showdown, if not quite with the final-race throwdown that the series arguably deserved.
Qualifying would be key as would the three bonus points earned by Broc Feeney: Extending his series lead to 14 points.
A safe and consistent drive to third in race one, coupled with struggles for Ojeda, saw him extend his series lead in the first race, his margin now 22 points with two races to go. Ribarits won, pulling margin out of Ojeda and ensuring he too remained in title calculations; the MW Motorsport driver some 52 points off the lead. Best was fourth, 80 behind and still also in with a shot, if a long one, at the title.
The joker in the pack, however, was Josh Fife who was having his best round ever: Qualifying second and finishing race one in the same position. Critically, the BJR Commodore would be robbing points from title contenders who needed them. He also moved back to fifth in the standings.
AFTER RACE 1: Feeney 480, Ojeda 458, Ribarits 428, Best 400, Fife 313, Carroll 311
FIFE became the fifth different winner of the season in Race 2, leading all the way in a competitive affair. Plenty going on behind him, however, but Mr. Consistency Broc Feeney was in Jim Richards mode: accumulating points at every turn. He finished second to pull his lead out to 30 points – equally the largest of the year to that point.
Ribarits retained his mathematical calculations by staying 56 points behind the leader; 60 up for grabs in the finale' waiting should the two leaders end up bunkered at turn one, for instance.
AFTER RACE 2: Feeney 515, Ojeda 485, Ribarits 459, Best 413, Fife 353, Carroll 334
IT ALL came down to the finale'. The maths were pretty simple, too: If Feeney finished in front of Ojeda, he'd win the title. If Ojeda won, Feeney needed to be 5th or better. Fife won – sealing him the round as well, the third different winner from five this year. Ojeda did all he could in the shortened, 10-lap dash: he was second and beat Feeney home, but it wasn't enough. The 67 car was right behind the 11, ensuring the title went the way of the Queenslander by 24 points.
AFTER RACE 3 / ROUND 5 (FINAL): Feeney 562, Ojeda 538, Ribarits 494, Best 454, Fife 413, Carroll 364.
SUMMARY:
CHAMPIONSHIP LEADERS: 4
LEAD CHANGES: 8
LARGEST MARGIN: 30
SMALLEST MARGIN: 0