MOUNT Panorama in January is hot. Australian Motor Sport fans have historically not been focused on major events in the heat of the summer, but things are changing. Fast.
WORDS & IMAGES: Dale Rodgers
For over a decade the famous Bathurst track has played host to one of the fastest growing global long distance GT3 Sports Car Races. Porsche, Aston Martin, Lamborghini, BMW, Audi and Mercedes look 'Down Under' at this time of the year as the Intercontinental GT Challenge kicks of at the Liqui Moly Bathurst 12 Hour.
The five round series visits some of the most famous road racing circuits in the world with Bathurst, through some of the visiting team's eyes, the pick of them.
Together with some of the world's best GT3 and Endurance drivers, there is a broad and growing list of Supercars drivers and co drivers competing across the classes of the 12 Hour enduro.
In 2020 eight full time Supercar drivers and eight 'mostly' confirmed co drivers lined up in the thirty nine car field. Added to that was a smattering of Super 2 drivers as well.
What was not so obvious to TV viewers or those spectators trackside was an equally strong band of engineers and mechanics, not only fettling local entries but also working with some of the International GT3 Teams.
The Race Torque spoke to a number of the leading Supercars drivers during the event. Craig Lowndes (above) has enjoyed immense success at Bathurst during his career. Not only is he a seven time Bathurst 1000 winner, he has also enjoyed two victories at the 12 Hour.
"I always love longer races so for me this is a fantastic race. It is one of the must do races of the year," Lowndes said. "I am lucky enough to join Porsche this year and drive with Earl (Bamber) and Larry as we call him (Laurens Vanthoor). The two factory drivers have shown me where the car is at in terms of set up, so I have been learning the car. Just getting my head around, not necessarily, the aerodynamics and the extra grip you have, it is more the dash, the steering wheel, what buttons are what. It hasn't got a clutch pedal so you have to try and work out how to pull a gear, pull a lever, put your foot on the brake so these things for me are things you really have to think about, "he added.
Looking at his 2020 co driver duties with Jamie Whincup, Lowndes added, "It is no surprise a lot of Supercars drivers do this race because they get back in the swing of things. It is, as I said, a must do event," Lowndes concluded.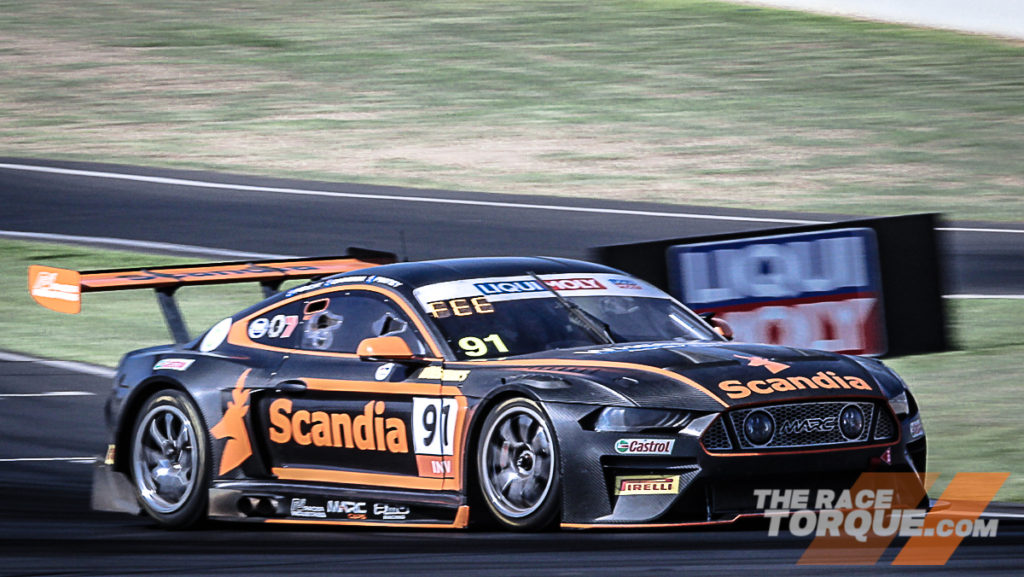 While a number of the Supercars fraternity were experiencing GT3 machinery, Nick Percat and Warren Luff both drove locally produced MARC cars in the Invitational Class. The stock block V8 cars are a fascinating mix of Supercars style power with a good dose of GT3 aero and driver aids.
"This is a little bit of a warmup for the Supercars season." said Nick Percat. "The MARC car has a little less power than the Supercar and a little less aero than where we have gone with the new homologation. But the way you drive it is as close as I've driven to a Supercar in any other class of car. The GT3 car is a long way from a Supercar, so it is actually quite good," he added.
"I have my two BJR engineers here working with me and running the car. It feels like a normal Supercars race, but in a MARC car!' Percat said. "It reminds me that when I get back in the Supercar how hard we work to achieve a lap time out of them. They are under tyred, they have a gear stick, but when you get in this thing (MARC car) you literally drive it like Play Station. You maximise the ABS on braking and maximise the Traction Control on exit," Nick commented. "It's a different kind of fun and the best way to start the year!"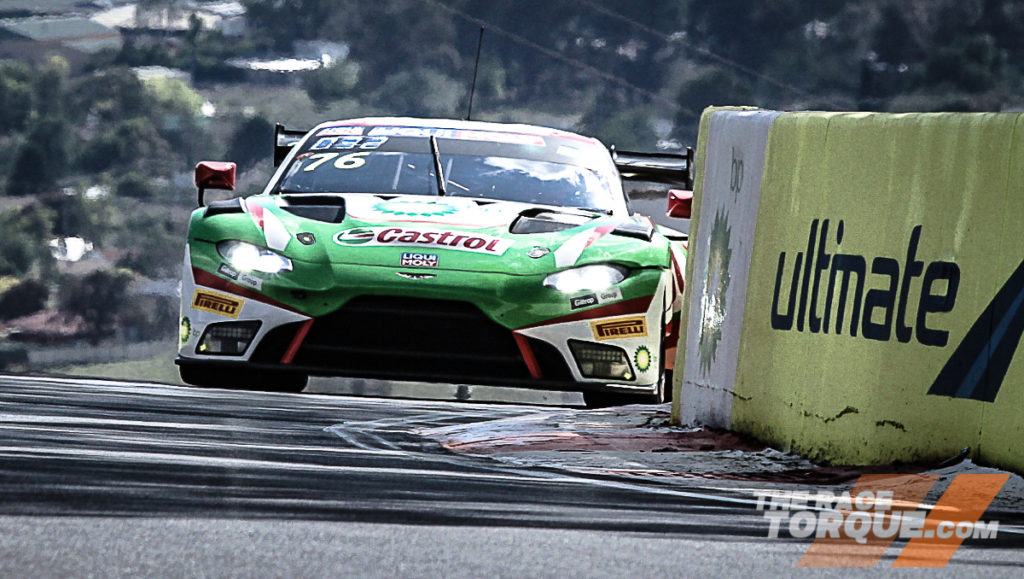 Rick Kelly stepped into the R – Motorsports Aston Martin Vantage entry with Indy 500 winner Scott Dixon and last year's qualifying sensation, Jake Dennis. Whilst relishing the challenge he spoke openly about his desire to undertake something so different to his normal Supercars duties.
"To turn up this year and see the entry list and how competitive it is shows that this is a really tough event," Kelly commented. "It certainly is a good way to prepare for the Supercars season. It is very different, but it is something I've wanted to do this year to get myself out of my comfort zone. I can turn up to a Supercars event now and I know the process, I know the cars, but I wanted to get into something I had no real idea about. The car (Aston Martin GT3), introducing myself to a new team, earning their respect, all that type of stuff that I have not had the chance to do for so many years. It is very good preparation for the start of the season," Rick concluded.
Leading Supercar Co Drivers including Garth Tander and Warren Luff also nominated the Bathurst 12 Hour as a very important part of their own racing year, but in turn acknowledged just what an outstanding event it has become in its own right.
"I place a lot importance for my October campaign on doing the 12 Hour. Anytime you can get more miles around Bathurst is invaluable," said Warren Luff. Slotting into one of the MARC cars very late in the piece, Luff went on to say that both classes of car, the GT3 or Invitational MARC cars ran at a similar pace to the Supercars on the Mountain, albeit vastly different cars to drive. Luff shared Nick Percat's view of a degree of similarity driving the MARC car.
"It is a perfect blend of a GT3 and Supercar. The torque of the V8, good power but not as much aero as a GT3 car across the top of The Mountain, so it is much more similar to drive as a Supercar than the GT3," Luff added.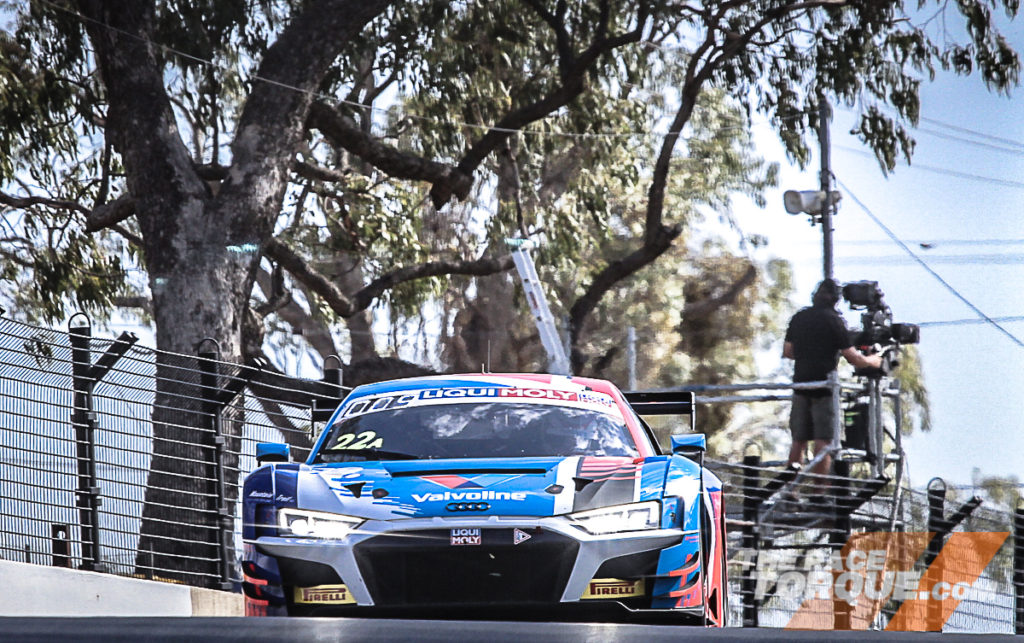 Fully entrenched in the Audi Sport Customer Racing program, R8 pilot Garth Tander joked about his Supercar status when asked about the event.
"Don't know, not sure if I am a Supercar driver anymore!" he said with a laugh. "It is a big event now though isn't it. I think the Australian's relish the challenge going up against all the factory guys from overseas. They know the cars really well and we know the track and conditions a bit better so, for me, I have the best of both worlds. I am teamed up with two factory Audi drivers in Christopher Mies who knows the track well and Mirko Bortolotti, who is new to Audi but has been a Lamborghini factory driver. My experience at Bathurst helps them and they help me with the car," Tander added.
"I loved doing this race even when I was racing Supercars full time, you can do all the pre-season training you want but there is no better training than doing the actual race. You get your mind, you're racing brain working again before you go racing usually at Adelaide," Tander concluded.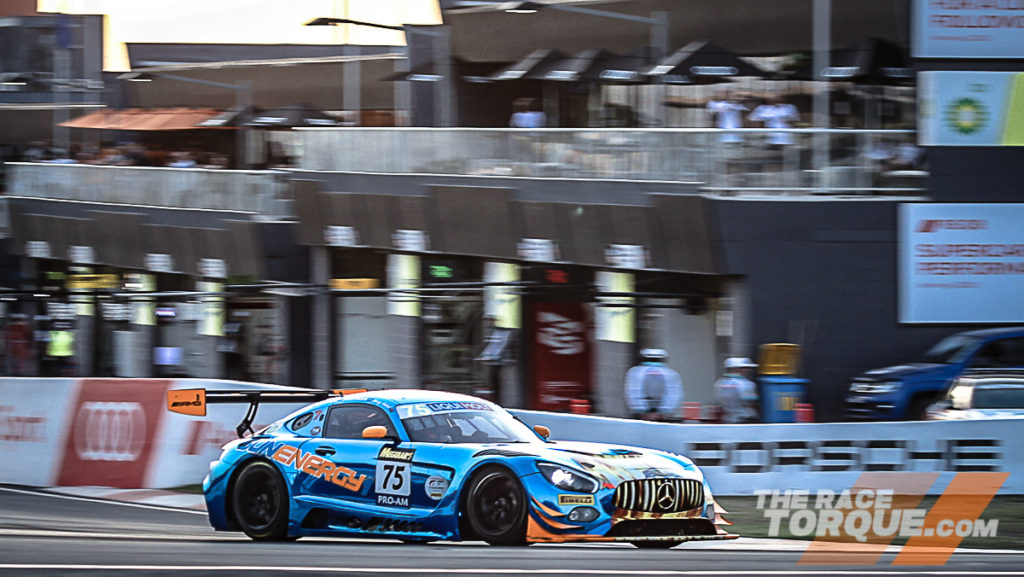 The last word on the race from the view of the Supercars fraternity goes to the mercurial David Reynolds who said "It is a good kick-start to the season and getting your eye back in after a long off season drinking beers!" Reynolds joked. On a slightly more serious note, he did acknowledge the vast differences in the GT3 Mercedes he was driving to his Penrite Commodore, but agreed with all his peers that not only is the Liqui Moly Bathurst 12 Hour a classic event, but the ideal start to the Oz Racing season.