QUARANTINE MOTORSPORT CONTENT GUIDE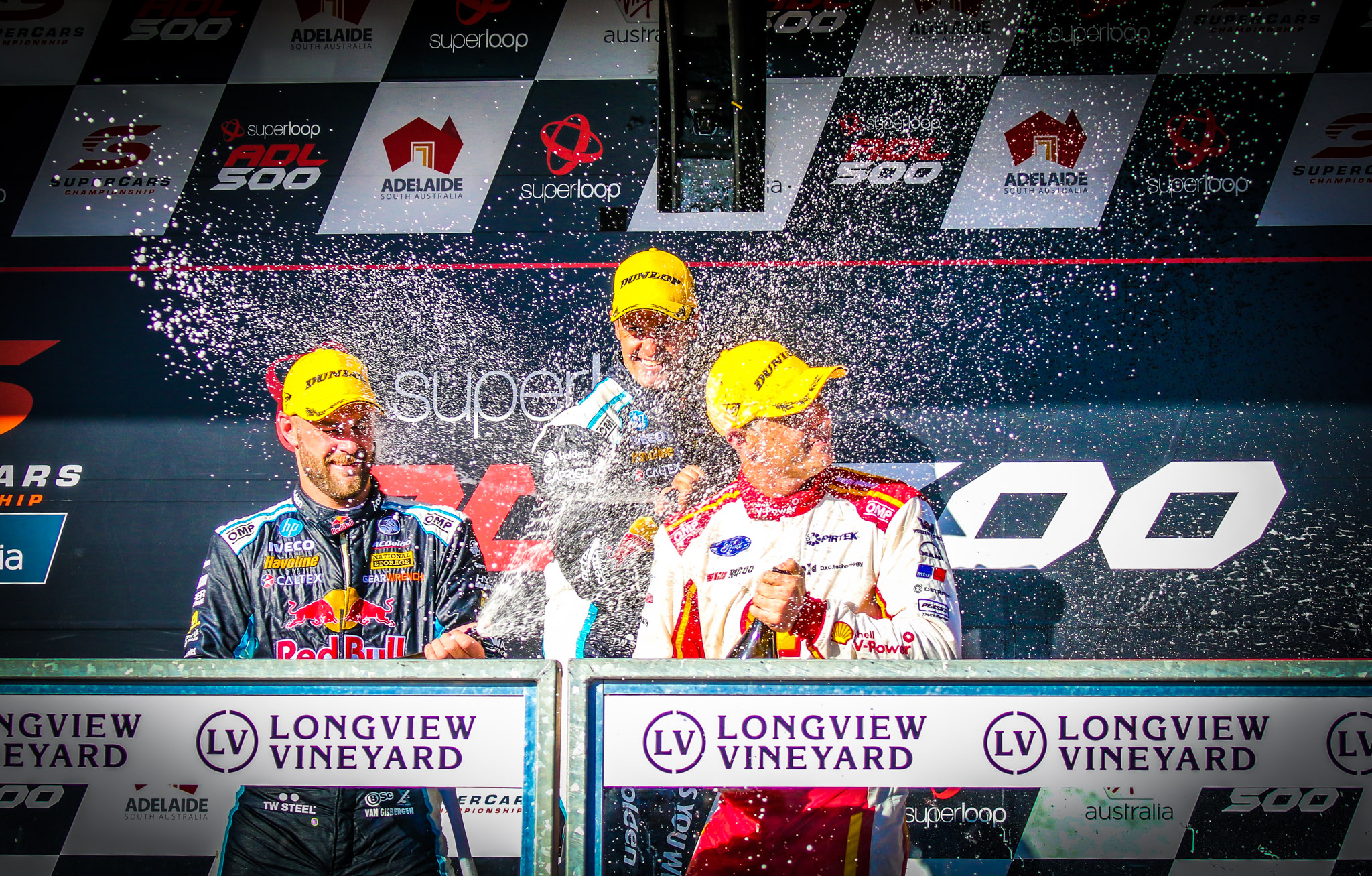 SO, we're all stuck inside for the next little bit without any new races, but the good news is, your friends here at The Race Torque have scoured the living room for the best bits of motorsport content to keep you going.
WORDS: The Race Torque Team
As always, hit us up on the socials @theracetorque, and let us know what content gems you are enjoying during your lock down.
eSports
Firstly, this topic is deserving of its own story are the various online racing series currently being contested.
We detailed a fair bit on this week's On the Grid podcast (check it out here), but motorsport is in a fortunate position that our real-life athletes can compete in a similar manner in the virtual world.
Last weekend's iRacing NASCAR pro event was the highest eSports program ever to be broadcast on American TV, so the potential for the local Supercars version on the Supercars socials, as well as Fox Sports and Kayo, is immense.
Watch this space…
Podcasts
If you're not on board with podcasting, now is the time to saddle up – there's content out there on every topic and for every taste.
Just within the motorsport realm, there's a fantastic variety of show types – simply download your app of choice on your smart phone, subscribe and listen, or simply tune in through your web browser.
Of course, we will suggest this one, because it's ours. Schibecs, Craillsy, Rodgers and Walker dissect the week in motorsport, with some great interviews and news thrown into the mix.
If you don't listen to Dinner with Racers, you are doing it wrong. Even though it's got some brilliant chats with the big names of the sport in North America, its often some of the people who you have never heard of that tell the best stories.
For a great starting point, why not try Willy T Ribbs or Mario Andretti, while the Level 5 special will get you Googling dodgy short-term loans from Indian Reservations. It's amazing what an unlimited budget can achieve at a club motorsport event. Some of the stories from early 1980s drug lords are the stuff of legend. The Alan Kulwicki specials are brilliant, too.
Also, they have just released a TV series on Amazon Prime, if you have a subscription, tune in.
Our mates over at The V8 Sleuth have some cracking chats from our local shores. Hard to pick a starting point, it's all good!
Definitely the loosest of the local podcasts, but that's why it's great, and also why it scooped the pool at the Supercars Media Association Awards last year.
If you need a giggle, and face it, you do, tune in to Reynolds, Caruso & AVL.
Greg Rust is without doubt the nicest bloke in motorsport, so it's no wonder that so many big-name guests open up for his podcast.
We cannot find a bad one, but the Mark Skaife and Mark Larkham episodes are absolute corkers.
Foxsport's Chris Stubbs and Truck Assist Racing's Lee Holdsworth break it all down with a rotation of big-name guests.
Our friends over at the Radio Show Limited network have a plethora of content to tune into, and when racing does indeed crank back up again, this is the place to find live coverage from many of the world's big events.
The World of NASCAR
If you like NASCAR, there is so much great content out there to consume. Door Bumper Clear features a trio of spotters giving the inside dirt (also: hilarious), the Dale Jr Download features so many timeless interviews with the sport's big names, and it's easy to see why Jr will forever be the sport's most popular driver, Sunday Money featuring Corey La Joie is great, The Scene Vault Podcast is like our V8 Sleuth, delving into the history of the sport, while the NASCAR on NBC podcast has some great features.
YouTube
Clearly, this list is far from exhaustive; punch in any keyword and you'll find something worth watching…
Old School Indycar
Do you like old school Indycar? Of course you do, everyone loves old school Indcar. Andrew Sopher has a couple of channels that are choc-a-bloc with nothing but full race coverage right back to day dot. Check them out here and here.
The Racing Jungle
No false advertising, this is genuinely a jungle. Full race replays from every form of racing imaginable. If you've seen all of this before, then you have already finished the internet, and you should move on to other things. Two channels, here and here.
Brilliantly bespoke little documentaries from North America, and other quirky tidbits. This bloke knows his stuff, worth a follow on Twitter, where links to his various blogs are posted.
Another North American mixed bag of lollies worth checking out.
So much good stuff from the fine gentlemen in Britain, who run a wonderful hillclimb and delightful racing on an historic track. Marvellous.
About 10 years of episodes from Aussie motorsport staple Speedweek. You've got just enough time to watch all of this…
…and the Categories
So many categories these days curate fantastic YouTube channels.
Check out NASCAR, F1, Supercars, WEC, Indycar, WRC, DTM, Formula E, Indy Lights, GT World, and so on.
Subscription
There is a heap of top-notch content out there if you are willing to pay for it!
Kayo is not only the live stream of the various Fox Sports channels, but it also has a huge catalogue of on-demand content across all genres of the sporting world, and has a 14-day free trial to lure you in.
There are heaps of Supercars and F1 races on demand, bonus content, interviews, but it will also be home to the Inside Line – a year on the road with Erebus Motorsport, which is set to be a must-watch.
Also, if you haven't watched ESPN's 30 for 30 doco series, it is on Kayo, waiting for your binge watch.
Netflix is not only for chilling, there's actual things you want to watch on there.
Check out Uppity, the Willy T Ribbs documentary, and also Drive to Survive, with two seasons from within the F1 paddock, amongst others.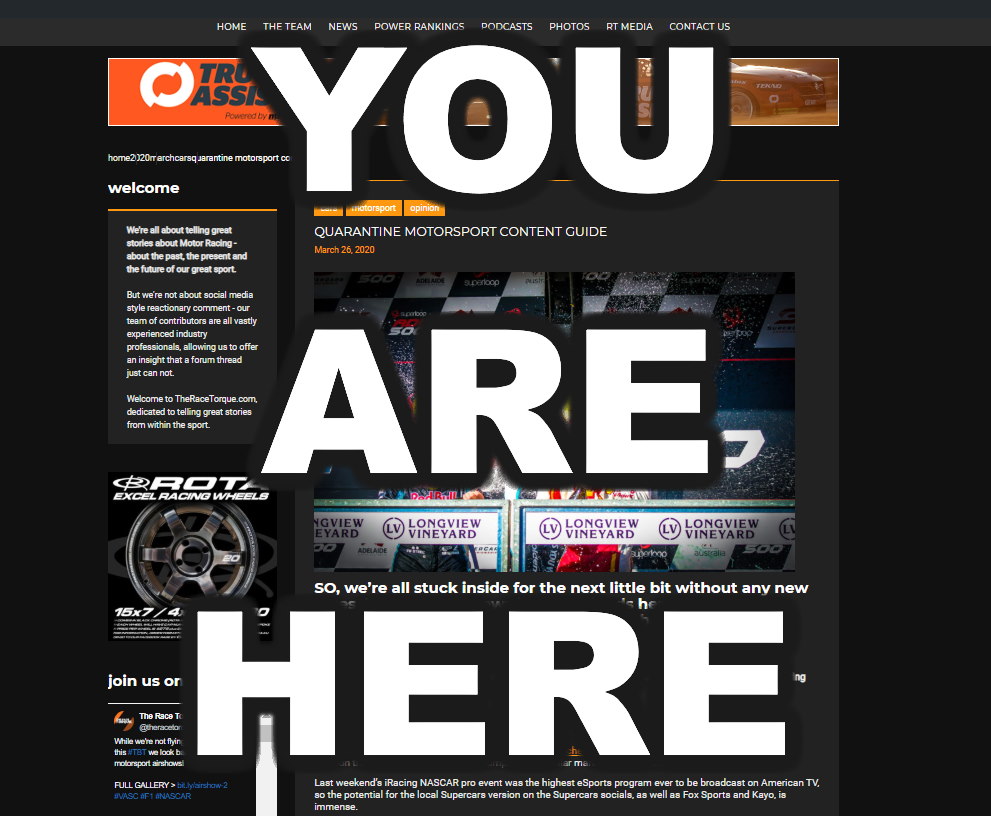 Websites
Did you know this is the 502nd story we've ever posted? Bloody hell, that's a lot of stories! Do we get long service leave? Hard nope. Alright then, enjoy the many, many stories we've posted…
Car based drivel sums things up nicely. This stuff is timeless. Enjoy.
A great deal of content here to check out.
It's the authority, with the website containing an incredible array of stories.
Non-Racing Sites/Podcasts/Things
Sometimes, just sometimes, we check out things that aren't car racing. Here are some random corners of the internet possibly worth investigating.
Mark Howard runs a cracking podcast, taking to all of the big names in the world of sport. There's a fair portion of motorsport in there too, check out Scott McLaughlin, Craig Lowndes, Lewis Hamilton, Robbie Maddison, Alan Jones, James Courtney, Mark Webber, Mick Doohan, Larry and Jack Perkins, and so on.
American sports commentator pisstaker on Instagram. We should probably issue a language warning against this one… Similarly, Randy the Plumber has a red hot American go, too.
Tony Martin's Sizzletown, the late night call-in podcast.
Interesting little YouTube documentaries, with Sam also making the Extremities Podcast, where he visits far out of the way places. Quite interesting.
Old mate has a creepy voice, but it adds to the intrigue of these short form YouTube docos on the weird and the wonderful.