VIRTUAL OR OTHERWISE, the TRT Power Rankings Powered by YellowCover will continue to assess the respective HOT, NOT and WHAT?! of Supercars racing. And boy, did the opening round of the BP Supercars All Stars Eseries deliver plenty of all of them.
WORDS: Richard Craill, Mark Walker, Tony Schibeci, Dale Rodgers + Social Media contributors
A two-hour break from reality and even if it wasn't real racing – it was still racing and it was bloody good. Here's the Hot, the Not and the What from Round 1 of the Supercars eSeries.

HOT
1. Scott McLaughlin
As good digitally as he is in real life, with the added bonus of getting lucky on fuel in the Monza race. Unstoppable force.
2. The Broadcast
It looked like, sounded like, felt like and engaged like a usual Supercars broadcast. Top-notch production, a bit of fun, serious racing, strategy talk and more – just an awesome effort.
3. It was genuinely competitive and realistic
The competition was great! Close racing, some new names at the front and when they behaved themselves, it was genuinely good competition and the realism of fuel burn and tyre deg added greatly, too. A Supercar is going to be out of rears in three laps at Silverstone…
4. Home sim rig setups
From professional sponsorship signage (Lee Holdsworth had a TV screen with rotating sponsor images!) to Jamie Whincup camped out in the T8 race bays and Rick Kelly's fluffy steering wheel cover and Kramer print on the wall of his man cave, the effort put in by a majority of the grid was just outstanding.
5. Cam Waters opening lap at Monza
Caused an enormous crash at the start, pitted before the Safety Car, took a quick repair, crashed twice on the out lap including fencing Chris Pither and ended up leading.
This didn't get shown but so funny. @cameron_waters & @ChrisPither tripping over each other leaving pit lane on lap 2. Waters went on to lead the race next lap! (FYI we don't have the livery pack yet) #VASC pic.twitter.com/nQ6wrdieQ9

— Chad Neylon 🇦🇺 (@chadneylon) April 8, 2020
6. Real reactions
Did you see Anton after Race 2? He was legitimately pissed off at being penalized. Full credit to the drivers who had a proper crack and took it seriously – we love that intent.
Also special mention for Neil, Matty, Jess, Chad and the whole broadcast crew. Called it like a real race (which it was) and that only added to the positive feeling.
7. Back Channel Banter
Those that had the ability to listen to it report that the back-channel banter between the full field was priceless. If there was a way you could guarantee that they wouldn't just drop the F-Bomb all the time, this stuff should be broadcast more. Can we please have a Fox Sports Radio Daze?
For some unfiltered and profane behind the scenes action, fast forward to the start of Monza…
8. The ways to watch it
From added streams on Twitch to Facebook live to quality Social media banter, this opened new ways to watch racing and could absolutely point to the future of sports broadcasting everywhere. And the access to a new audience is priceless.
9. Live Race Control + Live driver crosses
This may open a can of worms, because we loved the ability to jump into Bairdo's bunker live and get instant reaction from race control to incidents. Not sure of Tim Schenken will be up for it. Live crosses to drivers was also a nice touch: Reynolds' chat mid-race was brilliant, as ever.
10. It was entertainment
For racing fans with even something slightly resembling an open mind, Wednesday night offered a two-hour break from the challenges life offers at the moment. It felt like hanging out with your mates having a laugh – and there was plenty of that – and if that isn't just what the doctor ordered right now, we don't know what is.
NOT
1. Haters
Okay, so you may not like Sim racing and no, it's not the real thing. But there's a simple solution to your problems and that is: turn it off. The world is full of negativity now so if a few hours of Supercars drivers tearing each other up on TV can take people's minds off their troubles, then it's good by us.
What's more, it gives sponsors a viable way of engaging fans with their product when otherwise they wouldn't be doing so with racing stopped.
Finally, there are multiple stories (and we're speaking from personal experience, here, so forgive us for being a bit touchy about this) of people otherwise out of work and concerned about their financial future in this uncertain period, who have been engaged to provide work or content around this series. And that includes the TRT team..
Don't hate. If you don't like it, don't watch it and ignore it – simple. We'd rather people were complaining about..
2. Time Certainty
Yes.. Time Certainty! Sigh. It's an inescapable part of Supercars racing, be it real or virtual, that races are going to be trimmed: it's the nature of Live TV, folks. But we asked for fan feedback on what should be Hot or Not, and this was the top of the list for the latter – and far be it from us to ignore TRT's readers. But also, it's not like Fox Sports has anything else to show and the internet has no time limit, so let it run.
3. You don't get penalized enough for a big shunt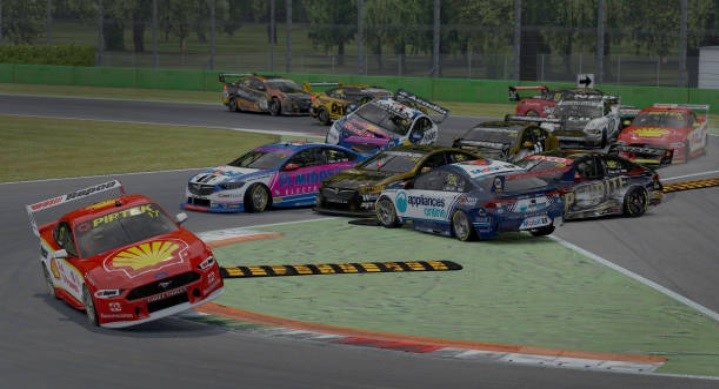 iRacing's damage model is decent and plenty of cars were totaled and out of contention early (especially at Monza) – but in other instances it didn't feel like enough. Mark Winterbottom's IRWIN Commodore, for example, was destroyed at the start but ended up running second.. it is a bit silly when otherwise they're trying to take this at least semi-seriously.
4. Cam Waters opening lap at Monza
Cameron has the rare privilege of making Hot and Not at the same time: a quirk of sim racing is that you can create a shunt that destroys much of the field and get away with it!
5. 30 seconds for Anton
We love the fact that they are taking this seriously enough to have Bairdo in 'race control' policing the incidents and we also agree that AdP should've been pinged for moving JLB out of the way at the finish of race two. Hopefully they can tidy up the iRacing penalty system to work better with the VASC judiciary process to make it even more lifelike.
Was a lot of good racing some very big crashes and it went off way to fast for the bunker. 🤣 Great first platform to work with. I just hope @rickkelly will get his deck chair repaired in time. Oh and I didn't give @A_DePasquale that penalty. Hands tied in the penalty system. https://t.co/qBNBbanU2x

— Craig Baird MNZM (@cbairdo) April 9, 2020
6 More back channel chat, please
It's probably R-Rated but eSeries gives an opportunity we don't get in real-world racing: show the personalities, without a helmet, when they're racing. Fine them a grand per expletive and the drivers will keep it clean – but lets hear more of the tear-ups!
7. Some of the similarities were too real
Team Sydney at the back looked like them making the simulation a little too lifelike..
8. Virtual post-race debriefs
Don't get us wrong, we definitely still got on the beers after the racing: but Zoom just isn't the same as going to the pub.
WHAT
Ricko's Plane Shunt
It was a bad night for Rick Kelly – not only did he virtually destroy his brand new Mustang, but legally he must now spend the next 14 days in quarantine.
MEME