WELL, WELL, well. It's not really a shock that Bathurst remains peak motor sport whether it's real or virtual. Round 3 of the eSeries was a cracker and the TRT Power Rankings powered by Yellow Cover are here to break down what was Hot and what was not.
WORDS: Richard Craill, Mark Walker, Dale Rodgers, Tony Schibeci, Ralph the Wonder Llama, Social Media contributors.
HOT
1. Bathurst
IT IS a haven for drama, controversy, brilliant racing, dramatic pictures, comedy, emotion and everything else.
And it does the same in the real world, too.
2. Race 10
FORGET for a moment this was a virtual race – this was just a bloody good car race, full stop.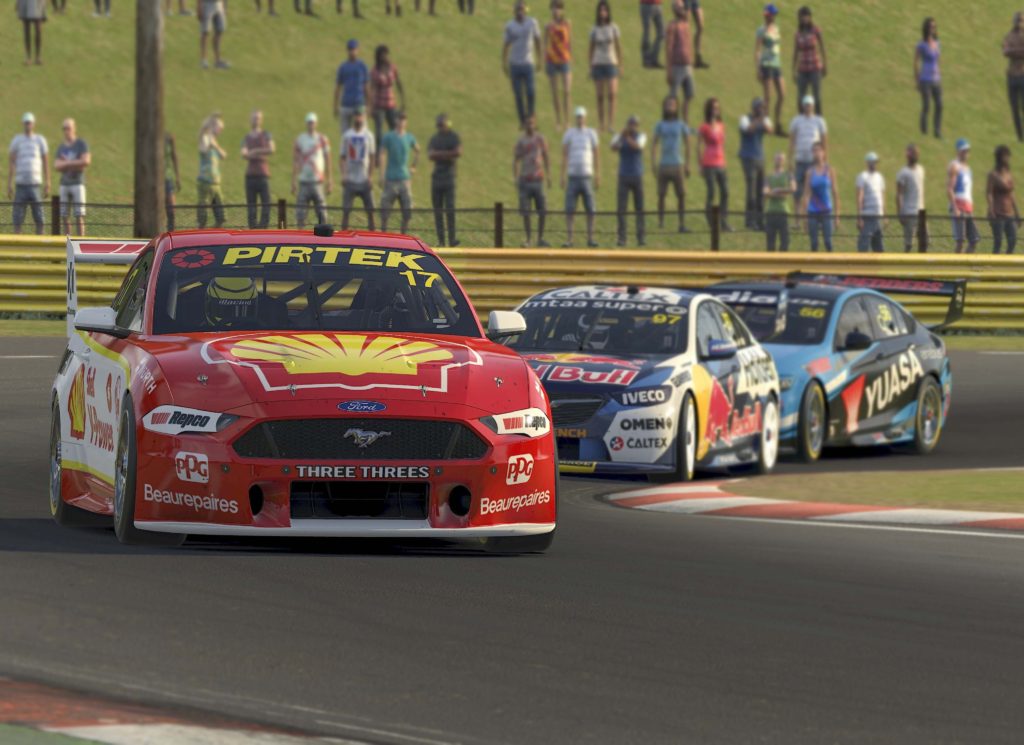 Alternative pit stop strategies among the leading three made for a thrilling finish and a last lap that felt almost as tense as the real thing will in October. Almost.. Regardless, this was just a very good car race, called superbly by the best in the game.
3. Shootout
IT TURNS out a Virtual Bathurst shootout is almost as good as the real thing. 0.1 covering six cars to start with, then a thriller finish with 0.009s covering first and second, and a Wildcard up the pointy-end. Good stories.
4. Brodie Kostecki
LOVED plenty about this. That he was quick out of the box was not unexpected.. but his racecraft was superb and he genuinely added something to the front of the field – like Verstappen did last week. Loved his reference to North Carolina – he raced short tracks over in the 'States – after using his bumper to move McLaughlin out of the way in Race 10.
5. TV coverage
CONTUNUES to improve each week: Bathurst in iRacing TV looks like real Bathurst TV. We're loving the use of more and more 'non real' camera angles: like the chase cam above and behind the cars as they're running down the hill. It's doable in real life with the fast drones, but the nanny state won't let them do it – so why not try in iRacing instead!
6. BJR live chat
NEIL CROMPTON crossing to Hazelwood and Percat mid-battle had all the makings of Mike Raymond crossing to Dick Johnson at the chase. Brilliant TV and the boys managed it well, too.
7. Bairdo
CONTINUES to nail it: quick to reply to haters, posts evidence to support calls straight away.
Can't pass on the grass @smclaughlin93 @supercars pic.twitter.com/MXY6iS3WHf

— Craig Baird MNZM (@cbairdo) April 22, 2020
8. Will Power
A LEGEND and lets be honest, if you call someone a wanker you're going straight into the HOT.
He called out SVG, thus he is here.
Will just got a wanker in! Night made! #VASC #eseries

— Tim Schenken (@FakeTimSchenken) April 22, 2020
On the drivers radio channel, Will Power to Shane Van Gisbergen… "Geez you're a wanker Shane." #VASC 😂

— Brian Van De Wakker (@brianwakker22) April 22, 2020
9. Tickford pre-race social banter
ORDINARILY we'd put this in our Tweets section below, but this was far too good a piece of Social Media content to miss. Quality stuff and willing to take the mickey out of their own horror track record at Bathurst (though admittedly, it would come back to bite them later. Refer: 'NOT'..)
Whether you're in quarantine or racing at Bathurst, sometimes it's best to keep your distance 🤣 be sure to watch these two tonight at the 🏔️ in the Supercars eSeries! #JoinTheStampede | #VASC pic.twitter.com/LfuSyQ9OeW

— Tickford Racing (@TickfordRacing) April 22, 2020
10. Reverse Grid, Fabian Coulthard, Tommy Randle
MANY deserving nominations for Hot so we're cheating and working a few into Number 10.
We badly want a reverse grid sprint race at Bathurst, please. Okay thanks bye.
Given his relative lack of experience in simulator racing, Fabian did a good job to grab a win on the Mountain. The Power Rankings exists to highlight those who deserve credit, thus this reference.
Tom Randle's good story continues and his simulator business in Melbourne looks sensational. Also making the shootout was an excellent story. Virtual Brad Jones will have been pleased with his signing.
NOT
1. Tickford at Bathurst

SERIOUSLY. No, really, this is getting insane. Waters takes Holdsworth out in Race 8. Then he gets Davison in Race 10. Called a 'Dickhead' for his efforts.
2. Penske at Bathurst
SEEMS to be a hotbed for controversy! First Cam Waters called out Fabian Coulthard for a spin at the elbow – 'are you working for Scotty again, Fabian?' – and then McLaughlin and Power crash into each other at the Chase, the former being penalised.
3. First lap heroes
THERE'S still way too much going on in turn one every race and it's to the detriment of the remainder of the race from that point.
4. Ping
DISTANCE is a tyrrany, even in e-Racing. The varying internet conditions around the world mean that there can be a slight delay for some people racing in some parts of the world, compared to those in others. It can and indeed has caused some issues – but there's nothing you can really do about it. Frankly, we're just blown away that the NBN has held up for three weeks in the first place.
4. Macauley Jones Crash
WHAT more can you say?
Macauley Jones has now turned into a Forrests Elbow Battering Ram!! #VASC #eSports

— Trystan Spooner (@TrystanSpooner) April 22, 2020
5. Random Crashes
ONE of the biggest things that is proving the most challenging is the apparent random nature of the crashing, in many instances. It's probably the hardest part of the real-world of racing to model digitally and the iRacing damage model is far from poor, but seeing some of the completely balmy shunts is the number one differentiator between eSeries on TV, and real-world Supercars on TV.
6. Quirky physics
THOMAS Randle minus rear wing was in a huge battle with Jacobson and Kostecki and passed the #35 into the Chase! Ah, sorry he should have been doing a Fabian and barrel rolling if the car set up reacted as it would in real life to that massive loss of rear aero!
7. More crashing..
Race 2 Lap 1 – Alex Davison upside down at Turn 1, Chris Pither in the wall on the Mountain. Not a good day for Team Sydney.
Winterbottom exiting pit lane and KO'ing Anton in Race 10 wasn't great.
Jack Smith crashed twice in the opening half a lap of Race 9.
And the Whincup / Jacobson shunt at the chase was genuinely huge. We flinched and we knew it was a game..
8. The Reynolds Mystery
Why was he benched for the last round? Popped back into the show this week with no explanation, and also refused to talk about it on his podcast Below the Bonnet, too.
9. Crompo saying 'Rig'
It's like your parents talking about Sex – you know it's a thing but you still don't want to hear it from them.
10. Simona
NICE to have her back, but MIA for most of it.
BEST TWITTERING
Scotty McLaughlin
Did a lap of Bathurst with jandals on https://t.co/9GCv9soHJY

— Scott McLaughlin (@smclaughlin93) April 22, 2020
Random stuff..
Think we will be in for a very interesting night if this happens again 🤣🤣🤣#VASC pic.twitter.com/iokqfNzdbi

— SupercarsMaster (@SupercarsMaster) April 22, 2020
.@NickPercat, we have liftoff! We are moments away from Round 3 of the BP Supercars All Stars Eseries. Are you tuning in? #VASC pic.twitter.com/vW43na96Cc

— Supercars (@supercars) April 22, 2020
Another big success for @supercars and eSports tonight. Congrats to everyone who put this on, very entertaining at a time where we can't do sport, we're doing sport online thanks @iRacing #VASC

— techAU (@techAU) April 22, 2020
SportsBet getting into it – they're one of the best on Twitter.
Bathurst in 2019
– Maximum of 1 carton of alcohol per day
Bathurst in 2020
– Maximum of 1 packet of toilet paper per day#VASC

— Sportsbet.com.au (@sportsbetcomau) April 22, 2020
The dog is me after 4 days of Bathurst last year#VASC pic.twitter.com/4GnhtS93mj

— Sportsbet.com.au (@sportsbetcomau) April 22, 2020
EVENT IN A SIMPSONS MEME
It's a long one, stick with us.