THE FOURTH round of the BP Supercars All Stars eSeries was something to behold, with the racing ranging from breathtaking to bonkers in the space of an hour or two. Regardless, the TRT Power Rankings powered by Yellow Cover are here to sort through the mire..
WORDS: Richard Craill, Mark Walker, Dale Rodgers, Tony Schibeci, Social Media contributors, selected animals
THERE was plenty of 'HOT' from the outset, but this week the 'NOT' column was also completed rather quickly.
What's more, the 'WHAT' column, MIA last week, returns thanks mainly to grooming issues.
HOT
1. Race 11
Cracking finish and we would like to be clear about this: we love the redress rule – sort it out on track. Another brilliant race after last week's stunner on the Mountain. Shows how high the quality is at the front of the field.
2. Watkins Glen
Superb track where every corner looks like – and generally is – on the absolute ragged edge. Both races had incredible moments and some of the racing was superb: McLaughlin v Waters in particular was hold-your-breath stuff.
Like Silverstone a few weeks ago, this has to be on the bucket-list of dream tracks to take a real-life Supercars race one day.
3. The iRacing platform
About time we gave this thing a call-out for being awesome. It has delivered an outstanding product that provides a brilliant challenge for the drivers and, perhaps even more importantly, a superb product for broadcasters.
Pretty awesome that @iRacing enables @supercars to take the position data feed and format it to match their graphics. #vasc pic.twitter.com/7OoTL9ejdO

— techAU (@techAU) April 29, 2020
4. No double stacking!
Hallelujah! Our number one bugbear in Supercars is the craziness that occurs in the lane, generally when everyone bowls in under yellow. Problem solved in iRacing.. we love it!
5. Depth of competition building
Shane van Gisbergen, Chaz Mostert, Anton DePasquale and Jamie Whincup all won races, showing that the competition is building between the main contenders in the eSeries, but also that there are others starting to work their way into the mix as they gain experience and time in the sim.
Add in podium finishes for people like Zane Goddard and Alexander Rossi and you're throwing more and more names at the pointy-end each round.
What's more, McLaughlin entrenched his championship lead and Cam Waters won the round.
6. Whincup
Never ever count out the GOAT – virtually or otherwise. Outstanding drive in the reverse-grid Race 14 to grab his first win.
Even if his own team was taking the mickey somewhat..
The moment we've all been waiting for… 🥁

JDub is your Eseries Race leader! 😂#RedBullHolden #VASC

— Red Bull Holden (@redbullholden) April 29, 2020
7. Widcards
The wildcard additions continue to not only be great additons to the on-track product, but contributing to the off-track banter and interviews as well – Joey Logano was superb all night, with some classic interviews.. 'I'm kinda checkers or wreckers here..'!
Marcos was excellent and giving of his time (even chatting to us On the Grid), while Angelo Mouzouris was a solid young addition. Alex Rossi came good as the event progressed and ended up running very well in the final race. More excellent additions – we can't wait to see who comes next.
8. Live chats
Was hot last week and remained so again. Live banter with Pye was good, but jumping to Todd Hazelwood right at the point where he was having quite a bit on was classic… and well done Todd for the excellent demonstration of his new sponsor's product!
Driving, commentating & giving himself a freshen up mid race thanks to @Brut_AU . Very skilled @Todd_Hazelwood 😂👌🏼#brutmilitarygrade #brut #bjr #vasc pic.twitter.com/ixcqRiBP9g

— Brad Jones Racing (@BJRsupercars) April 30, 2020
9. Dogs
Nelson (not for the first time) and Hector starred in the broadcast on Wednesday night, though the latter did cause have an almighty shunt in the expression session.
I want some sheets 💰💰💰 #spon #dogspon https://t.co/HgUu77mYt5

— Riana Crehan (@rianacrehan) April 29, 2020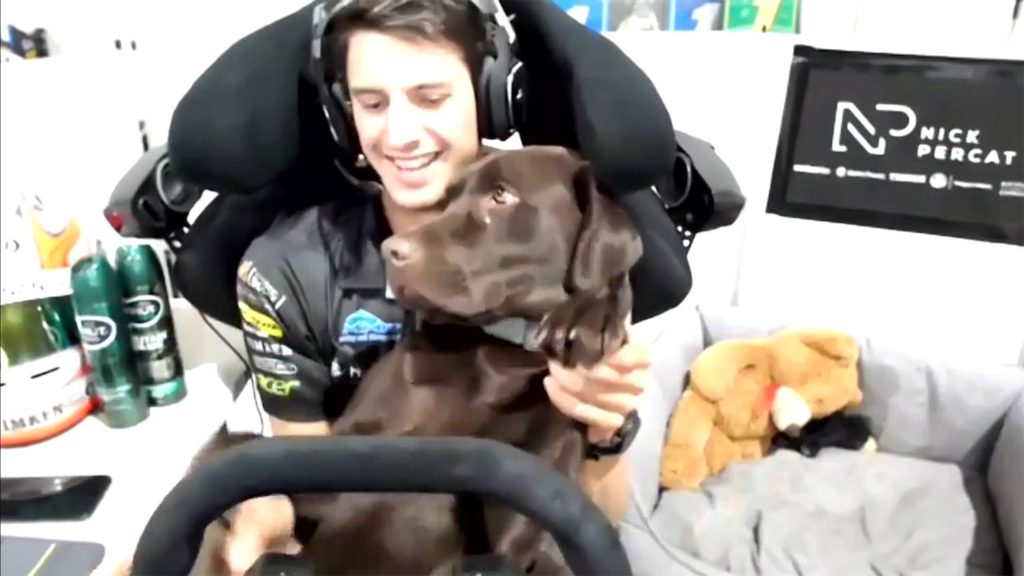 10. Crompton
'Is that thing handling like a dog?', he says to Nick Percat, who is holding Nelson at the time.
'Logano centre-punched into nonexistence!', he explained of the Race 12 start debacle. Classic NC.
'HMMMMMMM..'
Expression Session
Definitely mixed feelings on the expression session at TRT HQ. While some thought it was a complete laugh – and we all need laughter now more than ever, others thought it had the effect of cheapening a product that otherwise is being portrayed as being ultra-pro and as lifelike as possible.
While it was indeed hilarious.. it was almost too hilarious for it's own good – much of the humor from the four weeks to date have come naturally.
Perhaps something like this could work with a bit more structure – i.e. an actual iRacing Supercars burnout competition or freestyle drifting session?
NOT
1. Reverse grids (everywhere, but definitely in Montreal)
Was this the most chaotic, insane eSeries race yet? The first two corners alone destroyed half the field and from there it just continued on with some bonkers driving. Not great. Hard not.
And also don't @ us for putting Reverse Grids in the 'Hot' section in last week's Power Rankings.. They were good last week. Not this week. That's how it rolls..
2. Public enemy No. 1
Poor old Jack Smith was not a loved man on Wednesday night, especially if you were listening to Scott McLaughlin's Twitch feed. Did not win friends, nor influence people in Round 4.
3. Ambrose sim rig in crash mode.
Never, ever crash this thing if you pop around to Marcos' for a cup of tea and some sim time..
(Skip to 2:58 to see the crazy bit..)
4. Sandbagging for reverse-grid pole
Was always going to happen in reverse-grid races, wasn't it… not ideal.
5. Not stopping under Safety Car
All but one car pitted under the just the second Safety Car of the eSeries so far.. why would the Car 12 crew not pit? Killed their race completely.
6. Socks
We are absolutely 100% convinced that someone on the grid is going to try and leave pit lane without shoes when they get back into their real racing car, so accustomed are they now to racing with socks only. Fire hazard!
7. Team Sydney's virtual spares parts department
They just virtually quit for all the virtual stuff being torn up (whether their fault or not) by the real-world Chris Pither and Alex Davison so far.
BJR would also be experiencing some parts shortages..
Supercars: Panelbeaters Everywhere Lobby For Actual Reverse Grid Races #vasc #v8supercars #iracing #eseries #wreck https://t.co/Qm7BA2dZhy pic.twitter.com/ILR8Xv77O1

— Waterton Chronicle (@WatertonChroni1) April 29, 2020
8. Chaz Exotic
This would be in the 'NOT' column if this were covering a real-world Supercars round, or even a random walk down to the shops.
Hmmmm Idk how to feel about this Chaz 😂 #VASC pic.twitter.com/f2QIkCIcDD

— SupercarsMaster (@SupercarsMaster) April 29, 2020
9. Technical issues
Ambrose missed Race 1 and a qualifying session with tech issues – a shame for an otherwise stout performance from the Pirtek Mustang driver.
10. Jack LeBrocq and Lee Holdsworth
Started so promisingly at Phillip Island but seems to have unravelled somewhat since then. JLB appeared to have been fenced in every single race on Wednesday night!
WHAT
Is Andre Heimgartner is slowly evolving into Ned Kelly? Great support of his sponsor, however..
Heimgartner taking the #VASC Sponsorship from #NedsWhiskey seriously – is he turning into the #NewZealand #NedKelly with the ever growing beard?!

— Matt Payne (@Payne_Matt) April 29, 2020
THE BEST OF TWITTER
(It's basically more people discussing Chaz Mostert's hair..)
Lot of great guest drivers tonight. Ambrose, Logano, Joe Exotic. #VASC pic.twitter.com/uVtShFzWtg

— Sportsbet.com.au (@sportsbetcomau) April 29, 2020
What. The. Shit. Did. Chaz. Do. To. His. Hair.#VASC

— Samuel Lockhart (@LloydGSR) April 29, 2020
BREAKING: Even more wildcard drivers added to tonight's races. #VASC pic.twitter.com/Y1YFdTCAV4

— Sportsbet.com.au (@sportsbetcomau) April 29, 2020
Fun Fact:
You go faster with the tongue out#VASC pic.twitter.com/aTCUEAiqxf

— Sportsbet.com.au (@sportsbetcomau) April 29, 2020
Loving this 'Expression Session'#VASC pic.twitter.com/3pCatdNUZ3

— Sportsbet.com.au (@sportsbetcomau) April 29, 2020
Chaz Mostert with the win in Race 2#VASC pic.twitter.com/n7fkulrzNE

— Sportsbet.com.au (@sportsbetcomau) April 29, 2020
MEME