THE TRT Power Rankings powered by Yellow Cover return with a deep dive back into the Hot, the Not and the What from the Spa round of the Supercars eSeries.
WORDS: Richard Craill, Mark Walker, Dale Rodgers, Tony Schibeci, TRT social contributors, Lando Norris
What a cracking night of racing it was, too. Our beer suppliers are going to go broke when all this is over..
HOT
1. RACE 15 FINISH
DID it topple the final race at Bathurst for the best finish of the season so far? We'd make that argument. It was an absolute blinder and we'll watch this replay many, many times for many, many reasons.
THAT IS OFF THE SCALE CRAZY 😲😲#VASC pic.twitter.com/uWIdjtDenx

— Supercars (@supercars) May 6, 2020
2. RACING QUALITY
RACE 17 drama and the usual reverse-grid fare aside, this was probably the best quality night of racing we've seen yet. Cracking finishes to all the races, brilliant battles (how good was Percat v Norris, see below) throughout the field and some genuinely competitive, hard racing. Big tick.
HOT: Good clean driving (that leaked email to AA re: driving standards appears to have had the right outcome and was warranted). Go Broc. Lando. 1 circuit per night seems like a good choice, allowing the newer drivers to focus on one per week.

— Sean Slater (@Rartoo) May 6, 2020
3. FORMAT
SUPERCARS returned to their Bathurst format of qualifying, a shootout and three races – one of them reversed – at Spa and it worked a treat. Sticking to the one circuit added something, too. None of the exhibition session nonsense from last week and the show was better for it.
(And it turns out will be repeated next week in Texas, too. Good call.)
Also, big ups to using the 24-hour layout for the Supercars races. Sending the field into the high-speed Eau Rouge, remarkably, worked much better than the 50km/hr LaSource would have.
4. LANDO
WILDCARDS are supposed to add interest to the show and the McLaren F1 driver certainly did that. Fresh from his controversial stint in IndyCar he came into Supercars with priors, but added an enormous online following (his Twitch peaked at over 14k simultaneous viewers, easily double the next best we've seen so far) and plenty of social chat. And he's signed up for more next week.
Love the wildcards in the #VASC particularly @LandoNorris from the glorious UK. I'm taking credit for #LandoDownUnder hashtag too FYI @chadneylon

— David Tunnicliffe (@DavidTunners) May 6, 2020
We caught up with @LandoNorris to break down exactly what happened during his shootout lap 👀 #VASC pic.twitter.com/8ERf51cGiW

— Supercars (@supercars) May 6, 2020
Watch how @LandoNorris gets on in his Supercars Eseries debut, now live on https://t.co/jY2rYuI2uo 👇pic.twitter.com/VBnJeS4A1L

— Autosport (@autosport) May 6, 2020
😲 @LandoNorris powers his way through the field in #VASC race 1 at Spa.
Join the action LIVE here: https://t.co/41bjtCqanm pic.twitter.com/Ui3I9gZ976

— Motorsport.com (@Motorsport) May 6, 2020
5. SPA
GREAT race-tracks make for great racing and Spa Francorchamps is no different. What a circuit and what great racing and show it offered. Now that and Silverstone as a genuine overseas Double Header would be worth the plane fare, if we can ever fly again!
6. DRIVER-ENGINEER CHAT IN BROADCAST
SOME chat between Scott McLaughlin and his engineer Richard Harris crept into the strategy-leden Race 17 and it was superb – it just added another element of realism to an already hugely realistic race coverage.
7.WEDNESDAY NIGHT DRINKING
ESERIES makes it easy for us to consume mid-week drinks, because=sport. Mid week is going to go back to being horrible when all this is over, and we're not okay with that.
8. YOUNG GUNS
SPLIT opinions in the TRT offices about these kids being wildcards given they don't actually bring anything to the show in terms of audience – but it's a visible attempt from Supercars to promote their young-guns, for once, so it should be applauded. Also, they delivered this week. Feeney (Sure, he got lucky, but he did the job) won Race 16 in style and under serious heat.. and we've got to say, nailed the post race chat, too.
I know it's only an eSeries #VASC race win but @brocfeeney93 pretty much nailed the post-race interview

— Here Be Branners (@philbranagan) May 6, 2020
Credit to Jayden 'The Juice' Ojeda, too, for making the Shootout on debut!
9. VIRTUAL PHOTOGRAPHY
SOME of the best Motorsport snappers in the land have been trying their hand at real 'digital' photography.. with some stunning results!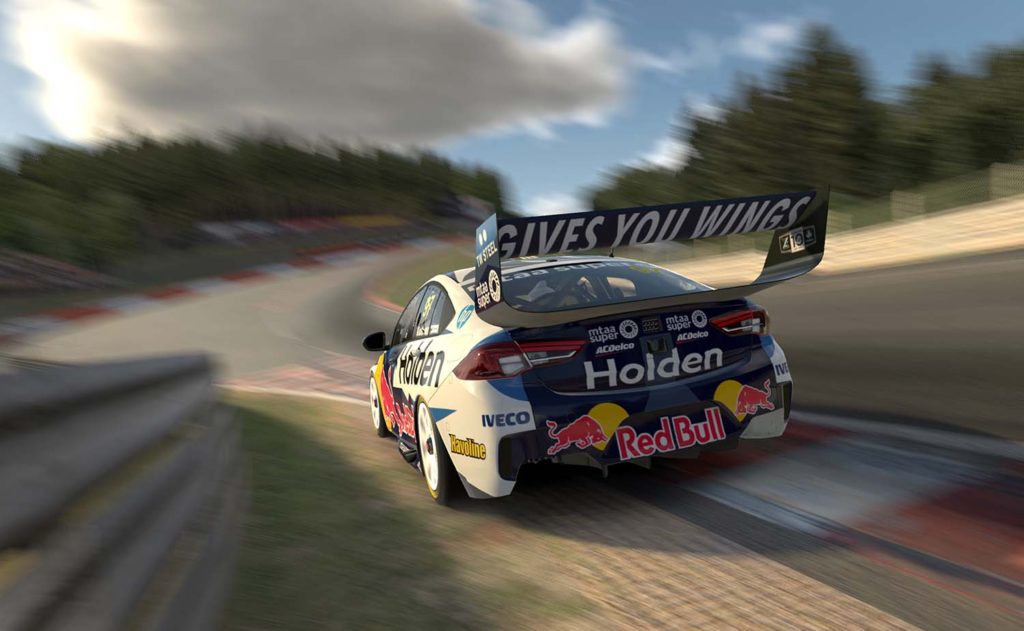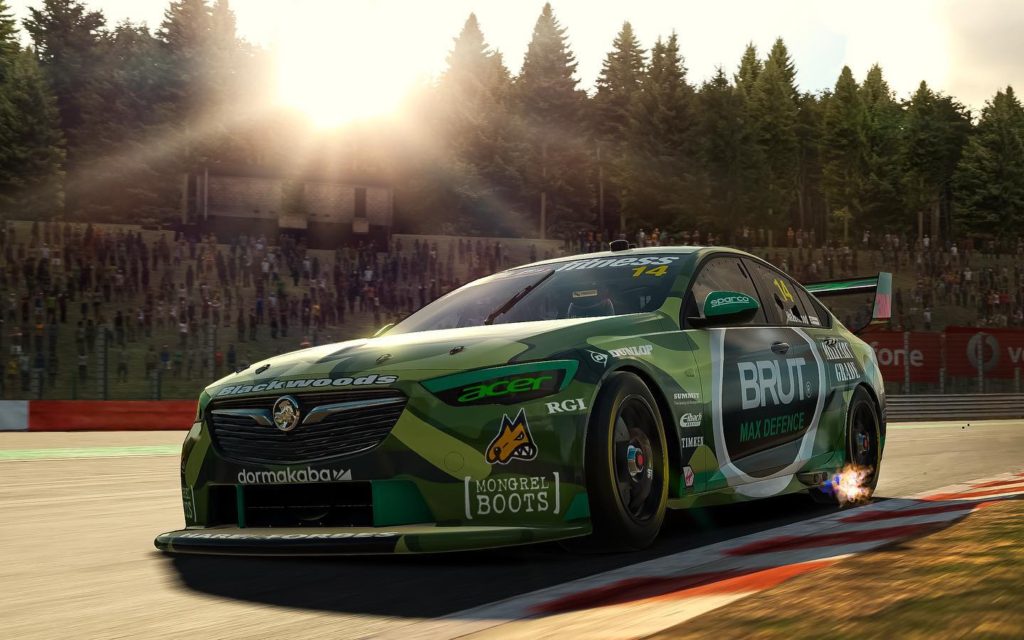 10. PERCAT V NORRIS
VERY cool racing form these two and a shout out by Nick to Lando post-race. All that is missing, now that Norris is back for next week, is his dog asleep next to him.
What a cracker of a battle between @LandoNorris and @NickPercat! 😮 #VASC pic.twitter.com/QysTQP03nz

— Supercars (@supercars) May 6, 2020
NOT
1. RACE 17 TIME CERTAIN FINISH
WE'VE BEEN here before and we've explained the reasons.. but what hurt this one was the unfortunate fact it was not conveyed until well after the finish added to the confusion – hurting what was otherwise a hugely dramatic dust-up between SVG and ADP. Frustrating end to an otherwise first class night.
NOT: Time certain finish fine, but broadcast team looked silly – drivers Twitch could see the white flag – not sure why TV didn't know. Post race crashes right on the start line
ruins a good show, breaks immersion. Drivers should drive on a little further to get off TV.

— Sean Slater (@Rartoo) May 6, 2020
2. GAMBLING
SO, this is a thing. Apparently, there are markets for betting on Supercars eSeries races. Motorsport in Australia has a clean reputation when it comes to the bookies because it is just not a thing many people throw dollars at. But it would be pretty easy to throw an eSeries race ('My Internet died..') and, as the tweet below says, the Victorian Police have already laid charges relating to eSports integrity. We hope this is watched. Closely.
Victoria Police laid charges last week in relation to integrity issues in e-sports. #JustSayin #VASC

— Anthony Leach (@ahleach) May 7, 2020
3. LANDO R2 PIT ENTRY
Hilarious, obviously. But c'mon man..
It's all happening in Race 16 😂 @LandoNorris#VASC pic.twitter.com/AeNDNh83ZW

— Supercars (@supercars) May 6, 2020
Don't worry @LandoNorris, our @supercars drivers crash and block pit lane in real life too #VASC pic.twitter.com/mHRPpRyNyh

— Lauren (@lauren_rutter) May 6, 2020
4. ANTON DE PASQUALE
NEEDED a big round to deliver a gain in the eSeries championship but two last-lap incidents (whether his fault or not, it happened) killed a big shot for a round win for arguably the fastest guy on the night. Luck has to fall his way at some point, surely.
5. NICK PERCAT'S RADIO BUTTON
BATTLED hard when Crompo tried to talk to him, during an enormous battle, when it turned out his radio button was on the same side as his gearshift. Some gymnastics proved effective, he didn't shunt, and it made for great TV – but we bet the button changes sides next week to avoid that awkward situation again!
6. TRACK LIMITS
THEY'RE a thing and they need to be respected. And it's another real-world problem that people have to deal with. We get them being a thing in the races and people can save their penalty points to burn later in the race as they can kerb hops in the real world. But in the world of sim racing does there need to be some compromise for the show? The shootout was buggered because of it. Anyway…
Few more

HOT: Reverse grid adds so much. Different names up front prevents it from becoming stale, if only the risk of damage wasn't so costly in real racing.

NOT: Incident points being exploited, knowing they had so many to play with meant track limits were optional

— Motorsport Matty (@motorsportmatty) May 6, 2020
7. INTERNET
DIDN'T work for Feeney when he had connection issues in Race 1 and didn't start (though it worked a treat by giving him the Race 2 pole). Also hurt McLaughlin's pit stop strategy in the Reverse Grid affair.
Hot, the wildcard young gun has a win.
Not, an odd glitch meant @smclaughlin93 had low fuel in race 2 and needed to pit twice because of it.

— Mat Gee (@HikaMakkinen) May 6, 2020
8. REVERSE GRIDS
WHO could have imagined that they would continue to cause drama?
9. LONG WAIT FOR FINAL RESULTS
A BIT frustrating, but we'll put it way down the order because it's hard to give it a 'NOT' given how good Bairdo has been – and he did an outstanding job of explaining it – and the challenges around the internal iRacing system and the real-world Supercars judiciary – in this Speedcafe article.
WHAT?
Heimgartner Racing? Has Andre left the Kelly's?
Early trouble for Heimgartner, copping a whack from Davison 💥#VASC pic.twitter.com/vjakvC7a45

— Supercars (@supercars) May 6, 2020
THE BEST OF TWITTER
Some nepotism here, but our own Mark Walker leads the way.
The big question ahead of tonight: which version of @chazmozzie will be making an entry? #VASC pic.twitter.com/YmBts3pCrG

— Mark Walker (@markwa1ker) May 6, 2020
Our faces that whole final lap 😯

Not sure that finish can be topped!#RedBullHolden #VASC pic.twitter.com/gFpgiQSWW7

— Red Bull Holden (@redbullholden) May 6, 2020
Deep and insightful commentary from Aaron here..
Just sat down Watching #Vasc E race

— Aaron Zerefos (@AaronZerefos) May 6, 2020
Moff #Vasc

— Aaron Zerefos (@AaronZerefos) May 6, 2020
Fab Pack #vasc

— Aaron Zerefos (@AaronZerefos) May 6, 2020
MEME