SUPERCARS on an Oval.. we never thought we'd see the day but we loved the day it happened, even if it was in the virtual world. Here's the TRT Power Rankings, powered by Yellow Cover, from perhaps the best night of the Eseries yet
WORDS: Richard Craill, Mark Walker, Dale Rodgers, Tony Schibeci, Social contributors
What a night.. much to work through after this one!
BOILING
CHAD & SIDDS
The editor lost his proverbial over this.
HOT. All of this. All time Power Rankings hot. #VASC https://t.co/SmvGMf9iIg

— The Race Torque (@theracetorque) May 18, 2020
HOT
1. SUPERCARS OVAL-STYLE
More please. What a superb show and exactly what the Eseries should be all about – taking the drivers and series out of their comfort zone and putting them into different scenarios not possible in the real world. More, please.
Me right now
#VASC pic.twitter.com/mgpgeS6evR

— Shane CAPTAIN TRIPS b (@ShaneB19) May 20, 2020
OMG @supercars on an oval is everything I always thought it would be 😍 #VASC

— Chad Neylon 🇦🇺 (@chadneylon) May 20, 2020
Gee how good is @supercars racing on an oval. I wish we did this for real.#VASC #Supercars

— Paul Persic (@Paul_Persic97) May 20, 2020
This is so, so good. #VASC https://t.co/0vs2sPuWnv

— Thomas (@ThomB89) May 20, 2020
A race finish so nice, you'll want to watch it twice 👀 #VASC pic.twitter.com/t7XHguDNby

— Supercars (@supercars) May 20, 2020
2. CELEBRITY RACE
IN these depressing times this was a magical night in front of the TV, with a notable highlight being Neil Crompton slowly becoming angrier as the night progressed. Wonderful entertainment.
3. DORIC
Stepped up their long-term relationship with Will Davison in light of the 23Red Racing news proving there is such thing as loyalty in motorsport.
Very cool to have @will_davison continue on in the Eseries tonight with the backing of long time supporters @DoricRacing! How do you think Supercars will handle the Charlotte Oval (with damage off)? #vasc pic.twitter.com/kXz9WUOrvZ

— The Race Torque (@theracetorque) May 19, 2020
4. RICK KELLY'S SIMULATOR
Home made mini-Mustang with actual rear wing and PC under the bonnet. @rickkelly you absolute legend @KellyRacingAus #VASC pic.twitter.com/B0FYYfD2S6

— Chad Neylon 🇦🇺 (@chadneylon) May 20, 2020
@rickkelly wins the award for the best simulator I've seen during the whole of #lockdown 😂#VASC @supercars

— Steven (@stevenbatey96) May 20, 2020
I feel sorry for all the parents of the kids who have seen @rickkelly new car racing bed that morphs into an actual simulator car and are asking their dads to make one with a couple of things from Bunnings in the back shed. #simple #vasv @supercars 😩

— Riana Crehan (@rianacrehan) May 20, 2020
5. BARNEY
iRacing flagman has become renowned..
'Was he waving the flag or beating it to death?' – Neal Crompton.
6. SVG
First 300 point sweep of the Eseries and now in the championship lead.. is he unbeatable for the remainder of the championship, or will McLaughlin respond?
7. STARTS
Are Rolling Starts the answer? Probably not but the (relative) lack of lap-one carnage was such a welcome change this week.
8. REYNOLDS
On fire!
David Reynolds is going for the most improved award.
I hated that in school, it meant that you were absolute crap to start with.#VASC

— Samuel Lockhart (@LloydGSR) May 20, 2020
9. ANDY JONES
Ring-in for the displaced Matty White did a solid job in what would have been challenging circumstances. The lack of AJ's famous 'Weather Rock' can be addressed in coming weeks, surely.
Andrew Jones always does a terrific job at commentating, one of the very best. And I love his dry sense of humour which sneaks out some gems from time to time.

— Gordon Anderson (@Gougoodthing64) May 20, 2020
10. NASH'S MULLET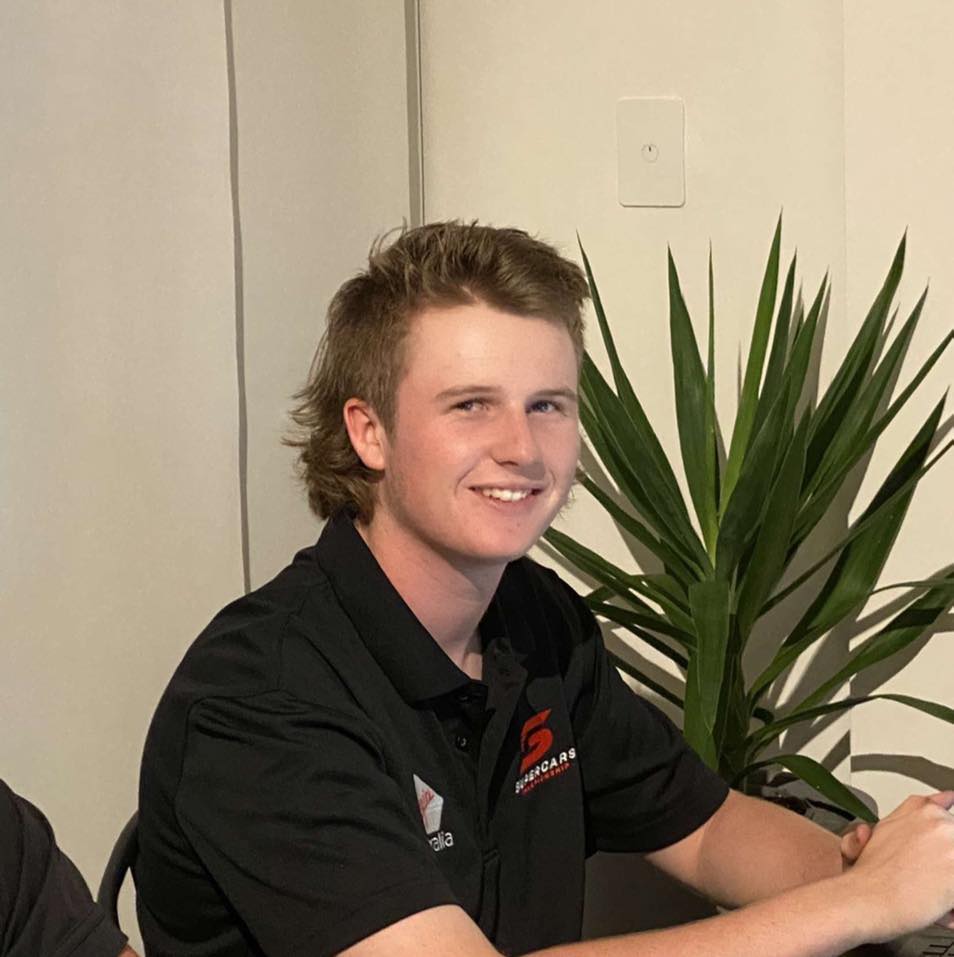 NOT
1. TIME CERTAIN
TWICE in a couple of weeks the vagaries of Time Certainty have hurt the finish of a race and robbed it of drama. 95% of the many nominations for Power Rankings inclusion on our social channels highlighted this as their No. 1 complaint from an otherwise outstanding night of racing. It's not helped by the fact that not knowing when the finish will be makes calling it very difficult; you can hear the frustration in Neil Crompton's voice each time. There's no solution, really – if you make the races shorter there's too much time to fill between them, and there's always the risk of a Safety Car slowing things up. And we understand that, especially in the real world. But it does not make it any less frustrating for us and the fans.
2. SHORT SIGN-IN / INTERNET
Hurt Lando in race two and Anton in Race 3 and robbed both Daytona races of contenders. It's a tricky thing to manage, especially when there's internet lag and issues to take into account. If anyone has watched twitch during each Eseries round, you'd have noticed there's an open practice session before each race while they load everything up – which inevitably turns into a wreck-em free for all. Might be part of the reason some people are too slow clicking the 'Join Session' button when it goes live.
3. MSR CARNAGE
Jacobson hit Goddard, who recovered into the path of Kostecki at Daytona. Not ideal..
4. TODD HAZELWOOD
Dude, you're on national TV.
You would hope @kleenex or @KleenexAu jump on board with @Todd_Hazelwood in the BP @supercars ESports Series. With @Brut_AU on board his always keeping it clean on and off the track. 👆🏻#boogityboogity let's go racing. pic.twitter.com/Oo0CrV7aun

— Hybrid Digital Mktng (@hybriddigitalau) May 20, 2020
5. TOBY PRICE SIM ETIQUETTE
Nah your right @tobyprice87 I'll put everything back and setup for @supercars Eseries 😂😜 On a positive note, so stoked we're going back racing! 🤙🏻#Mozzie25 #VASC pic.twitter.com/tYloiTsDnC

— Chaz Mostert (@chazmozzie) May 20, 2020
6. McLAUGHLIN'S NIGHT
Had an absolute shocker that started by qualifying down the back at Charlotte. Ended with a good recovery drive in the last Daytona race but ultimately this was his worst night of the Eseries to date.
7. JLB's PENALTY
An update on @JackLeBrocq's penalty 🔊 #VASC pic.twitter.com/VPvljDYIta

— Supercars (@supercars) May 20, 2020
8. LANDO
Had an absolute nightmare. Still brings the comedy though.
9. CALDER PARK
It's such a shame that this place is derelict because HOW GOOD WOULD A SUPERCAR RACE THERE BE?
Tomorrow night the Supercars eSeries is heading Stateside for a spot of oval racing. Fortunately, we've already thrown a V8 onto an oval to find out what it would be like…https://t.co/S2lo2GM8yP
#VASC #NASCAR pic.twitter.com/ptmbUfr8Oz

— The Race Torque (@theracetorque) May 19, 2020
WHAT?
FROSTY AIRLINES
REALITY TV
To show you how different the world really is these days, tonight 3,000 people watched @smclaughlin93 eat dinner sitting in a racing simulator on the internet. #VASC

— Richard Craill (@Craillsy) May 20, 2020
TWEETS
DAYTONA
Percat and Kostecki

#vasc pic.twitter.com/BaoxJBTZQ9

— Shane CAPTAIN TRIPS b (@ShaneB19) May 20, 2020
LANDO
I know no one who says nah yeah. It's yeah nah!#VASC

— Samuel Lockhart (@LloydGSR) May 20, 2020
Can LANDO Norris be one of ours, every round he is becoming more Aussie.#VASC #Supercars #V8SC #eSports #ESeries

— Paul Persic (@Paul_Persic97) May 20, 2020
REALITY OF DRIVER LIFE
How unreal would it be to be able to claim an iRacing subscription, beefy PC, three big TVs and a kick arse simulator setup on tax?
Surely these guys would be doing that, it's what they need for work.#VASC

— Samuel Lockhart (@LloydGSR) May 20, 2020
MEMES