As the Supercars eSeries heads to the Circuit of the Americas in Austin Texas, Lewis Isaacs recounts the championship's Stateside journey in 2013.
WORDS: Lewis Isaacs IMAGES: Mark Horsburgh / Supercars (Lead)
There was a fair bit of buzz around the V8 Supercars paddock in May 2013. Car of the Future's arrival had brought with it two new car makes in Nissan and AMG, while on track seven different drivers had won the first twelve races.
The category was also set on another overseas expansions. After previous adventures internationally – many having the same staying power of James Courtney's Team Sydney stint – a trip to Texas was the latest opportunity at growing the proverbial V8 footprint.
On paper it made a lot of sense. America is the homeland of General Motors and Ford, Nissan had a factory up the road in Tennessee. There was a kinship in car culture, with a shared love of over-emblazoned merchandise, oversized engines and brand tribalism. Even the VF Commodore would have been familiar to US motorsport fans, racing as the Chevrolet SS in the NASCAR sticker guise. There was also a brand-new circuit to race on. The time difference to home was a problem, but not an insurmountable one in light of the positives.
Call it fate, happenstance, good fortune, being kissed on the dick or whatever, but I was lucky to be the only writer in the Auto Action office at the time when editor Rob Margeit received the invitation to travel Stateside for the race and snagged my spot on the plane to Austin.
Two years prior, I'd come back from 12 months' of studying and travelling around the US. I'd given myself six weeks to get from the northeast of the US, starting at Cape Cod, MA, to the southeast at San Diego, CA and I wanted to do it overland. My journey took me through the south and Austin sat roughly at the half-way point. What I expected would be a short stay blew out when I learned Weezer were playing two shows so I stayed put for a week just for those. The blessing was getting to know Austin better. I stuck around the city, going out with mates, spending arvos on the banks of the Colorado River, nights out in the city and stocked up on books at the giant BookPeople (some Keroauc and Klosterman). Austin had an openness to it and wasn't like the other parts of Texas. I had a reluctance to leave.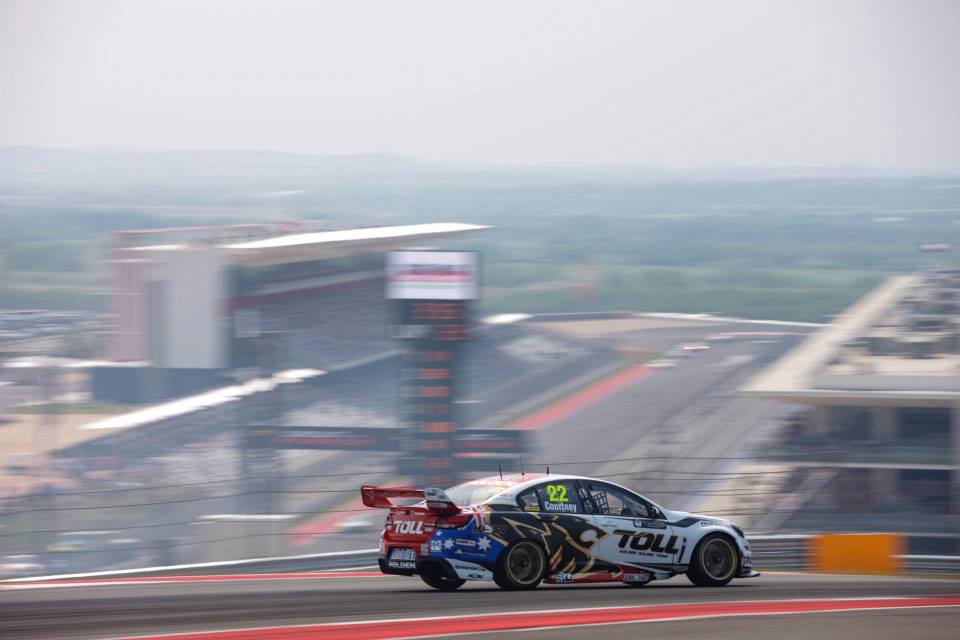 Having an opportunity to go back felt like it packed some form of cosmic significance.
The trip over had a somewhat collegial feel to it, with what felt like half the paddock on a QANTAS jet from Sydney to Dallas and finally, smaller planes to Austin. The big wigs were in first class, while some team members were tasked with carrying spare parts as carry on.
While teams spent the first day setting up at the track, and drivers dressed in cowboy outfits for promo shoots of all the Texan clichés, I enjoyed a solitary Wednesday re-exploring the city (I went banjo shopping and spotted the biggest Supercars billboard I'd ever seen) before a media conference on the Thursday with half the drivers at the newish, Circuit of the Americas.
Auto Action, always conscious of its dwindling budget, hadn't organised a hire car for me, so every morning I had to try to arrange a lift to the circuit with other members of the media.
This presented itself as a problem twice: The first was on the journey to the circuit when one journo inadvertently drove up the wrong side of a motorway entrance. When I opted out of travelling with them and packed down with another group of journos in their hired V6 American muscle car, they collided with a carpark pillar. I've been mindful of how media criticise driving performances ever since.
I digress, but the media wasn't the only Australian contingent struggling to adjust to the US rules. Two team members were arrested in the city before a wheel had turned.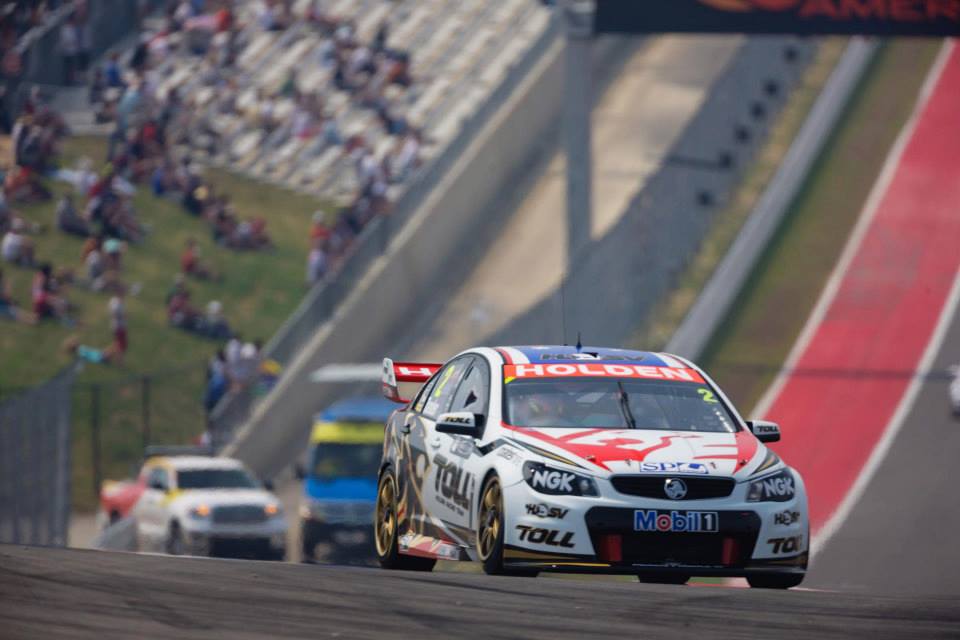 None of that mattered when it came to track time on Friday. Here was Australia's top touring car category, the pride and joy of those who love the smell of burning e85, having a proper swing at the US market. Except, 2013's tight tyre restrictions meant a bunch of teams elected to run installation laps on wet tyres rather than dip into their short supply of rubber. For a category that travelled to the other side of the globe, this was either some significant oversight, or proof that motorsport politics always trump logic.
..when I opted out of travelling with them and packed down with another group of journos in their hired V6 American muscle car, they collided with a carpark pillar. I've been mindful of how media criticise driving performances ever since.

Lewis has fond memories of Austin. Not so fond memories of driving with Aussie Journos in Austin..


Either way, for those of us who travelled, the sight of the cars heading uphill at turn one of the still sparkling circuit carried some pride. Not as much as the outward showing of national swagger each day brought when The Star-Spangled Banner played and the media centre rose to face the giant projector screens, but that's America and something you get used to quickly.
On track, the racing had its topsy turvy moments. David Wall(!) qualified fourth for the opening race, before Scott McLaughlin became the first causality of weekend. Jamie Whincup did a lot of winning – which is about as accurate a representation of the sport you could get at the time – much in the same way FPR bungled a pitstop that cost Mark Winterbottom a win.
When the chequered flag fell on Sunday afternoon, Australia was getting up. That meant a rather long night of filing stories for AA's deadline including Foges' yarn about Garry Rogers Motorsport bringing in a new manufacturer for 2014 – only he had it pegged as Chrysler that week, not Volvo as he would correctly write a week later.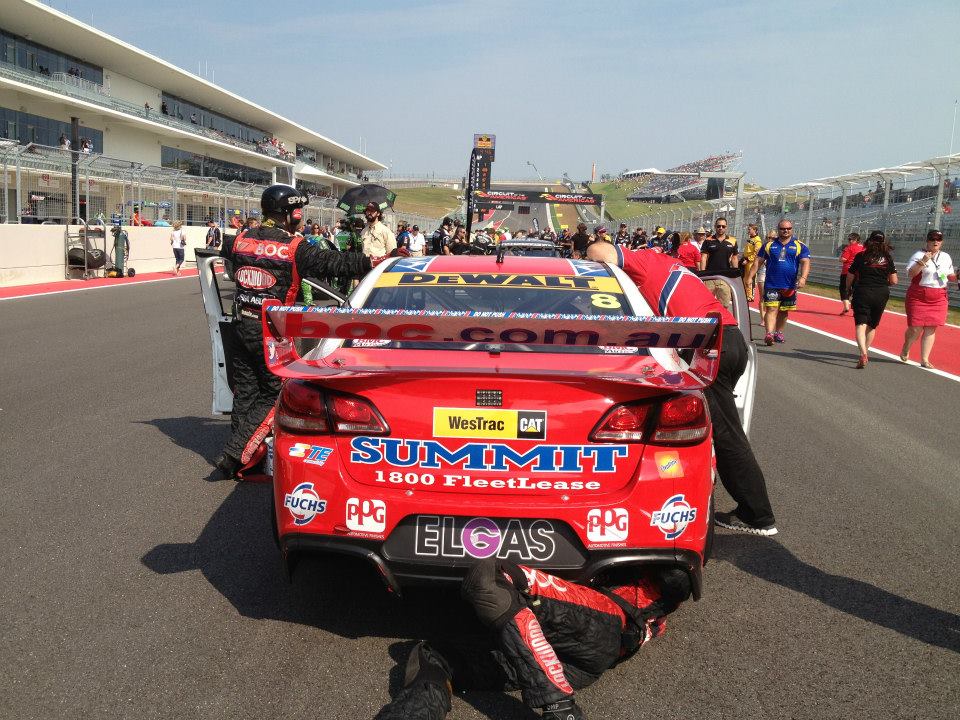 Meanwhile, another big scoop was happening while we were holed up writing stories. As the V8 fraternity let its hair down in the city that night, Mark Skaife and the then Holden Motorsport PR manager Gerald McDornan were rubbing panels at an Austin nightspot in what Skaife described as a 'minor kerfuffle'.
While Austin didn't offer the best racing I'd seen, and the cars looked tiny on the superwide grand prix circuit, it was well attended given the wild heat of the weekend. If anything, you could say it had potential over other overseas jaunts.
A few of us expected to be back.
First though, we had to leave. The fickle weather of the South had a part to play when a hurricane warning cancelled a flight from Austin to Dallas. I was stranded along with team members from Erebus and Tekno, waiting for hours to work out how we were getting home. Lee Holdsworth was forced to cancel his Carrera Cup drive at Rennsport from the airport, while we waited hours for some kind of action plan. Our previous hotel had been taken over by Taylor Swift and her touring entourage, while most of rooms in the area quickly filled up with other stranded passengers.
Eventually, a new plan sent a group of us to a hotel in the sticks, before a flight to Los Angeles the next morning. With any luck, from there we'd get to Sydney.
After a long day of waiting, Ben Nightingale, then the media guru at Tekno, used the team's largesse to shout dinner for a group of us from the neighbouring food van and we washed it down with giant PBRs. The day hadn't gone to plan, but that was a pretty solid outcome.
Eventually we made it to LA, with about eight hours to kill before connecting flights. We trundled out to Venice for the day, making the most of how the last 24 hours had given this unplanned opportunity.
In a way it summed up the whole US experience pretty well. It was an adventure. It didn't quite go to plan, but it remains memorable for plenty of other reasons.
ABOUT: LEWIS ISAACS
Lewis Isaacs is a multimedia producer, editor, shooter and writer based in Sydney, Australia.
His media career began at ACP Magazines, writing for Auto Action, Rugby League Week, Top Gear and Motor. He has since developed as a digital and video producer, with his work featuring on The Guardian, SBS, The Sydney Morning Herald, ABC, Fox Sports and more.
For more information, please check out his website here.