THE RECENT sale of 'Mustang Sally', the famous 1969 Ford Mustang Trans-Am that has dominated the Gulf Western Oils Touring Car Masters series for the last 14 seasons, has drawn attention back to a car that is not only the most successful in TCM history – but one of the most successful single cars in the recent past of Aussie racing.  
WORDS: Richard Craill IMAGES: Dirk Klynsmith / Touring Car Masters
We do not use the phrase 'successful' without precedence, either: few cars have enjoyed such a remarkable strike rate as that particular Mustang since it made it's TCM debut in 2007.
In fact, perhaps only Tony Ricciardello's famous Alfa GTV-Chevrolet Sports Sedan can compete with the Mustang in terms of one car achieving such a remarkable, individual track record.
13 years later, the car remains a competitive force in the class decide being decidedly outdated when compared to some of the more 'modern' build cars that the category has seen in recent years.
'Sally' was originally brought into Australia by Historic Touring Car racer Drew Marget who, with chief fabricator Alistair Raven, built the car to compete in Group N racing. With the advent of TCM, a class Marget was instrumental in founding, the car was upgraded to suit the slightly more liberal rules the category enjoyed when it launched in 2007.
Marget raced the car for three seasons, finishing 7th in the 2007 championship, 6th the following year and a convenient 5th in 2009.
Along the way he won two races and stood on the round podium on three occasions.
After Marget hung up his helmet in 2010 the car was purchased by John Bowe, who had been racing a Chevrolet Camaro owned by Tony Hunter in the category to that point.
The biggest story of Bowe's purchase was that it was the first time the Tasmanian legend had actually owned his own racing car since 1985.. a fact JB was keen to point out!
Bowe won his first race in the car at Winton a few rounds into that season, sweeping the round in the process. He would repeat that achievement at Sydney Motorsport Park and Symmons Plains later that year, but ultimately finished third in the final championship standings – old rival Jim Richards nabbing the crown.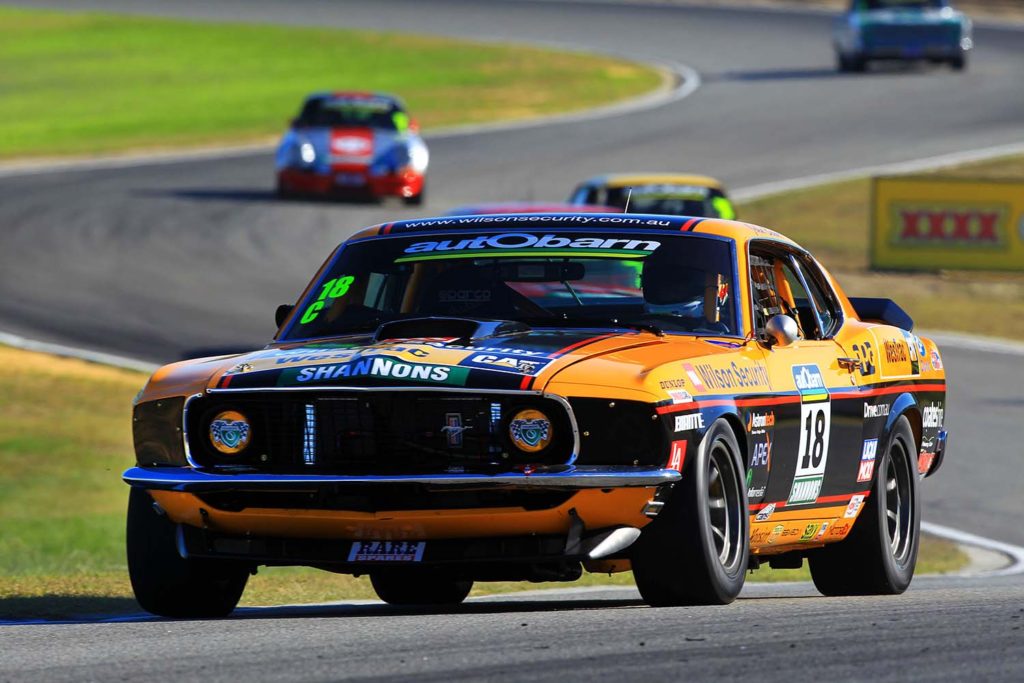 From there however, old Sally was rarely headed.
Bowe won five of the next six seasons (only beaten by Richards in 2013) and set several records that remain unbroken in TCM history, including most race wins in a single season (set at 13 in 2011 and then extended to 14 a year later) and most TCM race wins in succession (10, in the 2012 championship).
Three of those titles were all scored behind the wheel of the Mustang, while the fourth, in 2015, came after an early-season switch to the Bendigo Retro Muscle Cars team headed by Gary O'Brien and his snazzy new Holden Torana.
Still, Bowe started the year in the Mustang before swapping to the Torana at the third round, held at Winton – missing Round 2 of the championship in his old home of Tasmania after being 'forced' to attend a sponsors conference at a tropical location somewhere..
We bet JB would've rather been in Tassie, though!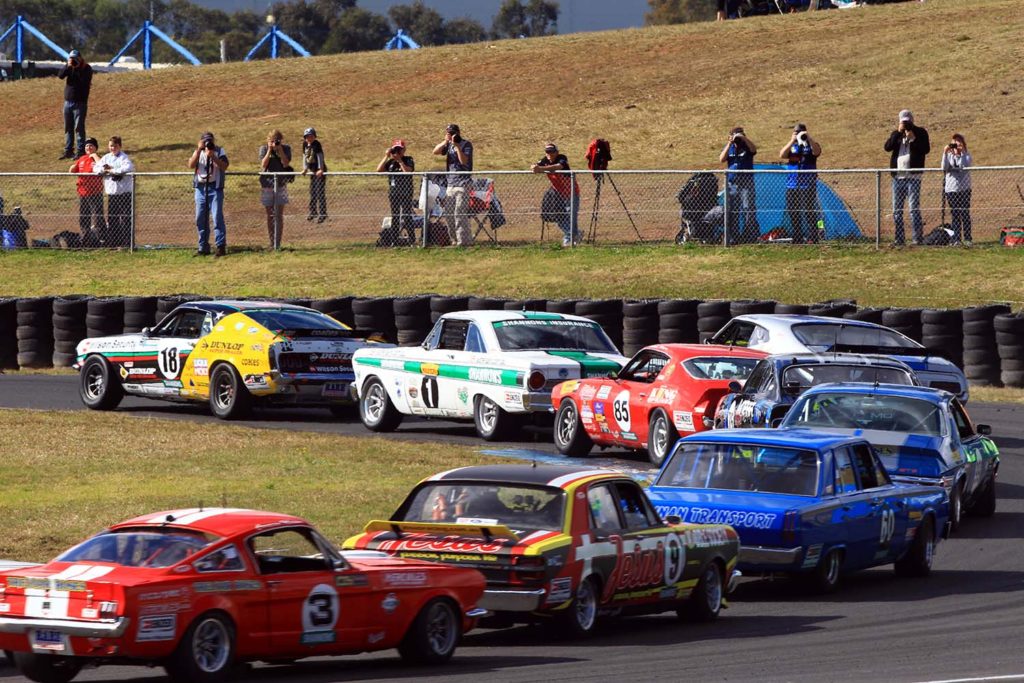 However in missing that Symmons Plains event, Bowe set in motion the next stage of the Mustang's remarkable record: JB's old Dick Johnson Racing teammate Steven Johnson parachuted in to take over for the weekend.
Junior Johnson promptly won all three races and the round – and would find himself back behind the wheel of the car for four further rounds later that year, winning two and finishing second in the other pair.
After Marget, Bowe and Johnson, Neil Crompton became just the fourth driver to race the car when he jumped behind the wheel at Sydney Motorsport Park's Muscle Car Masters event – running at the front of the field and finishing third in race two of three.
The only other driver to have raced the car was Utes racer Stephen White, who deputised for Bowe at Sandown in 2013, finishing third in two of the three races and third overall despite never having driven the car.
It means that every driver to have steered the car in competition has finished in the top three of a TCM race – a pretty remarkable record.
'Sally' had a year off in 2016 as new owner, Tony Warne – a long time friend of both Bowe and the Johnsons – worked with several parties to put a deal together for the subsequent season.
Out of that was born 'Team Johnson', who took over preparation of the Mustang in time for the beginning of the 2017 season.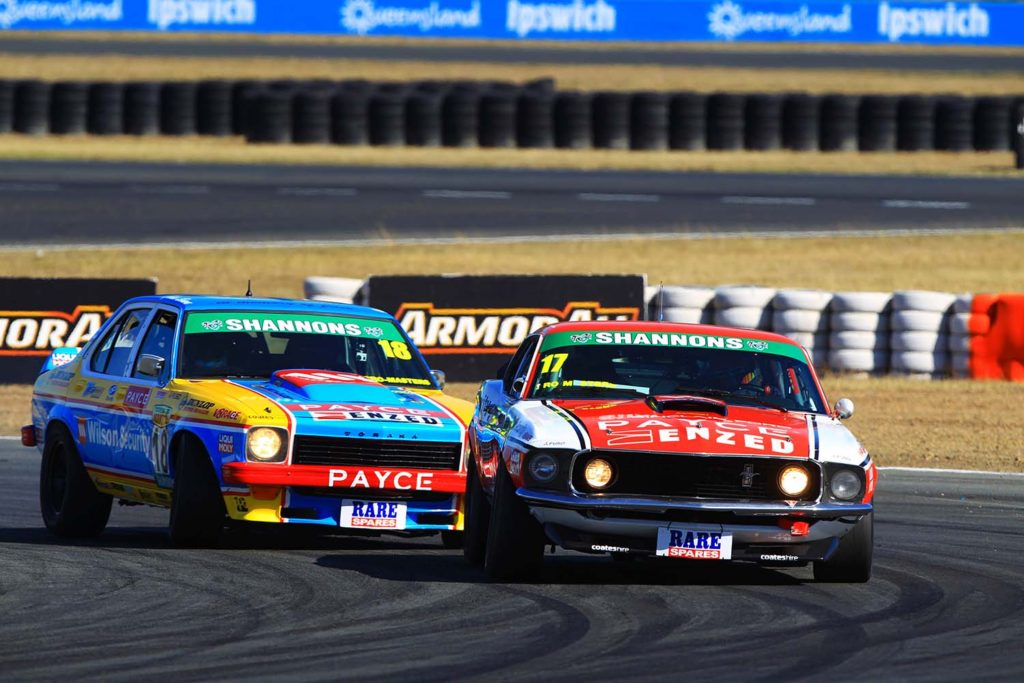 That year delivered perhaps the best championship battle the class has ever seen, as Johnson and Bowe went head to head in a final-round showdown that ultimately saw Johnson claim his first TCM title.. and Bowe lose to his old car!
Johnson backed up his maiden crown with a second in 2018 and wrapped up the 2019 season last year, before Sally was parked up again to allow their own XD Falcon TCM racer to make it's debut at this year's Adelaide 500.
Remarkably, at the end of their respective tenures behind the wheel of the mighty Mustang, Bowe and Johnson ended up with rather similar stats.
While Bowe drove the 'Stang in 39 rounds and 115 races, Johnson tackled 27 rounds and 90 races in a shorter timeframe.
Bowe won 20 rounds to Johnson's 16, and 52 races to Johnson's 43.
The new owner, who has elected to fly under the radar for the time being, has purchased a mighty car with an enviable record and an incredible racing history – surely one of the most successful racing cars in Australian Motorsport's rich history.
Here's hoping it can come back for more at some point down the road.
MUSTANG SALLY FACT FILE
TCM TITLES: 6 (from 11 full-season campaigns)
ROUND STARTS: 82
ROUND WINS: 36 (Bowe 20, Johnson 16)
PODIUMS: 60 (Bowe 30, Johnson 26, Marget 3, White 1)
RACE STARTS: 253
RACE WINS: 97 (Bowe 52, Johnson 43, Marget 2)
RACE TOP 3: 160
POLES: 47 (Bowe 30, Johnson 17)
FRONT ROW: 64 (Bowe 38, Johnson 25, Marget 1)
Sally set the record for most wins in a single TCM season on three occasions: Bowe set the benchmark at 13 in 2011, re-set it to 14 a year later before that was matched by Johnson in 2018.
It also won the most races of any car in the 2010, 2014 and 2019 seasons
Mustang 'Sally' has won 97 of the 194 Ford victories achieved in TCM.
'Sally' has won 97 of 146 TCM races won by a Ford Mustang
The car has won 36 of the 53 rounds won by Fords in TCM. 51 of them won by Mustangs.
All except 10 pole positions won by Ford Mustangs in TCM history have been taken by 'Sally'.
There have been 100 TCM rounds, Sally has qualified on pole for 47 of them..
The biggest pole position margin in TCM history – 2.938s – was set by Mustang Sally.
'Sally' has the record for most TCM pole positions in a row – 9, set across the 2013-2015 seasons.
The Mustang has won at every circuit TCM has competed at, but 1 (Oran Park, now closed).
'Sally' holds the TCM lap record at Mount Panorama, Bathurst.