SUPERCARS made their triumphant return to racing in Sydney at the weekend, so naturally the TRT POWER RANKINGS powered by Yellow Cover are also back to run the rule over what was Hot and Not after a wild weekend.
WORDS: Richard Craill, Mark Walker, Tony Schibeci + TRT Crew, Social Media Contributors
IMAGES: Mark Horsburgh / Supercars
WHAT a huge weekend. Three cracking races, plenty of action and lots to break down from Supercars racing return.
Obviously there was a lot of positivity from the weekend – it would have been 'hot' even if the racing was mediocre, but there's always some things that need working on and we're not backwards in coming forwards in identifying those here either.
However, and to carry on with tradition, we start with what's Hot..
HOT
1. SUPERCARS RETURN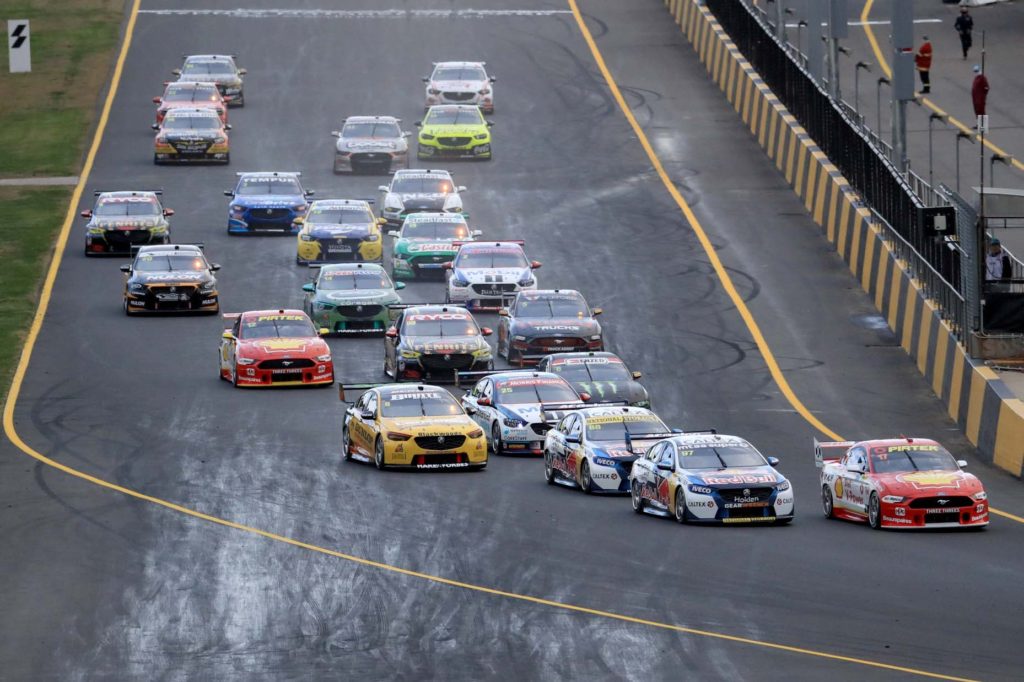 IF THIS was a competition about how many boxes you could tick in a single weekend, Supercars would've won by a mile. Just about everything worked.. the format provided intensity across both days, with little time for rest between sessions for those at the track and those watching on TV. The rule tweaks were great – did anyone miss the lack of data on the weekend? We didn't. Tyre rules were bang-on and created the most unpredictability of it all. There wasn't one mention of 'fuel drop' all weekend.. let's hope that's consigned to the history books! The teams did an outstanding job and the drivers approached it perfectly and put on one hell of a show. We could go on for hours about this, but perhaps the highest praise we could possibly offer is this: for all the changes, Sydney looked and sounded like a regular Supercars round, just with better racing. Let's hope it continues as such.
2. THE RACING
FIRST class all weekend. Race 8 was the best (see below) but each had its moment. Hard, clean, very competitive and entertaining, this was the best possible outcome the sport could have hoped for from the on-track product.
What a race this has been! 😲#VASC pic.twitter.com/4qjZjvuB4z

— Supercars (@supercars) June 28, 2020
Mostert and Waters are the Haga and Biaggi of @supercars Never know if they'll overtake or collide #vasc pic.twitter.com/Estt0rSEiH

— ExHullKiwi (@HullKiwi) June 28, 2020
This race! #VASC pic.twitter.com/KTQUhXMHuE

— Jawad (@Doctor46th) June 28, 2020
3. TV COVERAGE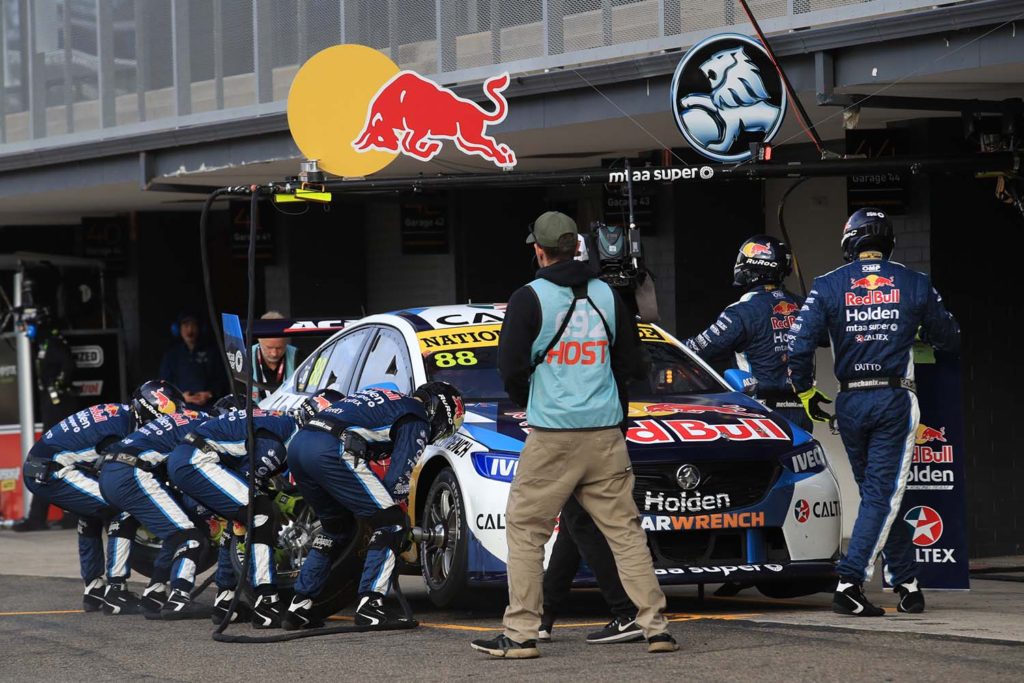 NOT that we expected anything else, but the production was first-class as always. Jessica Yates held it together in the hosts position – and we enjoyed her offering up a bit of content from pit lane here or there too – while the remainder of the coverage was as good as we've come to expect from Supercars, even with the obvious but well-managed changes to deal with things like social distancing and the like. Use of Zoom within the broadcast to interact with fans an excellent ESeries hangover, too.
4. MIDFIELD MIX
BEHIND McLaughlin and the two Red Bulls, the fight was immense all weekend. WAU, Erebus, BJR, Tickford, Team 18 and even Kelly Racing on occasion were all in the mix. So many different teams fighting over the same bit of real-estate was one of the best things to watch all weekend and, outside of the dominant two teams, there's probably 15 drivers who could reasonably expect to be top five in any given race, if not win the thing like Percat did. This is perhaps the best early outcome from all the changes so far. Hope it lasts.
5. SATURDAY FINISH
THE most appropriate way to return to racing was to have arguably the two best drivers in the series going at it flat out for the win in the first race back – and we got that in spades. An already compelling race, filled with a mixture of strategies and tyre use, finished with a bang and a ripper battle between the 17 and 97. Huge.
What a ripping #VASC return. Two of the very best we have seen, going at it hammer and/or tongs, right to the flag. Mind you, I would have stayed glued to a bloody procession. A real lack of biffo behind as well, though all that may change on Sunday

— Here Be Branners (@philbranagan) June 27, 2020
6. McLAUGHLIN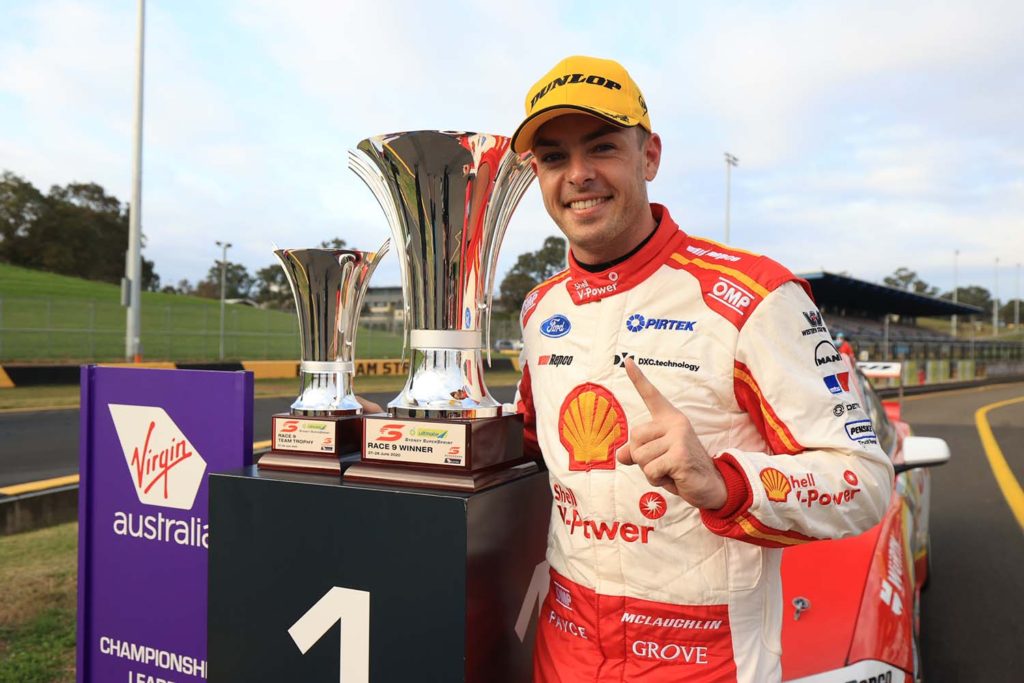 FIFTEEN weeks on the simulator didn't change a thing, did it? Mr two-tenths continues on his merry way as the benchmark of the field, pulling time where no one else could find it during the shootout to grab pole on Saturday, and doing it again Sunday after not quite nailing race 8 qualifying. Perhaps more importantly, reminded people that he can stand up when tested in hand-to-hand combat, too, during his carve through the field in race 8.
7. RACE 8
FIFTY MINUTES and 14 seconds of excellent. This was the best Supercars race in a long time, the mix of tyre conditions and people willing to have an absolute red-hot crack – as Nick Percat telegraphed he would prior to the race – made it brilliant. More passing in this race than the entire Adelaide 500 weekend combined and an upset winner.
8. NICK PERCAT & BJR
HE'S won Bathurst and Adelaide but this was absolutely his best drive. Scythed his way to second with nice moves early on to take advantage of his tyre condition and then hunted down and passed the GOAT with 10 to go before holding on to get a super victory for both himself and BJR.
Speaking of BJR, how good was it to see the boys from the border in the mix? Percat was speedy in every race, while Todd Hazelwood was also fast all weekend, his qualifying performance for Race 9 was great and he was on for a big result until the roll bar issue stymied his charge forward. You get the feeling these two trading off each other is going to make BJR better as a team moving forward.
Lansvale Smash Repairs racing going for the W here.. #VASC

— Richard Craill (@Craillsy) June 28, 2020
When you come back from lunch and see Nick Percat is leading #VASC pic.twitter.com/AcsbKqMKhr

— SupercarsMaster (@SupercarsMaster) June 28, 2020
9. JUST BEING BACK. FULL STOP.
RACING was back and that's all that really mattered. We loved the Eseries, but it just couldn't compete with the real thing.
Crompo, Skaifey and Larko -sooo good to have your banter back on the telly – oh how I've missed it – and the awesome racing of course! #VASC

— Debbie Handisides (@spookydeb) June 27, 2020
Supercars are back!!! Hallelujah 🙌🏼 What a great day! 🏁 #VASC

— Brian Van De Wakker (@brianwakker22) June 27, 2020
Shit I've missed this, so glad it's back #VASC

— Samuel Lockhart (@LloydGSR) June 27, 2020
REMINDER TO DRIVERS: Damage is ON! #vasc

— Mark Walker (@markwa1ker) June 27, 2020
10. DUNLOP
SPECIAL tip of the hat to the tyre supplier, who delivered on the return to multi-compound racing with the perfect product. Whether by design or by the nature of the abrasive SMSP circuit or a combination of the two, the tyre deg was critical to the weekend unfolding as it did. It can be tough as a tyre supplier, especially when you're asked to bring a tyre that is likely to fall apart, but they provided a product that, along with Supercars revised rule set mandating only 20 tyres for the weekend and two rattle guns per car, delivered enormously.
SPECIAL MENTIONS
THE GOAT
500 races is a huge milestone. Getting pole for your 500th is even better.. fell short to the other milestone man, Nick Percat, but second was a great result regardless. And did anyone notice that Jamie was just there in every race… consistency wins titles and though it's early days, 'ol seven-time is accumulating like a pro at the moment..
TRUCK ASSIST: ATTABOY!
OKAY, we're a bit biased here because National Transport Insurance are also partners of TRT.. and we're massively proud of that, too. They're great sponsors of the sport. Leethal Lee Holdsworth's drive in Race 9 was outstanding and it was great to see him – and one of the sport's biggest supporting sponsors – grab some silverware.
Holy smoke, @LeeHoldsworth. Took SVG, Frosty and Reynolds all in one lap, 6th to 3rd in a matter of corners. From 12th to the podium in four laps. Superb effort #VASC

— James Pavey (@jamespavey_) June 28, 2020
Holdsy's Truck Assist livery could be right out of the '90s, the golden era of Australian Touring Car liveries when simplicity was everything. Cracking drive, too. #VASC

— Richard Craill (@Craillsy) June 28, 2020
COURTNEY
GOT to give the guy some credit: given he'd barely met the team before the weekend the Boost machine was right in the mix, especially when we got to Sunday.
MOSTERT
DUD race 9 aside, a pair of fourths earlier in the weekend backed up Chaz impressive pace in the WAU machine in Adelaide and what was had of the Grand Prix. Following that progress and seeing if he is a legitimate contender in the Commodore as he was a Tickford Ford will be a big story this year. If he's quick out of the box at Winton, watch out.
FULLWOOD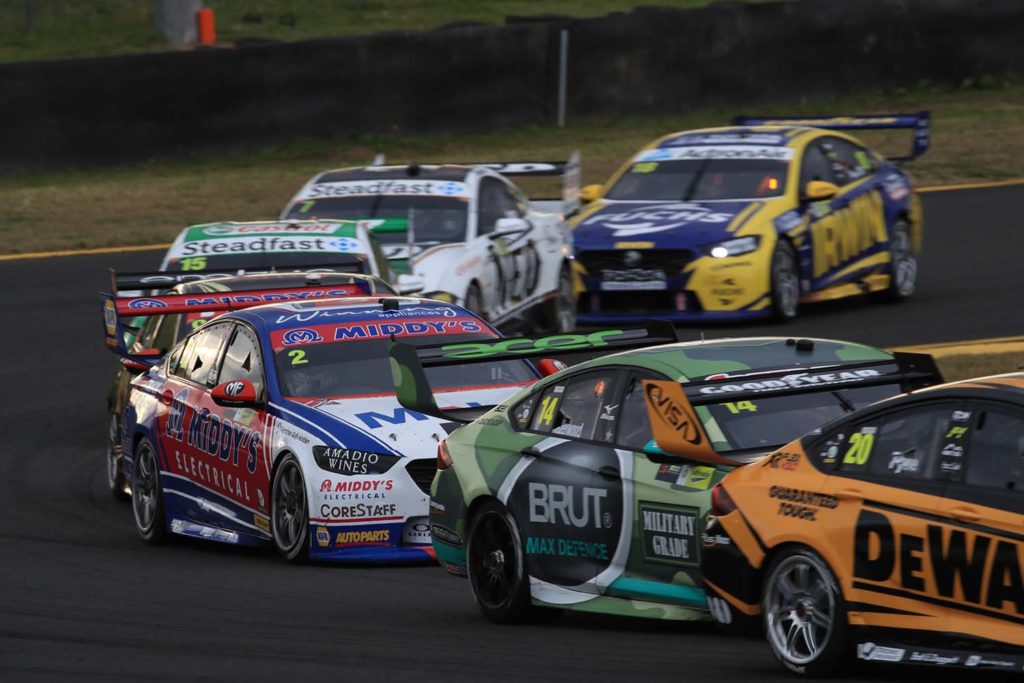 WE had several people tip the hat to the Super2 Champion on our social channels, singling out his racecraft, on Sunday especially. Certainly, very solid indeed.
WHAT
BOOM NINJAS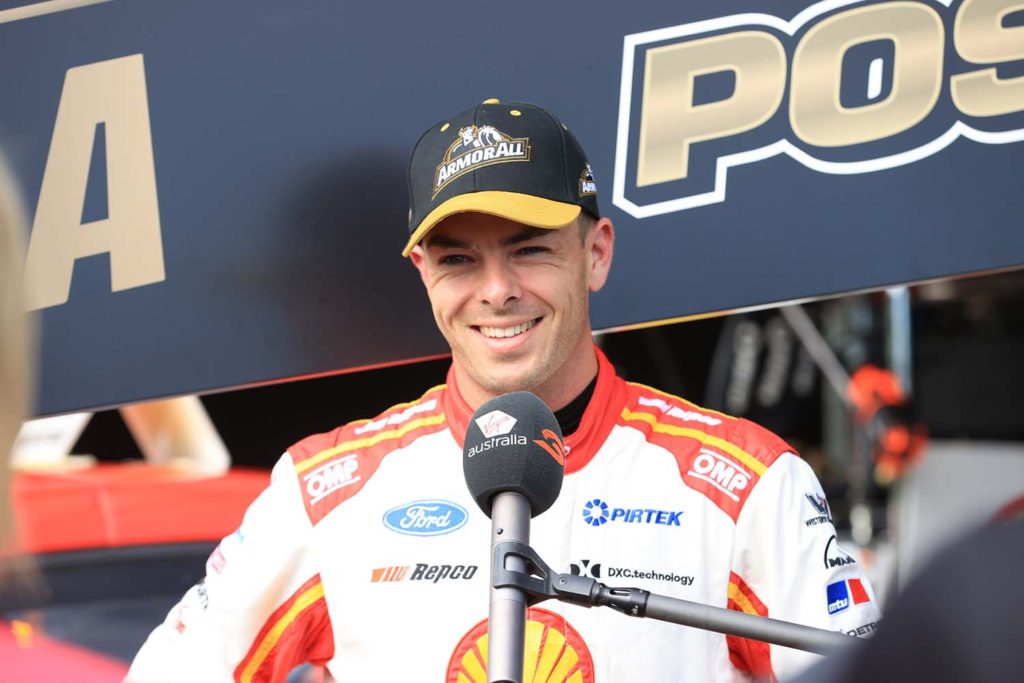 WE'RE TOLD they were dubbed 'Boom Ninjas': Supercars Media audio gurus Quin Gwilliam and Will King's job at the weekend was to hold the microphone at the end of a suitably socially-distanced pole during interviews with the broadcast team.
Of course, they nailed what would have been a challenging job – especially keeping up with Neil Crompton during his Supercars Trackside paddock walk on Sunday evening – with aplomb, the microphones appearing on demand, seemingly from nowhere!

We reckon their arm and back muscles would be feeling it this week.. Well played – and hit the gym for Winton!
NOT
1. RACE NAMING
RIGHT, so we understand why the three races on the weekend were named Races 7, 8 and 9 of the 2020 championship. The fact that we got as far as qualifying at the Grand Prix before things were suspended mean that technically what happened in Melbourne counts, especially when it comes to qualy stats and the like.
But you try explaining to a casual fan why the 3rd, 4th and 5th actual races of the championship were named Races 7, 8 and 9 without getting them confused. We've been consistent about the need to simplify the sport here in the Power Rankings and this is an example where, surely, there could have been a better solution. There's already going to be an asterisk in the record books alongside the 2020 Australian Grand Prix Supercars event, so why not just add another one and save ourselves the confusion of what will now be four races that are counted.. but never actually happened..
2. NO FANS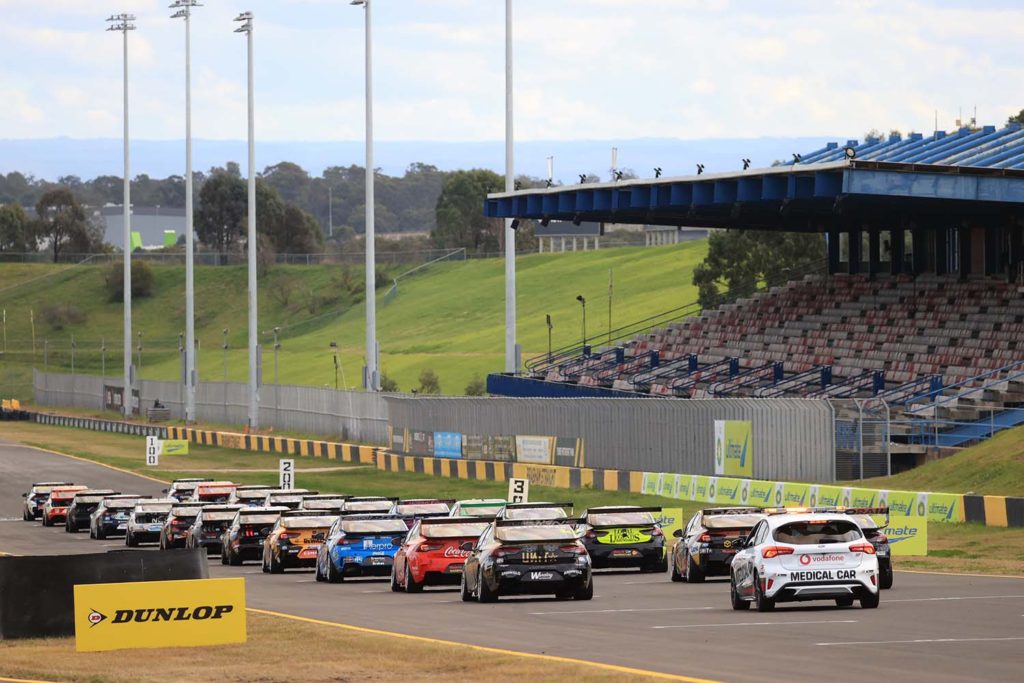 WE felt for the many Supercars fans who could not watch trackside at the weekend. Motorsport is different to the footy codes because when the racing is on, you generally do not notice that there aren't any punters in the stands.. But they are the heart and soul of our game and the sport missed having them there, so this is for them.
3. AERO WHINGING
NO DOUBT it is an issue. No doubt there needs to be less of it, but the whinging about aero amidst what was the most action-packed trio of Supercars races Sydney Motorsport Park has seen in a long time just felt like drivers having a whinge about something, because there wasn't anything else to whinge about. And of course, if it was too easy to pass, SVG would've breezed past McLaughlin in the first race and it would have been a bit of a non-event.
Not every weekend will have the same tyre conditions of Sydney and the aero definitely needs to be cut from the cars, of that there is no doubt. But right now, it appears Supercars technical department have gained aero parity between the cars after last year's issues, and that is the absolute number one thing that had to be fixed for this year. Aero cuts come later.
4. CAR 12 ISSUES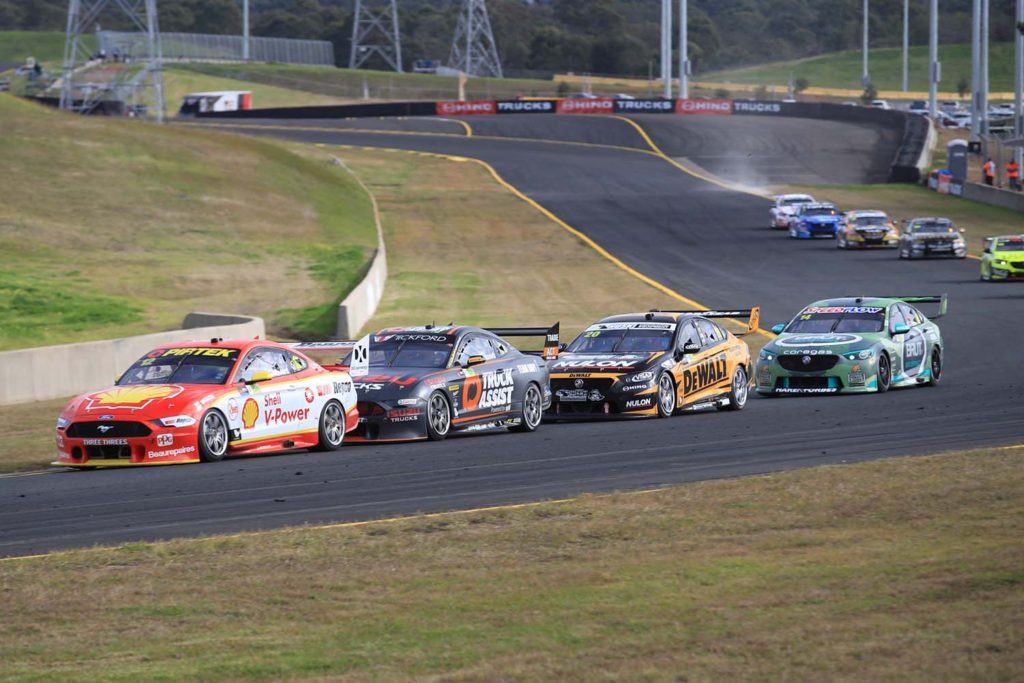 FABS, where you at, bro? Car 12 qualified 10th, 4th and 7th for the three races and scored finishes of 10th, 15th and a non-finish in a rough weekend that must have been character building. The rare mechanical DNF is one thing, but Fabian and his crew getting on top of their struggles on that side of the DJRTP garage is going to be a big story this year because right now, McLaughlin is fighting a lone hand against the pair of equally competitive Red Bulls. They've won before and need to do so again in a shorter season where every single race counts more.
5. MORE PIT LANE INFO
THE ONLY downside of a scaled-back, socially-distanced weekend of Supercars was a scaled-back presence in pit lane from a broadcast point of view. Of the few 'Not' items listed from the weekend, many who commented on our Power Rankings social posts listed this as their only real gripe.
Larko was great but there was only one of him and it would have been handy to have more info on the tyre situation throughout the races. Given the strategies involved, missing the extra pit lane voices calling through to let Crompo and Skaifey know if people had taken two tyres, three tyres or four would have added to the understanding of how the race unfolded.
6. NO WILL DAVO
SUCKED that the guy fourth in the championship coming into the weekend wasn't on the grid in Sydney. It's a tough game sometimes and money makes it all move – but it's still a tough break for Will Davison anyway.
7. MATT STONE RACING
REALLY challenging weekend after showing glimpses of real promise in Adelaide and in the abbreviated Grand Prix sessions.
8. TEAM SYDNEY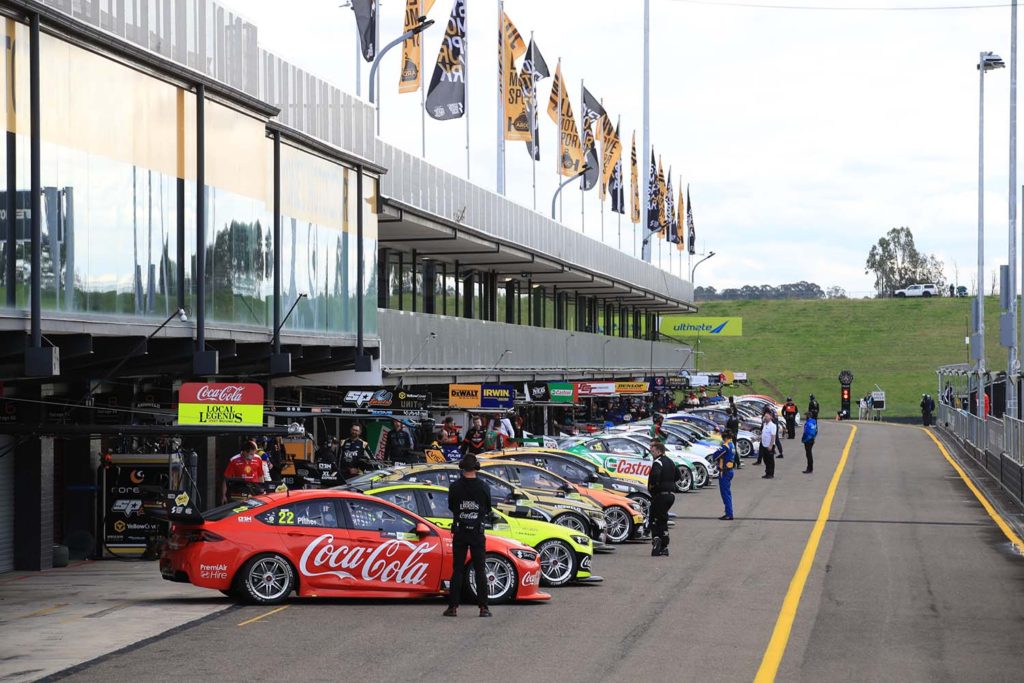 STRUGGLED all weekend with the only real upside being the fact that they have finally now moved to their Sydney base and that Chris Pither is an excellent interviewee. Alex Davison's DNF in Race 7 was concerning and how he ragged that thing to 17th in Race 8 is anyone's guess. Rough weekend for this team.
9. MISSING TEAM OWNERS
TOLD TO stay at home due to crewing restrictions in Sydney which in some instances is absolutely a good thing – it is easy for the focus to be on them rather than those actually driving the cars. But they are also good for banter, quotes and you have to feel for Brad Jones missing out on his team getting a W in person.
10.DALE RODGERS
YEP, we're throwing one of our own under the bus. This was arguably the most important weekend in Supercars recent history but while your hard-working TRT crew were glued to our couches, Dale was MIA. After circumspectly popping into our group chat on Monday to say he had little to offer the Power Rankings this week, we suspect he spent his weekend off checking the quality of the skiing conditions in the Victorian alps, or getting the butler to check the wine cellar for the 'better vintage' bottle of Grange. God only knows he was not watching Melbourne win any football games so that's not an excuse either.
TWEETS
LOLs
@Fox_Motorsport @FOXSportsAUS There are some serious "Between Two Ferns" vibes going on here for @Jessica_Yates and @Mark_Skaife #VASC

— 🇦🇺🐨Brett Whitehouse 🐨🇦🇺 (@bushwalkbrett) June 27, 2020
It's back!
How good is it to have racing back. #VASC #WalkAndUnite pic.twitter.com/YPgb4dXkr7

— Clairebear (@minimadclaire) June 27, 2020
Stats..
OUTSTANDING @NickPercat – I'm a @jamiewhincup fan, but to see a young bloke (on his 200th race) take it to and pass a lagend (on his 500th race) is just awesome… this @supercars weekend is outstanding! #VASC

— Trevor Long (@trevorlong) June 28, 2020
Bring It!
So, this tyre deg, under the lights, with the championship on the line in December, and (hopefully) fans in the stands…#VASC pic.twitter.com/Q3ZlRyvuJC

— Mitch Robinson (@MitchRobinson_) June 28, 2020
MEME
Popełniłem mema xD#VASC #F1PL #F1 pic.twitter.com/ml26uBGPDm

— Michal Turski (@MickTurski) June 28, 2020