THERE WAS never any real doubt that it would work – it's been done before, after all – but there will be little argument on this site that Sydney's second Supercars night race of the last few years was anything other than a complete success.
WORDS: Richard Craill IMAGES: Mark Horsburgh / Supercars
SATURDAY NIGHT'S first leg of the Truck Assist Sydney SuperSprint wasn't just a spectacular visual show, it was a fascinating motor race too.
But the lights were always going to be the big talking point given how important they are for the sport long-term.
The stark difference between the sections of circuit illuminated by some of the brand-new lighting towers, and areas around the back of Corporate Hill that still require temporary lighting, show how effective the new lights really are.
The high towers and powerful LED technology removes any of the grumbles night racing often creates, especially the TV related issues like head-on shots of blinding headlights and nothing else.
These lights are going to open a new chapter for the Western Sydney venue and tomorrow I shall immediately be beginning my campaign to ensure there is an S5000 race there at night next year.
If IndyCar can race at 380 km/hr on a banked superspeedway at night, I see no reason why our own big-banger open wheelers can't do the same at Sydney Motorsport Park. Anyway, I digress.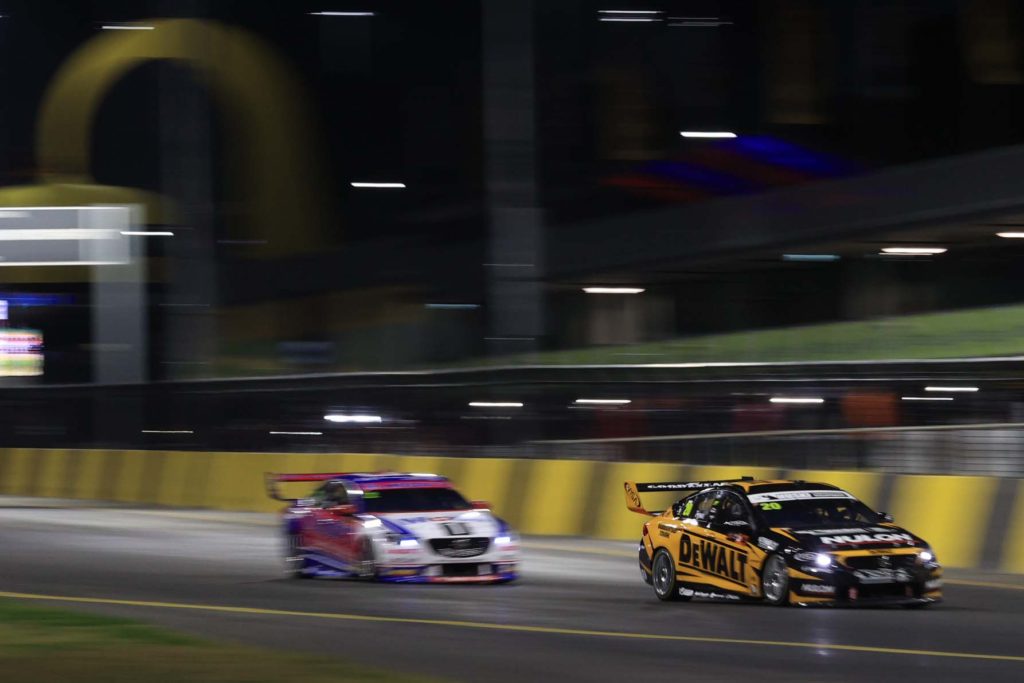 The ARDC, like most promoters, can a frustrating organisation but their work, along with the government backing, to light their entire facility is an enormous credit to them.
As for the race, it wasn't an all-out thriller last night but it was compelling as the various tyre strategies played themselves out.
I found it interesting that the cooler conditions seemed to catch people out as the soft tyre, when managed well, held on for a lot longer than perhaps people expected.
While Shane van Gisbergen's first stint was smooth and controlled, it seemed a tactical miscue from the works Holden squad when they left it until lap 19 to pit from the race lead. Four laps earlier the Kiwi had 50 seconds over McLaughlin – first on the road of those who had stopped – and the race looked like a battle between the pair: McLaughlin potentially struggling at the end as van Gisbergen charged home on good rubber.
As it was, that gap was less than 42 seconds when he ultimately pitted; meaning he came out 10 seconds behind the leader and bottled in behind Whincup, on Softs, for the run to the flag.
It just felt like they rolled the dice a little bit too far and paid for it; it seemed like Shane should have had enough track position thanks to his early efforts to at least be in the fight with McLaughlin at the flag, if not beat him.
Second for Lee Holdsworth saw the Truck Assist Mustang on the podium at the Truck Assist Sydney SuperSprint and Anton DePasquale got Erebus back to the podium for the first time since the Adelaide 500; but the concern for them will be that they spent two sets of soft tyres to not win the race.
Having said that, as others have noted all week it's impressive that the Melbourne teams, given what they've been through in the last two weeks, were as good as they were. Quality racing teams, all.
Meanwhile, McLaughlin ran the more conservative Soft / Hard strategy and drove a beautifully managed race to win well, if not entirely comfortably.
His opening stint on the hard tyre was maximised and then once Holdsworth had used the best of his soft tyres late in the race there was little chance the V-Power Mustang was going to be toppled.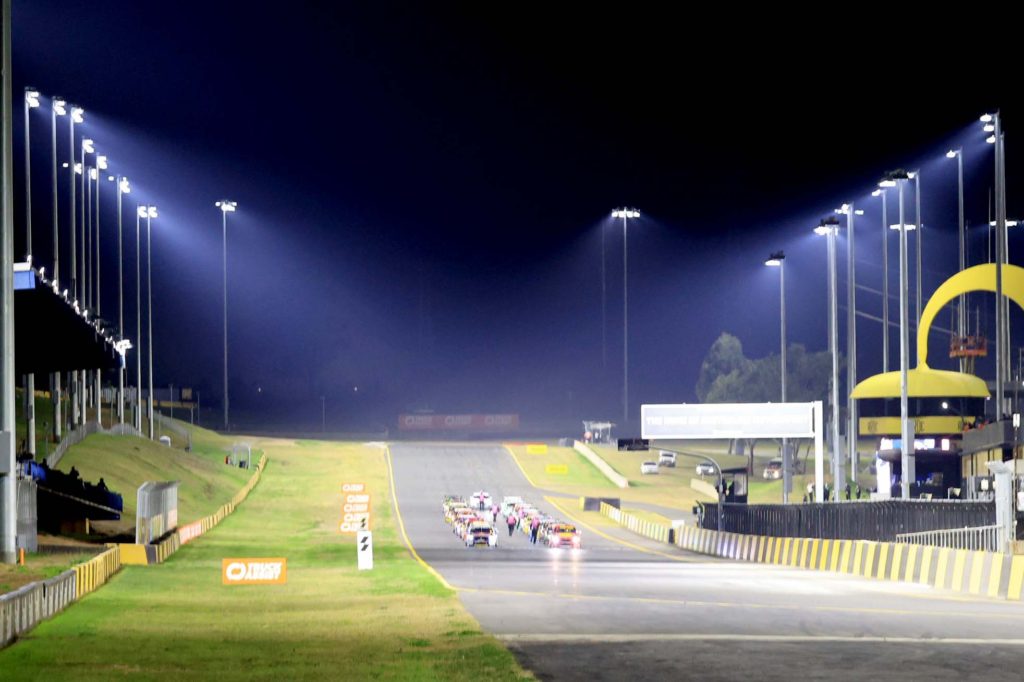 It means that tomorrow McLaughlin, already with a win to his credit this weekend, still has a set of green Soft tyres up his sleeve while Holdsworth and DePasquale most certainly don't.
I think perhaps the best thing of last night's race was that it put in place strategies that won't actually play out until late in the third race on Sunday afternoon.
The finite amount of tyres available mean that by the time they get to the final race, those who win will be those with the cleanest, dirty underwear available. (Thanks, Crompo.)
And I think that's great. Supercars had already done a good job reshuffling the rules to spice things up in this new and interesting world but adding in the mixed tyre strategies just adds to the layers.
It could run the risk of being overly complicated – there was something lovely about the fact that the last round was just simple, knock 'em out racing without worrying about who was on what tyre – but as long as it's explained well then I think it will pay off.
Which is why we'll watch tomorrow to see who has two sets of Softs up their sleeve and who might be able to spring a Nick Percat-style performance on the field – especially given the warmer daytime weather is likely to up the rate of degradation for those on the soft tyre, giving those with Hards an advantage at some point.
Certainly, if McLaughlin manages to win all three races this weekend then they may as well give him the championship now, because it will take the work of a magician to pull that off.
OTHER BITS
WE love what Brad Jones Racing are doing at the moment; they didn't have great car speed but once again they engineered solid results; Macauley Jones burned two sets of Softs but grabbed a very decent eighth while Nick Percat grabbed his fifth-straight top-10 finish of the season with ninth, and only used hard tyres. Could another win be coming his way today? Hazelwood was also racy, involved in the best battle of the night.
Tickford seem to be quietly creeping up on things as well; all four of their cars did something different on Sunday night which means they should have at least one bullet in the gun in every race this weekend; James Courtney's effort to go as long as he did on the hard tyre was particularly interesting learning for the team.
Finally, Chris Pither deserves a shout-out for making the shootout in his Coke Commodore. It was an outstanding performance in qualifying for a team that has been somewhat.. underwhelming this year. As he's proved before, however, when conditions are right, Crispy can do the job. Cudos.
Looking forward to tomorrow.