WHAT a stunning weekend in Sydney! Three different winners, eight different drivers on the podium and some wild racing – lots of candidates, then, to make TRT's Power Rankings powered by Yellow Cover.
WORDS: Richard Craill, Mark Walker, Dale Rodgers, Tony Schibeci + Secret contributors + Social Media
IMAGES: Mark Horsburgh / Supercars
SO MUCH action, so much to break down from a big weekend in Sydney. We had no shortages of options for the Hot & Not lists this weekend so it required some careful filtering by our team before we settled on the list you see before you.
And, as always, while there was lots of good we're not averse to highlighting some of the things that need improvement, too.
One thing that doesn't need improving, however, is the commitment to the sport from our Victorian friends: So that's where we begin with a special category for this round only.
SUPER EPIC HOT
VICTORIAN TEAMS
MUCH has been reported about the efforts of a memorable Monday a few weeks ago now, but there was no doubt this was going right to the top of the Power Rankings Hot list this round. An enormous commitment from a large group of people dedicated to keeping the show, quite literally, on the road.
A ticking clock, a closing border, a deadly virus, families torn apart… Monday July 6 may go down as the most extraordinary day in Supercars history. #VASC https://t.co/IBdhyLrN0e

— Motorsport.com (@Motorsport) July 17, 2020
This quality of racing is worth fighting for, worth moving states and armies of people. Well done @supercars. Quality #VASC

— Chad Neylon 🇦🇺 (@chadneylon) July 19, 2020
HOT
1. JACK LE BROCQ
IT has been a long and winding road for this impressive young bloke to make it to a Supercars seat that is a worthy use of his talent, god only knows his first team didn't allow him to showcase what many believed he had. And yet, a shift to Tickford and the right call on strategy at Sydney saw him wither an enormous amount of pressure from three other cars to record his first win. It's a great story, one of many out of the weekend, and further proof that if this current group of young drivers is what the future of our sport looks like then we're in pretty decent shape moving forward.
Jack Le Brocq records his first ever Supercars win 🔥 🏁

📺 Stream #VASC: https://t.co/UPl8xTuhUJ
📝 Live Blog: https://t.co/5hQCbgNq3W pic.twitter.com/UKUTSGF6Aa

— Fox Motorsport (@Fox_Motorsport) July 19, 2020
2. LIGHTS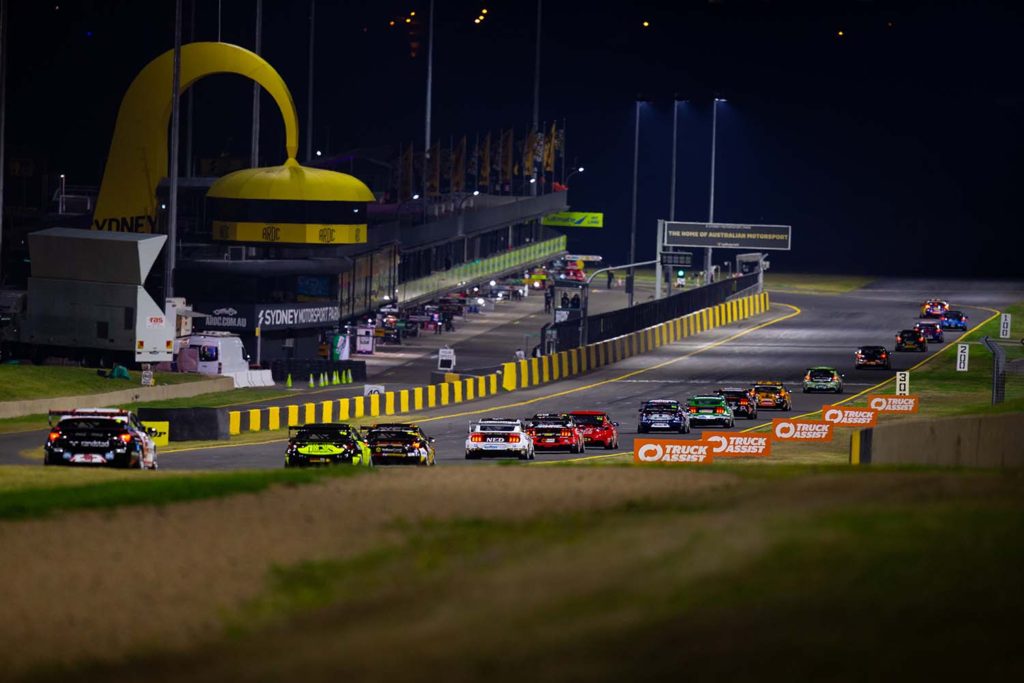 WE already covered off how impressive the lighting was here, but it had to make the rankings. Enormously important for the sport as a whole, and not just Supercars, moving forward. We're not sure many people thought they would be as vibrant as they turned out to be; the difference on TV between the stuff around the front of the circuit and the temporary setup at the back was as stark as the difference between – if you pardon the cliché – night and day.
@supercars How awesome do those lights look at Eastern Creek 👍👍 #VASC

— Christine McDonald (@Clubby_R8) July 18, 2020
They are bloody good. And permanent. So we will get the opportunity to see them in person soon enough. I yield to the lights.

— Ryan Story (@formularyan) July 18, 2020
3. THE DOCTOR IS IN!
ORDINARILY we woudn't put someone in the rankings just because they asked. The Power Rankings are designed to reward earned success and at the same time shine a light on areas of the sport that we think could do with some improvement.
However, not allowed at the track due to the crew limits, Shell V-Power Racing boss Ryan Story jumped on the Twitter machine and fired out some gold across Saturday and Sunday – offering banter, genuine insight and interaction with the fans that was an excellent addition to the weekend on social media.
And there was absolutely no bribery involved, at all..
FYI @Craillsy I'm going to tweet all weekend just to get on @theracetorque Power Rankings Hot list. It's been too long. 😂

— Ryan Story (@formularyan) July 18, 2020
4. SNOWBOARDS
THE Gold Coast Surfboards have become arguably the most iconic trophies in the sport, so we love that other events are innovating to do their own something special. Winton Raceway and Truck Assist's plan to present Snowboards to the winners of this year's Winton event was superb – and became even better when they were carried over to the Sydney event as a nod to those down in Benalla who missed out this year.
Why the snowboard trophies? 🤔 #VASC pic.twitter.com/ZEn1WOMJBR

— Supercars (@supercars) July 18, 2020
5. BRAD JONES RACING
HAS the Albury crew adapted to the new regulations and formats better than anyone in the paddock? It could be the case because once again they excelled on the weekend. Percat won again, of course, which was superb but more impressively the team got Macauley Jones into the top-10 in Race 10 and Jack Smith into the 10 in Race 11. Todd Hazelwood's charge to third in the final race was another highlight, meaning the team got two podiums, all four cars into the top-10 at some point and are only 200 points from the lead of the teams championship. Huge.
6. KELLY RACING REBOUND
THEY were not good on Saturday, but the way that Kelly Racing turned fortunes around for Sunday was hugely impressive. Sure, tyres helped, but this was a legitimate improvement in car performance and it was demonstrated by both Rick Kelly and Andre Heimgartner. One of the best stories of the year so far, Kelly Racing, and they continue to build towards a big result.
.@andreheimgartne secures his first @ARMORALLAus Pole Position 👏 #VASC pic.twitter.com/xJewHM4BM3

— Supercars (@supercars) July 19, 2020
7. MIXED TYRE RACING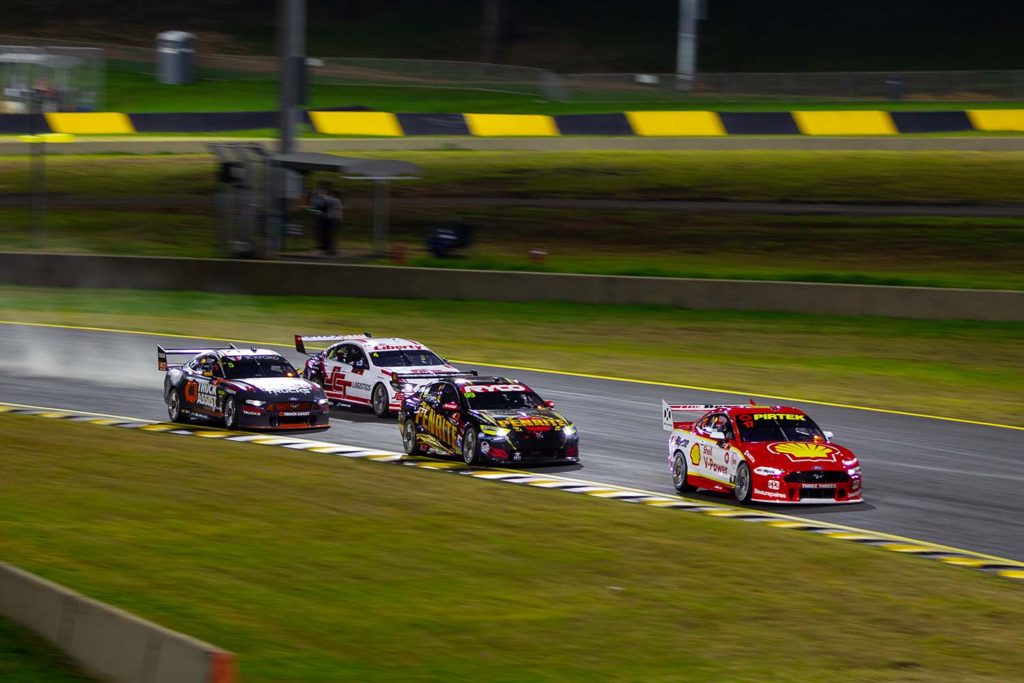 DID exactly what it was designed to do – threw up varied results, a host of different names at had a chance to run at the front and produced compelling racing across a weekend that built and built throughout. If Race 10 was quiet, Races 11 & 12 were ferocious with the fights for the podium spots at the end absolutely superb, edge of the seat stuff. If you were a new viewer tuning in for the first time we think you would have liked what you saw.
8. CLEAN RACING
WE'VE been back racing for six races now and there's not been one Safety Car which is a massively impressive, and surprising, thing. Rick Kelly said post-race on Sunday that he thought everyone had learned so much during the eSeries that it might have played a role. Others have suggested that it's a need to try and avoid damage and the costly repairs. Either way, the hard, wheel-to-wheel stuff seen in every race (turn one in all three races was incredible) is a credit to these very fine racing car drivers, and the race management from above.
9. MIXED RESULTS
IT was important for Supercars to mix up the order as best as possible when racing returned, ensuring all the sponsors, teams and drivers get the best possible chance to strut their stuff and get some exposure to help keep the doors open. In this respect, it's been an unqualified success: 8 different drivers stood on the podium, every team save one scored a top-10 finish in at least one race and a host of teams had a chance to run at or near the front.
The best part is, it's a level playing field for everyone; which means the best drivers and teams should still deliver – which is why you don't need to be a rocket scientist to work out who the only driver who scored more than one podium and got the most points overall was..
10. SUPER2/3 MIXED GRID
WHAT a good mixture this was. Super 2 has some talent at the front, but adding in the Super3 guys and girls just added to the product; Jay Robotham in particular mixing it up with the Super2 guys was a great story.
WHAT
SKAIFEY'S HAIR
WE know Skaifey stayed in Sydney between rounds.. did he have some work done? Is it just us, or has he gone a shade darker between rounds?
TANDERS BEARD?!
AN Anonymous tip-off alerted TRT that Garth Tander, subbed in to call Super2/3 with Aaron Noonan this weekend, has grown an iso-beard during Melbourne's recent lockdown. Our tipster suggested it's not great and should have been top of the 'Not' list, but pending imagery, we're happy to situate it here for the time being..
NO GARRY, NO!
Practice 1 is red flagged 🤨 #VASC pic.twitter.com/FCFSHM4ekf

— Supercars (@supercars) July 18, 2020
Bold aero strategy by Garry Jacobson's team there. Not sure they should stick with that. #vasc @supercars

— Ed Jackson (@edjacko) July 18, 2020
NOT
1. TRIPLE EIGHT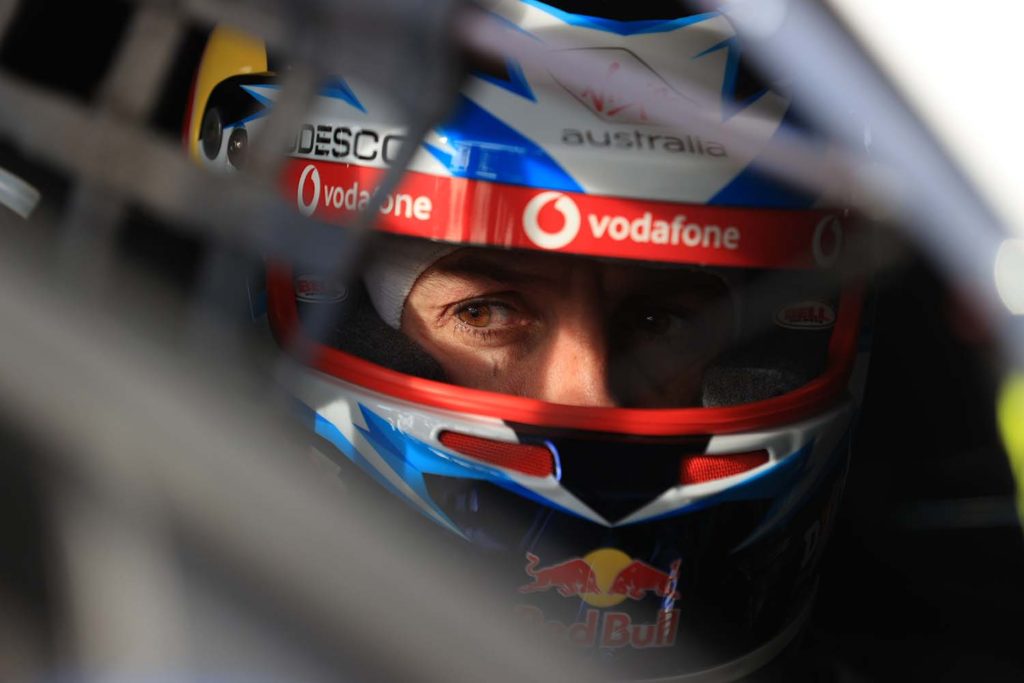 WELL. This is a rarity because these guys usually ooze 'Hot' every round, but they dropped the ball in Sydney on the weekend not once, but twice. We were all surprised when they ran van Gisbergen so long in Saturday's race, arguably costing them a podium as the soft tyre fell off the cliff, thus they gave up so much laptime they emerged on fresher rubber but well out of the podium mix. Surely, we thought, it was a one-time issue that they would learn from for Sunday? Turns out, it wasn't as they did almost exactly the same thing on Sunday, too, killing a second chance at a podium finish.
Red Bull cars qualified second for all three races, but failed to score one podium finish; BJR's best qualifying was third but they scored two podiums.. one of them a win. Some soul-searching for the Banyo Boys and Girls before Darwin, we think.
2. IS IT TOO COMPLICATED?
IF there was one major complaint of the format it wasn't so much the variability of the races, it was that explaining it all was very difficult – at least, explaining it clearly. Tyres dominated the talk across the commentary of every race and try as he might with the touch screen, even Larko struggled to simplify the tyre situation.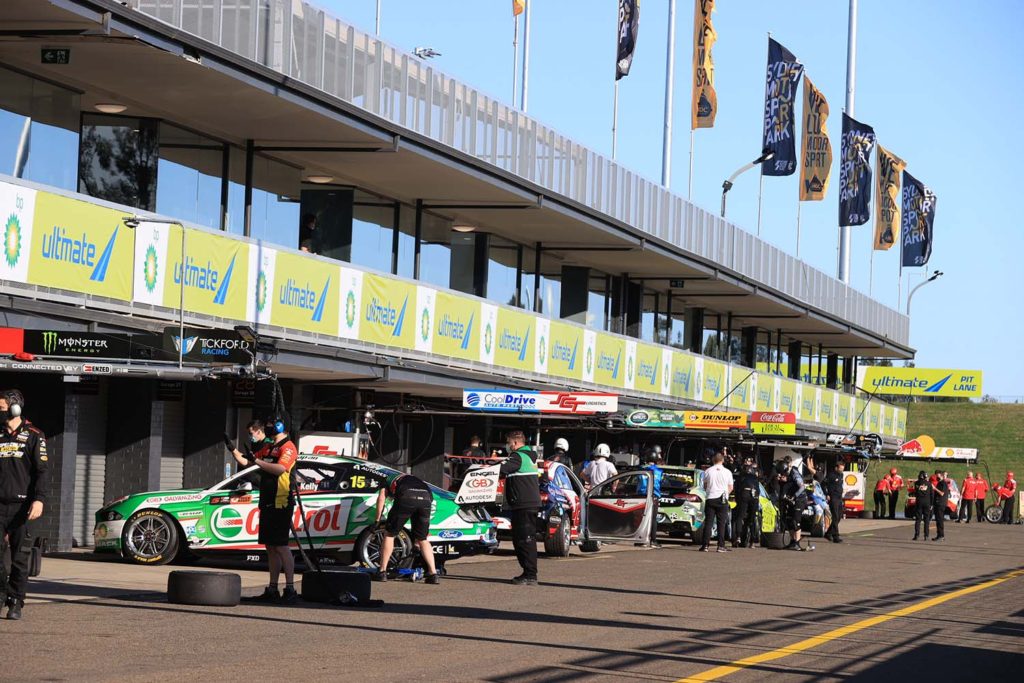 Finding a more simple way to explain who has what will be important if this format moves forward, so commentators can spend more time talking about the races rather than awkward chatter pondering about who has what rubber, and when.
3. COMPLAINING ABOUT MIXED TYRE RACING
THERE were a few notable names who had a bit of a whinge about the format on Sunday. Everyone is entitled to their opinion, of course, and we love it when people say what they think. But it was notable that the people complaining the most were the ones who didn't do a good enough job of managing the situation compared to some of their rivals. It's the same set of rules for everyone; who deals with it the best will be the ones who succeed.
Ask questions of the rules and formats, sure – safe in the knowledge that the series will review it before the next round (which is unlikely to feature such extreme degradation, anyway) – but the downbeat chat from some felt a bit counterproductive.
4. THE SHOOTOUT
FOR starters, the top-15 shootout just feels too long and it seems pointless taking two sessions to eliminate only nine cars.. there's just no jeopardy when someone highly unlikely to get pole anyway misses a top-15, whereas it always feels like a 10th placed car might just have a shot at improving significantly if things go well. Secondly, it is all a bit of a waste when the drivers are overly cautious given the tyre restrictions. The solution is simple: Give everyone a set of softs they have to hand back immediately following the shootout, so everyone has a crack and they don't eat in to their allocation.
5. WE HAD TO BREAK NEWS
Darwin's #VASC event page just quietly rolling out the fact that they're now hosting back-to-back rounds this August.

Week 1: August 8-9
Week 2: August 15-16

News hasn't seem to have broken elsewhere just yet.. pic.twitter.com/3QgbzPiZhf

— The Race Torque (@theracetorque) July 18, 2020
TRT is not a news breaking website. We do not want to be a news breaking website and have no intentions to be a news breaking website. However, when NT Major Events updated all their websites and social channels with the dates for their yet to be officially confirmed (but everyone knew anyway) second event – and no one else reported on it – we had to get it out and about.
Turns out that there was a release sent under embargo to media outlets; but we didn't get it.
Either add us to the embargo list, or make sure your Facebook page doesn't promote a yet-to-be-announced race before it's announced. #Sorry #NotSorry
My pregnant wife will be totally fine with me doing two weeks of quarantine in the NT and then spending another two weeks drinking beers and going racing, right? Right? #VASC https://t.co/TBTevclVJn

— Andrew van Leeuwen (@avlmelbourne) July 18, 2020
6. RANDLE RESTART RUMBLE
CONFUSING situation in the first Super2/3 race of the weekend as Randle went, then didn't go, then went on the restart. Fortunately the post-race penalty was overturned on further investigation, which is an excellent call by the powers that be.
Is that a yellow flag? Is this why @thomasrandle49 didn't go? #VASC #Super2 pic.twitter.com/ArJ9jXZi6e

— Chad Neylon 🇦🇺 (@chadneylon) July 18, 2020
7. TICKFORD TARGET REMAINS
Old habits die hard, it seems, when Chaz gets a Tickford car in his sights!
Bit of drama on the out lap 💥 @chazmozzie @JackLeBrocq #VASC pic.twitter.com/Hj3eVxYIjm

— Supercars (@supercars) July 19, 2020
8. NO SUPER 2/3 INTERVIEWS
MIA: SUPER 2 DRIVERS! It was a shame to see no winners interviews with the Super2/3 field across the weekend. We know there are ultra-strict restrictions around who can go where at the circuit, and that the TV crew are understaffed and without their usual cadre' of pit lane reporters and support-race experts on site – but it would have been great to hear from this next-gen of drivers who put on a pretty good show at some point.
Hey @Fox_Motorsport @supercars why did we not have any post race interviews or the podium shown after our @Super2Series race on Sunday? 🤔

— Thomas Randle (@thomasrandle49) July 20, 2020
9. THE STOP AREA & FANS
SYDNEY Motorsport Park welcomed back fans for the first time at the weekend and that was great to see. So we would have loved to see the stop area for the winners – at the very least, the final race – be held on the straight in front of the paying customers. They were locked into the grandstand all day with no access to the paddock – so it would have been a nice gesture to get the stars of the show close to them at least once, rather than being miles away down the end of pit lane.
TWEETS
SOME SUPER 2 + 3 BACKGROUND
Cross-class teammates & round winners Tom Randle & Jay Robotham have been roomies this last week. Apparently Jay's been getting Tom to ask his school teachers for extensions on his assignments haha. Now that's a teammate! 😂 #VASC

— Chad Neylon 🇦🇺 (@chadneylon) July 19, 2020
REPPIN' WOOLIES!
Only in Australia would you see a driver travel with a Woolies bag #VASC pic.twitter.com/sOdcQ9ds11

— SupercarsMaster (@SupercarsMaster) July 19, 2020
TOEY PADDOCK?
Anyone else watching @supercars notice Crompo's quick correction when he queried "Whose got a hard on… THEIR CAR" a minute ago? #VASC

— Phil Tann (@prymal81) July 19, 2020
Did jack smith just say 'shoot our soft tyre load' 😂😂😂😂😂 #VASC

— mark mark mk 2 (@theLOGICALman) July 19, 2020
MORE FROM THE DR.
Ryan, you are winning Twitter today! I don't know if I laughed so much in a #VASC Shootout before! 😂

— Fiona (@feefeespeaks) July 18, 2020
@Mark_Skaife in an outstanding @FordAustralia Mustang GT you can buy for less than $77k inc onroads. A sight for sore eyes. Remember he started out in a Ford Laser. He'll deny it, but there's some blue in his blood somewhere! 😂 #vasc

— Ryan Story (@formularyan) July 18, 2020
Barry Ryan is the Guenther Steiner of Supercars. He once told me what he thought of me and I didn't even have to ask him 😂. But he's built a really solid team at Erebus. Also Betty is a legend and one of my favourite people. #vasc

— Ryan Story (@formularyan) July 18, 2020
Apparently you don't get a Seniors Cards when you clock up 500 races 😂. Most blokes, even the best, lose a bit with age. Not Jamie. #vasc @theracetorque

— Ryan Story (@formularyan) July 18, 2020
I really rate Brodie Kostecki, Broc Feeney and Thomas Randle. Looking forward to seeing them race at Bathurst. Real racers. Broc had a run in one of our cars last year. He's the real deal. #vasc

— Ryan Story (@formularyan) July 18, 2020
And the @BJRsupercars stops are always good. They practice on a @FordAustralia Falcon which explains everything. That and Wally Storey of course.

— Ryan Story (@formularyan) July 19, 2020
SUNSETS
Unreal sunset here at @SydneyMSP during @Super2Series race!! #VASC pic.twitter.com/MVpwU8utxQ

— Stephen King (@stephenVking) July 18, 2020
Here's a couple of my snaps from yesterday but I haven't posted them on insta. Enjoy . pic.twitter.com/aWBYBqYOt0

— Kereen Hemphill (@LilRockstar007) July 18, 2020
MEME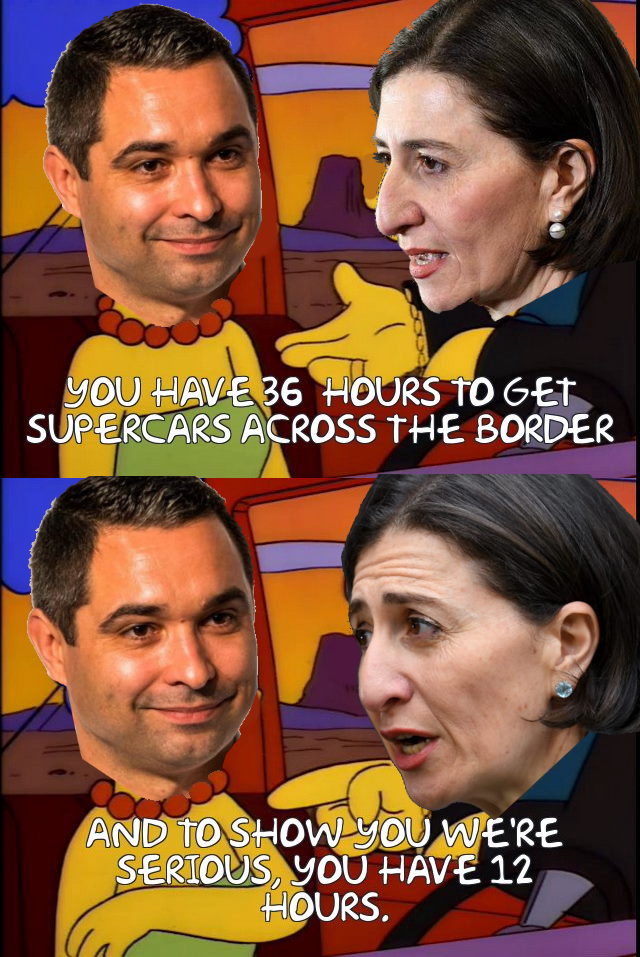 Postscript:
WHILE the good Doctor did deliver on some social media excellence across the weekend, he did also promise TRT's editor a drive of one of their DJR Ford Sierras if he made it on the list. We're not saying it was the deciding factor..
Look, it's a global pandemic, this thing takes hours to put together and times are tough – so we're not incorruptible.. To be honest, Mr. Story probably would've made it on if he promised us a carton of Coopers finest, let alone a skid in one of the world's most famous Touring Cars – but we're not exactly about to say no to that, are we? Sure it's a global pandemic, but we're not stupid.