QUEENSLAND RACEWAY: THE BUSINESS OF MOTORSPORT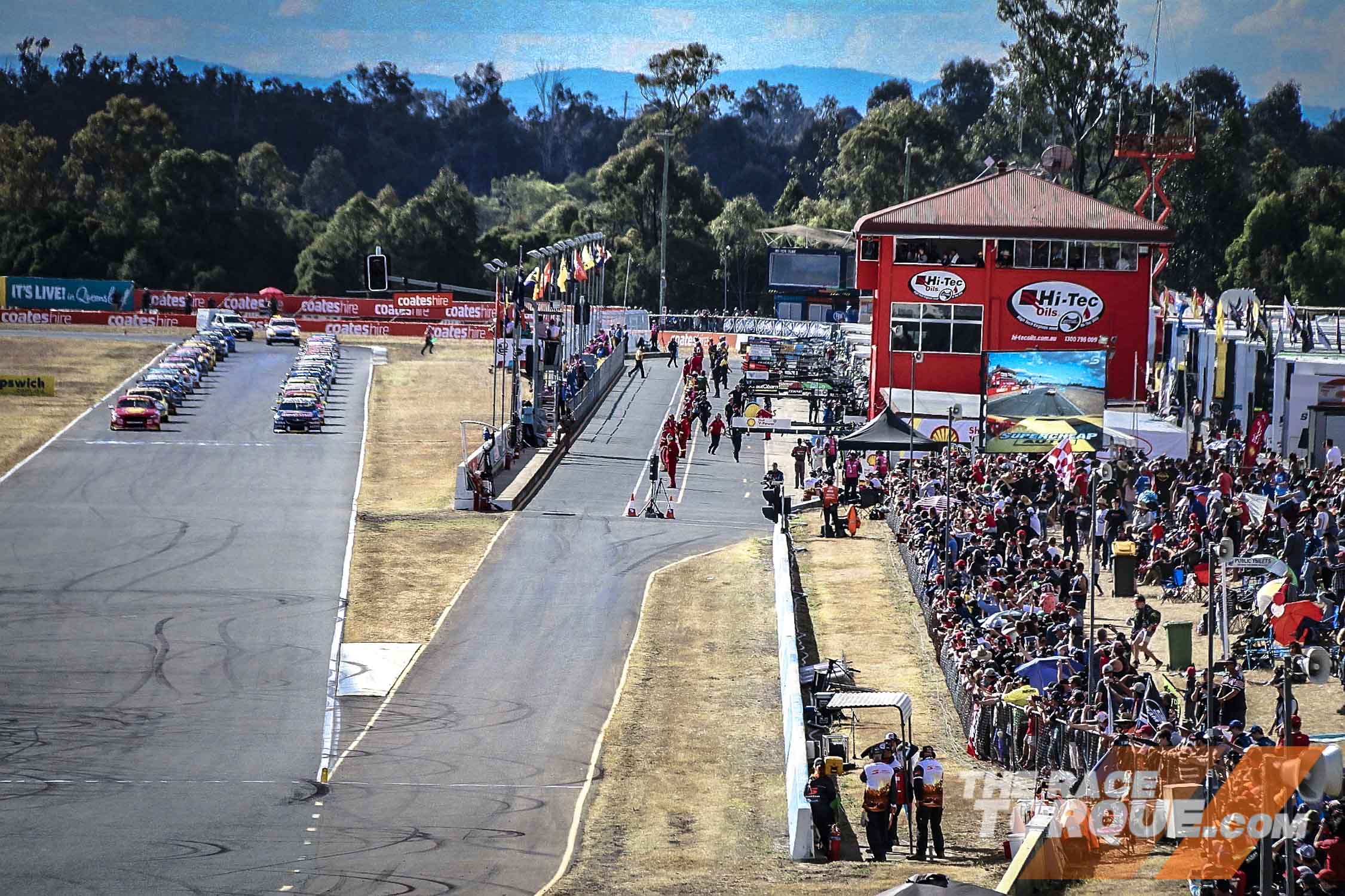 THERE has been a seismic shift in the way in which motorsport venues operate over the past 20 years, with the perfect point in case being Queensland Raceway.
WORDS & IMAGES: Mark Walker
In the year 2000, race tracks ran to a simple formula: race meetings and private testing, CAMS for four wheels, Motorcycling Australia for two wheels, with red letter events such as the V8 Supercars providing a major influx of cash you could trade off for the other 51 weekends of the year.
It was the tried and tested system, but what it lacked was the ability for an operator with entrepreneurial flair to innovate.
Enter John Tetley, a lifelong participant in various forms of the sport, who by the late-1990s had retired from the business world, and was content blasting around circuits every few weekends in his Swift Formula Ford.
With Queensland Raceway on the drawing boards, Life Members and other backers were invited to be a part of the founding of the first new race track in the state for a generation, with Tetley investing in the garage blocks that now fill the paddock.
That original iteration of QR fell into receivership following the 1999 Queensland 500, only the second major event at the venue, with Tetley leading a consortium of five investors who took over the lease of the facility in April 2000.
By 2004, Tetley had bought out the other members of the syndicate, but by that stage, the agenda had already shifted to looking outside of the box.
Following a meeting with circuit owners from around the country, in 2002 the Australian Auto Sport Alliance was formed by Tetley in conjunction with Mick Ronke from Winton Raceway, as an alternative to the prevalent CAMS governing body.
In 2009 though, Tetley had moved to start his own bespoke "governing body", encompassing all motorised recreational activities, thus RACERS was born.
"The Ronke's went off one way, and they wanted to basically compete with CAMS on a one-for-one basis, and I said no, I didn't invest in getting AASA going to do that, what we want to do is open up new incremental markets, and to some extent Mick (Ronke) did do that, but nothing like what we did," said Tetley.
"We basically said, anyone who has a car has got to be treated like they were a customer, and if we can get one percent of two million drivers (in the local area) to come to our track, we would have 20,000 people a year, and we would have the biggest motorsport business in Australia!
"RACERS today I think we have 4,800 annual clubman license holders, about 8,000 event license holders, and then about 300 race licenses.
"AASA would have numbers about the same, maybe a little more because they are in a more populous state, and if you put these two together, they would be as big, if not bigger than CAMS."
Catering to every form of lower level car and bike activity, the move has seen the calendar fill with events angled at the enthusiast end of the market, rather than traditional racing.
"If I remember correctly, before COVID hit us, we were scheduled to deliver 280 events this year across the two tracks (Queensland Raceway and the company operated Lakeside Park), of which maybe 16 were race meetings, which gives you an idea of the relative busyness from the different groups," continued Tetley.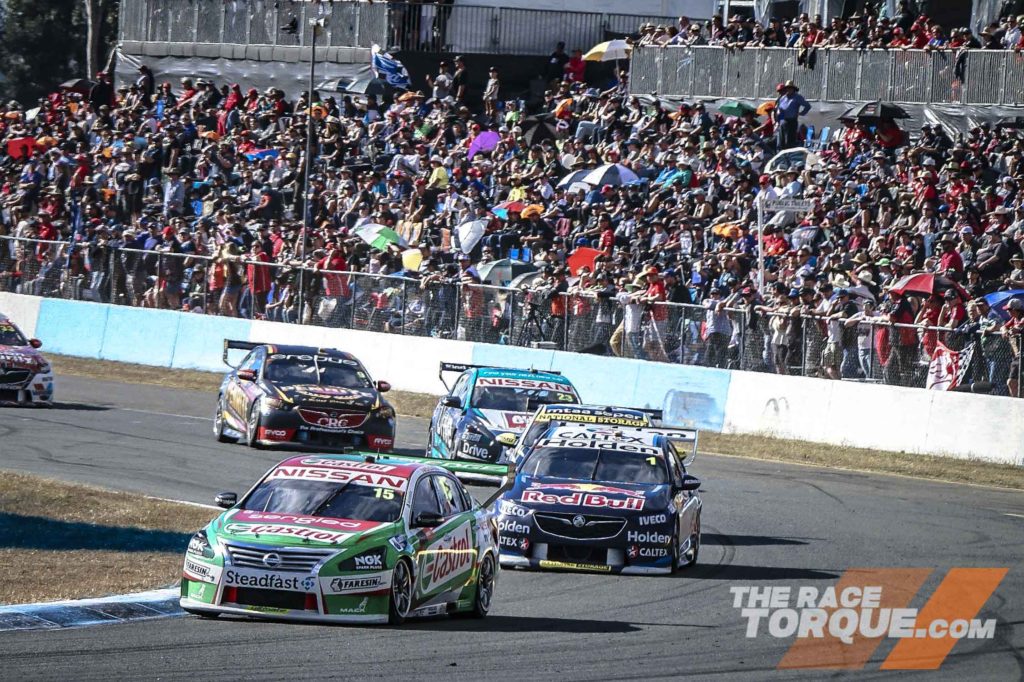 The other major change to the traditional pecking order was the annual Supercars visit, with the Queensland Raceway round shifting early in the scheme of things to be promoted in-house by Supercars.
With the last CAMS event to run at the venue being the Shannons Nationals in 2019, the likelihood of further Motorsports Australia events on the schedule currently look slim.
"(V8 Supercars) diminished and they diminished in our business until by 2009, they had become an overhead rather than an asset," said Tetley.
"So in 2010, Supercars started running the event, and in that financial year of 2011, our top line was down by about a million dollars, and our bottom line was up by over $100,000. That tells you the story, doesn't it?
"We don't have any issue with Supercars, I do have an issue with CAMS, because even though we spent $40,000 proving the COTA Barrier is the way to go, and would have saved a life or two, they still won't look at it.
"So we really are uncomfortable nowadays with the CAMS safety requirements, we don't think they are good enough anymore."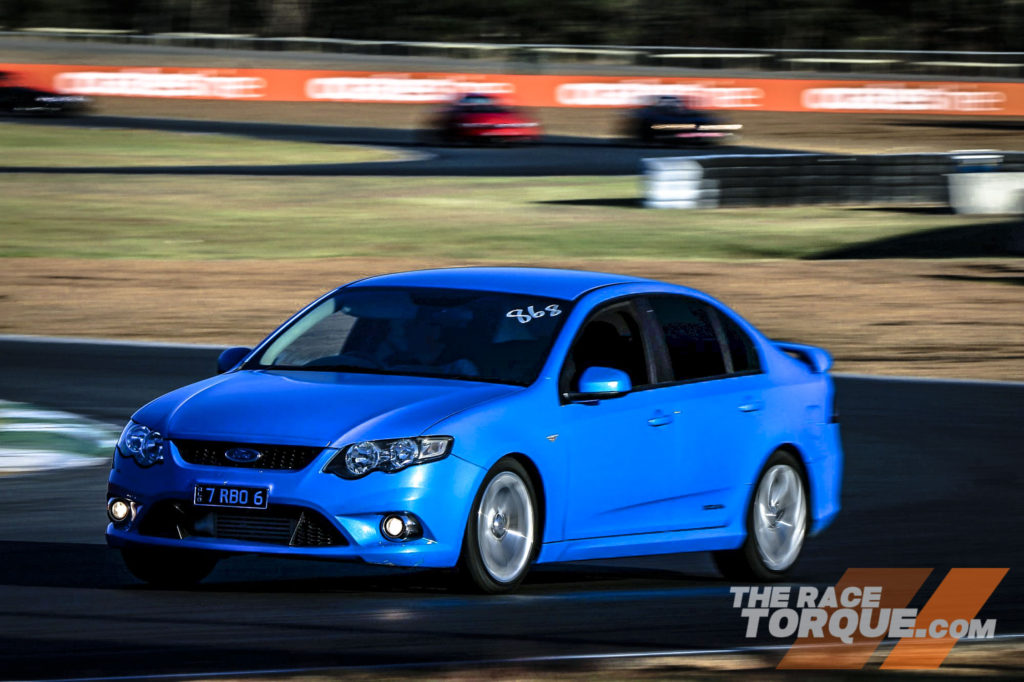 The Enthusiast Focus
The shift to focus on enthusiasts follows two decades of carefully understanding the customer base, which has seen a formula that takes the emphasis off competition.
People don't like to lose, but they do like to use their machines in wildly different manners.
For instance, it would be easy to host a point scored championship for drifting, but bigger entries have been found with regular non-competitive events, which still draw a sizable crowd through the gate.
Between the two facilities, a range of theme days have found their niche, for instance an All American Independence Day, an All Asian Day, All Aussie Days, Euro Day, Chrome Bar Bonanzas, and Mopar Mayhem.
All offer differing activities that suit the style of machinery featured.
Alternate headline acts such as Powecruise and Drift Matsuri draw a massive following, while regular programs such as motorcycle ride days, Friday Night Drift, Roll Racing, burnouts, and off street drag racing ensure the complete motoring spectrum is featured.
Other major product lines include "Happy Laps", where visitors drive around the track in their road cars, sensibly to road rules, for short periods and low cost, typically early on weekend mornings, while QR is the home of the V8 Race Experience business.
"If we had not set up RACERS, to be able to do this, and insure these events, they just wouldn't exist. It gives us the flexibility that we could never have had with CAMS," said Tetley.
Keeping things affordable is a common thread for activities aimed at the lower end of the market.
A point in case is the Hyundai Excel Series, which has blossomed into hundreds of cars around the country, with Tetley joining with Jeff Oldham to create the concept in 2010.
"We put that whole thing together and developed it, and I'm still proud to say that we went from nobody in an Excel in the beginning of January, and by the third week of April, I think we had 38 people," said Tetley.
"And the model was simple, it's got to be under $2,500 to be on the track, and you've got to be able to do it for less money than it costs to smoke, and that was how we started Excels.
"It's time we did it again I think."
Another key for the two raceways is utilising every part of the facility, such as the driver training area at Lakeside, which outside of its intended use is also pressed into service for sprints, go karts, mini and pocket bikes, and for a time, rallycross.
Lights meanwhile at QR give flexibility in scheduling, which will regularly see either facility run three or more different activities on any given day.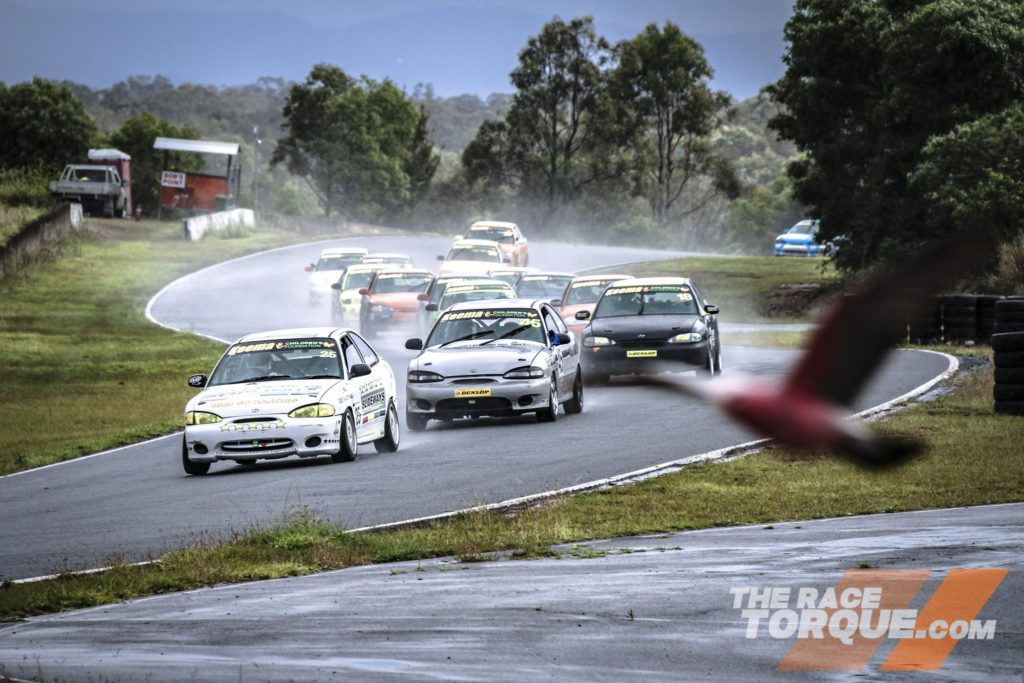 Outside of the Queensland Universe, and Taking it to the Streets
While the AMRS is scheduled to run under AASA sanctioning at Queensland Raceway this year, the RACERS system has already branched out its services nationally, with events run for cars and bikes in most states.
Outside of permanent facilities, RACERS have also provided their services to temporary street events, such as the Oakey Sprints since 2015, and also the Noosa Hillclimb, with Tetley a driving force behind a revival of the Festival of Speed on Tweed.
"I'm trying to get two things going there, one is Speed on Tweed, and other is Muscle at Murwillumbah," said Tetley.
"So the Muscle at Murwillumbah is more of your average street sprint, industrial type meeting, like an Oakey or the other similar events, that's the intention for that one.
"By having the two events, it just makes it all the more economical to run Speed on Tweed.
"Speed on Tweed, you have all of those streets that you have to divide in half, it needs better than 1.5km of COTA barrier.
"If we can make half of that for Muscle at Murwillumbah, and use it at both venues, then that has to be a good thing.
While the RACERS style of race event might not necessarily be everyone's cup of tea, especially to those who are used to competing within the Motorsport Australia framework, it somewhat misses the point of the shift away from the traditional operating model for the venues.
"As a racer myself in the 90s, one of the things that got me is that you always felt locked in; if you had a Chev, you were a member of the Chevrolet club, and you only ever did the things the Chev club wanted to do," said Tetley.
"If you had a HSV, you would have to join the HSV club and so on… those were the barriers I was really looking to knock down with RACERS."