POWER RANKINGS: THE HOT & NOT FROM HIDDEN VALLEY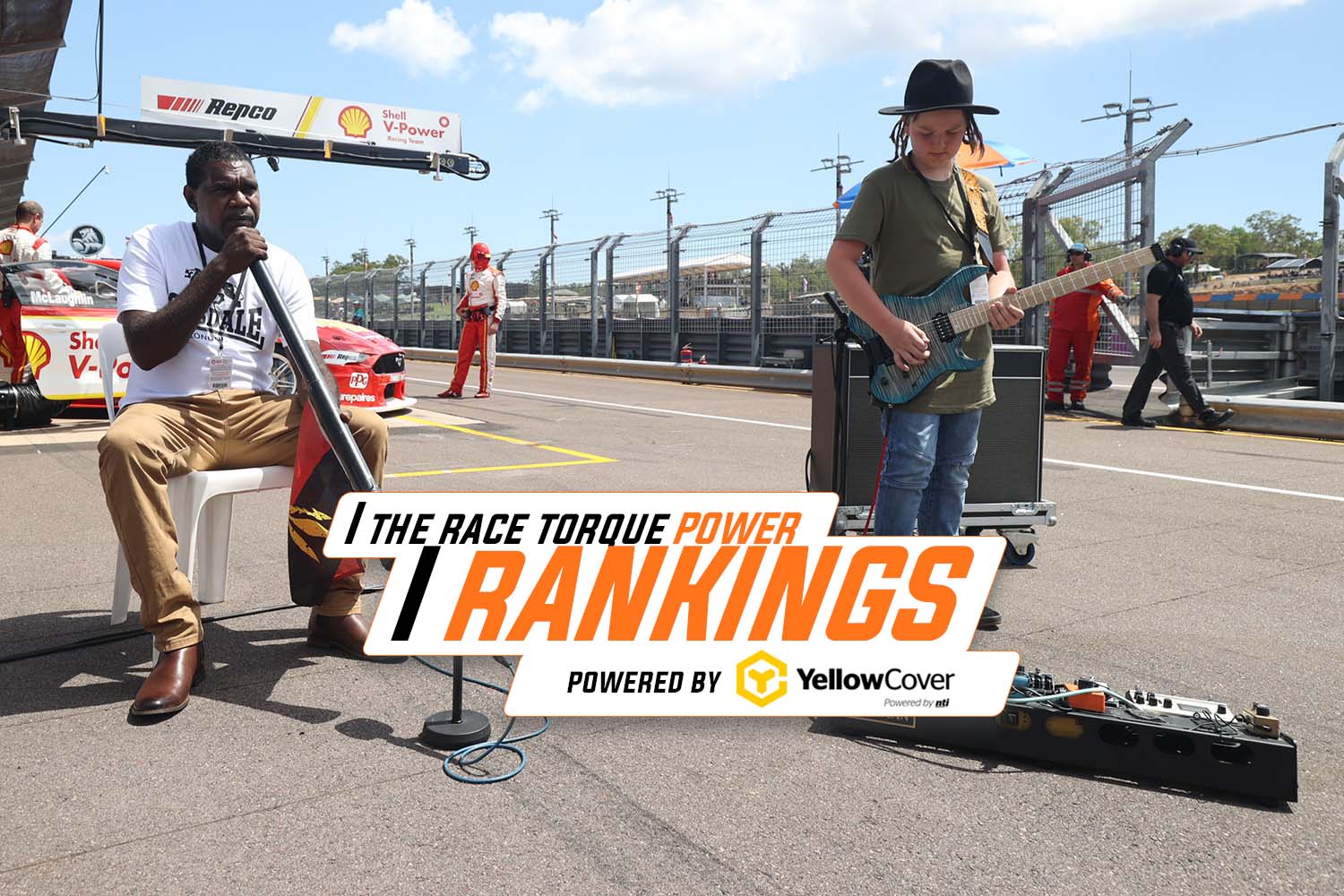 HIDDEN VALLEY: Brilliant one day, Brillianter the next. The Supercars slightly delayed top-end return delivered plenty to talk about, but as always with Darwin it was the oddball that got people talking.. take, for instance, the National Anthem..
WORDS: Richard Craill, Mark Walker, Dale Rodgers, Tony Schibeci + Top Secret contributors + TRT Socials
IMAGES: Mark Horsburgh / Supercars
SO the dynamic duo belting out the anthem as cars rolled was absolutely a highlight, but there was plenty to love on track, too – and lots that needed the unrelenting bastion of truth and honesty that are the TRT Power Rankings, Powered by Yellow Cover.
HOT
1. THE PERSISTENCE OF THE CIRCUS TO KEEP GOING
THEY'RE six weeks on the road with the potential of two months more to come, but the Supercars circus continues to roll onwards, and if you didn't know what was going on in the world, you'd never know it was operating under those circumstances.
2. THE GOAT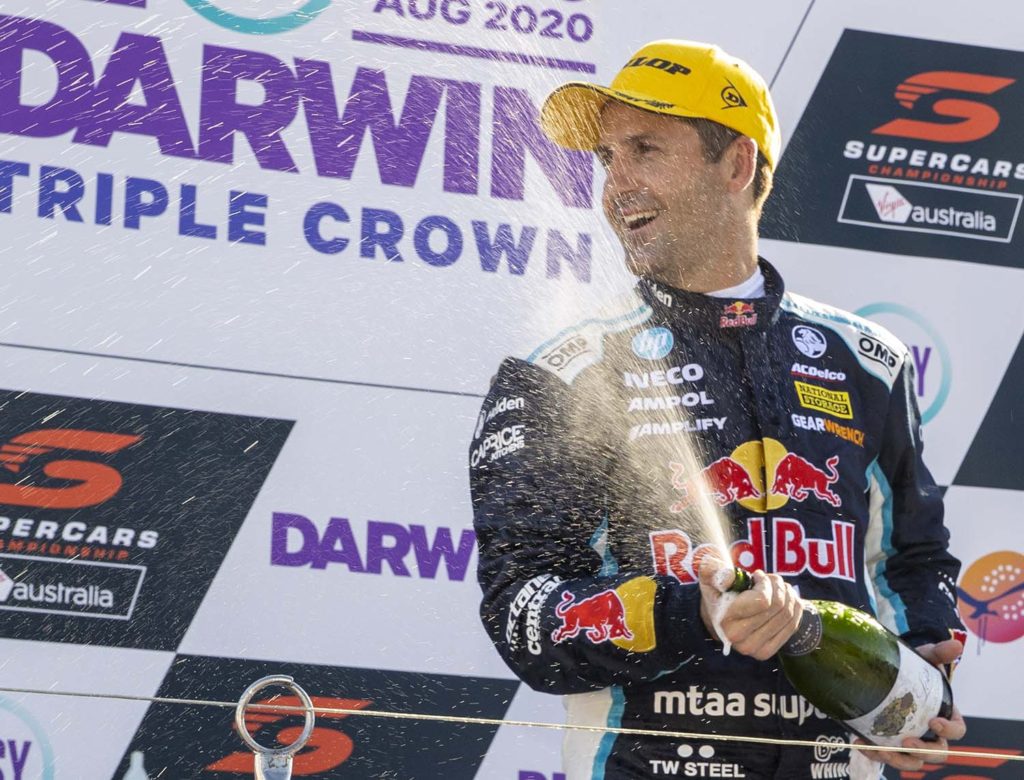 WHAT a way to rebound from a pretty dirty Saturday.. though he gets bonus points for being on the tools to help mend his mistake. Masterful on Sunday (despite pit lane issue – read on) and to withstand McLaughlin in the final race shows that the GOAT still has it whilst also being a team co-owner and a Supercars commissioner. His tally is not going to stop at 120 race wins, and if he continues to do what he did on Sunday, there is a good chance he won't end at seven titles, either. Still. Got. It.
3. ANTON, ATTABOY
IT has been a long time coming for one of Supercars anointed 'next generation' superstars but Anton earned his first win in the championship on Saturday afternoon, continuing Erebus' strong top-end form in the process, and giving the expanding 2020 winners list a new name. Well earned, well driven.
4. ANTHEM
NOT much more to say other than this is the new benchmark of any anthem, ever.
National Anthem 10/10 ? #VASC pic.twitter.com/NOZGrcWFxF

— Supercars (@supercars) August 16, 2020
5. LEX KELLY + KELLY RACING + TODD KELLY
RICK KELLY'S lad is the new media darling of the paddock. Give the kid a Mic at the next round.
'Got myself a whopper!' ?

Anyone else jealous of Rick Kelly and Lex's road trip? | @NT_Australia #VASC pic.twitter.com/et0P2YPLM1

— Supercars (@supercars) August 18, 2020
Lex Kelly is the highlight of the weekend. #VASC

— Mark Walker (@markwa1ker) August 16, 2020
Meanwhile, Kelly Racing have been by far and away the best team when it comes to documenting the trials and tribulations of their 2020 season. The content, YouTube in particular, has been outstanding and will surely poll well in the annual Supercars Media awards later this year. For all the TV he's done, Todd Kelly could userp Crompton to win broadcaster of the year!
TK on the tools, assembling our race engines for this weekend!
VIDEO: https://t.co/cCO3k7JAp0#VASC pic.twitter.com/cu5RqsLHLs

— Kelly Racing (@KellyRacingAus) August 14, 2020
6. APPLICATION OF PENALTIES
RACE 13 offered up plenty of drama and plenty of penalties, but Craig Baird and the Race Director, James Taylor, and the officiating team, were thoughtful in their application of the penalties dished out, didn't rush to do it and yet managed to – in our opinion – nail them all. Well played race control.
7. QUALIFYING, McLAUGHLIN
POLE by three-tenths in a 66 second lap is like being on pole by a second at Mount Panorama. Ridiculous.
WHAT A LAP ?? #VASC pic.twitter.com/om1mfLbkKP

— Supercars (@supercars) August 16, 2020
8. TEAM 18: FIRST PODIUM, INCLUDING ESERIES
SCOTTY PYE grabbed a top three finish on Saturday which was the first for the Charlie Schwerkholt-owned team, including in the Supercars Eseries! Winterbottom showed genuine pace throughout the weekend, too, and continues to look threatening for a podium finish.
9. HIDDEN VALLEY + FANS BACK
THE TOP END has one of the best permanent facilities on the schedule and the improvements continue; was good to see the Turn 10 wall that both BJR cars found last year tuned up this year. Place looked a treat on TV, nice and green, well manicured and racy as always.
Although restricted in numbers it was great to see people lining the fences, flags flying, having a frothy and enjoying the action. The next three rounds will have this atmosphere and the drivers will no doubt enjoy performing to crowds again.
10. SUPERCARS MEDIA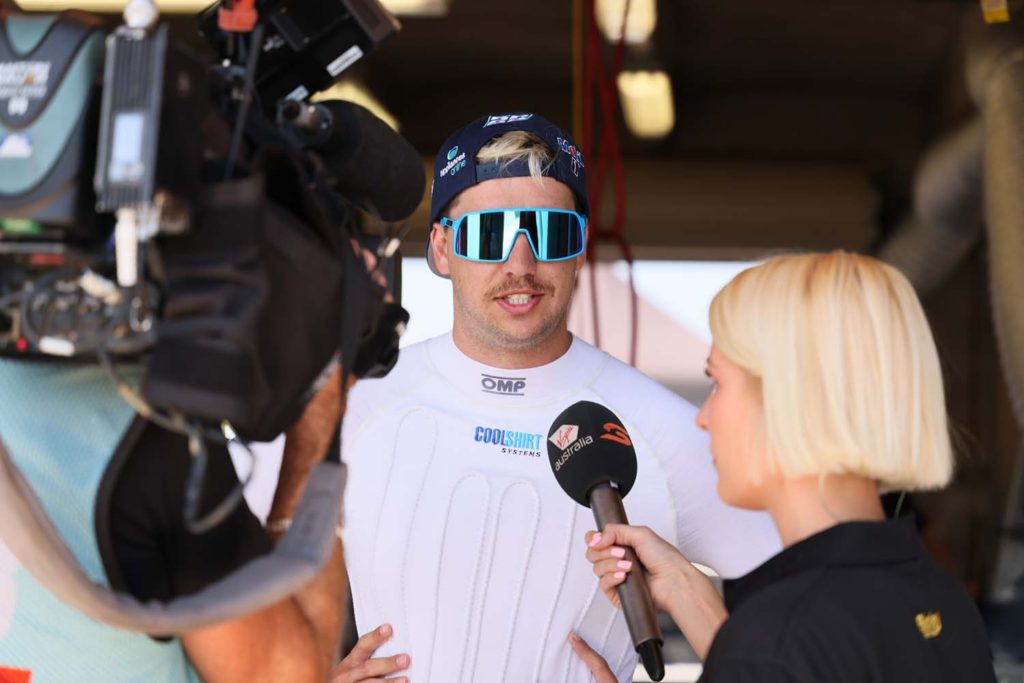 YOU WOULDN'T know, listening to the commentary, that Crompton & Co weren't at the track, would you. And did you notice during the Sydney-based studio segments the subtle sound of the pit lane atmosphere was still in the background? It was also nice to have the pit lane back in the mix, with Andy Jones doing an outstanding job in joining regulars Riana and Larko on the pit lane beat.
11. BONUS HOT
FOUR WEEKS OF POWER RANKINGS, Folks! And Supercars. Four weeks of them, too. But mainly Power Rankings (Powered by Yellow Cover).
WHAT
WHINCUP REJOIN PENALTY OR NON PENALTY?
SEEMS like the rulebook could need a tune-up here. Whincup wasn't penalised for his Race 15 pit lane contact with Coulthard because the later wasn't wholly in the fast lane at the time.
So, by the letter of the rules, the lack of a penalty was a correct decision. But in this instance, it feels like the rule itself is the error here.. it should not matter if someone is wholly in the fast lane or not – car to car contact at any point in the pit lane could have severe ramifications. Bairdo was right in his judgement, but this rule needs a tune-up.
The question is.. how much contact in the pit lane is too much? @supercarschampionship ??‍♂️ pic.twitter.com/IYyg1ZgMjc

— Fabian Coulthard (@FabianCoulthard) August 16, 2020
RADIO SILENCE
Ryan, where for art thou, Ryan?
Speaking of such rankings, I am missing @formularyan tweeting this weekend https://t.co/adjXtkJ2vV

— Trent Conheady (@TrentConheady) August 16, 2020
SKAIFEY'S NOSE-O-METRE
This would have been No. 1 on the HOT if we had space.
Had pleasure watchin Skaifys "nose – o – meter"#VASC #FoxSports pic.twitter.com/TaDL0G9oCD

— Tribs (@BTribs) August 16, 2020
NOT
1. BRAD JONES RACING'S SATURDAY
HORRIBLE. Expensive. Damaging.. BJR have made this list in the last two rounds for great reasons, but made it for the bad ones this time around. As if it wasn't enough that when Nick got hit by Shane van Gisbergen, he in turn hit a hapless Hazelwood: later, Macca Jones fenced himself at the exactly same point of the road.
On the upside, Jack Smith actually had a very good round.. small victories and all that.
Were underway for Race 13 and the @BJRsupercars teammates have rubbed panels! #VASC pic.twitter.com/FhQyCnTfNY

— Supercars (@supercars) August 15, 2020
A bad day becomes a worse day fro Brad Jones… #VASC pic.twitter.com/KSFgK8qydt

— Supercars (@supercars) August 15, 2020
2. TIME CERTAIN
WE HAVE said it before and we'll say it again. We know why it has to exist. But we still don't like it.
Time certain can EAD #VASC

— Josh White (@whitie007) August 15, 2020
No support categories, putting in unnecessarily long qualifying sessions jus to fill time and we get a time certain race ? #VASC

— Motorsport Matty (@motorsportmatty) August 15, 2020
Time certain? Booooo #vasc pic.twitter.com/WtxM2idZEo

— George Gutierrez (@georgegutierre_) August 15, 2020
3. SUPER-EXTENDED QUALIFYING FORMAT ON SATURDAY
IT JUST feels like a lot of qualifying for no great reason. Eliminating four cars and then five apiece in order to set a top fifteen is a bit meh, especially when you compare it to the manic, intense and furious twin, 10-minute sessions on Sunday. If you have to have a Top 15 shootout, have a 10-minute dash to get people in, and then watch 15th position change hands 10 times after the checkered flag… that will be worth watching.
4. ALL THESE INCIDENTS:
JAMIE FENCING HIMSELF IN PRACTICE
OWNED it afterwards, but another pressure cooker moment for the best ever.
Now that is strange ?

A huge off for @jamiewhincup in Practice 2! #VASC pic.twitter.com/ELWTBHpvdG

— Supercars (@supercars) August 15, 2020
ALSO COURTNEY FENCING HIMSELF IN PRACTICE
ON THE other hand, he did come back to finish on the podium..
Chequered flag for Practice 2 and Courtney is off! ? #VASC pic.twitter.com/7SXSUKhhan

— Supercars (@supercars) August 15, 2020
17's RESTART WOES R1
AGAIN, Scotty owned this when asked post-race, but another odd miscue on an odd Saturday indeed.
We're back underway in the Top End! #VASC pic.twitter.com/roZQNarncc

— Supercars (@supercars) August 15, 2020
R1 DOG'S BREAKFAST
Carnage. No other word for it ? #VASC pic.twitter.com/9vhbBbzpMB

— Supercars (@supercars) August 15, 2020
5. RACE 1 PENALTIES
WE'RE NOT contradicting ourselves here, we genuinely think it was officiated well. But clearly the four weeks off (without an Eseries in between to keep people sharp) was a week too long for some people on Saturday..
YOU GET A PENALTY! YOU GET A PENALTY! YOU GET A PENALTY! #vasc #supercars #darwin pic.twitter.com/JtA4WbXdpb

— Kate Murray (Black Lives Matter) (@kateemma22) August 15, 2020
Penalties in this #DarwinTripleCrown first #vasc race pic.twitter.com/fSztvheAjG

— Glenn Webster (@au_glenn) August 15, 2020
Roll up, roll up, come get your penalty…… Penalties galore! #VASC

— Stefan Jowett (@stefj1973) August 15, 2020
Who's gonna get penalised next?! #vasc #supercars #darwin pic.twitter.com/JtUWWUm22t

— Kate Murray (Black Lives Matter) (@kateemma22) August 15, 2020
6. TRIPLE EIGHT IN RACE 13
WHAT was going on with the Red Bulls on Saturday? Sure, they redeemed themselves on Sunday (Well, the GOAT did, anyway) but this was a totally offbeat effort from this team. Whincup crashes, Pit lane error, SVG fences Percat.. what an odd day indeed.
?? #VASC pic.twitter.com/chfPwUvkcH

— Supercars (@supercars) August 15, 2020
7. FABS R14 ERROR
YOU could almost hear the collective sigh when Fabian, in sight of a win or at least a narrow second to his teammate, fired it off the road in Race 14.
Brake fabe #VASC

— disgraced wellness blogger (@DrYobbo) August 16, 2020
.@DJRTeamPenske ? #VASC pic.twitter.com/7YIYqH83YG

— Supercars (@supercars) August 16, 2020
8. PODIUM NON-EVENT
FOR THE second event in a row the sport had paying customers on the hill (much more of them this time around) and yet the post-event podium is down at pit exit.. and is then blocked off from anyone's view on the hill by the podium truck itself! With no supports nor time issues on Sunday, why not stop the cars on the straight and let the Darwin fans celebrate with the drivers – and the drivers thank the fans for coming out and watching them race.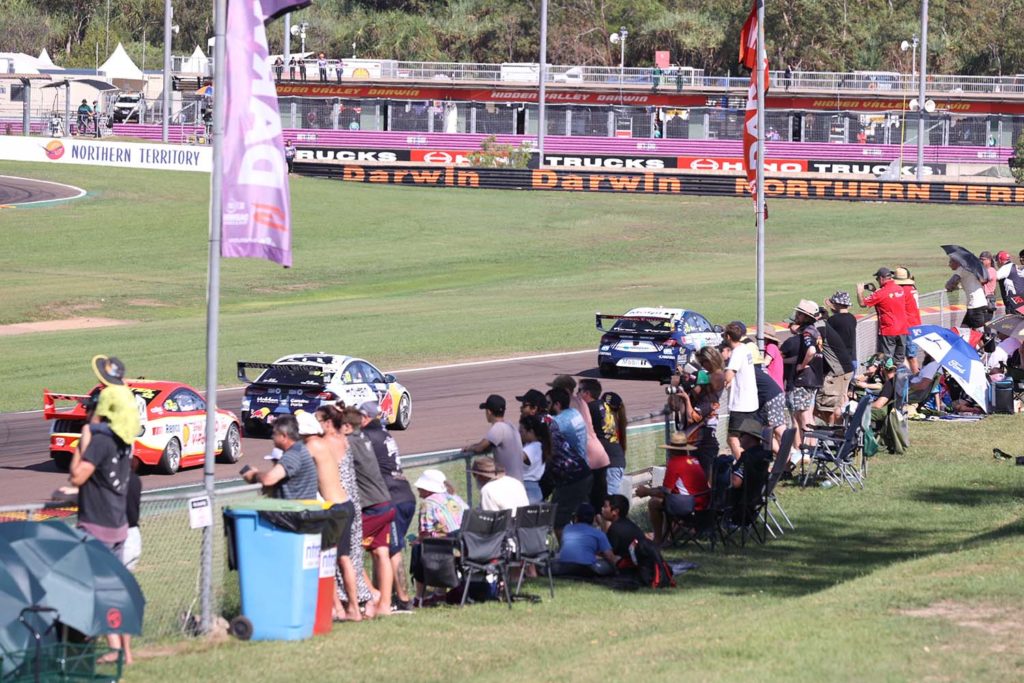 It was Supercars only on the weekend, so it wasn't like there was a support program, paddock access or autograph sessions at the track to keep the fans engaged or even give them a chance at seeing the heroes of the game. Feels like kicking an own goal.
9. TICKFORD'S 'MEH' WEEKEND
Outside of James Courtney's podium on Saturday, Tickford's best race result was Jack Le Brocq in P8 in Sunday's final. Hardly a ripper for the team who has won races and looked like a DJR / T888 challenger. Hard to read if it was tyre strategy or lack of car pace in the Mustangs but there will need to be a lift as the cars return this weekend coming. Holdsworth struggled and Waters and Le Brocq were bottom of Top 10.
10. MASK UP?
IT is a sign of the times that it was almost jarring to not see people in masks on the TV at the weekend. Fortunately for Supercars, the Territory is one of the safest, most COVID-19 free places in Australia these days so a weekend our poor friends in Victoria got a look at what life used to look like, pre-second wave. (Except for the Sun. That doesn't happen in Melbourne).
Supercars have done an outstanding job with their COVID-19 protocols since their return to racing, which included the toned-down events at Sydney to get things back underway.. but it was odd to go back to the Old Normal, after getting used to the New Normal more recently!
11. HARD, BONUS NOT
We couldn't go. Get stuffed, 'Rona.
TWEETS
RAD PITHER
Nothing I do will ever be as cool as @ChrisPither chugging his coke no sugar immediately after his interview. #swag #vasc #supercars #darwin

— Kate Murray (Black Lives Matter) (@kateemma22) August 15, 2020
MEMES