POWER RANKINGS: THE BEND 2.0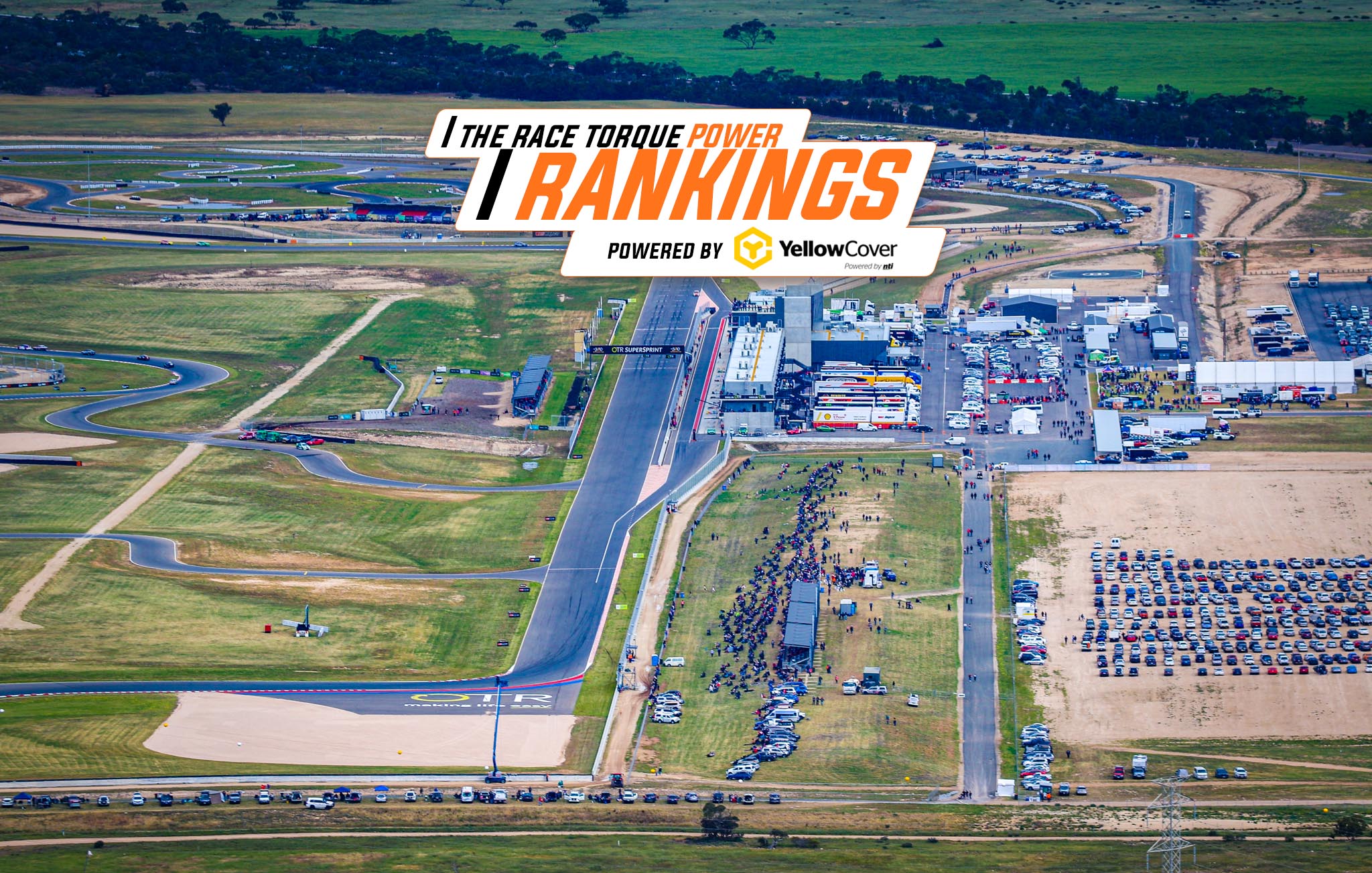 SCOTT McLAUGHLIN was crowned champion, Cam Waters broke through and some argy-bargy in the midfield broke out when the Supercars headed across to The Bend's West Circuit for the OTR Super Sprint last weekend. The Power Rankings powered Yellow Cover are here to sort the Hot from the Not. And the What.
WORDS: Richard Craill, Mark Walker, Tony Schibeci, Dale Rodgers, Social Media Contributors
IMAGES: Frank Hodak / The Bend Motorsport Park
OF COURSE, it's impossible to not launch into this week's edition of the Power Rankings without tackling the biggest news of the weekend; the crowning of a new champion.
It's a massive result and as such can only be worthy of one thing..
HALL OF FAME
SCOTT MCLAUGHLIN
JUST about the only thing the flying Kiwi hasn't won in his remarkable career is a position in the Power Rankings HOF, but that changes now. Sealed his third title deal in style and aside from the final race – where he finished second – he never really looked like being beaten all weekend.
His dominance of qualifying sets the scene for each weekend and then his ability to string together results when required remains remarkable, especially given the year we've had. With the field balanced technically, the regulations re-set and format reshuffle could have been big contributors to making Scotty's search for the triple particularly tough.
About the only constant in the year was the fact that, on the surface, it wasn't.
And just when you think things can't get any better, he went and got himself properly damaged on Sunday night while celebrating – enough to miss his flight home.
And then he owned it on Social media.
A champion, and a lad.
What a legend.
🏆 secured! @smclaughlin93 is a three-time Supercars champion! 🔥 #VASC pic.twitter.com/2lV8sL8R2v

— Supercars (@supercars) September 27, 2020
Well… never missed my flight before, but unfortunately the plane I am meant to be on is currently en route to QLD with an empty seat! Sorry Karly..

— Scott McLaughlin (@smclaughlin93) September 27, 2020
Good news, I'm now going home 👍🏻😂 pic.twitter.com/1dwmgtgjU8

— Scott McLaughlin (@smclaughlin93) September 28, 2020
HOT
1. CAMERON WATERS
FINALLY delivered on the promise that has been shown all season, indeed since last year. Tickford has been looking for a new leader in their post-Mostert era and Waters had been close on plenty of occasions this year without quite being able to seal the deal. But a perfect start and a faultless drive saw him beat the champion and get just his second ever Supercars win. If that's not a candidate for Hot, nothing is.
Bonus points for being the first guy to do some victory skids this year.
2. ENERGY. ALL THE ENERGY
HOW was the racing on Sunday.. race two especially. Man.. it was intense.
They were the best 10 or so laps of #VASC racing since.. Race 1 last weekend, probably. Cracking stuff. Battered cars rolling past us in pit lane for stops left, right and centre. As it should be.

— Richard Craill (@Craillsy) September 27, 2020
This is just exactly how touring car racing should be. Short track agro #VASC

— Chad Neylon 🇦🇺 (@chadneylon) September 27, 2020
They know that these cars have another race today, right? 😇#VASC | #OTRSuperSprintTheBend pic.twitter.com/xCqDeQplRb

— JJ (@TomcatNASCAR_2) September 27, 2020
Mess with the bull, you get the horns? @redbullholden #VASC | #OTRSuperSprintTheBend pic.twitter.com/4KzPAuwq52

— JJ (@TomcatNASCAR_2) September 27, 2020
6 abreast on the final corner, that's not gunna end well! 😲 #VASC pic.twitter.com/cPPoHvFtg7

— Supercars (@supercars) September 27, 2020
3. A FLAT OUT BATHURST
NO title dramas to worry about on the Mountain (lets be honest, only DJRTP and T8 care about the team's battle) – just a straight out fight to win the Great Race with no championship implications on the line. It's going to be an Epic Bathurst 1000.
How good is Bathurst going to be with points a non-issue? McLaughlin/Slade vs Whincup/Lowndes vs SVG/Tander, and the rest. It will be rubbish not being there, but cannot wait all the same… #vasc

— Mark Walker (@markwa1ker) September 27, 2020
4. SVG CARVING UP AGAIN
UTTERLY Shocking in qualifying, was Shane van Gisbergen and the 97 crew on Sunday, but you never count the Kiwi out in the race. Scythed his way through the field in both races and salvaging a pair of fifths from that day was an incredible result from a rubbish start. Never, ever, rule out Shane van Gisbergen when the chups are down.
5. ANTON DE PASQUALE
AFTER WINNING the first race in Darwin, only a fifth in the first race at Townsville 2.0 stood out for Anton in a pretty shocking four-event stretch in the North. His pair of events at The Bend, however, were big: five top-10s, four top-5s and a second in Race 28 a very good return. Perhaps more importantly, he beat Dave Reynolds in every single one of them.
6. LEX KELLY IS BACK
WELL DONE to Supercars Media and Fox Sports for making this happen, even if he is going to put us all out of a gig in 10 years or so..
2020 has been a total shit sandwich, but the Kellys have won it with their road trip. Mega. #vasc https://t.co/VK6eCR60pF

— Mark Walker (@markwa1ker) September 26, 2020
Move over Harry Butler and Jack Absalom !

BUSH ADVENTURES WITH LEX KELLY – coming soon#VASC

— Shane B (@ShaneB19) September 26, 2020
Give @rickkelly's kid a gig in @supercars' pitlane team already! #VASC #OTRSupersprint #SupArg

— Supercars Argentina (@SupercarsAr) September 26, 2020
7. EXCEL RACING
BIG GRIDS, super racing all the way through the pack and lots of action – another sensational appearance from the Excel pack on the big dance card. And we will point out here that Asher Johnston dominated the weekend, while sporting TRT colours!
8. JLB AT THE FRONT AGAIN
JACK Le BROCQ is getting better and better as the season goes on, and that's exciting for Tickford and for the sport in general. Another broadly competitive performance – especially his Shootout lap – across The Bend weekend gets him back onto the rankings here.
9. FABIAN COULTHARD
WE'VE been tough on Car 12 this year when results haven't flowed, but Fabs was back to his near normal self at the weekend and it deserves praise, as does the selfless move in letting his teammate past to just help the championship situation even further. Hitting form this time of year is handy..
10. EVERYONE
SIX ROUNDS in eight weeks is pretty remarkable – because this 'aint NASCAR and our sport isn't geared to operate like that. But from the crews running the cars, the Truckies doing the miles and the legends making the TV and everyone in between – they've done a massive job.
We know some still can't go home quite yet, but at least there's some time before things fire up on the Mountain – and there's nothing like a Bathurst 1000 to focus things.
It's been said a lot. It will never be enough. Well done everyone. One to go..
WHAT
ABSOLUTELY WHAT?
Let's gooooo! 🤣
🎥 @BryceFullwood #Mozzie25 #VASC pic.twitter.com/gcn6Ea9e4N

— Chaz Mostert (@chazmozzie) September 27, 2020
HIGH AS
VIRTUAL BILLBOARDS: You're operating at a very high level. #VASC pic.twitter.com/JGlHt7kbr9

— Pitlane Whiteboard (@PitlaneWB) September 26, 2020
LARKO, GETTING IT DONE
Larko waits for no one….

"I know this is important so we are going to stick a microphone into it."😂

📺Stream#VASC: https://t.co/kzDxvgswl8
📱Race Centre: https://t.co/hB8kjYXGbn pic.twitter.com/FJdAozkFNH

— Fox Motorsport (@Fox_Motorsport) September 26, 2020
THE UNDERTAKE IS ON
An undertake on pit exit? 🧐

Don't see that every day #VASC pic.twitter.com/MNudGczv3R

— Supercars (@supercars) September 27, 2020
NOT
1. DAVID REYNOLDS
REYNOLDS has crashed out of the top-10 in the championship recently and The Bend 2.0 was particularly fraught; 16th, DNF and 17th the only results from an absolute shocker. Anton is now nearly 100 points ahead in the championship going to Bathurst and seems to be in good form. It's not all down to the engineering, of course, but for Reynolds and the #9 crew having engineer Al McVean return to the #9 car for Bathurst for some form of a re-set can't come soon enough following what has been a horror run of late.
REYNOLDS #VASC pic.twitter.com/62rRSLDnMJ

— Shane B (@ShaneB19) September 26, 2020
2. TEAMS TROPHIES
IT'S LUCKY there's only one race at Bathurst – it should make it hard to get this wrong again..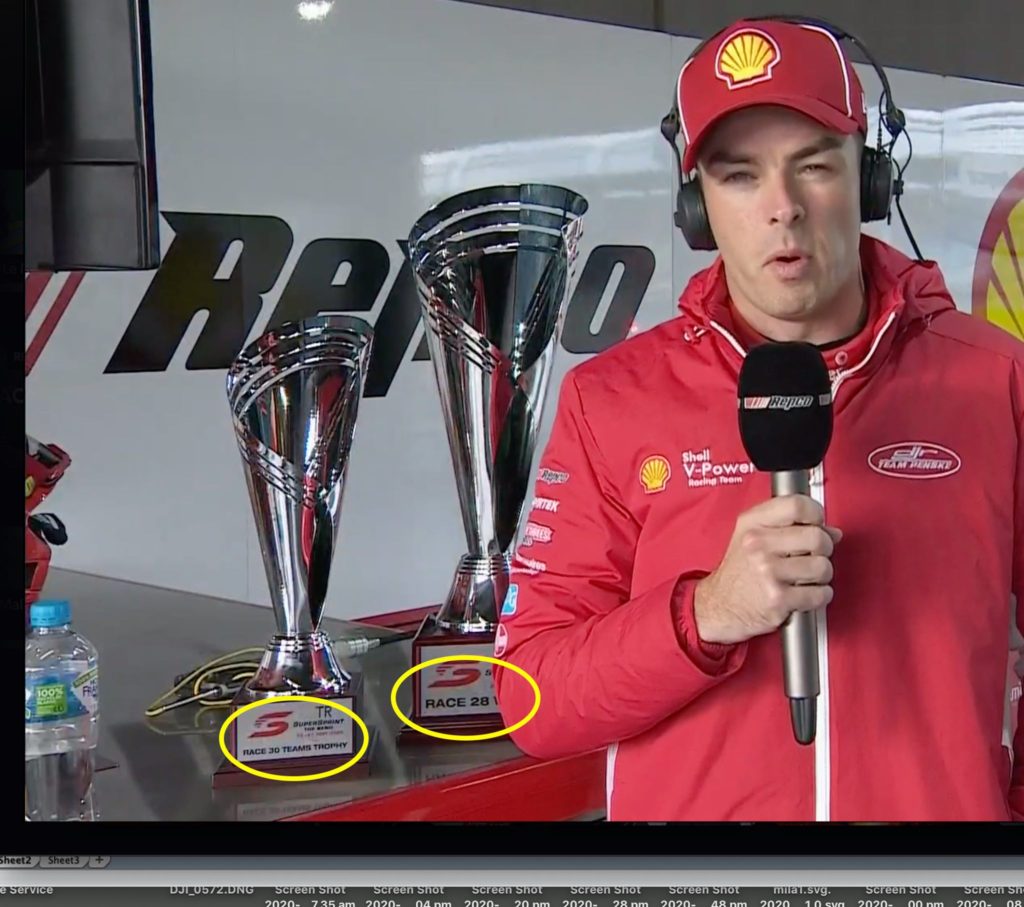 Looks like Supercars got the trophies wrong again for Race 28…seriously, how hard is it?! #vasc

— Jono Beikoff (@JonoBeikoff) September 26, 2020
3. SVG QUALIFYING ON SUNDAY / TRIPLE EIGHT
CAME after calling it a 'Qualifying series' and notably saw T8 employing a one-car strategy on Sunday against a two-car DJR Team Penske. Strange how things swing around so quickly in this game.
The 97 was nowhere in Sunday qualifying and oddly missed the chance to take a second flyer in qualy for Race 29, too.
Two purple sectors and SVG goes deep into the gravel trap 😞 #VASC pic.twitter.com/ffvfqAvzHt

— Supercars (@supercars) September 27, 2020
4. JAMIE WHINCUP / TRIPLE EIGHT
GRACIOUS in defeat, was Jamie, but this was another really average weekend in general.
A bad run on Saturday coupled with a pit stop drama on Sunday – and a subsequent points penalty – was another chapter in the hit-or-miss year that T8 have experienced.
A costly stop for Whincup! #VASC pic.twitter.com/9bP1DWoTsy

— Supercars (@supercars) September 27, 2020
You don't see that every day 🧐

Here is what happened in Whincup's costly stop #VASC pic.twitter.com/eeKvLa6IJL

— Supercars (@supercars) September 27, 2020
5. ONE LAST SHOOTOUT
WE wanted to be consistent in putting the decidedly anticlimactic Top-15 shootout qualifying format in NOT every single time it ran, and we feel like as of now, we've achieved that goal.
Top 15 shootout#VASC pic.twitter.com/YkZRfImtX9

— Shane B (@ShaneB19) September 26, 2020
6. TEAM SYDNEY SPARES
NO spare donk for Alex, so he was parked on Sunday.
BREAKING: Alex Davison will not take part in Qualifying or either race today #VASC pic.twitter.com/WH9pP0kXB9

— Supercars (@supercars) September 26, 2020
7. SKAIFEY'S FASHION ADVICE
"You look like you're going to rob a bank in Murray Bridge," Mark Skaife told Tickford team boss Tim Edwards during a cross on Saturday.
Righto, Skaifey! A decade of being a Hugo Boss-sponsored HRT driver does not a fashion guru make! It's a NOT for whacking a town with a large population of Supercars fans who attended The Bend across the last fortnight.
8. INCONSISTENCY
QUITE literally, teams like Ereubs, WAU and parts of Tickford, for example, are HOT one weekend and NOT the next. WAU were surprisingly anonymous at the weekend while we've already covered off Erebus' dramas. Some teams will be pleased they can now get down to the program of focussing on one race and getting it all right on the Mountain.
9. DRIFTING
THE SMOKE and the noise got in the way of some Supercars racing on the weekend..
10. CRAILLSY CALLING DRIFTING
.. But it wasn't as bad as the attempt to call it when the drifting comp over on the stadium circuit appeared briefly during the Sports Car series coverage on the weekend. It's no wonder he's hardly called anything this year..
@theracetorque so I'm tipping @Craillsy won't be calling drifting anytime soon.

— Scott Archer (@scarcher1980) September 26, 2020
TWEETS
MISSING POLE BY 0.0756SEC
Live footage of Cam Waters. #SoClose #VASC pic.twitter.com/mb6hiWggCp

— Tony Kuriger (@TMKuriger) September 26, 2020
CHAZ
Where the heck does @chazmozzie get his lines from?? "Like a pop up book with no pictures" 😂😂 #VASC https://t.co/C9DZBuU89h

— Shirley Bailey (@shirllbailey) September 26, 2020
SPONSOR PLUGS
Going by Instagram content, I'm gobsmacked @Matt_Naulty hasn't given #LawnHub a big mention. Always posting and looking at pictures of Lawn from inside his spa. Probably a subscriber to Lawn Hub Premium. #VASC

— Pitlane Whiteboard (@PitlaneWB) September 27, 2020
RALLYCROSS, ANYONE?
Gee that was close! #VASC pic.twitter.com/ZZhMW6G6M3

— Supercars (@supercars) September 27, 2020
That was a close call for @jcourtney! 😲 #VASC pic.twitter.com/anEF4OTMEy

— Supercars (@supercars) September 27, 2020
Pye goes off and Heimgartner nearly follows 👀 #VASC pic.twitter.com/UKYppQM3P5

— Supercars (@supercars) September 27, 2020
THAT MEANS "NO"
My response to anything in 2020 😂 @LeeHoldsworth #VASC pic.twitter.com/WvEgAU3MwU

— James Pavey (@jamespavey_) September 26, 2020
CERTAINTIES
Internet comment of the weekend so far: #VASC pic.twitter.com/e7mIJmHQAr

— Pitlane Whiteboard (@PitlaneWB) September 27, 2020
KABLAMMO
Death of a sign. #VASC | #OTRSuperSprintTheBend pic.twitter.com/kii6XvRhBe

— JJ (@TomcatNASCAR_2) September 27, 2020
SCHMICK
How good does @FabianCoulthard 's hair look though? #VASC

— Tim Schenken (@FakeTimSchenken) September 27, 2020
PRACTICE CONTINUING TO MAKE PERFECT
Courtney bowls a wide at Turn 8. He sits at the top of the times in Practice 1 #VASC pic.twitter.com/os9ZoYaMRh

— Supercars (@supercars) September 26, 2020
Just getting ready for Rally season…#RedBullHolden #VASC https://t.co/turmuWc2ah

— Red Bull Holden Racing Team (@redbullholden) September 26, 2020
An unusual off for Percat 🤔 #VASC pic.twitter.com/RsmlIUtA30

— Supercars (@supercars) September 26, 2020
@chazmozzie bowls a huge wide out of the final corner 😲

He stays in P2 #VASC pic.twitter.com/mMwNDycoVQ

— Supercars (@supercars) September 26, 2020
SVG locks up the @redbullholden and sends it deep into the gravel 😬 #VASC pic.twitter.com/9cw8UvpRjS

— Supercars (@supercars) September 26, 2020
MEMES