THE LIQUI-MOLY Bathurst 12 Hour will have a year off in 2021, the current state of global and national affairs ensuring that staging a long-distance international race in Australia next February was just too difficult. But I know the 12-Hour. And I know it will be back bigger and better than ever..
WORDS: Richard Craill IMAGE: Mark Horsburgh / Bathurst 12 Hour
THE BATHURST 12 Hour will be back.
Of that I have no doubt.
It's a sign of the times that Australia's International Enduro will be off the calendar for next year, but entirely inevitable given the current global situation.
Australia's tough border controls are the main, if not the only, reason.
When half of your grid – this year 20 cars of the 39 that started, and 79 drivers, including internationally-based Aussies – comes from overseas, the options are limited.
The decision to park the race for a year was based on those elements and others and the decision had to be made now; this time last year, entries for the 2020 race were already flowing, Tickets were on sale and the paddock campground was almost sold out.
This wasn't a situation where the organisers could have sat and waited until November or December to see what the PM was going to do with the borders or if a vaccine suddenly became a thing, allowing international travel around the world to burst back into life.
Events like this, especially one with such an international focus, need lots of lead time and this year time was an enemy – with no certain timeline on which to rely.
Entries are one element, those attending are another. Who knows what restrictions will be in place in February next year. Will camping be allowed? Will more than 4,000 people be permitted to attend? These elements are critical to the success of the 12-Hour.
The moving targets and variables at play ensured the only commonsense decision was to park the event.
Some of the responses to the event being put off for a year are frustrating because from my experience, from top to bottom those involved in the 12-Hour care only about making it bigger, better and more successful.
Admittedly, one question asked a lot is not a silly one: could they have run a race next year, even just as a domestic-only show?
My thoughts are: Potentially. However, domestic GT racing in Australia is not at its peak (remember, just 10 cars started The Bend's round of the Australian Endurance Championship last year) and in a period of potential transition with the Category Management rights held by Motorsport Australia currently up for grabs.
Sure, a domestic-only 12-Hour would probably have dragged cars out regardless of the state of domestic GT racing, but the risk versus reward component just would not have added up.
---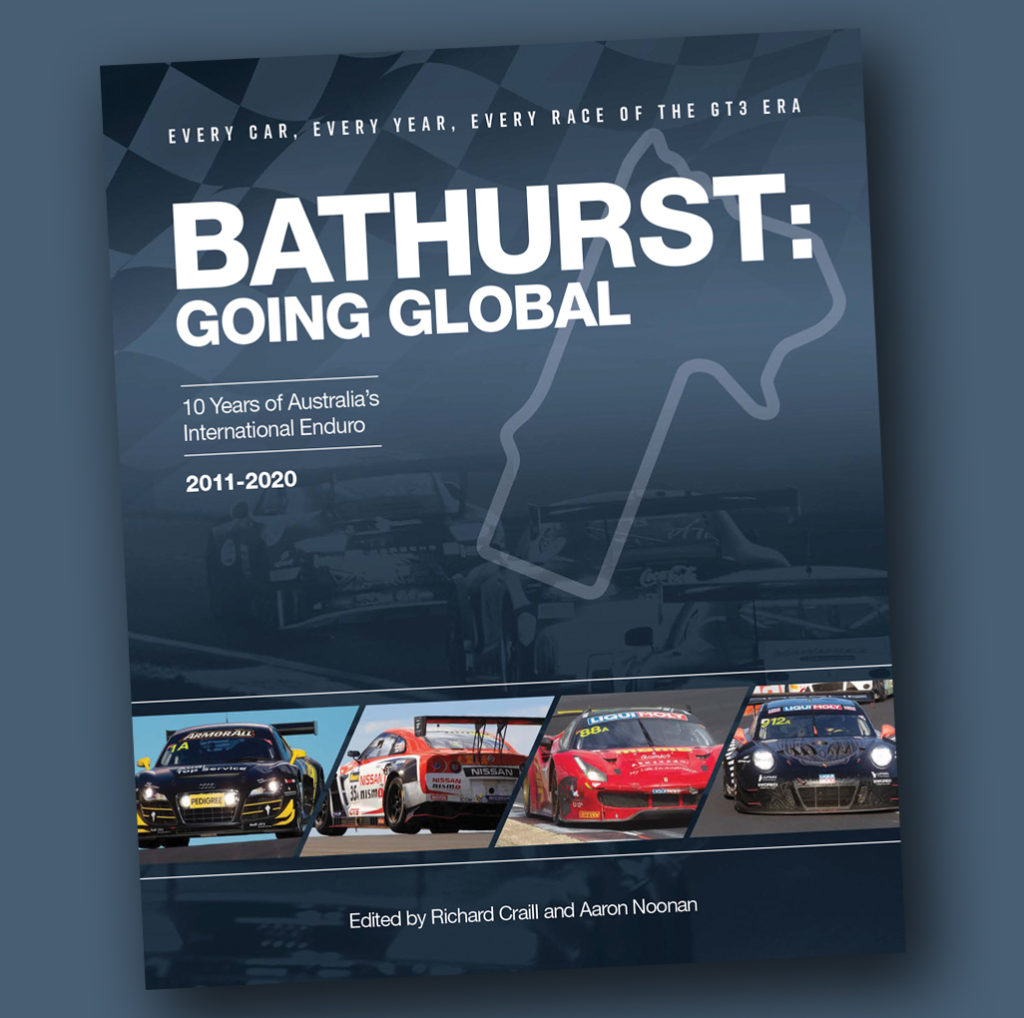 FOR the first time, the ultimate history of the Bathurst 12 Hour is being published to mark 10 years of the event catering to exotic GT3 sports cars, a thrilling era of racing that opened the iconic Mount Panorama circuit to the world's most revered and prestigious automotive brands.
Never-before-attempted, this 320-page, hardcover, limited edition collector's book edited by long-time voice of the race Richard Craill and published by Aaron Noonan's AN1 Media organisation, will chart the event's rise in global esteem and importance across the last decade, with reflections from key players, winners and influencers throughout the period.

Illustrated by over 500 stunning photos, this book features a photo of every car to have competed in the Bathurst 12 Hour from 2011 through to 2020 including non-starting and non-qualifier cars.

This book will also be a limited edition release and is bound to also be very popular – so don't miss out!
---
Sure, you could attract a reasonable field that would make the event and race viable and put on a show.
But at the same time, you could also end up with 15 cars which would do much more damage to the event than not running it at all.
Paying customers, sponsors, TV partners (who pay money for the rights) demand a level of quality and of quantity and the risk of not hitting those KPI's just for the sake of putting on a race would be a very big call to make.
Others have suggested an 'all-in' approach like the early days of the race, running Production Cars against a GT3 component – but I think that would actually be doing the race a disservice.
Like it or not, the 12-Hour has evolved beyond that level to become a truly international affair that operates at an extremely high level for, primarily, top-level GT machinery. Reducing that level for even a year wouldn't be doing the race any favors.
Plus, the Production Car competitors already have their own headliner at Easter and competing against that for limited budgets and competitors would only split the sport further, and no one needs that.
Anyway, I'm not here to justify the reasons for calling the event off for next year.
Personally and professionally it's a massive blow: I've spent most of my professional career associated with that event and it is unquestionably my favourite of the year and probably of all time, especially given where it is now based on where it came from.
But at the same time I think it's absolutely the right call for the short-term future and the long one, too.
The bottom line is this: The 12-Hour will be back.
Remember, it has a new multi-year deal with the NSW Government stretching from 2022 onwards.
It is included in Supercars' new TV deal with Channel 7 and Fox Sports, assuring coverage on both networks from 2022 onwards (The 12-Hour was mentioned as being a part of 7Sport's plans at the network's 2021 'Upfronts' today).
SRO, promoters of the Intercontinental GT Challenge, are committed to returning in 2022 and love the race – it's one of their most high profile events and in a way the model that kicked the whole concept off anyway.
As an event it is profitable, delivers high level metrics on exposure, TV and corporate that keep sponsors and partners very happy and a platform that engages brands, teams and manufacturers to be involved.
There's a lot of boxes ticked there.
But most of all, there's this: The 12-Hour has become more than just another race.
It's now an important, respected and even revered part of the global landscape and a marquee race that teams and drivers desperately want to win.
In 10 years it has gone from being a domestic curiosity to becoming one of the biggest GT-only races in the world and certainly one of the most important to win.
Drivers and brands alike target a Bathurst victory because of what the race has become and what it means: Bentley's victory this year was hailed as their biggest motorsport success since they last won Le Mans in the early 2000s.
And just look at the face of South African star Jordan Pepper on the podium or Jules Gunon as he climbed out of the car in Victory lane this year if you don't believe that.
Because of those reasons and many more, the 12-Hour isn't going anywhere.
It can and will survive a year off.
And if anything, the absence will only make the heart grow fonder for Australia's International Enduro.
And I think that will make the 12-Hour circa twenty twenty-two very, very special indeed.  
Now, please go and buy our 12-Hour book and read up on the last decade so you're up to speed when the race returns.
---
Richard Craill has called the 12-Hour every year since it returned in 2007.. The views expressed in this column are his alone and may not necessarily reflect the views of the promoter, partners or other parties associated with the event.