POWER RANKINGS: THE 2020 SEASON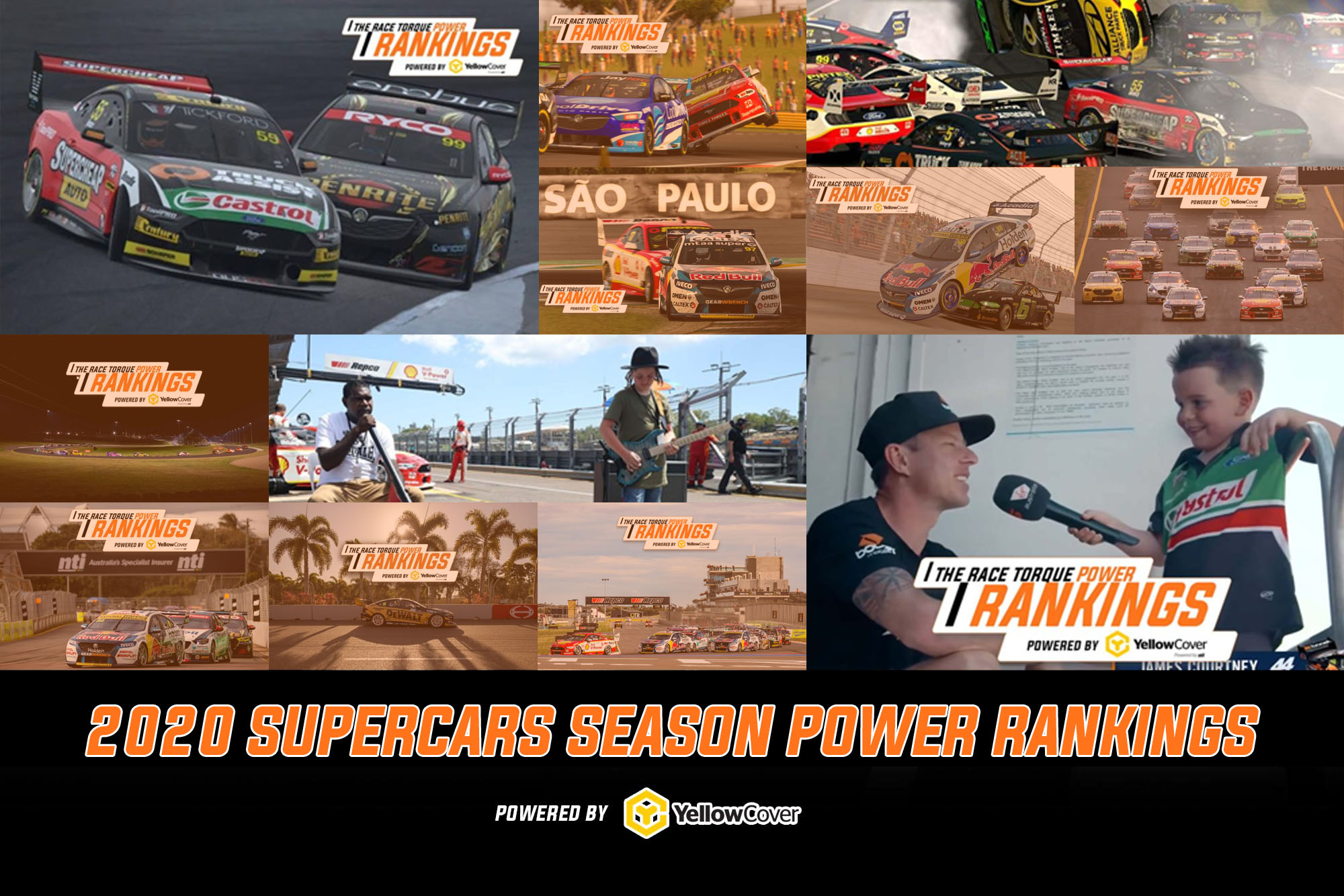 NO ONE could have predicted how this year would have gone for much of what occurred was scarcely believable. And yet, here we are, a Bathurst won and a championship completed and a Power Rankings (thanks to Yellow Cover) to round off the maddest Supercars season yet.
WORDS: Richard Craill, Mark Walker, Tony Schibeci, Dale Rodgers, Social Media Contributors
IMAGES: Mark Horsbrough / Supercars
OBVIOUSLY it goes without saying that this particular compilation could have gone much, much longer.
We could have, for instance, spent about five weeks documenting all of the reasons 'Global Pandemic' gets filed under 'Not', and a similar length of time vacillating on the excellence of the Victorian teams and their sacrifices this season.
As such, think of the below as a broad summary of the year that was in bite-sized pieces. We'd invite you to delve back into the Power Rankings archives and check out any one of the 26 (26! We'd thought in January that we might get around to doing one per round, but there you go..) previous editions of the infamous TRT Hot / Not / What from the year now gone.
Finally, the biggest 'HOT' of them all goes to everyone who has embraced this column in growing numbers across the year.
From the anonymous tipsters at all levels of the sport who throw us their pearls of wisdom, to the people who grumble but admit it's probably fair when they're lumped into the 'Not' category, to the many hundreds of you who took the time to comment on our social media and let us know what you liked and disliked – but did it in the TRT way, without resorting to the utter trash that social media discussions usually descends in to.
Who knows: With two months left, we'll probably find a way to roll out another Power Rankings before the year's end anyway…
Righto.. lets commence with the good stuff:
HOT
1. THE SUPERCARS CIRCUS (& VICTORIAN CREWS)
WHAT an effort and a sacrifice to keep the industry rolling along. Unlike other sports which had months to plot a strategy to wend their way out of the COVID-19 mess, the Victorian contingent of the sport literally had 12 hours to pack up their life and head interstate. Being away from family for over 100 days is a feat that the sport should be eternally thankful for. Don't forget the Queensland side of the equation either – three back-to-back weekends saw teams operate remotely for extended spells in Darwin, Townsville and Adelaide, with two weeks of interstate quarantine to round out the year. The sport has never seen the like when it comes to dedication and, hopefully, won't need to do it again. The reason the sport has a bright future is in no small way down to the sacrifices made this year.
Last night we flew four of our crew to Brisbane to see their wives and children for the first time in 62 days.

We didn't tell their families they were coming.

This is how they reacted ❤️ pic.twitter.com/nvdNo87WGB

— Tickford Racing (@TickfordRacing) September 7, 2020
We aren't crying, you're crying

Happy Father's Day! ❤️ #VASC pic.twitter.com/bFPowIeObQ

— Supercars (@supercars) September 6, 2020
A ticking clock, a closing border, a deadly virus, families torn apart… Monday July 6 may go down as the most extraordinary day in Supercars history. #VASC https://t.co/IBdhyLrN0e

— Motorsport.com (@Motorsport) July 17, 2020
2. SCOTT McLAUGHLIN
YOU start to run out of superlatives to describe Scott McLaughlin's Supercar career. His 2020 season featured 13 wins, 21 podiums and 15 pole positions from the 27 races contested, leading nearly 30% of all racing laps. He joins Pete Geoghegan, Mark Skaife and Jamie Whincup in winning three straight titles, outstanding. How hot is it for Supercars that the current champion can be cherry-picked straight into an IndyCar ride.. and be competitive doing it? Speaks volumes for both McLaughlin, and the competition here.
Did a lap of Bathurst with jandals on https://t.co/9GCv9soHJY

— Scott McLaughlin (@smclaughlin93) April 22, 2020
2 weeks in Darwin, 6 races..

4 Wins
4 Poles
A Second
6 Front Row Starts
1 Brainfart
109 champ lead to 177

Effort equals results, great car, great pit stops, proud to drive for this team! Thank you! #VASC #1743 pic.twitter.com/zGxrKvpq5a

— Scott McLaughlin (@smclaughlin93) August 23, 2020
What an achievement! Bravo @smclaughlin93 👏🏽

After a blistering start, @FabianCoulthard finished two spots up in P4 🙌🏽#VASC pic.twitter.com/kfklhzz1Pr

— Shell V-Power Racing (@DJRTeamPenske) August 23, 2020
Well… never missed my flight before, but unfortunately the plane I am meant to be on is currently en route to QLD with an empty seat! Sorry Karly..

— Scott McLaughlin (@smclaughlin93) September 27, 2020
3. LEX KELLY
A STAR has been born! Every time the five year old son of Rick Kelly hit the screens, he has made the Hot list, and when he wasn't on screen, his absence was a notable Not. In a serious sport, during a rubbish year, it was great to be able to have a laugh. Well done to Supercars Media for listening to the fans and bringing him back following his impressive debut.
'Got myself a whopper!' 🎣

Anyone else jealous of Rick Kelly and Lex's road trip? | @NT_Australia #VASC pic.twitter.com/et0P2YPLM1

— Supercars (@supercars) August 18, 2020
'Back to you in the Studio' 🎤

This is the wholesome content you came for! #VASC pic.twitter.com/er5tJu9NJK

— Supercars (@supercars) August 23, 2020
Should young Lex Kelly have his own segment? 🎤📺

From Townsville to Tailem Bend, ride along with Rick and Lex ⛺️ #VASC pic.twitter.com/Gd8S4gftcO

— Supercars (@supercars) October 1, 2020
Lex Kelly. Bathurst.

That's it. That's the tweet. #Bathurst1000 #VASC pic.twitter.com/0OKBj8y1XU

— Supercars (@supercars) October 12, 2020
RICK KELLY ROAD TRIP!!!

📺#Bathurst1000 on Bathurst Channel 506 & Kayo Sports: https://t.co/UPl8xTcH3b #VASC pic.twitter.com/rYo0t0XqUA

— Fox Motorsport (@Fox_Motorsport) October 17, 2020
We've got Gen3 covered, and now the future of pitlane reporting is in good hands!

Lex Kelly didn't hold back in his pre-Bathurst interviews 👊😅 #Bathurst1000 #VASC pic.twitter.com/1Oga3Ny989

— Supercars (@supercars) October 17, 2020
4. THE ESERIES (WITH MONZA, LAP 1 A NOTABLE HIGHLIGHT)
IF YOU can remember back to early April, Australia had not only been starved of motorsport, in fact we had gone without every sport since mid-March. The Supercars All Stars eSeries was the ONLY live and local mainstream sport to hit the airwaves, and it was a brilliant initiative to keep the fans, and importantly sponsors engaged.
Unlike other attempts at televised eRacing around the world, the Supercars iteration had all of the real life drivers, and a TV production that was absolutely on-par with real life. There was great racing too, and big name stars from around the world – including Max Verstappen, whose presence drew a massive global audience, Lando Norris, Joey Logano and Marcos Ambrose, to name a few. There was also a celebrity race too thrown into the mix. To pick one moment, we have gone with the opening night fracas from Monza – while the competition was serious, there was also a light hearted side to the show. That first night listening to Neil Crompton call a live motor race again was just the medicine locked down race fans around Australia required. Also, this was our ever-so brief introduction to Lex Kelly!
That laugh out loud moment was a genuine spirit lifter and got many people through a pretty grim time.
Very enjoyable watch. Verstappen P2 in Race 1 at Silverstone. Broadcast is really high quality. And how awesome do Supercars look at Silverstone! https://t.co/JULjQnpOlk

— Will Buxton (@wbuxtonofficial) April 15, 2020
THAT IS OFF THE SCALE CRAZY 😲😲#VASC pic.twitter.com/uWIdjtDenx

— Supercars (@supercars) May 6, 2020
The new 'Multi 21'? Nah Yeah.

🎮 #VASC #L4NDO pic.twitter.com/0fEpcIwuEC

— #L4NDO (@TeamL4NDO) May 13, 2020
This is so, so good. #VASC https://t.co/0vs2sPuWnv

— Thomas (@ThomB89) May 20, 2020
What a pass! That had us on the edge of our seats 😲 #VASC pic.twitter.com/LanCHjWGLa

— Supercars (@supercars) May 27, 2020
GOOOOAAAAAAAALLLLLLL @redbullholden #VASC pic.twitter.com/WGiydygiJ5

— Supercars (@supercars) June 3, 2020
Lot of great guest drivers tonight. Ambrose, Logano, Joe Exotic. #VASC pic.twitter.com/uVtShFzWtg

— Sportsbet.com.au (@sportsbetcomau) April 29, 2020
5. SVG / TANDER / HOLDEN AT BATHURST
MANY drivers would swap a Supercars Championship for a Bathurst crown – winning the big one can make a bad season good. While Triple Eight were at times yo-yoing up and down the Hot and Not Power Rankings week-to-week, the combination of Shane Van Gisbergen and Garth Tander were simply peerless at the Mountain. Leading 104 of the last 105 laps, SVG resisted multiple attacks and survived repeated late race safety car interventions to slay any demons he had at the venue.
This victory has the potential to open the flood gates in The Great Race for the former series champ, while it was a perfect full stop for Holden as a factory presence in the sport.
ABSOLUTELY SPECTACULAR! 👏👏

Shane van Gisbergen and Garth Tander have won the Supercheap Auto Bathurst 1000! #Bathurst1000 #VASC pic.twitter.com/3RgnbYR77H

— Supercars (@supercars) October 18, 2020
Flying the flag one last time 🏁

What an incredible moment for @shanevg97 and @redbullholden 👏 #Bathurst1000 #VASC pic.twitter.com/Sd7Ga4EKgm

— Supercars (@supercars) October 21, 2020
6. SHELL V-POWER RACING vs. RED BULL HRT BATTLE
THE sport is better when there are big storylines and feelings between the biggest competitors. The three form combatants from the past five years really stepped up their ongoing war in Townsville, with the battle hitting the headlines again at The Bend a few weeks later. With McLaughlin set to tag out of the sport for the time being, who is going to rise to take on the Red Bulls? Rivalries are good and we hope this one continues on for a long time.
SVG dives on McLaughlin for the lead and Whincup also gets by! #VASC pic.twitter.com/dVemSWR0zC

— Supercars (@supercars) September 6, 2020
SVG makes contact and gets by McLaughlin! 💥 #VASC pic.twitter.com/FGgnObsGuj

— Supercars (@supercars) September 20, 2020
That is a game changer! 😯 #VASC pic.twitter.com/Il8FyAmBcn

— Supercars (@supercars) September 19, 2020
7. UNDERDOG PERFORMANCES
THROUGH the various event formats over the year, there were opportunities for some of the underdogs of the sport to step up, either through tyre strategy or flat out car pace.
Nick Percat was a star – two wins at Sydney Motorsport Park, a second at Hidden Valley and a Townsville pole saw him claim seventh in the title. Anton de Pasquale broke through for his maiden race win and Darwin, and coupled with a pair of other podium finishes asserted his dominance over teammate David Reynolds, who finished the year without a podium visit. Jack Le Brocq broke through for his first win, while he scored another podium at The Bend. Todd Hazelwood and Bryce Fullwood claimed their maiden solo podiums, while Andre Heimgartner had two podiums and a pole. Scott Pye registered three Darwin top-threes, while Lee Holdsworth came through for two SMP second place finishes.
Jack Le Brocq records his first ever Supercars win 🔥 🏁

📺 Stream #VASC: https://t.co/UPl8xTuhUJ
📝 Live Blog: https://t.co/5hQCbgNq3W pic.twitter.com/UKUTSGF6Aa

— Fox Motorsport (@Fox_Motorsport) July 19, 2020
.@NickPercat rolls into Victory Lane, taking his second 2020 Sydney win 👏 #VASC pic.twitter.com/F8Uts1UZ48

— Supercars (@supercars) July 19, 2020
Coulthard, Le Brocq and Fullwood on the podium! 👏👏 #VASC pic.twitter.com/jLKKZINiWx

— Supercars (@supercars) September 19, 2020
.@andreheimgartne secures his first @ARMORALLAus Pole Position 👏 #VASC pic.twitter.com/xJewHM4BM3

— Supercars (@supercars) July 19, 2020
8. CAMERON WATERS
HE FLEW under the radar for most of the year, but consistency was key in his breakout season. A run of four straight podiums rounded out his run to second in the Championship, with the cherry on top being a brilliant drive to second at Bathurst. Clearly now the number one driver in the Tickford squad, he can only grow in confidence in 2021.
First solo win and the return of the victory burnout! 💨

Congratulations @cameron_waters! 👏 #VASC pic.twitter.com/0DgYENbbvx

— Supercars (@supercars) September 27, 2020
A strong lap from @cameron_waters, who slots into P1 with a 2:04.349s! 🔥#Bathurst1000 #VASC pic.twitter.com/bKqHzDJdFB

— Supercars (@supercars) October 17, 2020
9. SUPERCARS MEDIA (& MARK LARKHAM)
WHILE we bang on about how good our Supercars TV product is, it all comes from a place of truth. Outside of Formula One, which operates to an eye watering Formula One sized budget, our home grown Supercars coverage stacks up against anyone, anywhere, any day of the week and despite the hurdles faced this year, they elevated the product once again.
Everything about it is likeable, but to single out a lone facet that has helped Australia get through the tripe that 2020 served up, we have to look no further than Mark Larkham. Passionate, knowledge, and importantly this year, genuinely laugh out loud funny.
Check out the On the Grid podcast we did with Larko, it was brilliant. Please never change.
PODCAST: Larko! Pye! Holdsworth! It's a bumper edition of On the Grid this week, with the king of pit lane in superb form. Good chats, bants and more – it's live now at the link or your favourite podcast application!

LISTEN > https://t.co/WPAKG539UP #VASC pic.twitter.com/0rgZjm8hr8

— The Race Torque (@theracetorque) August 26, 2020
Ah, we love ya Larko! 😅#Bathurst1000 #VASC pic.twitter.com/Pp32Z2EEbU

— Supercars (@supercars) October 18, 2020
🎵 "That's why they call me Larko Fahrenheit" 🎵 #VASC pic.twitter.com/mqEbYD6kOq

— Chad Neylon 🇦🇺 (@chadneylon) August 22, 2020
Tell 'em Larko 📢#VASC pic.twitter.com/oA7z7OoghJ

— Supercars (@supercars) February 22, 2020
That's a hell of a theory Larko 😅 #VASC pic.twitter.com/WBPTEUIWle

— Supercars (@supercars) September 6, 2020
Just when you think Larko is going to be serious…#VASC pic.twitter.com/e0Uzq28FS3

— 10 Motorsport (@10Motorsport) February 23, 2020
10. BLOODY GREAT RACING
SOME quarters are quick to whine about the quality of racing, and while not every race will be a thriller, there has been some genuinely great action this year.
There were multiple occasions at different events where cars ran three wide on the track – that isn't supposed to happen. No doubt with Gen3 they will look to refine the product to make for improved racing, but it really doesn't have to travel too far from where it currently sits.
Supercars often beats its own drum about being the 'Best Touring Car Racing' on Earth a little too hard.. but, on occasion, it can be a hard case to argue that isn't true. From the intensity of Bathurst's closing stages to the madness of SMSP 2.0 and some of the warring at The Bend, this was a good year of motor sport.
What a race this has been! 😲#VASC pic.twitter.com/4qjZjvuB4z

— Supercars (@supercars) June 28, 2020
SVG isn't giving that lead up easy! 😮 #VASC pic.twitter.com/bKXZl8llMh

— Supercars (@supercars) September 19, 2020
.@andreheimgartne out of nowhere! 😮

He gains two spots with a huge move! #VASC pic.twitter.com/j00kwq5JF6

— Supercars (@supercars) September 20, 2020
They know that these cars have another race today, right? 😇#VASC | #OTRSuperSprintTheBend pic.twitter.com/xCqDeQplRb

— JJ (@TomcatNASCAR_2) September 27, 2020
6 abreast on the final corner, that's not gunna end well! 😲 #VASC pic.twitter.com/cPPoHvFtg7

— Supercars (@supercars) September 27, 2020
WHAT
SKAIFEY'S NOSE-O-METRE
Had pleasure watchin Skaifys "nose – o – meter"#VASC #FoxSports pic.twitter.com/TaDL0G9oCD

— Tribs (@BTribs) August 16, 2020
WE'RE STILL UNSURE…
@Matt_Naulty @andrewjonesv8 What
The
Hell
Is
This
#25
Thing?#VASC #SuperSprints pic.twitter.com/lCx0H8xRef

— GibboPK (@GibboPK) September 5, 2020
ANGRY
my reaction when my Uber cancels #VASC pic.twitter.com/i3UKQDI3CX

— James Pavey (@jamespavey_) September 20, 2020
FULL CHAZ
Let's gooooo! 🤣
🎥 @BryceFullwood #Mozzie25 #VASC pic.twitter.com/gcn6Ea9e4N

— Chaz Mostert (@chazmozzie) September 27, 2020
NOT
1. 2020
YOU obviously don't need to be told that 2020 was rubbish, but we were robbed of a lot of racing. With costs a major factor, the calendar was compressed from 14 events to essentially 10, if you strike out the AGP as a non-event.
We missed out on the Enduro Cup, Hampton Downs, Winton, Sandown, Symmons Plains, Wanneroo, the Gold Coast and Newcastle. All told, the 2020 season was 36% down on race distance over 2019. It was expensive too for the teams to be away from home for extended periods, and hard on the sport's loyal sponsors, with corporate events and social interactions wound back, sapping them of much of the value of their partnerships.
From the enormous financial cost to the emotional and physical cost – to those who suffered or ultimately lost their life due to Covid-19 – there's not many people who would say that this wasn't the toughest year ever.
Straight to No. 1 on the 'Not' Hall of Shame, with a bullet.
How I feel about 2020 in general #VASC pic.twitter.com/icLoMcylZU

— SupercarsMaster (@SupercarsMaster) September 19, 2020
My response to anything in 2020 😂 @LeeHoldsworth #VASC pic.twitter.com/WvEgAU3MwU

— James Pavey (@jamespavey_) September 26, 2020
2. HOLDEN
WHAT can you say? Even though insiders knew that the writing was on the wall that General Motors were looking to exit right hand drive markets globally, it was still incomprehensible to think that Holden would ever be wound up.
Had the Covid-19 Pandemic not been a thing, it's impossible to believe there could have been a bigger storyline to be generated around the sport this year than Holden's loss to the Aussie vehicular vernacular. The brand is, quite literally, in the DNA of what makes up Australian Touring Car Racing.
The most successful marque in the history of the sport, Holden's devoted fan base has taken a stomach punch that is still ringing nine months on.
3. FANS LACKING TRACKSIDE
IT was a tough one to swallow for the loyal fan base. Being locked out of Sydney Motorsport Park, and highly limited elsewhere on the calendar, it was difficult to watch Bathurst after campers had spent their lifetime spending their annual holidays on top of the Mountain.
The sport is built on the fact that the trackside experience is superior to sitting at home, while access to the teams and drivers has been a cornerstone of the sport's success, both elements enforced when fans were allowed to return in small numbers and, later, in larger groups at The Bend.
The fans are the soul and without them the sport did feel empty.
Fingers crossed a level of normality can return soon.
4. TOP 15 SHOOTOUTS
WE understand why this was a thing – it filled a gap in the program for the TV audience, all while not wearing out the full field of cars. The format which employed two rounds of qualifying to only knock out nine cars was somewhat odd, but the 15 car shootouts dragged on forever. Shootouts work at places where there are still consequences for a lone car on the circuit pushing too hard, like Bathurst and the various street circuits.
This was always going to make the list: It was unanimously ranked by our contributors as 'Not' in every single post-Covid rankings we've run this year.
Supercars look to put in place a lot of the 2020 formats for 2021, which is good – they worked: Except this bit.
Top 15 shootout#VASC pic.twitter.com/YkZRfImtX9

— Shane B (@ShaneB19) September 26, 2020
5. 23RED RACING SHUTDOWN
IT was thought to be the tip of the iceberg, but thankfully 22Red Racing's shutdown was the only casualty of pandemic economics. A slap to Will Davison, who started the year with top-line form, only to be benched after one round. Fortunately for the Tickford equip, James Courtney was able to pick up the pieces in the seat, while Davison rebounded to a Bathurst podium, and looks set for a top-line drive in 2021.
INSIGHT: This afternoon's shock announcement from 23Red Racing has far reaching implications for the sport – we talk to a team sponsor for more on what this means moving forward.https://t.co/Hqgzpr8Hh9 #VASC pic.twitter.com/EhOvBf31zG

— The Race Torque (@theracetorque) May 15, 2020
6. AUSTRALIAN GRAND PRIX
AT the time it was a mess the likes of which we had never seen before, with the on-off-on-off Friday morning culminating in the event being stopped as the drivers sat in their cars ready for qualifying. And if the event was called in this fashion for any other reason than why it was, the governmental shitfight would still be going on. As it was, it turned out to be the only decision that could have been made.
It was unthinkable, but 2020 still had plenty of twists and turns left in store for motorsport…
PODCAST: On the Grid returns for another week, taking a deep-dive into the Grand Prix issues. CEO Andrew Westacott is our special guest, while we also talk to the only race winner of the shortened weekend: Carrera Cup ace, Cameron Hill.

LISTEN > https://t.co/nQMoSDBAxE #AusGP pic.twitter.com/Om6Egq6r3F

— The Race Torque (@theracetorque) March 18, 2020
POWER RANKINGS

You thought some virus would stop the power rankings?

NOTHING stops the Power Rankings. Here's the HOT / NOT from the Grand Prix and surrounding events.

READ > https://t.co/HoeI4b73wV #AusGP #VASC pic.twitter.com/Jrljy8dzCd

— The Race Torque (@theracetorque) March 17, 2020
7. CARNAGE
DUE to the working away from home nature of 2020, carnage on the track was a tough pill to swallow for the teams involved. Fortunately, none of the wrecks throughout the year necessitated replacement chassis or cut and shut repairs, which had the potential to cause logistical nightmares.
Carnage. No other word for it 😳 #VASC pic.twitter.com/9vhbBbzpMB

— Supercars (@supercars) August 15, 2020
Now that is strange 🤔

A huge off for @jamiewhincup in Practice 2! #VASC pic.twitter.com/ELWTBHpvdG

— Supercars (@supercars) August 15, 2020
Bairdo is going to have his work cut out with this one 😅 #VASC pic.twitter.com/60tvlNCF6z

— Supercars (@supercars) August 29, 2020
.@A_DePasquale's day is done 😢

Luckily the initial impact was caught by the tyre barrier and Anton is ok! #VASC pic.twitter.com/OeWXqGhXXW

— Supercars (@supercars) September 6, 2020
ABSOLUTE CHAOS!! #VASC pic.twitter.com/tPeX76OrTJ

— Supercars (@supercars) September 20, 2020
Whincup into the wall! It's disaster for @redbullholden as it looks like Whincup and Lowndes are OUT! #Bathurst1000 pic.twitter.com/aNCGwszm4b

— 10 Motorsport (@10Motorsport) October 18, 2020
8. JAMES COURTNEY AT TEAM SYDNEY
IT was pretty ugly from the outset. The squad's Coca Cola sponsorship was unveiled to the world with the car uncovered on a tilt tray in a Sydney traffic jam.
On the eve of the opening round, Boost Mobile stepped up to the plate, following on from their withdrawal from the sport late in 2019, which seemingly left Garry Rogers Motorsport high and dry. GRM at the time were subsequently upset with Supercars for not extending the entry cut off (despite the team earlier voting not to change the date), while more recently they also came to blows with Supercars over the validity of their 2020 Bathurst wildcard line up. But clearly we've digressed… James Courtney completed the first round in Adelaide, but was a no-show for Albert Park, replaced by Alex Davison.
All of the respective stories will no doubt be aired in respective biographies in years to come.
Images of Holden ZB Commodore bearing @jcourtney name have emerged ahead of @supercars season launch #VASChttps://t.co/nE7RZqgJWK

— Speedcafe.com (@speedcafe) February 3, 2020
New livery, who dis?

Boost Mobile return to Supercars, teaming up with @jcourtney and Team Sydney. #VASC

📸 – Daniel Kalisz Photographer pic.twitter.com/vdswI3DZcA

— Supercars (@supercars) February 19, 2020
James Courtney has been instrumental in the Team Sydney rescue effort – https://t.co/U0ISHLnLcN #VASC pic.twitter.com/g1AP1zOvEb

— Auto Action (@Auto_Action) January 23, 2020
"We are committed to this project."

Team Sydney has found a new driver and sponsor following the exit of James Courtney. #VASC

👉 https://t.co/QvHK9xCytF pic.twitter.com/ZV2szWPO8w

— Fox Motorsport (@Fox_Motorsport) March 11, 2020
9. COMMUNICATIONS FROM THE TOP
THERE were a few moments this year where communication was frustratingly lacking. Outside of some embargos being broken, the timing of the final revised calendar announcement tacked onto the end of a Sunday Townsville telecast was tough on fans and the media, who otherwise were not issued with a written release.
The silence surrounding the interstate trip from Queensland to Darwin was vexing – while other leagues employed a level of transparency around decision making process, there was absolute silence from Supercars HQ. It's been a tough year – you wouldn't wish it on any administrator – but there is always room for improvement.
Darwin's #VASC event page just quietly rolling out the fact that they're now hosting back-to-back rounds this August.

Week 1: August 8-9
Week 2: August 15-16

News hasn't seem to have broken elsewhere just yet.. pic.twitter.com/3QgbzPiZhf

— The Race Torque (@theracetorque) July 18, 2020
Some classic embargo-breaking from Crompo, there. #VASC

— Andrew van Leeuwen (@avl_motorsport) October 17, 2020
10. SUPER 2 FINISH
LETS be frank, at no point was there ever going to be another round of Dunlop Super 2 following the Bathurst 1000.
There was no event on which to run it and the chance of the Victorian teams agreeing to spend the time and money quarantining for a further two weeks was negligible – which is why it's a shame that the series wasn't called at Bathurst, allowing a very deserving champion in Thomas Randle to celebrate on the Mount Panorama podium as befitting such an occasion.
Admittedly, finding out you're champion by social media on a Monday night almost two weeks after the fact is very cliché 2020.. but in this instance is a 2020-style scenario that could have been avoided.
2020 @Super2Series CHAMPIONS! 🏆 pic.twitter.com/EWqbQLF9r0

— Thomas Randle (@thomasrandle49) October 26, 2020
11. THE OFF SEASON
THIS is a carbon copy of our tail end Charlie from Bathurst – what are we supposed to do on the weekends now?
It's a long, long time until February…
Ideas for more thinks we can Power Rank? @Theracetorque on socials is the place to be..
OUR OTHER STAND OUT BITS
THE FIRST STACK OF THE SEASON
Caption this.

(Keep an eye out for the punter in the background) #VASC pic.twitter.com/ufeJ2XZ9DT

— Supercars (@supercars) February 20, 2020
LEGEND
You heard the man @Craillsy #VASC #YoureWelcome 🔥 pic.twitter.com/7pQFzOQuB2

— Chad Neylon 🇦🇺 (@chadneylon) May 18, 2020
WHAT AN ESERIES!
Yeah, nah, the Eseries been a bit of fun hey 😂 #VASC pic.twitter.com/1tpGAvJ8h5

— Supercars (@supercars) June 10, 2020
THIS IS TWICE NOW…
FYI @Craillsy I'm going to tweet all weekend just to get on @theracetorque Power Rankings Hot list. It's been too long. 😂

— Ryan Story (@formularyan) July 18, 2020
STILL GREAT
National Anthem 10/10 🤩 #VASC pic.twitter.com/NOZGrcWFxF

— Supercars (@supercars) August 16, 2020
IS THERE ANYTHING TK CAN'T DO?
TK on the tools, assembling our race engines for this weekend!
VIDEO: https://t.co/cCO3k7JAp0#VASC pic.twitter.com/cu5RqsLHLs

— Kelly Racing (@KellyRacingAus) August 14, 2020
TEAM BOSS TURNS DRIVER
2020 sure is a strange year… 🤔#TripleEight pic.twitter.com/H92g73pFTR

— Triple Eight Race Engineering (@tripleeightaus) August 29, 2020
PRE-FLIGHT BRIEFING
A friendly reminder to our fans who are trackside in Townsville this weekend 👀 #VASC pic.twitter.com/MzWvuUBBbe

— Supercars (@supercars) September 5, 2020