THE (LAP) RECORD BREAKERS: SYMMONS PLAINS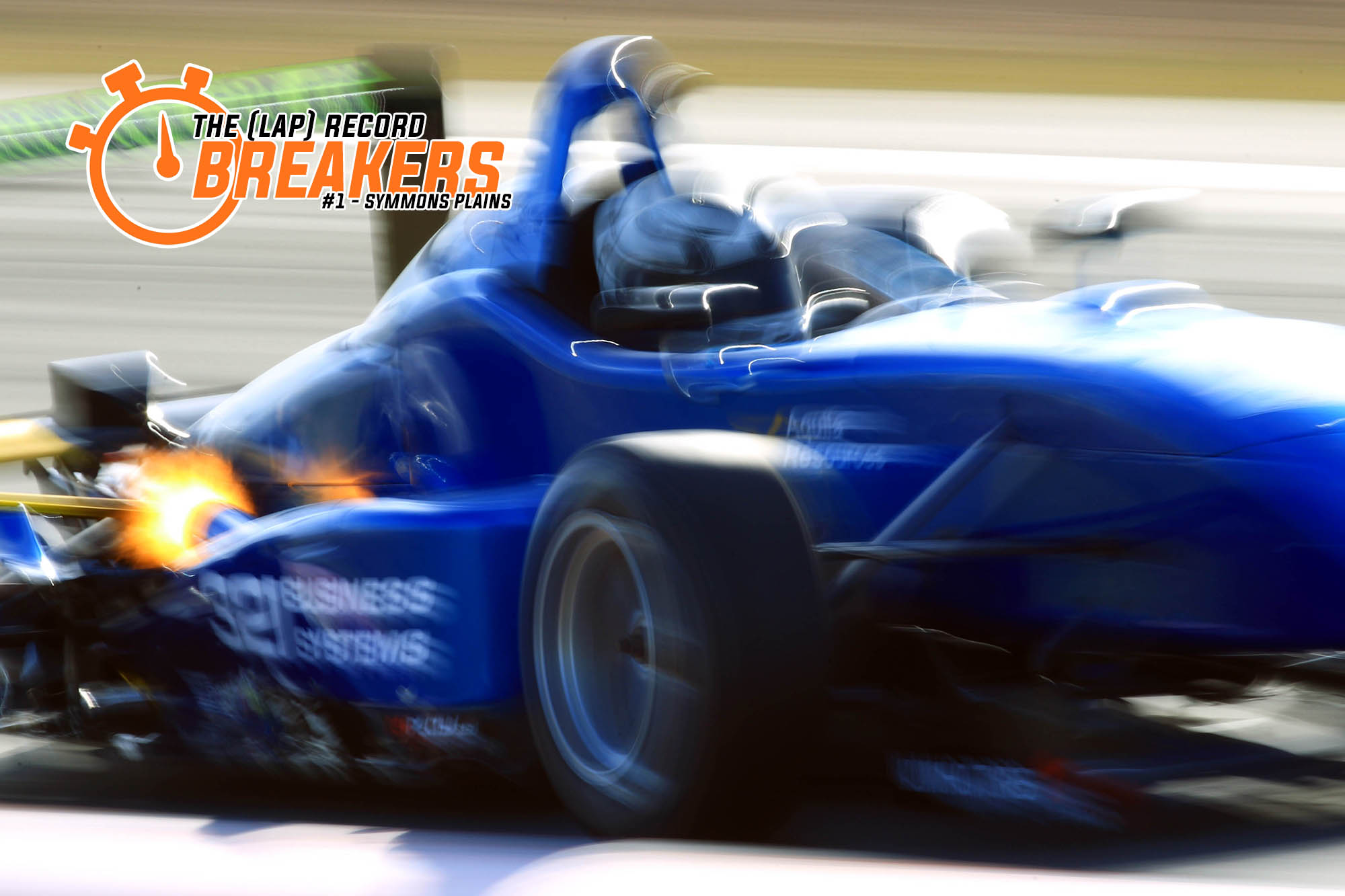 EVERYONE loves a lap record – it's a fact. Look at the frenzy of emotion any time someone nudges the Supercars or outright benchmark at Mount Panorama as evidence. Having a lap record, being the fastest ever person at any given circuit, has a kind of cachet that only winning can match.
WORDS: Richard Craill LEAD IMAGE: Dirk Klynsmith
BATHURST's benchmark is the most famous but there are some pretty remarkable record-breaking feats logged in the history books of most Australian circuits.
We thought it was worth bringing people up to speed with who currently holds the outright benchmark at each track around this wide brown land, and who has come close to matching or bettering it.
Then, just for fun, there's some prognosticating about who or what will be the next to set a new one in the future.
This week we start with one of the shortest laps in the country, but also one of the longest-standing outright benchmarks in all of Australian Motorsport.
So, jump aboard the Spirit of Tasmania and head to the Apple Isle as our journey takes us to..
SYMMONS PLAINS RACEWAY
CURRENT RECORD:
50.16 seconds – Alfredo Costanzo, Lola T430 Chevrolet F000 – 23 March 1980
SYMMONS PLAINS RACEWAY, the short three-straights-and-a-hairpin just outside of Launceston, has the longest standing lap record of all permanent racetracks still operating in this part of the world.
Nearly 41 years ago now, Australian open-wheel great Alfredo 'Alfie' Costanzo punched out a 50.13 seconds best in his pursuit of leader John Bowe during the third round of the 1980 Australian Drivers Championship.
Alfie had endured a poor start to the championship, failing to finish at Sandown before finishing only fifth in the second round, held at Baskerville Raceway in Hobart.
His season began to fire at Symmons, however, finishing second behind Bowe to kickstart his title.
Three wins in the final three races would ultimately deliver the Victorian-based Italian import his first of four straight Gold Stars, a feat that remains unmatched in the history of the sport.
With their monster horsepower and light weight, F5000 cars were perfectly suited to Symmons Plains, a circuit then as it is now essentially two long straights and one short one connected by two slow corners and one faster one.
Little did they know in 1980 that Alfie's record would remain untouched. With F5000 on the decline and lesser-powered formulae in the pipeline, the real big-banger open wheelers wouldn't be troubled until another much more modern category emerged a long time later.
THE CLOSEST CONTENDER:
50.3278 seconds – Tim Macrow, Dallara F307 Mercedes-Benz Formula 3 – 6 April 2013
GIVEN they produce their speed in a fundamentally different way to Costanzo's Lola T430, it's remarkable that a two-litre, 240hp F3 car can lap Symmons Plains within two-tenths of something with three times the grunt: but it shows how impressive those cars are.
Armed with a hooked-up Dallara prepared by Team BRM, double Gold Star champion Tim Macrow gave Alfie's old benchmark a proper nudge en-route to dominating the second round of the 2013 Gold Star – on his way to a championship lead he'd never lose all year.
With remarkable braking performance into the hairpin and enormous aero – especially relative to Alfie's Lola – F3 cars were immense at Symmons Plains, running with their wings at their most laid-back setting to reduce drag and aid straight-line speed.
Unfortunately, the lack of another 50hp was ultimately the difference in them becoming the quickest cars ever at the 2.41km venue.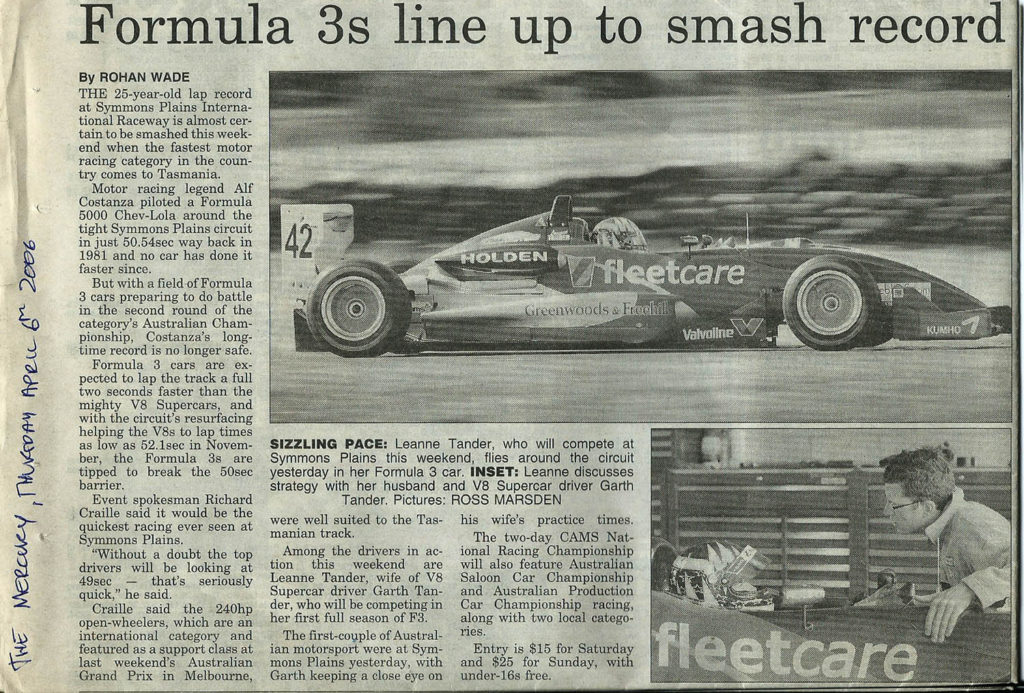 THE BEST BET TO BREAK IT:
NO CATEGORY in Australian Motorsport has a better chance of breaking Symmons Plains 40-plus year-old lap record than the VHT S5000 Australian Drivers Championship does.
In what will likely be a significant event, S5000 will finally begin racing properly for championship points nearly five years after their genesis next January when they head to Symmons Plains for an Australia Day special.
Armed with the best of both worlds from the old Lola and the later Dallara, the S5000 package should be perfectly suited to going sub-50 at Symmons, should conditions allow drivers to avail themselves of the opportunity.
They've got almost as much grunt, so straight-line performance won't be an issue. Plus, modern brakes and decent, if not quite F3 specification aero, will help with the stopping and turning bits in such a short lap.
It will likely be a thrilling chase and the first real opportunity for Australia's new open-wheel order to stamp its mark on the long and illustrious history that the Gold Star has to offer in this part of the world.
Breaking what will be a 41 year old record would be an ideal way to start.
NEXT WEEK: The Phillip Island Grand Prix Circuit.