SCHNITZER BTCC CHAMP FINDS AUSTRALIAN HOME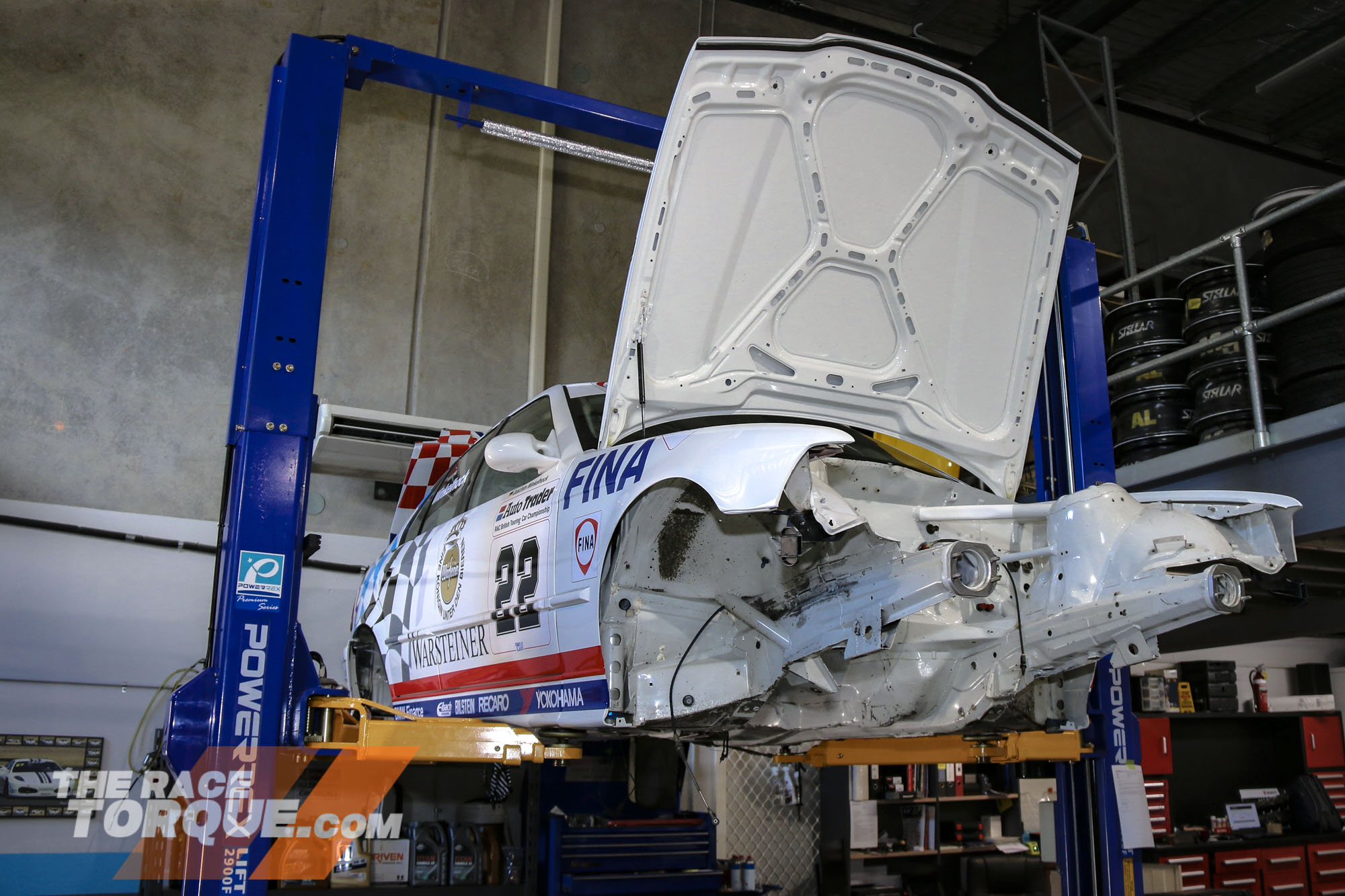 IN the week in which it was announced that BMW had split with the famed Schnitzer squad, The Race Torque can reveal that one of their most significant cars now calls Australia home, with the Super Tourer which took Joachim Winkelhock to the 1993 BTCC title joining a local collection.
WORDS & IMAGE: Mark Walker
Starring in an incredible line up of machinery in the Jones Motorsport stable, the BMW 318i E36 now sits alongside a McLaren M8E CanAm car (watch Harri Jones in action here), and an Allan Moffat Eggenberger Ford Sierra, amongst others.
Acquired from a collector in Japan, its new custodian Peter Jones commenced a dialogue with Schnitzer Motorsport regarding the car's heritage, which quickly focussed on a chassis seal, which unlocked the car's backstory.
"It ended up being the RAC seal that was put on in 1993 by the scrutineers – it had a seal for the year, that way you couldn't supplement in a different car if something went wrong, and that seal is what connects it to the logbook," said Jones.
"When we found that still attached, the guys were just over the moon, because they typically were removed by someone just to get them out of the way, or if the car had been damaged.
"That was really cool, it was like an archaeological dig finding King Tut's tomb!"
Classic #BTCC time…1993 Winkelhock BMW pic.twitter.com/MZCXxRgnaD

— Classic BTCC (@ClassicBTCC) October 11, 2019
From that discovery, Schnitzer Motorsport Classic's Franz Klinger was able to complete a detailed report on the car's history, including the original logbook, setup sheets, component running times and more.
For Schnitzer, the car is of special importance as their only BTCC champion, joining the squad's other successful machinery from the WTCC, DTM, ETCC, ITCC, as well as winners in the Asia-Pacific Touring Car Championship, Japanese Touring Car Championship, the Le Mans 24 Hour and American Le Mans Series.
The BTCC title in '93 went down to the wire between 'Smokin Jo' and his teammate Steve Soper, who duked it out until the final round where Winkelhock held on by 13 points, with the squad also claiming the team and manufacturer's title.
Winkelhock registered five race wins and eight podiums from the 14 races contested during the season, and interestingly, between the completion of the car's build in March to the season finale in September, it took part in no less than 16 test days!
It had another test day ahead of a run in the FIA Worldcup event at Monza, before being shipped to Macau for the Guia Race, where Winkelhock finished second overall and first in class.
Joachim Winkelhock BMW 318i Macao GP 1993 RT pic.twitter.com/wmElwhMa5E

— Furupy®ॐ (@FURUPYtec) March 23, 2016
The final outing for Winkelhock in the BMW was at the Indonesian Motorcycle Grand Prix at Sentul in December, which resulted in a second-place finish in the Super Touring race, and a DNF in the "Super Car" race for Group 5 style machinery.
The car was subsequently shipped to Japan, painted in Auto Tech yellow, and campaigned in the 1994 All Japan Touring Car Championship by Brit Andrew Gilbert-Scott, who registered a best race result of fourth at Autopolis.
From there, the car went into hibernation for an extended stay before coming up on Jones's radar, who had previously owned a pair of other Super Tourers.
Besides the car's incredible history, another important facet is its originality, with the Jones Motorsport crew simply retrofitting the 1993-spec side skirts, as well as front and rear bars, while also reverting the external paint to BMW white.
"Underneath, everything is exactly the same, it's still got Winkelhock's seat in it, inside is exactly as he last drove it, even the same belts," said Jones.
"It hasn't been messed with, like a lot of older cars over their life they've gone from the hero status and then they've been banged, bashed and pulled apart by every expert with things being replaced, we were lucky that this was untouched.
"I've watched pretty much all of its racing when Winkelhock was in it, and it's never had a big bang, Soper's car had a really good shove around, but Jo sort of got in front and stayed there, avoiding a lot of the chaos, so it's had virtually no damage in its life."
While many significant race cars have left Australian shores in recent times, chalk this one up as a win for the Land Downunder!