Tony Quinn's Motorsport Legacy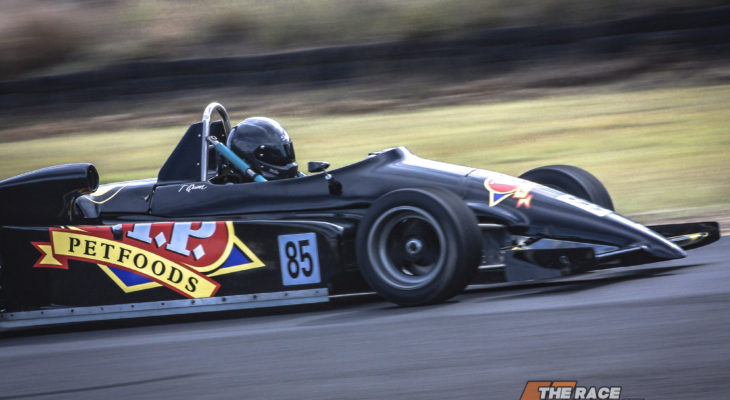 Motorsport is lucky to have Tony Quinn.
From a competitor to a sponsor, a benefactor, a circuit owner, and a category owner – there aren't many facets of the sport Quinn hasn't been involved in.
Of course, with the announcement this week that he has purchased a 40 per cent stake in Triple Eight Race Engineering, he can add Supercars team owner to the list.
Below is a sample of the action the Quinn family have been involved with over the past 20 years – as participants or backers.
It's clearly far from exhaustive – you can add in rallying, Pikes Peak, his Targa exploits (Tony twice won Targa Tasmania), and his many other toys, including an ex-Schumacher Benneton F1 car, the list could go on and on…
---
Where it all began on these shores – Tony and his sons Klark and Kent racing some older spec Formula Fords at Queensland state level.
---
With the growth of the family's VIP Petfoods brand, the logos started popping up everywhere.
Leveraging motorsport worked – it got the name out there, and paved the way for the next couple of decades involved in the sport with the different Quinn associated brands.
Some of the early deals included Cameron McLean and Will Power (Pic: Australian Formula Ford Championship archive) in 2002, Stone Brothers Racing in 2003, and Brett Francis in 2004.
---
Two-time Aussie Racing Car Champion Paul Kemal also sported the distinctive VIP colours.
---
The Quinn family were for a time synonymous with the Porsche marque.
From Carrera Cup to GT competition, including long-distance races like the Bathurst 12 and 24 Hours, the VIP Porsches were always standouts.
---
Two ends of the extreme – a Ralt RT4 Formula Mondial to extensive competition in Production Cars.
---
In recent times, the family's active racing involvement has been largely in GT competition with a variety of machines.
---
Supercars competition has continued to provide exposure for the different companies the family has been involved with.
The latest sponsorship has seen Local Legends back a Team Sydney entry through 2020/'21.
---
…things haven't necessarily always gone to plan…
---
…but when they did, they went spectacularly well.
In 2016, the Darrell Lea Stix backed machine of Will Davison and Jonathon Webb held on for the Bathurst 1000 victory in a thriller.
Ironically, the win came from a Triple Eight customer team, with Jamie Whincup's T8 car the first to cross the finish line, although it received a post-race penalty, while Shane Van Gisbergen's sister car was a close run second.
---
Always spectacular, Van Gisbergen let it all hang out in his Quinn backed machinery…