An incredible Gold Star stat..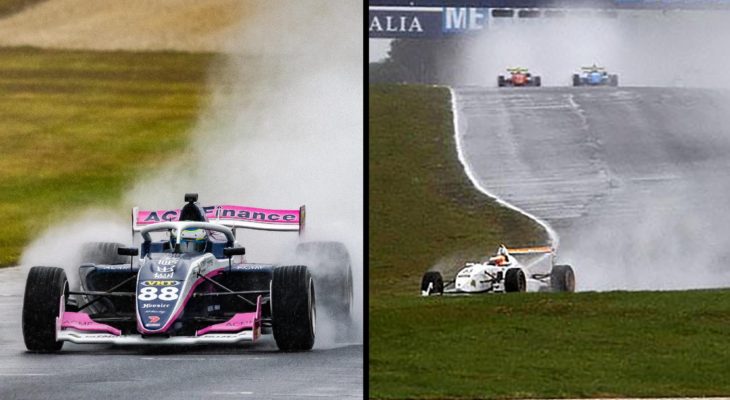 HERE'S one the number crunches will enjoy and yes, Aaron Noonan at the V8 Sleuth, we were thinking of you when this little gem of a statistic appeared at the weekend.
TRT has compiled something of an Australian Drivers Championship record book in anticipation of this year's Gold Star campaign, fought out between the drivers battling for the VHT S5000 Championship.
Two rounds in it's living up to every expectation, with the Phillip Island round last weekend in particular throwing up some remarkable racing at Australia's fastest circuit.
The story starts when 17-year-old Cooper Webster, a Hyundai Excel graduate / part-time Macca's-working teenager from Melbourne, won Saturday's second race.
It was an incredible drive in torrentially wet conditions that showed the depth of talent this young man has.
Now, young Webster wasn't the youngest ever winner of a Gold Star race – that honour goes to Kiwi Mitch Evans, who won his first Formula 3 / Gold Star race at Sandown in November 2009 aged 15 years, 5 months and 5 days.
On Saturday, Cooper Webster was a relatively (at least to Mitch, anyway) senior 17 years, 11 months and 17 days.
So, while he's not the youngest ever ADC race winner, it's still a pretty impressive feat to be winning races in Australia's fastest racing cars at 17 years of age – so we wanted to know the last time someone so young won a Gold Star race.
So, into the records we delved and landed on another race at Phillip Island, back in September 2012 when the Australian Formula 3 Championship was representing for Australia's highest open-wheel award.
Back then, a young Queenslander driving a Dallara F304 remarkably won his first ever Gold Star race.
Like Webster, it came in torrentially wet conditions, against the odds, for a privateer team and via a remarkable show of maturity belying his real age.
Also like Webster, his name was Cooper – though that was his surname, not his first name!
Young Hayden Cooper's victory at the Island back in 2012 was a superb performance and, like Cooper Webster, was a remarkable story for the championship at the time.
But here's the kicker – when Hayden won that race at Phillip Island back in 2012 he too was 17 years old.
17 years and 11 Months old.
You see where this is going, right?
Yep, he was 17 years, 11 Months and 17 days old.
Despite a decade between them, different class of racing cars and totally different scenarios building towards their remarkable victories, both kids managed to win their first Gold Star race at the same circuit and in the broadly similar conditions at exactly. the. same. age.
I hope the Motorsport Statistic gods are proud of that one, because we sure as anything are!