COMMENT: Van Gisbergen's world that we're all living in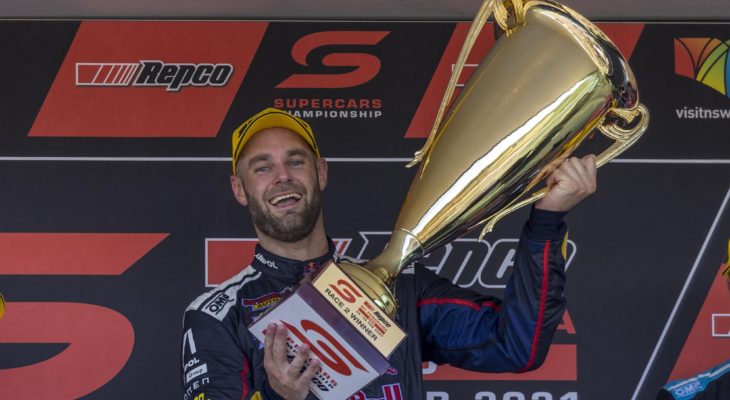 SHANE VAN GISBERGEN has been in the news a lot across the last six months or so – most recently for having an unfortunate incident while riding a bike – but, as RICHARD CRAILL ponders, he'll probably win that race too.
Let us just for a minute consider the last 150 days for Shane van Gisbergen.
In October last year he produced perhaps the very best drive of his career – a list that gets longer each day – by holding out the flying Ford Mustang of Cameron Waters to claim his maiden Bathurst 1000 victory.
Van Gisbergen was incredible towards the end of the Great Race; almost as incredible as he was during a brief middle stanza when rain fell and grip levels reduced.
For everything he had achieved to that point – a Bathurst 12 Hour win and lap record, the 2016 Supercars Championship and a host of other remarkable performances – it was his crowning achievement of a career still in its relative youth.
Following his Bathurst triumph he decamped back to New Zealand, where he again ensconced himself in the Kiwi summer of speed.
Deciding he'd quite like to 'have a crack' at Rallying, he found a car, entered it in the inaugural Battle of Jack's Ridge event near Auckland.
Of course, he promptly won it.
Bathurst has its challenges but there's a fair chasm between claiming the Mountain in a Supercar and claiming a winner-take-all gravel stage in an all-wheel-drive turbocharged monster.
There was a brief flirtation with Speedway, too, before the people who pay his wage decided that perhaps that particular risk factor was slightly too high and asking the Kiwi to park any Speedway ambitions in the short term.
That wasn't the end of Shane's summer of sensation, however, because January would once again find him in a different discipline and a different style of racing – the wings and slicks open wheelers of the Toyota Racing Series.
Where, of course, he won the New Zealand Grand Prix.
From the back of the grid.
Of course.
Through all of that, he then spent two weeks in iso on his return to Australia before jumping back into his Red Bull Ampol Commodore to dominate the opening round of the 2021 Supercars Championship last weekend, back at the place where he kicked it all off nearly 150 days earlier.
Of course, Shane has been winning for longer than just the last five or six months.
His Supercars career win count already stretches into the 40s and his podium count his way higher than that.
Since 2016 he's never finished lower than fourth in the championship and it's was only Triple Eight's inconsistency through the middle of the season that saw him fall short of challenging countryman Scott McLaughlin in the title battle. You can be that'll be something they change this year.
Sitting at Bathurst last weekend it was almost impossible to be unaffected by what the 31-year-old Kiwi is delivering at the moment.
There's a palpable sense that he can jump behind the wheel of just about anything and know that he will be as competitive as anyone else from the moment he rolls out of the garage.
In an era where professional drivers rarely stray beyond the type of car they are contractually obliged to race, it's refreshing to see someone who just wants to drive and drive anything.
Doesn't matter what. Doesn't matter where. As long as It has a realistic chance of winning, Shane will be there and he will drive it.
Van Gisbergen is different to so many other racers, who focus on sponsorship, media appearances, profile, social media and more. SVG just wants to drive cars quickly; and that's it.
The question, of course, is where too from here? Well, there's this years Supercars Championship to win, of course; it seems remarkable he's only won the one title so far.
A bump in the road (literally: he fell off his pushbike and broke his collarbone) delayed his GT racing return with Triple Eight and their Mercedes-AMG GT3, but there's a fair chance he'll dominate in that when he gets aboard later this year.
He's racing the Bathurst 6 Hour in a BMW Production Car, too, looking to become just the second ever driver to win the 'Triple Crown' of the six, twelve and 1000km Bathurst classics. If anyone else is going to do it..
Shane can be a frustrating interview at times – as his Bathurst winning copilot Garth Tander found out to much mirth last weekend – but he doesn't go racing to talk to the cameras or the media. He goes to win races.
Right now he's probably the best driver operating in this part of the world – now Scott McLaughlin has decamped to the USA, I genuinely can't think of someone else who is operating at the same level.
It's a good time to be a spectator in Shane's racing world – because it's never not truly spectacular. No matter what he's driving.
And the race to rebuild a broken collarbone? I suspect he'll probably win that one, too.  
This column first appeared on TalkMotorsport.co.nz, a Kiwi website dedicated to telling great stories about car racing – just like us. Please check them out by clicking here.