TIGHT AT THE TOP AS RALLY HEADS FOR THE HILLS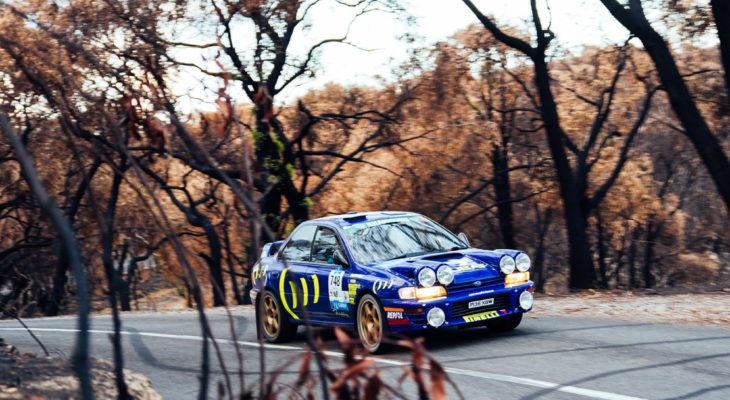 The second day of the Shannons Adelaide Rally is well underway with four of the day's nine competitive stages completed.
A crisp Thursday morning burst into life with SS10 through to SS13 totaling 14.45km of running before the first phase of regrouping.
The day's first four stages included some of the most famous names of the event starting on Snake Gully (SS10), followed by a run on Anstey Hill (SS11), the iconic Chain of Ponds (SS12) and Corkscrew (SS13) to finish off a quick-fire morning.
Action was aplenty in all four classes, while the Prima Tour entrants set off for the first time of the event.
Competitors are regrouping on Foxfield Oval before taking in a further five stages for the afternoon as well as a lunch stop.
Modern competition
Ben Calder and Steve Glenney ended the first four competitive stages of Thursday on top in Modern Challenge, consolidating their #762 Mitsubishi Evo's position at the front.
Starting the day with 10-seconds in hand, Calder and Glenney stretched that out consistently over the morning helped by their three stage wins.
Beating the field in SS10, SS11, and SS12, Calder and Glenney had just under 20-seconds in the bag at the end of SS13, a comfortable gap to the Mitsubishi Evo 9 of Julian Newton and Nicholas Wotton.
Newton and Wotton held onto second from yesterday, while the Evo 10 of Dean Lillie/John Lilleyman maintained third a further 13-seconds adrift.
Jeff Morton and Daymon Nicoli in a 2019 Porsche GT2 RS were fourth with Daniel Traverso and Matt Dillon completing the top five in an Evo 9, a minute off the top spot.
Peter Rullo/Dennis Sims were victorious on Corkscrew (SS13) fielding a 2020 Lotus.
Classic Competition
Matthew Selley and Hamish Mckendrick had their Classic Competition lead cut as most of the stages were won by a car way down the order.
In the cockpit of a 1988 Porsche 944 Nick and Jacob Streckeisen dominated the first three runs but are more than 31-minutes off the competition in the overall standings after dramas on Day 1.
Roger Paterson and Richard Geue picked up the SS13 win over Selley/Mckendrick, helping to slice into the latter's lead.
Selley/Mckendrick ended SS13 with a 2.6s gap in their 1985 Hartge having started the day with more than five seconds in hand.
With the Paterson/Geue 1974 Porsche 911RS in second, there are 27-second seconds to the third-place car of Tim Pryzibilla and Rick Powell.
Roger Lomman and Anne Bainbridge vaulted to third on SS13 only 1.7s ahead of the now fifth-placed #731 BMW E30 of Peter Gluskie and Samantha Winter.
Modern Challenge
Justin Perkins and Andrien Brabbins extended their lead in Modern Challenge to end Corkscrew (SS13) with a 20-second cushion.
The #645 Subaru duo won SS11 and SS13 to hold onto the top spot but their rivals are still not far off.
Gordon Christie and Nigel Mcgaffin sit second in a Volvo S60 having started out strong, winning Snake Gully (SS10), but could not claw back any more time on the next three runs.
The Audi S3 of Nathan Robbins/Alex Johnson climbed to third as Robert and Alex Bryden, driving the #641 Lotus Exige, slipped to fourth, a further 7-seconds back.
Having won Chain of Ponds (SS12) by a tenth of a second, Ben Auld and Lucy Barker rounded out the top five in a Porsche 911 997.2 GT3 CS, 32-seconds off the leader.
Classic Challenge
The Classic Challenge lead changed hands twice after a competitive morning for the #635 1970s Ford of Lachlan Cox and Sam Martin.
Dean Cook and Simon Richards started SS10 off strongly and moved ahead on the overall leaderboard after Cox/Martin were on top yesterday but fell to third on the first stage of Thursday, despite winning the stage itself.
Cox and Martin were able to find more time on Chain of Ponds (SS12) and Corkscrew (SS13) with narrow victories and rose back to the overall lead in Classic Challenge by less than a second.
The Cook/Richards entry maintained second, while Will Coulter and Andrew Colliver in their 1986 Toyota Sprinter remain a close third, only 1.9s off the leader having beaten the field on Anstey Hill (SS11).
Ross and Emma Smith are fourth in a 1984 Nissan 300ZX, with the turbo Volvo of Mike Lowe and Kerry Chevis rounding out the top five, just over a minute behind the leaders.