Reynolds' Sandown podium 'No Chance' if not for KGR upgrades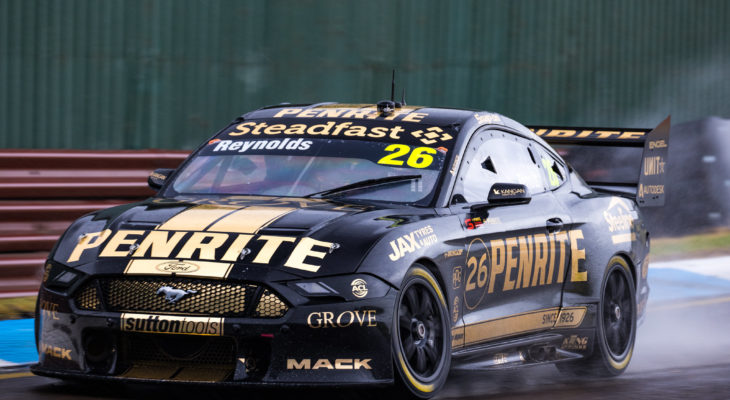 DAVID REYNOLDS has admitted his surprise Sandown podium finish would never had happened had it not been for developmental items added to his Kelly Grove Racing Mustang prior to the round.
Reynolds sits ninth in the Supercars championship as the circus heads to Tasmania this weekend, thanks in part to his storming drive in Race five of the championship at a sodden Sandown Raceway last month – his first podium since the 2019 season and the first for the Kelly Grove team since their off-season chance of ownership structure.
Speaking to the On the Grid podcast, Reynolds confirmed that changes to the front end of his Penrite Racing Mustang gave him the confidence in the wet weather to secure the trophy.
"(At Bathurst) We'd been hovering around the 8th to 14th sort of area," He explained.
"We'd made a few parts for our car and we turned up at Sandown and it made us a little bit better, helped us take the next sort of step into that 6th to 10th sort of region.
"Any time there's a wet race it's always strange how it unfolds, but if I didn't have those parts in the car that we made between Bathurst and Sandown, there's absolutely no way I was on the podium at Sandown.
"It's a huge credit to the team. Everything we changed to the car gave it more feel and driver feel and feedback from the front tyre, and you need a lot of that in the wet, let alone the dry, you need a lot in the wet.
"To have feel in the wet is paramount for a driver so if we didn't have that there's absolutely no chance I would have been on a podium."
Reynolds confirmed the changes came after feedback from his pre-season testing and the Mount Panorama season opener, and were part of the team's ongoing development drive as they unlock the secrets of their still-new Mustangs.
"When I first got there, I drove the car and said 'okay, this is how I feel it and what I think it needs' and we've been working through them and ticking off what we need, bit by bit.
"The big item that was easy to move was the front-end feel. We did a big analysis on it and they found a few things they could improve on it."
He also admitted that having a new voice in the discussion also helped drive the team's development process, Reynolds' opinion backing up comments already made by teammate, Ned Racing Team's Andre Heimgartner.
"Andre was talking about it in the past, but I think when you have a new set of eyes and repeat the same message, it gives it more validity, I think," he said.
"That was a big course of action, they went; 'okay, this is what we need to do', and they went and did it. There's still heaps of things we can improve on."