POWER RANKINGS: Shannons Sydney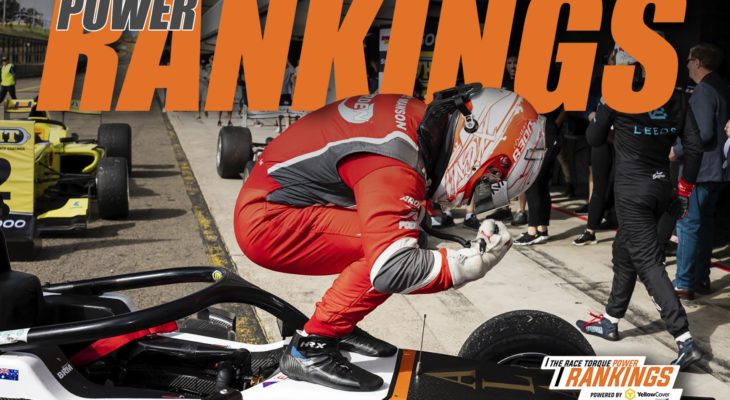 ONE OF THE largest race meetings of the year so far, the Shannons Motorsport Australia Championships round at Sydney Motorsport Park delivered plenty; more than enough to give it the patented TRT Power Rankings treatement.
Certainly some Hot hots from this weekend.. but there's some important 'Not's' worthy of their inclusion, too..
Read on, and let us know your thoughts via the TRT socials: @theracetorque on Twitter, Insta and Facebook.
LEAD IMAGE: Daniel Kalisz / S5000
HOT
1. S5000 Decider & Joey Mawson's skids
Much was made of the history of the Gold Star and boy, didn't S5000 live up to the hype. As dramatic and tense championship drive as any you'll have seen in Aussie motorsport in recent years was the story of Sunday after a compelling, if too brief, debut season for the big wings and slicks class. If this is what the future of Aussie open-wheel looks like? Sign us up.
2. Trans Am
A class on the up and up, filled with great racing and top storylines.
Aaron Seton is going places, Nathan Herne is well on his way, Nash Morris was in the mix, and made a mega pass to take the lead in one race, Ben Grice made it onto the podium. Throw in a victorious Owen Kelly, and the list of drivers who want in, this is one to keep an eye on.
3. Josh Buchan
Josh Who?
Smoked a stacked field of super stars, and did it with some properly classy driving.
Another star in the making.
5. Touring Car Masters
Some more great racing, with two absolute highlights being Ryan Hansford taking the overall honours for the first time, and John Bowe.
Despite everything life has thrown at JB, his charges to the front in the Trophy Race and the finale was champagne motorsport.
TCM has been the focus by some for potential changes to their technical and regulatory side lately; but their on-track product is outstanding. Don't stuff with it too much.
6. Porsche Michelin Sprint Challenge
Christian Pancione Vs Ryan Suhle across all three races was excellent, and as Callum Hedge, Courtney Prince and Bayley Hall get even further up top speed, the battle of the young guns will be even more sensational.
7. TCR
Barring the last race fiasco, which was average, there was plenty of entertainment on the line throughout the field.
8. Racing Cars at Night
A shame Friday's sessions were closed to the public, because they were sensational. It's a fact that racing at night is just better – needs to be used more often and next time, actually for racing. The SMSP team have done an outstanding job with the lighting at the circuit; it's world-class.
9. Bumper program!
What a lineup, and for punters trackside, you would struggle to see that level of racing spread over so many races at any other event this year.
Saturday featured action from 8:30am til 6:55pm – while Friday was even more insane and ran through 10pm. Epic, but not without its issues; more on this topic later.
10. TV Product
Compare the weekend's show with what came out of Symmons Plains back in January and it's a different level. You'll never stop all the haters, but the improvement in just four events has been substantial to evolve into something highly competent.
They're also doing a good job of building the personalities – like this bit of gold from the weekend.
---
WHOA!
Formally what…
Huge
Driving in straight lines is difficult
Championship implications
Could have been worse…
---
NOT
1. Sydney Motorsport Park's issues
Sydney Motorsport Park is a great venue and the lights are an enormous, valuable and brilliantly executed addition to the venue.
Having said that, it continues to be let down by several issues that in many instances have a bigger impact on the people that matter most; the paying customers, both those on track and watching from the side lines.
TRT's Power Rankings had multiple messages about some key issues faced across the weekend that simply aren't good enough.
Entry to the circuit each morning was a disaster; in some instances taking 30 minutes from the road junction to the main (and only) entry gate – a distance shorter than the adjacent quarter mile drag strip. What's more, this was at 7am in the morning so it wasn't made up of spectators.. just competitors stuck in a very far queue.
Some would blame the additional COVID protocols, but they amounted to the scanning of the QR code on the NSW govt. app, which isn't exactly the work required of a rocket scientist.
Perhaps funnelling one line of cars into two, and then back into one, at the gate itself might be a scenario to avoid.
Or perhaps stump up for an extra security guard to open another gate?
What's more, there were enormous frustrations from competitors about the park-up process on Thursday night, which saw an absolute cluster evolve as nine categories worth of transporters filled four lanes of traffic between the race track gate and the drag strip because no one was allowed in before 6pm.. because; Reasons.
We can report that the term 'debacle' was thrown around a lot on Friday morning. There were a lot of angry racing teams around.
SMSP has so much going for it and you can spend all the cash in the world on fancy lighting – but pissing off your customers (the competitors) and your patrons each day doesn't make for positive paddock chatter about forthcoming visits to Sydney's only race track.
It might sound trivial to outsiders, but these are the kind of issues that could play a deciding factor in some going 'Nah, it's not worth the stress' when making the call about racing at SMSP in the future and the sport just can't afford that.
Finally, at an event that actually drew a solid (for Sydney, anyway) crowd, there were reports that the PA system was only operating in the Grandstand and at times in the paddock.
For a circuit open to punters for much of its 3.9km, that's just not cool.
SMSP is the only game in town within two hours of almost six million people, so we suppose they can do whatever they want and still have the market almost entirely cornered.
But this was not good enough.
On the upside, the food and beverage fare in the ARDC garage was competent, if pricy.
2. Nine Categories
The event was a victim of its own success – you simply can't service nine categories on a national program equitably, with suitable time slots and televised coverage.
For instance, on Saturday, the Australian Prototype Series was on track from 8:30am til 8:50am for qualifying, and returned to the track from 4:55pm til 5:15pm for race one, neither telecast.
The Radical Australia Cup meanwhile first appeared on track on Saturday from 6:05pm til 6:55pm for their first race, also outside of the streaming window.
Production Cars on Sunday featured on track from 4:05pm til 4:35pm, and 5:30pm til 6:00pm, both outside the TV and streaming window.
What's the point?
If you were these classes, would you persist, or go and be a big dog elsewhere?
State Championships in Victoria and New South Wales now have excellent live streaming for all comers, and surely even the AMRS offers better respect to their customers.
Even finishing a national level event at 6pm on a Sunday night is rude, especially for interstate competitors who would battle to get back to the airport in time to catch one of the limited flights that are offered in this COVID-era.
3. Fixing the Nine Categories
Why the Australian Prototype Series and the RA Cup are not combined continues to be one of the most bewildering factors facing race fans in 2021.
It wouldn't be hard – six of the 14 Prototypes were Radicals, with two playing double duty for the weekend – surely one combined field of 20-something machines would make just a little sense?
Then again, it's restraint of trade when you tell someone they are no longer allowed to run their business…
What's more, TRT understands that late changes to the race schedule that saw APS and RA Cup races running back-to-back actually had the potential to cost one series entries of competitors wanting to run both but couldn't because they'd need to refuel between races – and they couldn't do that in the time allowed.
Fortunately, a solution was found but it was all far from ideal.
After the bonanza that was the Bathurst 6 Hour, nine Production Cars fronted for the event which is just not good enough.
From the heyday of GTP, proddys have ridden a roller coaster to 2021, where there are now staunch state series in New South Wales, Queensland and on the AMRS, but seemingly not at Motorsport Australia National level.
4. Fog
What the hell Sydney? You had nine categories to get through, and you fogged out Sunday morning.
Two races were canned, and the TCR opener was delayed by 20min.
Just another reason to add to the list of reasons why the NSW capital can't have nice things.
5. Helluva Oil Down
How do you not notice that you are dropping oil from turns two to 11?
One Trans Am competitor managed it, with the kitty litter laid down on race line making the opening stanza of the first S5000 heat somewhat interesting.
6. GRM Blues
Although they ultimately wound up TCR winners, earlier in the weekend, there was a level of drama in the multi-car outfit.
Dylan O'Keefe was due to start race one up the front, but a boost control module issue saw the bonnet popped on the grid, a TCR no-no, which resulted in the Renault starting from pit lane.
Still, Garry Rogers took to the TV to air his frustration at the officials.
The same race also saw Jason Bargwanna have Aaron Cameron's tyres fitted, which saw Bargs being disqualified, and Cameron left two boots short of his new allotment.
7. Owen Kelly
The ultimate hero to zero.
Winner of the opening Trans Am race in a classic, his throttle hung wide open on the run into turn one from the pole.
He managed to gather it up without causing major drama, but jeez.. ugly stuff.
8. Ricky Capo
How do you run out of fuel in a sprint race? Such a shame that a miscalculation cost the fast young Victorian a good result in the first S5000 race. On the upside, he admitted it to the world on National TV, so cudos to owning the mistake, Ricky!
9. Has anyone checked if the race meeting has acutally finished yet?
Unconfirmed reports indicate that yes, it finally has.
10. What a Dump
Anyone who has ever been to Sydney Motorsport Park understands that is a fine balancing act between the sweet scent of the Arnotts Biscuit factory, and waft from the nearby refuse facility. This video unpacks the situation.
---
TWEET
Never has a driver been so excited to win a TCR race. Ever.
No Daffid zone
Not behd
Having a bit On
More Squeeze than a litre of OJ
A bad time to practice reverse parking