POWER RANKINGS: NTI Townsville 500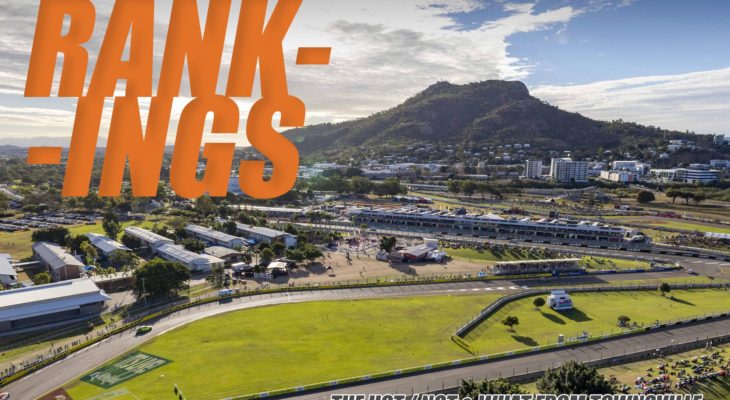 Townsville. What a place for a car race, and what a weekend it was, too.
The Red Bull's came, saw and kicked everyone else out of Reid Park at the weekend in one of the most dominant displays we've seen in some time, and that's saying something in a year where SVG is absolutely crushing it.
But as always there's much more to delve into than just the Triple Eight Express, which is why the TRT Power Rankings exists, right?
Settle in for your semi-regular dose of Hot, Not and What from the NTI Townsville 500 – this week with bonus FIGHT!
---
HOT
1. Triple Eight/ SVG/ The GOAT
The sport has not witnessed a spanking of this magnitude in some time.
One-two in both top-ten shootouts. One-two in both races. Oh, and young Mr. Feeney smoked the Super2 grid, too..
The SVG train is back on the tracks, he has won four straight, and ten of the 16. If a broken wing couldn't slow him down, what hope does the field have now?
And what about the GOAT? Jamie Whincup, the King of Reid Park, showed that he is bowing out while still on top. Returned serve in Sunday's shootout with a 0.3449sec margin over SVG, after car 97 gapped the field by 0.3572sec on Saturday.
Ominous.
2. The Supports
Where do you start?
The Toyota 86s were incredibly hectic. While Zach Bates schooled the field from out front, behind him, it was on for young and old. An entire lap side-by-side? Look no further than Hayden Jackson and Kane Baxter-Smith.
The Carrera Cup continues to turn it on, with Cooper Murray taking overall victory, with other wins going to Cameron Hill and Matthew Payne, all incredibly impressive. And for the record, Craill didn't write this, otherwise it would have gone for 2,000 words.
Both classes featured great racing, showing what the layout is capable of, and unfortunately, with a small side serve of carnage.
Down the pack, the Super2s and 3s features some spirited competition, while elsewhere, the Stadium Super Trucks did Stadium Super Truck things.
3. Anton de Pasquale
Scored two podiums. The best of the rest. Not much more to say but at least these results are coming more consistently now.
4. Will Brown
Fast on Friday (5th and 8th in practice), came alive on Sunday, with a seventh quick time in shootout backed up by a gritty drive to fifth in the race, right in the thick of the action.
At the halfway point of the season, he sits 10th in the standings, one position ahead of his fellow rookie teammate Brodie Kostecki. The Erebus Motorsport offseason cleanout is starting to look pretty clever.
(Does anyone else think that young Will and Jack Perkins could be a big factor at Bathurst? – Ed)
5. The TV of Things
Big numbers are one thing, but the production itself is another.
The efforts to make the production a reality was immense, with behind the scenes efforts spread between Townsville and Sydney.
Garth Tander continues to grow in his various roles, and endear himself to the audience, Chad Neylon was spot on and fills the Neil 'anchor' role in the Box superbly, while Jack Perkins did a great job coming in off bench in his Channel 7 role.
6. Tim Slade
The little team that could. Second in Saturday qualifying, prior to the shootout, made the shootout again on Sunday. A season-best sixth on Saturday backed up by a Sunday 8th. Five out of the last six races finished in the top ten. All stats much more fancied and experienced teams would be happy to bank.
Oh, by the way, their racecar ticked over its ninth birthday on the weekend. There appears to be some life in the old girl yet… Perhaps Supercars cost-containment starts at not building a new car every year?
7. Mid-field Battles
The battle for B Class honours (read: anyone who wasn't Triple Eight) certainly had its moments in both races.
8. Townsville – Infrastructure, Queensland Country Bank Stadium etc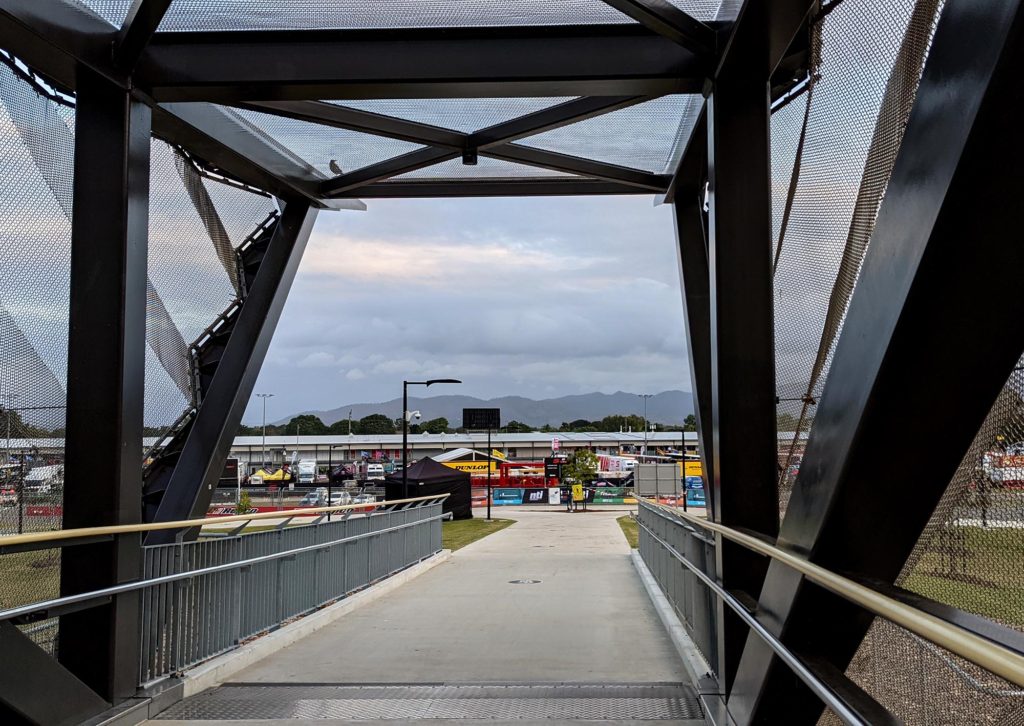 The Reid Park street circuit is absolutely one of the best in Australia, and improvements on the Eastern side of the precinct have made it better. The new Cowboys stadium means access from the city-side of the venue is better than ever, with clear path and cycleways all the way from town that wasn't anywhere near as good previously.
Reid Park always felt a bit detached from the 'Ville's CBD but now it's a 15-minute amble.
9. Broc Feeney
Granted he is in A+ machinery, and the field doesn't feature the depth of the 2012 Super2 season, but Broc Feeney continues to tick boxes. Two poles, two dominant wins. If he is indeed to be the chosen one to take the seat vacated by the GOAT, he needs to do everything right with what is presented to him, and his effort on the weekend went a long way to landing the most sought after seat in Supercars.
10. We Get to Go Again Next Week…
The longer format this weekend brought different elements of strategy into play, and proved a challenge for drivers, with the heat taking its toll. Next week we return in a completely different sprint race format, which will throw a different set of challenges at competitors.
---
HONOURABLE MENTION
Todd Hazelwood
Third in the Sunday shootout was converted to seventh in the race, a nice bounce back from power steering issues on Sunday. BJR finally turning the corner? Seems that way, but we couldn't quite squeeze them into the hot list.
---
BONUS HOT
So. Much. Party.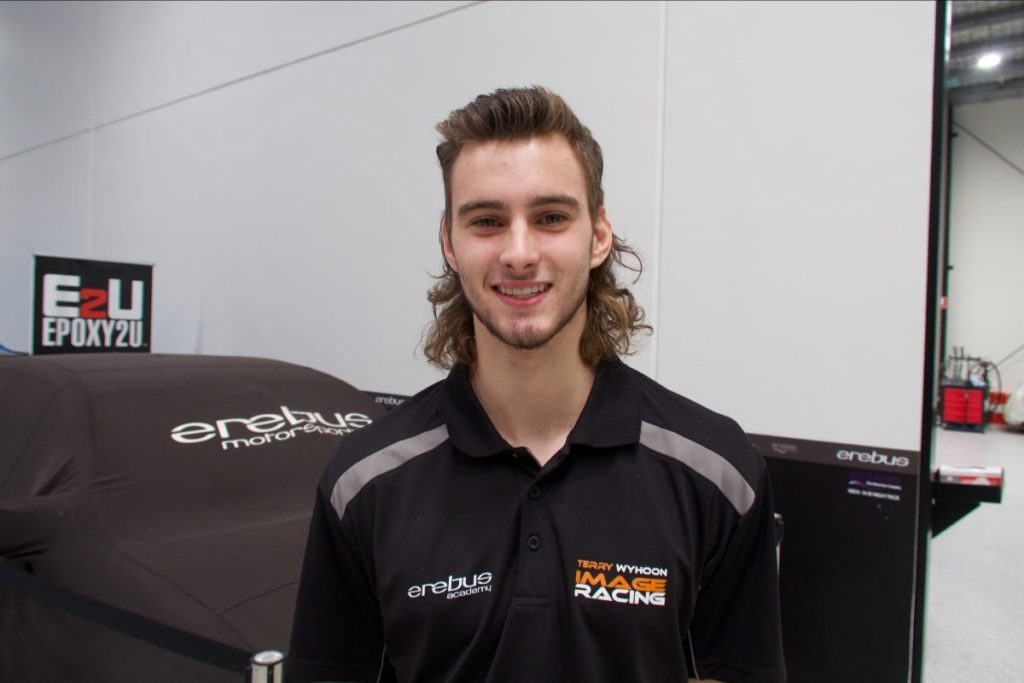 When Reef McCarthy's press photo landed in our inbox to announce his signing to the Erebus Academy, we were suitably impressed. There are folklore stories of emerging drivers standing out from the crowd with memorable hair does, and Reef's efforts make a big statement: hard-working Monday to Friday, epic party Saturday and Sunday, or vice versa as race weekends apply.
---
FIGHT, FIGHT, FIGHT!
A bit of aggravation between combatants is the spice of life, it engages the news sites and the punters who read them. Here are a couple of interesting ones from the weekend, which could land in either hot or not, so they landed here…
Fabian Fires Up
An off the cuff remark by Team Sydney recruit Fabian Coulthard on Friday hit the mark at his former team, Dick Johnson Racing…
Scott McLaughlin then chimed in with his version of events, which were endorsed by DJR team principal Ryan Story…
Fabian's weekend subsequently wasn't great… After qualifying 23rd on Saturday, the car failed to get away from the grid with a flat battery, delaying the race start. He was eventually classified 21st, two laps down. After qualifying 22nd on Sunday, he was involved in the opening lap concertina at the penultimate turn, with the car driving back to the pits and retirement. Earlier in the weekend, his teammate Garry Jacobson reported a continuation of the power steering issues that have hindered his entry dating back to The Bend at the start of May. A tough outing all round.
The Battle of the Bulge
The early drama in the Supercars paddock revolved around the fuel rigs at Triple Eight appearing to bulge, with keen observers from competitor outfits questioning the legality of the items.
Ultimately, the Supercars technical squad re-measured and cleared the units of any wrongdoing, with no diets necessary.
---
WHAT
What?
Nothing to see here – just the standard Larko entry
From Darwin: The internet has spoken…
---
NOT
1. Everyone Who Isn't Triple Eight
If nothing else, this weekend's shorter races won't allow the Triple Eight duo to socially distance themselves from the field. On Saturday, Triple Eight beat the field by a whopping 37sec, a margin that was reduced on Sunday to a mere 23sec. There were seven lead lap finishers on Saturday, which ballooned out to 12 on Sunday. There's homework to do ahead of next weekend – who's up for the challenge?
2. Chaz Mostert
After winning at the most recent event in Darwin, Chaz was irrelevant in Townsville 1. Finishes of 14th and ninth aren't good enough, especially from an outfit that has previously excelled in the street circuit genre. Dropped to fourth in the standings, can the team rebound at Townsville take two?
3. Scott Pye
You're only as good as your last performance, and luckily for Scott Pye, they only have a week to dwell on this one.
The team that promises so much will catch a lucky break sometime soon, perhaps? A kerb hit in race one and being caught out in the opening lap melee on Sunday resulted in finishes of 23rd and 22nd. Mark Winterbottom was uncharacteristically down in 16th on Sunday, too.
4. Nick Percat's Race Two
Fourth on Saturday was a great backup from Nick Percat's Darwin podium, and he was genuinely on for a podium on Sunday until it all unravelled. Suffering the second power steering drama for a BJR car in two days – at first, he came into the pits for the below shambles, and later, with a bus steering wheel fitted, he soldiered to the finish in 21st, only three laps off the winners. Gutsy stuff.
5. 1ml of Fuel at DJR
Will Davison's Saturday race came unstuck when the team failed to get the very last drop of fuel in from his two scheduled services, resulting in a third splash and dash. The delay caused him to drop from fifth to ninth, and a lap off the race winners.
A silver lining on Sunday was a return to form in fourth, and third in the updated season standings at the end of the weekend.
6. Cameron Waters
Like Mostert, Cameron Waters and the Monster side of the Tickford Garage was frustrating.
After starting the year as the driver most likely to be a serious title challenger this year, halfway in, he sits fifth, 405 points off the pace set by SVG. Saturday's eighth-place improved to sixth on Sunday.
Not awful, but not to the squad's potential and it's the same kind of inconsistency that has plagued Tickford / Prodrive / FPR for years. It's something they're going to need to sort should they ever hope to give Waters – or anyone else – a title.
7. David Reynolds Race Two
Maybe this portion of the rankings should change from NOT to FRUSTRATING.
Fifth on Saturday was a return to form for David Reynolds, and a team-best for the Kelly Grove equipe in Townsville.
Any hopes of a repeat performance were dashed on Sunday with a steering issue, which kept the car pit bound for 14 circuits.
8. Carrera Cup Chequers
Says Craillsy: No, I couldn't explain. There were comms issues in confirming the flag was actually dropping, but then when it did the timing kept on keeping on regardless – and so did the cars. It caused more dramas afterwards when the guy who crossed the line first, Cooper Murray, was assessed a 5-second penalty. For a while he looked like getting away with murder because at the end of lap 17 he had only one car within 5s of him.. Fortunately, sanity prevailed and later the results were amended to reflect the lap 16 order. I'm still grumpy I missed seeing the last lap detail, but It could have been worse – I could have called the formation lap as the start, or something.
9. Graphics
I swear we've been here before. A tough weekend for the TV crew, an improvement over Darwin, but still not perfect.
No wonder Broc Feeney had a good weekend – he apparently lapped the field in practice.
Well down the order this week, however, because we feel for the TV team having to work from multiple cities at once…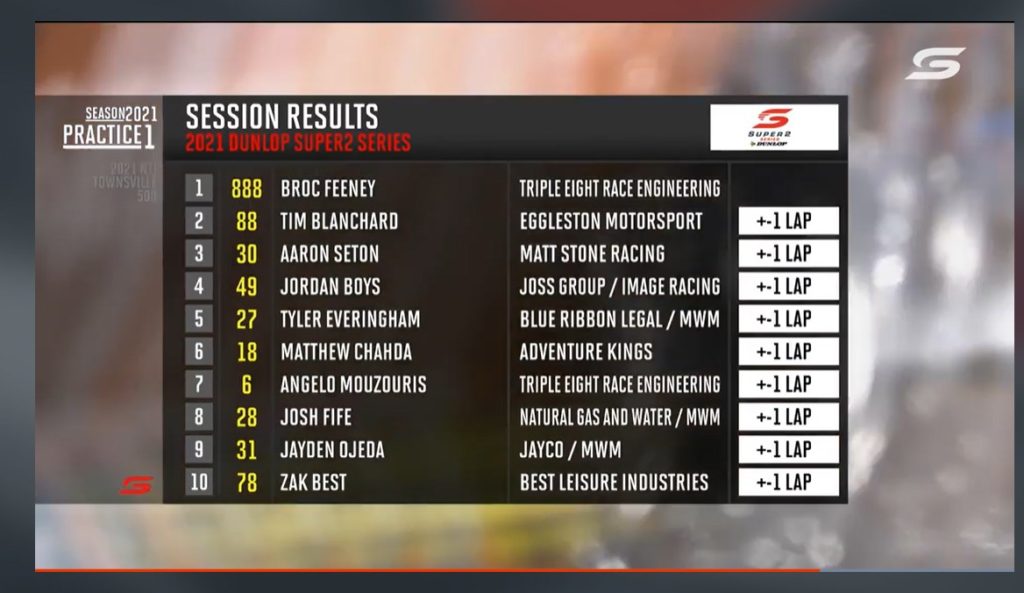 10. Early shunts for rookie drivers
A tough break for the Super2 rookie Jay Robotham, with his sliding on a damp track into the fence very early in opening practice, ending his weekend. Starts next weekend with two fewer races under his belt than his competition.
---
TWEET
Skidz
Tremendous Pucker Factor
Lit
A grid walk AND a proposal in one day!
Public Service Announcement
What do you dream about?
CC: The Morris Family
There he is!
Context, please?
---
MEME