POWER RANKINGS: Two Times in Townsville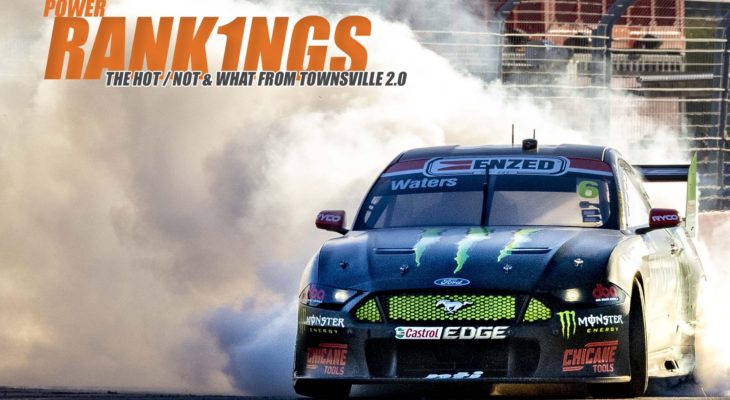 TWO WEEKS, two tracks.. surely Townsville would provide more of the same a second time around, right? Wrong. So very wrong.
TSV2.0 was an absolute blinder with three excellent sprint races, the two on Sunday among the best of the year so far.
But from fires, engines blowing up, burnouts, upsets and more there was the usual level of chaos to unpick, just from a condensed, two-day style of event that was superb from start to finish.
With the usual thanks to those who contribute – both via their actions at the weekend and via our social channels afterwards – here's TRT's look back at Townsville's second spin via the semi-regular Power Rankings..
HOT
Waters Vs SVG Vs Whincup
Reports of Supercars' death have been greatly exaggerated. How good were the battles for the lead in races two and three? It doesn't get a whole lot better than that… excellent stuff.
Cam Waters
A brilliant turnaround. Last week this outfit was a NOT with an anonymous weekend when they were firmly smoked. Pace and strategy scored them a race one win. Waters left the door open to allow SVG past early in race three, but another ace strategy play under the safety car saw the Monster Mustang emerge back out front. Learned from earlier and battled valiantly to the chequered and his third win of the year. Mad post-race skids. Waters is the only driver to truly stand up to SVG on multiple occasions this year. Is Tickford legitimately back, or will the only thing they consistently do is be inconsistent??
Shane Van Gisbergen
Sixth, first and second. Those sort of results win you a championship. Was read the riot act after his win for the spirited driving with his teammate, but surely all was forgiven with his efforts in the finale. Might not even need to worry about the double-points Bathurst weekend because they way he's going, he could have it shot to pieces by October.
The Racing Elsewhere
Despite all of the doom and gloom in the world, there was still plenty of great racing up and down the field in all of the races. Haven't we had it hammered into our skulls that it's too hard to pass or follow closely? Nobody has been heard banging on about this over the last two weekends… Super2/3 also featured some top-notch action up and down the order in their two heats.
Chad's Lawn Mower Racing exploits
How good? Grassroots motorsport getting the full Supercars TV experience with a multi-camera cut, replays, and Chad Neylon carving things up and throwing away an almost certain victory. This was an absolute highlight of the weekend, and bonus points were awarded for attempting arguably the dirtiest form of open-cockpit racing with a bloody white race suit.
Massive social media reaction, although for signing autographs, Chad absolutely earned several votes in the flog of the year award, hence it's position at No. 5 on the HOT list. It's up to us to keep the ego in check, after all.
Chaz Mostert
Another team to have a massive turnaround after last week, Walkinshaw Andretti United looked sporty. Third, third and ninth is solid.
Anton De Pasquale & Will Davison
Right in the frame at the end of two races, much closer to the ballpark than last weekend, although this is a team that really should be winning. A pole, second, eighth and fifth for Anton, 11th, fourth and third for Will.
Todd Hazelwood
It has been a frustrating run for the Brad Jones Racing squad in 2021, but Todd Hazelwood was the pick of the litter this week, with three top-ten results and continual improvement. Great to see. Also, a sharp-looking new livery: uncluttered, good contrast between colours, and all about the logo rather than livery bells and whistles.
Tim Slade
Fouth on Saturday was excellent for this first-year one-car squad, especially so considering it was from 19th on the grid. Sunday however unravelled with an errant wheel in qualifying for race one, and a penalty in race two.
Neil Crompton
It was awesome to have Neil Crompton back as a part of the coverage on Saturday from the locked-down Fox Sports studios in Sydney. Even though Chad and Garth have done absolutely top-notch jobs, Neil is such a large part of what makes Supercars great, and we can't wait to have him back on board properly.
BONUS HOT
Everyone who contributes to the Rankings each week. We love you guys and yes, flattery absolutely gets you everywhere.
Weekend production was brilliant, and was great in Sydney Iso to get our minds off the current circumstances

Final HOT: @Craillsy & @markwa1ker tweet convo's were better than usual and are like the cherry on top of the SC cake! Thanks guys, and all the @theracetorque team

— Fiona (@feefeespeaks) July 18, 2021
---
HAIRCUTS OF THE WEEK
Last week we added this special section with reference to Super3 driver Reef McCarthy's all-time classic mullet. This week we have some solid contributions from the Super2 field, including Angelo Mouzouris (left) and Matt McLean (right).
---
FIGHT, FIGHT, FIGHT!
It's back! Niggle between combatants is good, and there were numerous storylines over the weekend that fall somewhere between HOT and NOT…
Customers Vs Triple Eight
An interesting one heading into the weekend: Triple Eight customer Team 18 in the media asking questions of Triple Eight's pace from the previous weekend…
Hazelwood Vs Brodie VS SVG Vs Davison & Pye
It seems almost everyone was upset to some level after Saturday's race. The action started early when Brodie Kostecki escorted Todd Hazelwood wide at the final turn, earning a 15sec penalty. Kostecki post-race noted that Hazelwood used him up at the previous corner, thus the tit-for-tat. Kostecki then was hung out to dry on the outside of SVG at the last turn and into the fence, which earned the Championship leader his own 15sec penalty. SVG noted later that contact from Kostecki made it impossible for him to give the latter space exiting the turn. SVG's move up the inside of Will Davison at the same corner resulted in a damaged wheel nut that drastically slowed the latter's pit stop. Finally, SVGs (ex?) mate Scott Pye was upset when the former allegedly ran him out of race track. So. Much. Anger.
---
WHAT
What sort of engine?
Larko's Concrete
Practice Biff
Yes, boss
---
NOT
1. Super2 Fracas and Fire Response
Firstly, an ugly and expensive pile-up, you never want to see this stuff. The toughest part then turned out to be the fire response, which frankly took an eternity for extinguishers to become available at the scene. We love the volunteer officials and the efforts they put in – we know the fire ute can't self-despatch – and that they need to wait on the call from race control. Also, Townsville is always a hard race to adequately fill with volunteers, especially so with an impromptu second event added and COVID-19 limiting out of town visitors. We're not having a crack. But something has to change, somewhere, to avoid a repeat of that.
Regardless of the mechanisms, it was a bad look for our sport and it was fortunate that there wasn't a driver trapped inside the wreck.
2. Tony Quinn's Oil Down
Fun fact: Aston Martins have a tremendously large oil capacity. Definitely one of the more infuriating moments of season 2021 – Tony Quinn was easily winning the second Aussie Tin Top race when his car expired prior to the first turn. Aware of the situation, instead of parking up, he trundled around on race line until the engine completely emptied its content by turn ten, red-flagging the race and turning the subsequent Supercars qualifying sessions into a lottery. Disappointing actions from anyone, let alone one of the most experienced drivers campaigning in Townsville over the weekend.
Fabian Coulthard Saturday
It's hard to imagine the frustration Fabian Coulthard must be feeling right now. Starting 20th, he found himself eighth at the end of lap two, and seventh before his pit stop. Returned to the action in 15th (because: Reasons) before running out of fuel, in a non-refuelling race. Arghh.
Triple Eight's Saturday
After absolutely dominating last weekend, Triple Eight surprised everyone when they could only muster fourth (Whincip) and sixth (SVG) in the Saturday shootout. SVG's lap however was hindered by Zane Goddard's crash, which combined with radio silence from race control, saw championship leader's warm-up lap not entirely warming up his car. See "Fight, Fight, Fight!" for more on SVG's race, but it was ultimately soured by a 15sec penalty for his part in Brodie Kostecki being escorted wide at the final turn. Whincup meanwhile had a tardy stop when compared to Waters, who stopped at the same time, with his service becoming costly when he was pinged 15sec for speeding on the pit entry.
Final results of fifth and sixth wouldn't typically be NOT worthy, but it was a messy day for a team used to smashing everyone and the inverse of their previous domination. Elsewhere, Broc Feeney initially won the red-flagged Super2 race for Triple Eight, was demoted to second, before ultimately being reinstated. What a rollercoaster…
Kelly Grove Racing
Frustrating performance from KGR who should've, could've come away with some very solid results but didn't. A fifth last weekend for David Reynolds showed that this team had turned a corner but this time around a 15th, ninth and second last (bent steering) for Reynolds was backed up by a 19th, 20th and 16th for Andre Heimgartner, who hasn't finished better than 12th since he won at The Bend.
Macauley Jones
A horrid weekend, which was the polar opposite of the pace he showed at stages, including a PB qualifying result of eighth for the final race. Three DNFs of varying descriptions and six DNFs for the year to date ensures Macca slips behind Fabian Coulthard as the backmarker on the points table and if you're behind a Team Sydney car you know you're having a 'mare. Park that and move on.
7. Jack Smith Qualifying Faux Pas
Clearly wasn't watching his mirrors, and by the same token, his crew in the pits are armed with TV footage and track position plots of what was going on with Zane Goddard on a hot lap. They had the opportunity to warn him. A three grid place penalty, his own lap qualifying compromised, along with Goddard's lap being binned. Completely avoidable.
Zane Goddard's Shootout lap
The Matt Stone Racing pair tend to fly under the radar with some solid results. On Saturday, Zane Goddard found himself in his second shootout of the year and after setting some hot sectors, missed the brake pedal at the final turn and wound up parked in the fence, which was a huge shame after such a cool performance. This also impacted the hot lap of Van Gisbergen. Hot for having a go, not for just overstepping and making the most of a still-rare shootout chance.
Fife's wing Failure
Tipping it into the fastest corner of the track without a rear wing? No. Thank. You. Epic rescue though…
Super3 on 2 Action
Full marks to Nash Morris for having a go and sticking it up to Super2 guys in Super3-spec machinery, but the penalty for this move cost him a sweep of the weekend wins in what was an otherwise perfect weekend.
BONUS NOT
TRT Rankings enthusiast Will Liston knows a thing or two about motor racing (Google: Listec Race Cars) and we can't help but agree with his sentiment here. People are quick to jump on the 'it's boring' bandwagon.. but then races like those on the weekend come along. Worth some consideration and to remember the fact that, whether it's Formula Ford or Supercars or everything in between, not every race can be a thriller..
---
TWEET
Embarrassment of riches
Absolute kablamo
Narrator: It didn't work for Jamie
Are you currently locked down?
GOAT: Out
The Final Townsville Tweet
---
MEME