The Best Motorsport Museum You've Never Been To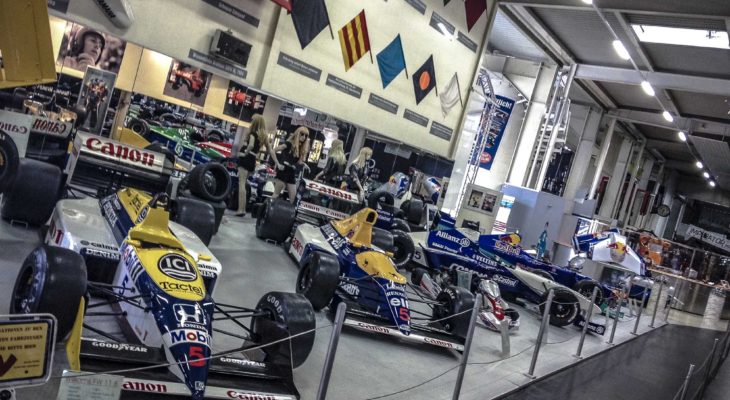 There are plenty of great museums with a motorsport theme around the world.
You've probably heard of places like Donnington, Indianapolis, Le Mans, Daytona, hell, even classics like the Petersen Automotive Museum have some racing thrown into the mix.
Closer to home, there's the National Motor Racing Museum in Bathurst, a select few have been lucky enough to view the Bowden Collection, then there are more generic car compilations on show at the National Motor Museum in SA and the new Gold Coast Motor Museum.
Most manufacturers around the world have a showcase attached to their factories.
In Germany, we have already covered the incredible Mercedes-Benz Museum in two parts, here and here, while the nearby Audi and BMW Museums are also well worth a visit.
The Automuseum Prototyp in Hamburg should also be on your agenda if you are in the north.
But the subject of today's yarn is the "Technik Museum", and it's so big, its 5,000 exhibits are split over two venues!
Located a bit over an hour to the south of Frankfurt (depending on how lead-footed you are on the Autobahn) are the museums at Sinsheim and Speyer, with the two being situated about half an hour apart.
Beyond race cars, the duo cover pretty much anything and everything technical, so there is guaranteed to be something for everybody.
It isn't easy to pick a favourite between the two, so when we are allowed to travel away from these shores again, it would be prudent to visit both…
---
Formula 1
Probably a reasonable starting point – Sinsheim has a stronger F1 display overall, with a rotating collection of different examples from over the eras.
I mean, look at the selection!
Haven't you always wanted to check out a six-wheeled Tyrell P34?
There's a McLaren MP4, the type that took Ayrton Senna to his third world title in 1991.
Then there are the Williams, the Jordans, Saubers and oddities from BRM, March, Dallara, Fittipaldi et al.
It would be easy to get stuck gawking at these exhibits alone, but they are merely scratching the surface…
---
Other Racing
This museum is a lot like a box of chocolates: you never know what you're gonna get!
Sports cars, speedway, rally, motorcycles, tractor pulling, open wheelers, land speed records, NASCAR, you name it.
Harry Gant's Skoal Bandit from 1981? Tick.
The rocket-powered Opel Rak2 from 1928, which Adam von Opel drove to 230km/h? Tick.
The Blue Flame, which Gary Gabelich literally rocketed across the Bonneville Salt Flats at 1,001.671km/h in 1970? Tick.
Indy specials? Tick.
The NSU Reckordwagen, which set 32 speed records from 1965? Tick.
A special treat is the inhouse built Brutus (top-left image), with a 12-cylinder, 46 litre (!) aircraft motor, that thumps out 500hp at 1,500rpm – and it actually drives, all while producing a spectacular pyrotechnics display!
---
Germanic Displays
Being based in Germany, there are clearly many interesting displays from local manufacturers, covering a variety of disciplines.
There's the MAN TR 1400 race truck that Fritz Kreutzpointer won the world title in 2001 with 20 wins from 22 races, and then there's the almighty Audi 90 Quattro that took IMSA racing by storm.
And the rest – there's a theme developing here!
---
Road Cars
I could seriously be here for days banging on about the classic and more contemporary machines on display.
There are hundreds and hundreds– you name it, there's a reasonable chance it will be included in the collection.
Where else will you see an armoured Mercedes-Benz 770 K Cabriolet (top-left), fully armoured to protect Hitler, sitting nearby a Ferrari F40?
---
It's a Deusy!
When I was a kid, I spent hours researching my precious "Encyclopaedia of Cars", with 607 pages jam-packed with everything from AC to Wolseley.
At a very early age, I decided that the Duesenberg SJN was my favourite car, and it has stuck, even though I never managed to see one in the flesh… that was, until my most recent trip to the Sinsheim Museum in 2015.
Duesenbergs are stunning, they were the ultimate status symbol of success, with a $25,000 list price at the time, converting to $425,000 in today's money.
Approximately 1,000 examples were produced between 1912 and 1937 in Auburn, Indiana, meaning if you own one of the 250 remaining units today, it would be considered incredibly collectable.
Those Indianan roots also saw the marque take on the Brickyard, with Duesenberg's winning the Indy 500 four times in a six-year stretch from 1922.
As for the 1934 version on display, it was everything I ever wanted it to be.
---
And the rest…
The price of admission to see the cars is worthwhile, but the non-automotive pieces are the stars.
How about the Russian Space Shuttle Buran? A number of prototypes and orbiters were built during the program, with the example displayed in Speyer undertaking numerous test flights between 1985 and 1988.
There's an Air France Concorde and a Russian "Concordski" Tupolev Tu-144 on the roof at Sinsheim, with visitors able to climb aboard to compare and contrast the relative grey and brown interiors.
Meanwhile, at Speyer is an Antonov AN-22, the largest propeller aircraft ever. The video of the enormous cargo plane landing at the adjacent local airfield is well worth a watch.
You can add into the mix German U-Boat U9, a Lufthansa Boeing 747 (plus many, many other aircraft, both civilian and military), 27 locomotives, 150 tractors, steam engines, tanks, fire engines, helicopters, maritime exhibits and much more.
Put these museums on your to-do list, and allow for plenty of time…