Aussies ready for more Le Mans Cup success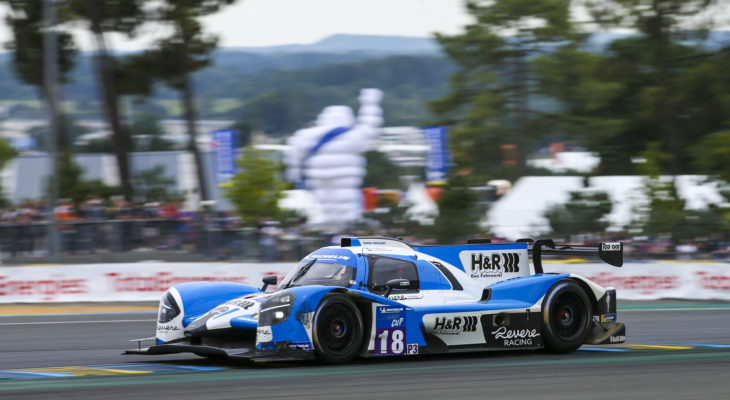 FRESH from an impressive top-six performance at the iconic Le Mans circuit in France, Garnet Patterson and Andres Latorre will have another shot at more Michelin Le Mans Cup glory this weekend at another iconic track.  
The Revere Racing duo will tackle the fifth round of the series this weekend at Spa Francorchamps in Belgium with a bid to continue their strong momentum from the 24-Hour warm-up race.
Patterson and Latorre finished an outstanding sixth in the first of two one-hour races at Le Mans aboard their Revere Racing Duqueine D08 LMP3 car, run by Mühlner Motorsport.
The combo qualified twelfth for the 60-minute race however worked their way through the field to finish sixth, just 17 seconds behind the ultimate winner and 10 seconds off the podium.
That result was then backed up with a solid 13th outright – in a 44-car field – in the second race that served as the lead in to the Le Mans 24 Hour.
The series reconvenes this weekend at Spa with another stacked field of LMP3 machinery, in support to the headline 4 Hours of Spa European Le Mans Series encounter on the classic circuit.
For Patterson, the opportunity to go around again will ensure important time behind the wheel ahead of a full-time campaign in Europe next year.
"We had a great weekend in France and to finish sixth in that grid, one of the most competitive LMP3 fields assembled anywhere, was a huge result for Revere Racing, Andres and myself.
"It's given us lots of momentum so we are particularly keen to get back on track this weekend and see what we can do at another iconic circuit."
Patterson has built a wealth of experience in LMP3 machinery, with his debut in the cars coming in the 2016 Asian Le Mans Series Sprint Cup. Subsequent campaigns in the FRD LMP3 series in China and an LMP2 start in the Asian Le Mans Series ensures he is gaining meaningful seat time in top-flight Prototype machinery.
"They are incredible cars to drive and in LMP3 the racing is so competitive right through the field. It's tough competition and you work hard for every position but that's why we love the challenge of it.
"Getting the chance to do that at Spa Francorchamps is pretty exciting and after our performance at Le Mans we're pretty confident that we can deliver another strong result.
"Hopefully that can build the momentum into a full-time campaign for Revere Racing next year where we can give the title a shake."
The two-day Le Mans Cup event will be contested across September 17-18 this weekend, with the two-hour race set to start at 3:55pm circuit time on Saturday this weekend.
Revere Racing is supported by Revere Coffee, Toorace, H&R and Simpson Australia.