I Got Vaxxed at a Race Track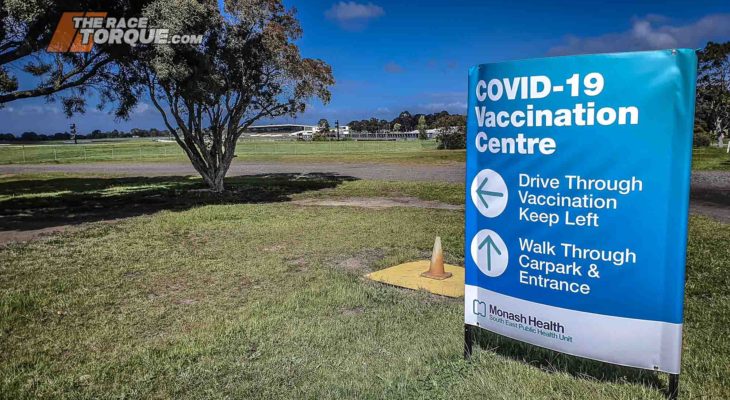 I live in locked down Melbourne, but I still managed to spend my Sunday morning at a race track.
You see, there are numerous venues with a motorsport or motoring theme around Australia where you can receive your COVID-19 vaccine, including here in Melbourne, where a drive-through hub has been set up at Sandown Raceway.
If you have a level of vaccine hesitancy, perhaps the prospect of heading along to a current or former race track would get you across the line?
While the east side of Melbourne has Sandown, which was recently launched by motorsport legend John Bowe, above, Geelong has a hub set up at the former Ford factory, and similarly, in the north there is a centre established at the old Ford factory in Campbellfield.
In Bathurst? You can get vaxxed at the Charles Sturt University, which overlooks the adjacent Mount Panorama Circuit, while Sydneysiders can get the shot at Sydney Olympic Park.
Adelaidians can book their vaccine for the Wayville Showgrounds, the home of the Speedway Royale.
Similarly, the Claremont Showgrounds in Perth was home to the Claremont Speedway, and is now set up as a vaccine centre.
A longer bow can be drawn for the Townsville community vaccination location, which is located just off the same road used as the main straight of the city's Supercars street circuit.
If you need to be tested for COVID-19, both modern World Championship Australian F1 tracks have testing centres: Albert Park in Melbourne (behind the pit lane) and Victoria Park in Adelaide (on the start-finish line).
The Mount Panorama Circuit itself is also home to a testing clinic, accessible from Mountain Straight.
Have we missed any locations with a motorsport flavour? Hit us up on the socials @theracetorque, and we will add it to the list.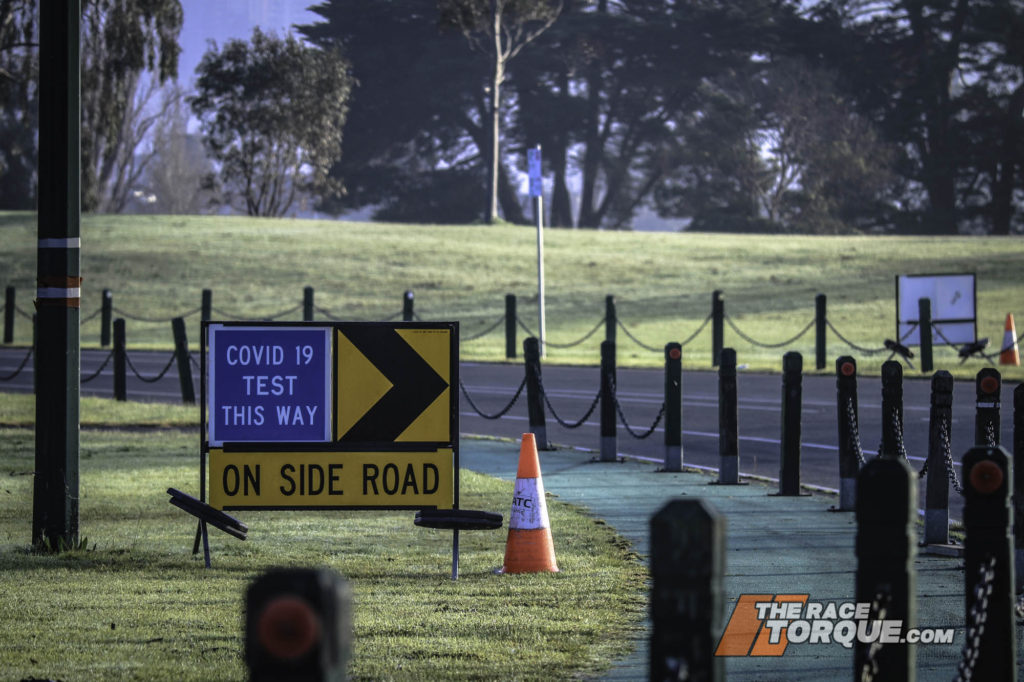 You can cut a lap of the new Albert Park GP layout on the way to be tested.
---
The Sandown Experience
Being not quite 40 is a blessing and curse: you're not quite old, but at the same time, you're not quite entitled to the early rounds of the vaccine. So as soon as I became eligible, I signed on for the first available slot.
The first positive of the day was successfully starting my car this morning, which had not been turned over in 40 long locked down days.
The process at Sandown was straightforward and simple – you get your temperature checked on arrival, before going through the various admin stations, then arriving in the vaccine tent, all from the comfort of your car.
I despise needles – I even struggle to watch my kid get his shots, but this ordeal was painlessly over in a second.
In total, including recovery time, I was in and out in under an hour – and judging by the constant stream of cars entering the facility (about the busiest I have ever seen Racecourse Drive), they will be kept very busy all day long.
Obviously, the fanboy in me would have loved for the various stops to be located around the race track proper, but just getting to go to Sandown at the moment is a treat…
---
I understand that posting on such matters is likely to pull folks out of the woodworks wanting to rage a debate in the comments section.
I'm not going to tell you what you should do with your body – you're clever enough to make an informed decision on your own.
From my perspective, I trust medical professionals; hell, despite my best efforts, they have managed to keep me alive to this point in time.
Also, I am very much pro-science; no matter if it is this, or the science that makes my mobile phone work, or the science that launches astronauts to the moon, the people involved in projects like these have devoted their entire lives to being experts in their field.
It's very easy for me to admit that there are an awful lot of people in the world who are much smarter than me, and have earned my trust.
I also think protecting my family, friends, work colleagues, and randoms passing on the street is a reasonable thing to do.
Outside of the health aspects, it is looking increasingly likely that you will have to be vaccinated to return to a relatively normal life.
Early indications are that you will need to be vaxxed to go to a race track, or to simply go to the pub for a pint, both things that I very much enjoy.
Judging by the numbers, hopefully someday soon the majority of us will be back at the pub for drinks on The Race Torque.
Are you looking for more info? There is plenty of credible sources out there, including the Australian Government Department of Health.