RANKED: 2021 Eseries Round 2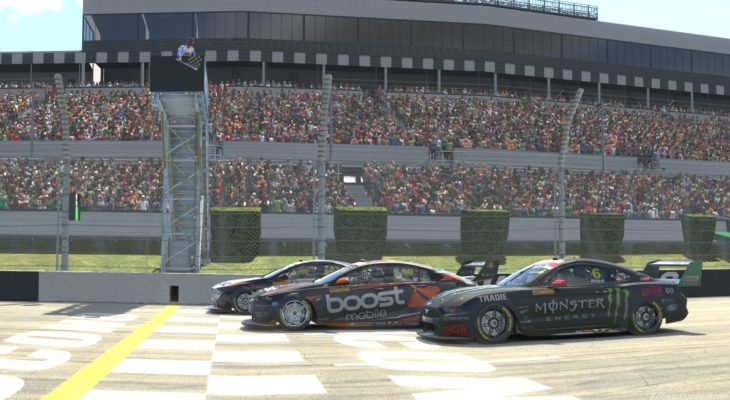 ONCE again a Wednesday night fix of digital Supercars action has come to save us from lockdown, and what a show it was.
The Gamers tore things up in California, while the 'Tricky Triangle' (Here at TRT HQ, we can't wait to get the 'dangerous dodecahedron' up and running) threw up probably the best race the 'All Stars' have ever delivered.
Genuinely, it was a superb race with a finish to match.
So, once again we delve into our Rankings from Round 2, with a solid Top 10 list of the key moments, things you might've missed and more.
As always your feedback, as long as it's positive, is welcomed via @theracetorque.
---
Pocono Pros
It was as if it were opposites week. The real-life Pros were very professional, the Gamer Pros looked like the real-life Pros from last week. The racing from the tricky triangle at Pocono was absolutely first-rate – if anything, it wasn't very realistic, because Pocono doesn't actually turn on ripper races like that!
It's an interesting choice of venues; in NASCAR trim, it races more like a hybrid road course, just with three very fast left-handers – downshifting, heavy on the brakes, but still plenty of drafting. Three wide at the finish line? The perfect conclusion to a corker virtual race. This is why you devote 90 minutes of your Wednesday night to this…
Special mention here to one Gregory Murphy, who avoided the carnage and completed a very solid evening of driving – proving that his Bathurst wildcard prep is going along nicely. What's more, his efforts at doing live crosses, especially during the Safety Car, deserves an upvote.
Murph's mention here is almost certainly because he earned it and not because David Tunnicliffe, the senior producer for Supercars TV and the calm voice of reason in the commentator's headsets, nominated him. None at all. Promise.
---
Pro Biffo
Maybe Supercars on a street circuit just naturally crash a lot? If Esports doesn't work out, the Pro section of the Eseries could be spun off into a fencing service. After a clinical display in week one, the elbows were out, and many funny bones struck.
---
Brodie's Bitcoin
Back-to-back poles, not bad, huh? Well, being rewarded in Bitcoin is interesting: since winning the opening week pole position, Brodie's initial $200 Bitcoin haul is now worth $194 after seven days of trading. We will wait and see how his bounty fares over the six-week journey of the Eseries…
---
Neils on Wheels
A mega stitch-up and throwback to Neil's Honda Accord days in the North American Touring Car Championship. Surely this was a prime opportunity to plug his book, which you can pre-order over at the V8 Sleuth bookshop.
---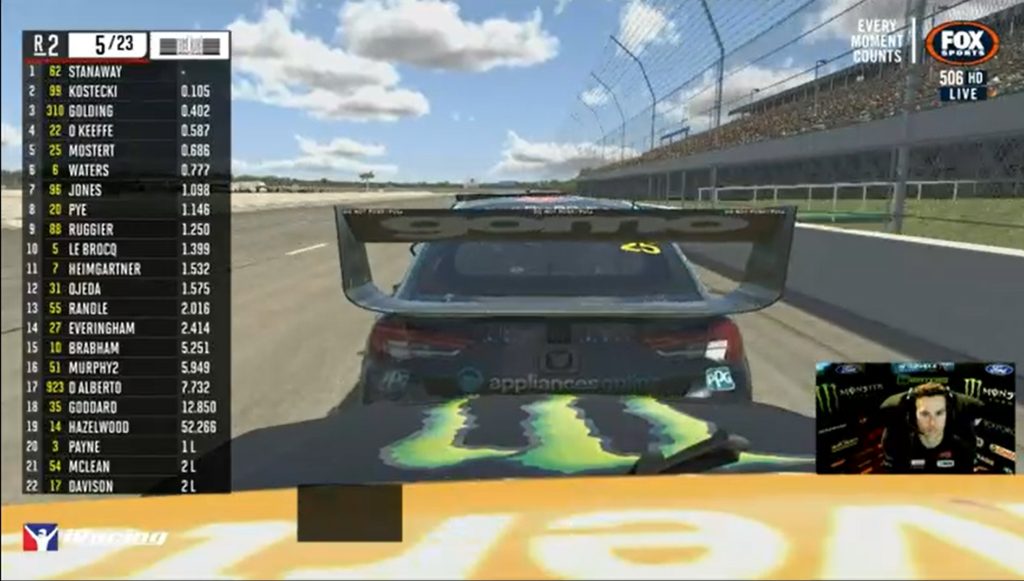 Waters & Mostert
Are these guys actually friends or foes? It's so hard to tell sometimes. This week, the slingshot was engaged with some serious shake and bake action. But you wait – in the next real-life race one of them will comprehensively smote the other, and we will return to these pages to ask very similar questions…
---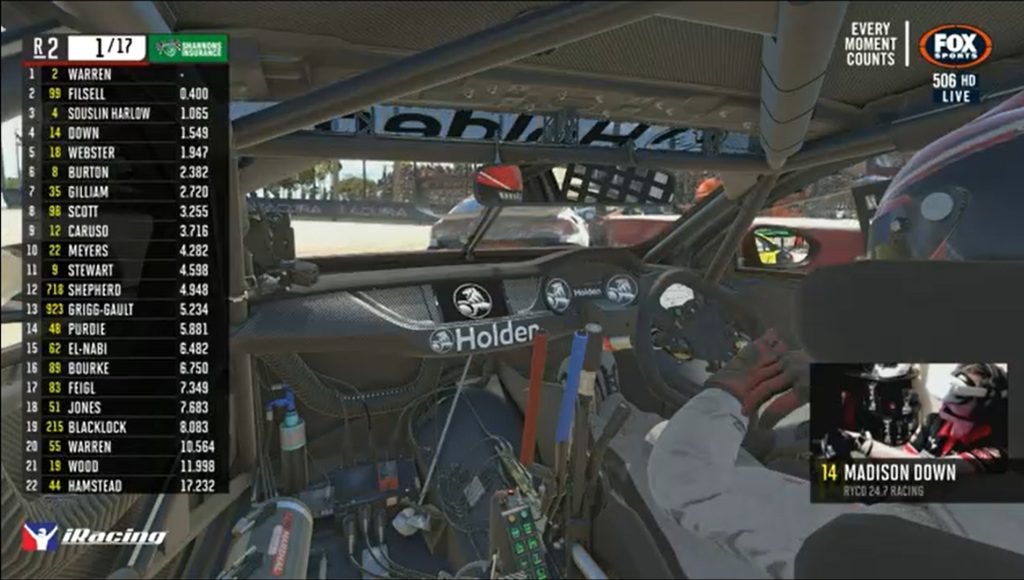 Impressive Wrist Action
Here at The Race Torque, we have much aches, pains and joint issues. The thought of having magically disappearing limbs to get around a hairpin turn hurts.
---
Unrealistic During Times of Pandemic
Was anyone else triggered by the crowd at Long Beach? No social distancing, packed grandstands, no masks. Most of us can't leave the house here in Australia, but in pretend Long Beach everyone is living their best life. Lucky them.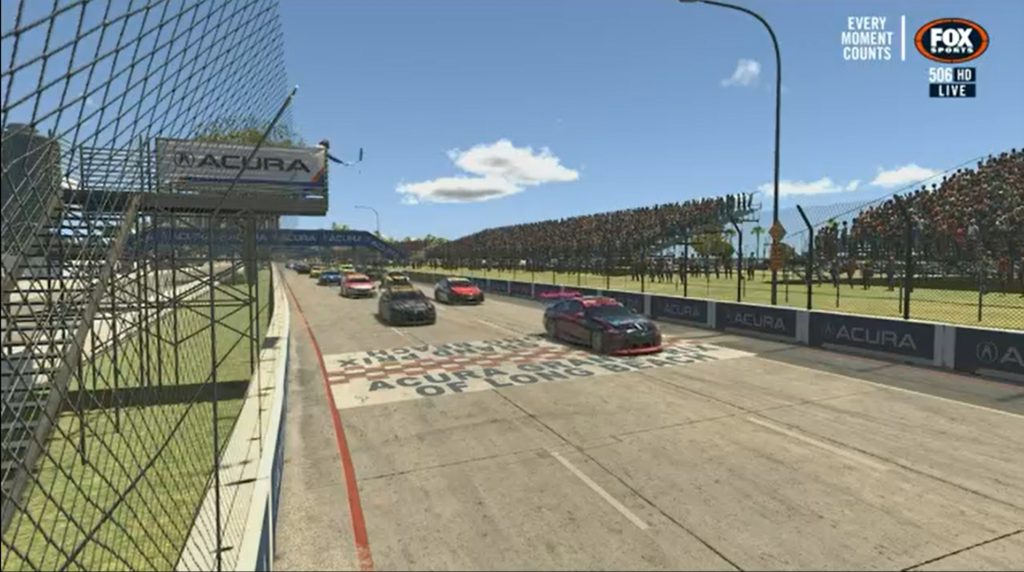 ---
The Eternal Question
Along the lines of how can you compare Schumacher to Fangio, the question is, which is the best generation of sim racers? Here at The Race Torque, we were red hot at TOCA Touring Cars… and the editor was a 15-time world champion in GP2.. (In Pro Mode, too – Ed) How did you go?
---
Why Hashtag #Eseries Doesn't Work
Still, 'Looking for Laura' could be interesting and who doesn't love a good mystery? I'm off to booktopia to see if we can grab a bargain. And my 5 year old nephew is Pokemon mad, so there's Christmas sorted.. -Ed
---
Fun Weather Fact
Even though Pocono Raceway and the Long Beach Street Circuit are separated by 3,816.19km, one is in northern Pennsylvania, and the other is in southern California, they share remarkably similar weather. While Long Beach was 6°c warmer at 24°c, they were both partly cloudy, with very similar humidity and 2mph winds.
Potentially more Winter snow in the Pocnonos, however, compared to SoCal.
---
NOT
Boss! Why would you bring up the dirty P-word?
This is fair enough. I deserve this. – RC
---
MEME
Click to expand. Give us a follow while you're there.