Bucket List: DTM, NASCAR & Formula E on Ice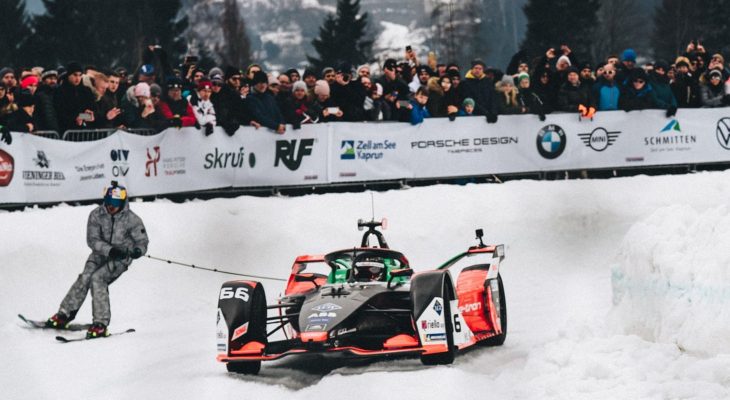 Recently on The Race Torque's Facebook page, we asked the question: how many race tracks have you visited?
There are some great tallies thrown into the mix… feel free to chime in with your own list on the post below – it's a fun exercise!
---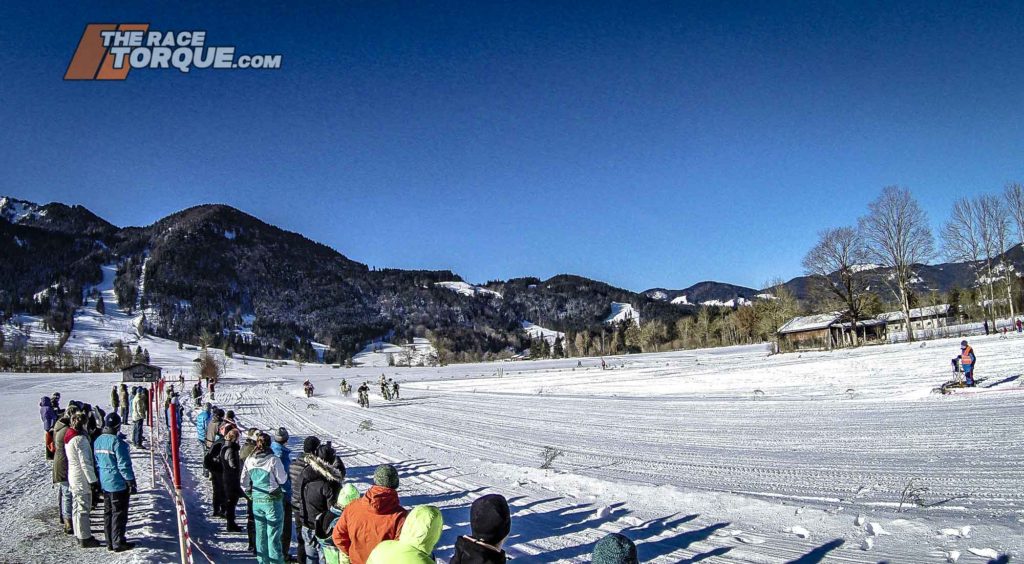 The Standout: Skijoring
This is the story of easily the coldest event on my list, and also probably one of the most fun.
Tuesday the sixth of January 2015 dawned somewhat foggy in the Bavarian ski town of Lenggries.
That was nothing to do with the weather, but everything to do with the quantity of weißbier partaken in the previous evening.
Up too early, I went for a slink around town when a poster caught my eye, right.
My German is embarrassingly lacking, but I understood that at 10am that day, a race was apparently going to break out with motorbikes and blokes on skis.
Armed with photographic proof of my find, I returned to the hotel where the competently fluent German speakers were able to confirm that my powers of deduction were spot on, and that Skijoring was a thing.
Several coffees and breakfast sausages later, I found myself standing next to Andrew Van Leeuwen in a snow-covered paddock, with the weather a sunny -5°C.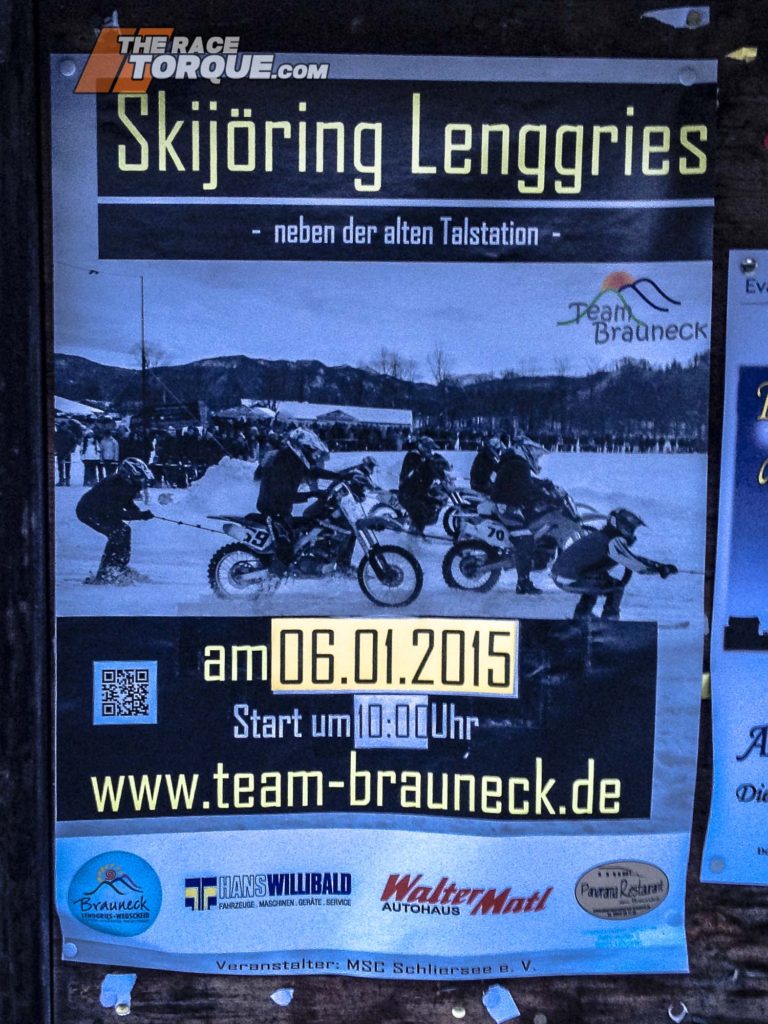 It was definitely a race track; a series of sprigs marked out an oval, probably 400m in length.
It was a reasonably loose leaf situation: for a couple of Euros you were entitled to enter the venue and purchase booze from their makeshift canteen.
However, by not paying admission and staying on the outside of the bunting, you were afforded a first line of protection from any errant skiers or motorcyclists, otherwise known as the human shield formed by the paying spectators.
The competition appeared straightforward enough – different classes seemingly based on cubic capacity. The fields consisted of either off-road motocross styled machines, or full-blown speedway bikes, complete with a tether giving the skiers something to hold onto as they were flung around the ice-cold ellipse.
The competition was a cross between quite spirited and deadest laugh-out-loud slapstick. Some chose a cautious approach, others were flat stick pinned the whole way around.
Before one of the races, we noticed a cross country skier traversing the paddock at the far end of the facility, some distance from the circuit proper.
One of the riders managed to drop his skier at the preceding corner. Not noticing that he was no longer hauling an 80kg sliding deadweight, he arrived at the end of the straight significantly faster than on any previous tour.
The resulting stack nearly nailed the hapless cross country skier, as per the final clips of this video…
---
Digging Deeper
These motorsport-free times have allowed us to examine a wide variety of topics via the On the Grid Podcast, including recently when we discussed the topic of our top five bucket list events that we want to attend.
You can listen to the episode right here – or you can check out the entire back catalogue right here.
As it transpires, in Nordic regions, competitive Skijoring is a reasonably widespread pastime, although not always with skiers being towed by motorised means.
For hundreds of years, folk in the north have used reindeer, horses, dogs or even adaptations using yaks.
Motorised skijoring became a thing in the 1950s using motorcycles, snowmobiles, and even cars.
Red Bull (of course) sponsor a couple of events, a motocross one in Latvia, and a snowmobile example in its native Austria.
Switzerland, a country antonymous with motorsport, played host to the 1955 film "World's Most Dangerous Sport", below, which interestingly was filmed in the same year as the Le Mans disaster, which brought upon the country's racing ban.
Skiing behind cars is one of the most out-there concepts in world motorsport, and surely a practice that wouldn't take place today…
---
The GP Ice Race
After 45 years of no ice racing, Vinzenz Greger and Ferdinand Porsche collaborated to bring motorsport back to the Austrian Alps town of Zell am See in 2019.
Picture the scene: a race track carved into the snow with nearly 10,000 fans huddled together in freezing cold conditions.
But then there are the cars: 130 odd modern circuit racers, rally cars, prototypes, and a wide range of classics.
Some of the highlights from the inaugural event included a 2018 Audi RS5 DTM racer, Audi Formula E open-wheelers, a Toyota Camry NASCAR Cup Car, an Auto Union Type C and more.
Classic road cars were involved, including a 1955 Porsche 550 Spyder, a 1935 Alfa Romeo 8C 2900, a BMW Martini 700, amongst many.
The rally cars were ace too, including an Audi Quattro Group B machine from 1984, a twin motor VW Golf Pikes Peak special, a Porsche Cayman GT4 Rallye, a Skoda Fabia R5, a Porsche 911 from the 1973 East African Safari and more.
Did I mention the skiers being towed behind the above machinery?
Plenty of celebrity guests fronted in year one, including Walter Rohrl, our own Mark Webber, and Hans-Joachim Stuck, to name three.
Also, a go kart race broke out.
While the full-blown event was curtailed due to reasons pandemic in nature in 2020 and '21, the show is set to return next year, with a larger circuit at the town's airfield, incorporating its 800m runway.
Check out the GP Ice Race website for more, and also their social channels, where these images were poached from.
Also, sign me up. Check the video below and put it on your bucket list.